Summary:
*Some of the best-ever STAXUS scenes compiled on DVD!*
For over ten years now STAXUS has been producing the very best gay porn with the help of some of the hottest, horniest young guys on the planet, to become Europe's biggest and best-loved label in the biz! So come with us - literally! - as we celebrate this achievement with a third double-disc bonanza of a dozen of the very raunchiest, spunk-sodden escapades; featuring 29 of the most cock-crazed, arse-obsessed fuckers ever to appear in front of a camera. Duos, threesomes and even a 6-man orgy - twink-on-twink action has never looked so absolutely fan-fucking-tastic! 2 DVD Compilation set
This title represent great value for money given the amount of quality content and running time. However, to ensure you don't waste money buying the same content twice, this compilation features scenes from the following titles:-

Scene 1: Horny Electrical Gets Connected To A Dirty Boy-Bitch Who Just Loves Raw Dick!
Starring: Ethan White, Oscar Roberts
From: On The Job, Scene 3
We're not questioning Ethan White's skills as an electrician, but the one thing we will say is that he's clearly a guy who's easily distracted - not least of all when there's some hot, horny twink on the scene, in this instance Oscar Roberts. Why, the young painter only has to make the slightest suggestion and White's stripping off his overalls in anticipation of some filthy, hardcore action - which, it must be pointed out, proves easily forthcoming. Indeed, Roberts can't wait to get hold of the thick, uncut ramrod that's nestled inside White's pants; and before you know it the sparky is enjoying the kind of deep-throated blowjob that ought to be part and parcel of every electrical inspection.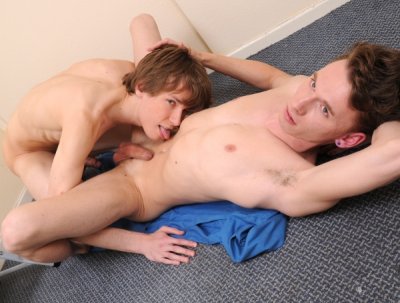 In fairness, of course, it's pretty obvious even to the grossly uninitiated that Roberts is really only after one thing here - and to be honest he's come to exactly the right place. The truth is that White really can't wait to get balls-deep into his pal's eager little ass-hole; and, having taken a few moments to rim Roberts towards ecstasy, is soon pounding away bareback like the dirty little animal he clearly is.
Fortunately for him, he's found a very willing bitch in Roberts, who literally can't get enough dick in that pert ass of his; and it's only fitting that the scene should end with White spurting his nads all over his buddy's cute, expectant face!
Scene 2: Justin Conway Shoots Out The Shower & Into A Twink's Hairless Ass!
Cast: Justin Conway and Jim Jones
From: In The Deep End, Scene 5
You really can't beat a boy in speedos - budgie smugglers, as our Australian friends would teasingly describe them - so is it any wonder that young blond wonder, Justin Conway, reacts the way that he does when he sees Jim Jones in the changing rooms? Why it's almost like watching a lion pounce on its prey as he eagerly bounds through the door and slaps the youngster on the ass. No doubt about it, Conway's hungry for some hardcore action - and, given Jones's response to the sudden intrusion, it's obvious that he meets a willing subject.
Before you know it, Jones is down on the floor and tugging his admirer's aching dick from their trunks, signalling the start of a truly terrific set-piece that'll have you jacking off like a sex-starved tom cat! How can we be so sure? Well because these two lads are clearly up for it big time, 69-ing each other on the floor before Conway rims Jones's hairless ass-hole over the sink. And then the climax to proceedings, as Conway powers his handsomely curved knob deep into his mate's pucker; before both guys return to the floor to fire the contents of their balls over each other's faces. In short, a fuckin' spunky firecracker all round!
Scene 3: Time For Study? Not Fuckin' Likely, As Two Raw Fuck-Buddies Bang Over A Desk!
Cast: Rhys Casey and Aaron Aurora
From: School Sucks, Scene 1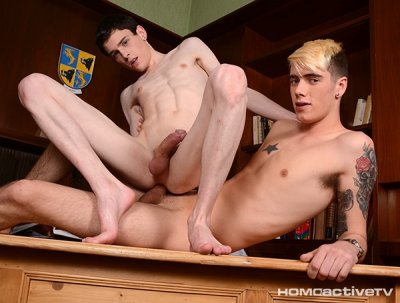 We're never privy to what students, Rhys Casey and Aaron Aurora, are actually studying, but given that it takes less than thirty seconds for them to abandon their studies in favour of cock action there's every good chance that it's not the most exciting of subjects. Not that either of these two young lads look the studious type, it must be said. Indeed, seeing Aurora hanging off his buddy's dick as he slurps on every inch that Casey can muster seems a much more natural activity for this horned-up chappy; and, what's more, Casey is clearly not disinclined to such carnal predilections given the fervour with which he's soon returning the favour. By this point the ever-delicious Aurora is stretched out, stark-bollock naked, across the school desk; leaving the taller lad the opportunity to eagerly rim his arse and then thrust his meaty, uncut pole deep into the boy's hungry little rosebud. Suffice it to say that these two schoolmates are soon banging away like a couple of cheap tarts - Aurora's well-worn hole getting a real good stretching in a variety of positions in the process. Little wonder that the fellow is soon squirting the contents of his nads all across his belly; before Casey then proceeds to position himself over the fellow's face and dump a fine wad of pent-up boy-juice right between the eyes. Time spent in the classroom has never looked so much fun for a couple of wayward scally lads!
Scene 4: Chav-Boy Trio Proves A Cock-Sucking, Spit-Roasting, Face-Splattering Delight!
Cast: Christian Martin, Orlando White, Tyler Dee
From: Up North, Scene 2
So be honest now. What would you do if you were sat with a couple of horny guys who were much too busy snogging each other's faces off to actually notice what you were doing? Well, that's the dilemma that Orlando White faces when he hooks up with Tyler Dee and Christian Martin in this fabulous multinational chav-inspired threesome. Fortunately for everyone concerned, White doesn't do what plenty of other chaps would do in such a situation, i.e. give up interest and go home.
Instead, he simply goes with the flow, strips off his pants and then waits for the opportunity to join in the fun. Suffice it to say that all that free-flowing Stella Artois on offer ensures that it isn't too long before such a chance presents himself; and before you know it the trio of representatives from Spain, Holland and Hungary are pushing international relations to a whole new level.
Beginning with Spain's Martin, who takes the cocks of Dee and White in turn; before White turns his attention on that pert little black ass of Dee's and gives the Dutch boy the kind of intense raw fucking he deserves. Ultimate recognition here, however, must go to Martin, who literally plasters Dee's face with cream courtesy of the kind of cum-shot that could almost drown a man! Whilst White and Dee spew their own fine loads to make this the kind of scene to remember!
Scene 5: Passive Brit Boy Gets Impaled On Aslan Brutti's Raw Butt-Stretcher!
Cast: Kai Alexander, Aslan Brutti
From: Bare Briefs, Scene 5

It's a veritable feast of contrasts as skinny, pale, Brit super-slut, Kai Alexander, is pitted against Aslan Brutti, a horny, muscular Czech top whose only interest in life is finding the next good fuck. Which in this particular instance isn't exactly too difficult given that Alexander is pretty much gagging for cock from the off.
Indeed, the young fresh-faced twink can't wait to get Brutti out of his torso-hugging lycra, immediately slurping on the hard dick that he finds inside and leaving the fellow from Prague almost gasping for breath in the process. Not that Brutti is left helpless for long. Before you know it he's returning the compliment; but Alexander is always destined to be the biggest cock-lover here and it's not long before the boy is once again hanging off Brutti's knob like a love-sick teenager.
Moments on, and he's taking every single raw inch of that same hardened beauty right between the butt-cheeks - Brutti's heavy low-hangers banging against his rump in the process. It's only a matter of time before the jizz begins to spew - all over Alexander's face! By the time this hot bottom blasts his own wad we reckon it's a given that you'll be a sticky mess!
Scene 6: Terrific Outdoor Threesome As Horny Running Trio Take Turns To Take It Up The Ass!

Cast: Jaxon Radoc, Jake Zhang and Kamyk Walker
From Runner High, Scene 1
Cross-country running has always carried the risk of injury, so it's perhaps no surprise that Kamyk Walker comes a cropper whilst out on a run with Jaxon Radoc and Jake Zhang. What may come as a bit of an eye-opener, however, is the remedy that Radoc and Zhang adopt in the wake of such a mishap - as does the speed with which Walker recovers in response! All that said, would we ever expect anything different from these three horny beauties?
After all, these boys are as horny as fuck whatever they're up to, and the opportunity to indulge in a little carnal pleasure whilst exercising in the great outdoors is unsurprisingly grabbed with characteristic enthusiasm! Indeed, Walker is soon sucking on the cocks of both his running mates almost before he has chance to catch breath; before Radoc and Zhang return the wide-jawed compliment. By which point you'll probably be wondering who of these fair-faced wonders will be serving as the focal point for all the inevitable fucking that's clearly going to ensue.
It's a very reasonable question, of course, and one that yields a somewhat surprising answer. For having first enjoyed the sight of Radoc being spit-roasted by his buddies, we're soon savouring seeing both Zhang and Walker take turns as bottom - and it's a genuine conundrum as to which lad warrants the greatest acclaim. So pick your personal favourite; then relish Walker being splattered in the face twice, prior to knocking out his own hefty wad of pent-up teen-cream!
Scene 7: Connor Levi Gets Bathed & Shaved By His Big-Dicked Buddy - Then Fucked Bareback!
Cast: Connor Levi & Boris Orla
From: Playing Dirty, Scene 3

It's not exactly obvious straightaway as to why Boris Orla is giving Connor Levi a wash-down in the bathtub, but the emergence of a safety razor appears to provide some sort of answer with Orla shaving Levi's pits in a kinky fest of anti-follicle fury. All promptly followed up by the two youngsters hitting the sofa for some more traditional fun, which in this instance involves them both slurping on each other's now straining cocks.
Of course, anyone who's seen Levi before will understand that it's the young Brit who's very much the passive partner here - in fact, you can just tell from the glazed look on his face as he feasts on Orla's oversized ramrod that the only thing on his mind at this point is how much longer he's going to have to wait until he's free to ride the thick, meaty shaft with his ass. Indeed, this is a boy who was just born to enjoy dick; and there's certainly no disguising his relief when all that fervent 69-ing has finally been superseded by some hardcore ass action.
By this point there's every chance that you'll be tugging on your own swollen knob in appreciation, but don't allow your own urgency for relief to spoil your enjoyment of watching too horny, handsome bucks in full rut. Given the athletic passion on display here, however, it's not at all surprising that it doesn't take long until both lads are at the point of no return; with Levi in particular giving typically exuberant appreciation of all the resulting spunk! Rarely has the youngster looked hornier - or so fucking hot!
Scene 8: Senior Officer Lands His Thick Uncut Cock Down Tim Law's Throat & Up His Cute Ass!
Cast: Tim Law, Jan Saikov
From: Army Initiation, Scene 3
It's never exactly specified as to why Tim Law starts this scene down on his knees, cleaning the floor of a urinal with a cloth, but one thing's for sure and that's that Jan Saikov - a slightly older, buffer fellow - is evidently determined to take full advantage of the young twink's prostrated position. Indeed, this is a guy who won't have a smile on his somewhat rugged and determined face until he's fucking the living daylights out of Law's ass!
As such, don't for one moment expect anything other than a steely, unimpassioned persona from Saikov as he begins proceedings by thrusting his ever-swelling cock down the boy's throat - an act that Law takes with noteworthy ease, it must be remarked. That in itself may help explain the eagerness with which the older fellow is soon fingering Law's hole; and needless to say it's no time at all before that comparatively minor penetration has become decidedly more intimate, as Saikov's inquisitive digit is replaced by his thick, meaty, uncut dick!
Cue a fabulous, no-holds-barred raw fuck that sees cutie-boy Law fucked in every position imaginable; culminating in the jizz quite literally being banged out of him, before Saikov squirts a very generous wad all over his face. Totally filthy, but undeniably hot!
Scene 9: Blond Twink Gives His Dancing Fuck-Buddy A Bangin' Good Workout!
Cast: Tristan Cane & Kyle Wilkinson
From: Ballerino, Scene 4

The first rule of dance, indeed of any physical exercise, is that you should always make sure that you're fully limbered up before you take to the floor - a point that blond-haired beauty, Tristan Cane, and his buddy, Kyle Wilkinson, are careful to adhere to in the opening moments of this terrific set-piece. Not that this pair of cock-hunters are in any mood to prolong the prologue, it must be said.
Before you know it they're sucking each other's faces off and Wilkinson is reaching down to release Cane's handsome, shaved, uncut ramrod from its pouch. Seconds later and the dark-haired lad is down on his knees and slurping up and down the said cock's over-generous length - which pretty much sets the scene for the antics that follow. Fact is, Wilkinson is clearly gagging to get that thick dick firmly between his butt-cheeks and will stop at nothing to achieve his objective.
No doubt that helps explain the clear relief on his cute little face when he's finally being nailed against the wall by his horny mate. This is a boy who was literally born to be fucked - a fact that Cane makes the most of as he pummels the pup's eager ass from all directions. No wonder that both guys are soon busting a nut all over Cane's belly as the scene hits its sticky conclusion.
Scene 10: 6 Horny Twinks & Studs Dish Up A Spunktastic Bareback Poolside Orgy!
Cast: Rudy Bodlak, Brad Fitt, Damian Dickey, Tim Walker, Timmy Taylor, Connor Levi
From: The Italian Job 2, Scene 3

Be they playing around together on the beach or cavorting in the pool (using a collection of dildos as water toys), this group of horny bastards know exactly how to have a real good time. Not that that will surprise any our fans given the roll-call involved - Rudy Bodlak, Brad Fitt, Damian Dickey, Tim Walker, Timmy Taylor and Connor Levi. But what might come as something of an eye-opener (or should that be ass-opener?) is the manner with which much of the first half of this filthy little escapade is filmed, as director John Smith adopts a somewhat kinky, underwater vision of cock-sucking and butt-fucking, the like of which few will have ever witnessed before.
It's experimental in every sense; but matters soon gain a much more conventional aspect as the gang's quest for cock and ass gains an increasingly feverish hold on everyone concerned. Suffice it to say that if the sight of Dickey fucking Fitt fucking Levi, being sucked off by Walker (etc) doesn't do it for you then (with all respect) we suspect you're in the wrong biz entirely. These lads really are at the top of their game, and there's no question in our minds that you guys are gonna be banging out load after load in appreciation of the unrivalled perversion that unfolds.
Needless to say, it's Fitt and Levi - two of our hottest bottoms - who serve as the main focus of all that pent-up male energy; and it's only fitting that they act as cum-dumps when the white stuff starts to blow (of which there's fucking loads)! It all leaves the boys coated with goo, but clearly mega satisfied! A feeling you're certain to share!
Scene 11: Biker Boys Move Hard & Fast For A High-Revved Raw Fuck & A Very Full-On Facial!

Cast: Billy Rubens, Jacob Daniels
From: Revved Up, Scene 4
Hey, we all know that bikers like to move fast - sometimes dangerously so - but Billy Rubens must be up for some kind of record at the start of this scene when he makes a move on young bottle-blond, Jacob Daniels. Why, the ever-horny Latvian has barely taken breath to sit down on his buddy's bed before he's slipping out of his leather jacket and smooching Daniels on the lips! Still, as any biker will tell you, there's no point hanging about - and before you know it he's openly fondling his mate's dick, before engaging in a very rigorous oral investigation of Daniels' most intimate quarters.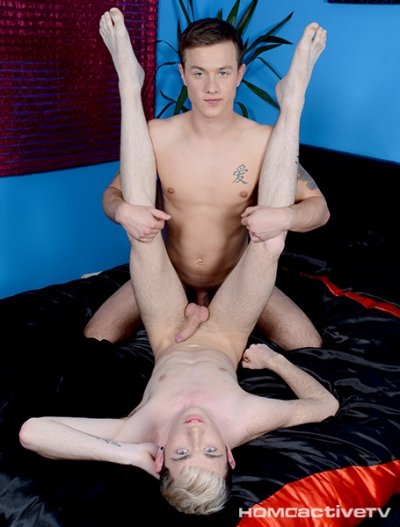 Unsurprisingly, it's a turn of events that very quickly has his mate feeling hyper-horny; and in no time at all the fresh-faced blond is eagerly returning the favour, feasting on Rubens' knob and (no doubt) getting all excited and wet at the prospect of enjoying the full length of that handsome and well-used phallus in his ass! A prospect that the youngster doesn't have to wait upon too long, it must be said. Not that that will come as any surprise given the speed with which Rubens made his initial move.
In fact, the guy from Riga is soon thrusting every inch of his dick deep inside Daniels' guts - a move that's clearly appreciated by the dirty-minded bottom, who then proceeds to savour a rigorous penetration in a whole succession of positions! And it's in keeping with the overall speed of proceedings that both lads are soon whipped up to a creamy crescendo; the highlight of which is almost unquestionably that of Rubens energetically creaming over Daniels' face!
Scene 12: Two Dick-Lovin' Beauties Underwrite The Entente Cordiale With A Raw, Rustic Fuck!
Cast: Gabriel Angel and Louis Blakeson
From: Country Pursuits, Scene 4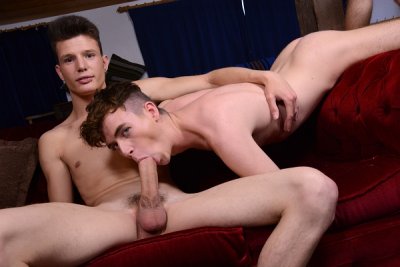 Having returned from doing goodness-knows-what, goodness-knows-where, the aptly-named Gabriel Angel and his equally horny buddy, Louis Blakeson, decide to flop down onto a sofa and get better acquainted with each other's bodies - a task that both lads quickly uptake with characteristic gusto. As a result, it seems barely a matter of seconds before the boys are stripping out of their clothes and taking it in turns to suck on all the achingly hot cock that's soon on display; Blakeson, in particular, proving decidedly keen to practise his oral skills on the French guy's handsome and ever-ready ramrod! Then again, with a knob like that to entertain you, who the fuck can blame him? What Blakeson wants more than anything, however, is the feel of that raw monster as it pounds away quite unmercifully up his hungry little ass; and the enthusiastic rimming that Angel subsequently provides him with proves a more-than-adequate entree to the main course of sodomised debauchery that's about to follow.
Suffice it to say that the puppy-like Brit is like a being who's been whisked off to paradise once Angel's dick is where it should be - namely pummelling energetically into his guts with unapologetic fury! Then again, who wouldn't enjoy getting that kind of no-holds-barred attention from a cutie of Angel's standing? And who wouldn't take full opportunity to ride the said shaft cowboy-style, as Blakeson does here? All told, a fabulous, ball-bustin' encounter that (not surprisingly) results in a veritable flood of sticky, pent-up boy-batter. Folks, you have been duly warned!