Summary:

Who can resist the allure of a guy in a sweaty kit? Not these fucking sluts, that's for sure; as they head off the pitch and into the changing rooms for some of the hottest, horniest action ever captured on film. Lads like Yuri Adamov, Ray Mannix and Titus Snow, who can't wait to see what delights are hidden inside their team-mates' shorts. And with delicious, uncut cocks like the these on the team-sheet, you can rest assured that every drop of spunk will have been spilt long before the final whistle - not to mention the final dick! - has been blown!
Scene 1: Horny Soccer Buddies Kick Off With A Spunky Flip-Flop Fuck!
Cast: Erik Franke, Yuri Adamov
From: Raw Score, Scene 1
Some boys live for their football - eating and sleeping the game morning, noon and night! Other lads, however, still seem to find time to enjoy the other sweet pleasures that life has for the young. Guys like Erik Franke and Yuri Adamov, who take the first opportunity to quit watching a game so that they can give their fullest attention to each other. And no pretty wonder really, given that both these lads (as we probably all know by now) are fucking gorgeous! Indeed, the mutual attraction is almost palpable, as they slip out of their soccer kits so that they can feast on each other's handsome, hairless love-sticks - though, oddly enough, their football boots stay on throughout!
Not that you'll take much notice of that peculiarity, we're quite sure. You'll be way too busy hanging onto your own dick as these two beauties engage in a horny session of fellatio; prior to Franke pushing his pal over a table so that he can first finger and then fuck Adamov's ever-hungry little pucker! If you think this is going to be a straight-forward set-piece, however, think again. Having taken every inch that Franke has to offer, Adamov promptly instigates the two lads switching roles.
As a result, it's soon Franke's turn to get his arse stretched; the dark-haired buddy giving his blonder mate every inch he can muster in return. It's no time at all before Adamov is creaming Franke's ass with a solid spew of spunk; but it's arguably Franke's climax, directly into his scoring partner's mouth, that will gain greatest acclaim. All nicely topped off with a very sticky, snowballing smooch!
Scene 2: Raw-Loving Twinks Take A Shower, Then Suck & Fuck Like Dirty Whores!
Cast: Ethan White, Alexander Syden
From: Fantasy Football, Scene 4
After a hot, sweaty game of football, what could possibly be better than heading straight for the showers to get cleaned up? Certainly Ethan White and Alexander Syden don't appear to have any better idea, that's for sure; stripping away their kits to wash themselves down in a cascade of warm, soapy water. Don't allow yourselves to be deceived, however. Whilst getting clean is clearly the primary objective here for this pair of horny young twinks, it's certainly not the only one; and it's not long before the two boys are taking full advantage of their situation to explore each other's cute, naked bodies.
Cue a fabulous session of eager cock-sucking and ass-rimming that'll have you wishing that you'd given much greater attention to your footballing skills when you were younger! Don't get too despondent, though. White and Syden are more than able ambassadors for their sport, not least of all when Syden finally succumbs to temptation and allows his mate to fuck him up the ass raw - a move that we just know our fans are gonna love big time! Has shower-sex ever looked so beguiling? Certainly these two lads seem to have the time of their lives; with Syden literally getting the cum banged out of him, before taking a sticky facial courtesy of White's erupting cockhead! As post-match analysis goes, this one's a definite winner!
Scene 3: Flip-Flopping Footballers Get Their Big Balls Pumped & Emptied!
Cast: Jacob Waterhouse, Ray Mannix
From: Football Focus 2, Scene 2
Ray Mannix is back - and he wants to blow up Jacob Waterhouse's balls! Okay, so we're actually talking footballs; but (unsurprisingly) it's not long before his attention has reverted to what lies inside his buddy's shorts. Mannix is a boy who quite literally lives for cock, after all; and before you know it he's reverted to type and is feasting on Waterhouse's nips whilst groping the fellow's crotch. What very quickly becomes apparent, however, is that Waterhouse is just as horned-up for dick as his pal - making a beeline for Mannix's groin, sniffing the hot, sweaty pair of jocks he's wearing, and finally unleashing the thick, meaty shaft of meat that's straining within. It's not long, of course, before Mannix is returning the compliment - gobbling away on his mate's ramrod with all-too-characteristic fervour!
But by this point, of course, our old STAXUS favourite has only one objective, namely to get Waterhouse's cock firmly embedded inside his arse! It's a wish that his mate is only too willing to fulfil; and soon Mannix is riding the handsome phallus reverse-cowboy style like a bitch on heat. If you thought that this was going to be a straightforward fuck-and-run, however, then you're in for a very big surprise. For having taken every inch that Waterhouse can muster, Mannix promptly unmounts, gives his friend's knob a very eager slurp, and then promptly buries his own shaft inside his pal's hungry little ass in return! Cue a fantastic, no-holds-barred fuck that culminates in both boys quite literally exploding - in Mannix's case, all over Waterhouse's face. Fucking ace!
Scene 4: Boot-Sniffing, Jizz-Shooting Players Enjoy An After-Match Fuck!
Cast: Leon Weber, George Bona
From: Bare Score, Scene 2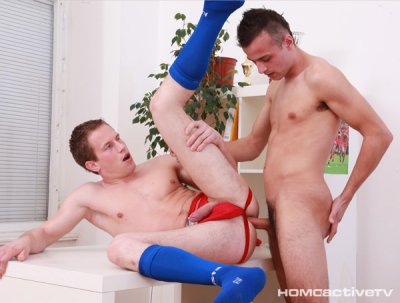 There's nothing quite like watching a young twink take a shower to cool down once the game's over and it's time to freshen up - or so young Leon Weber evidently thinks when he steps into the bathroom to find George Bona soaping himself down in the tub. Why, before you know it Weber is sniffing Bona's soccer shorts and having a good old-fashioned wank, fantasising no doubt about chilling out by sucking dick, riding a stuff pole and taking a load in the face as he does so! It's certainly a dream that appears to act as a potent motivator, that's for sure, as the boys promptly couple up for a hot, sweaty cock-sucking session that'll almost certainly get you in the mood. Indeed, by the time these two smooth buff young studs are fucking - Bona plonking himself down on his team-mate's lap, allowing Weber's meaty uncut shaft to dig deep into his ass - there's a distinct possibility that you'll be working yourself towards a jockstrap-inspired climax. Certainly it's not very long before these two lads are reaching the point of no return, dumping generous loads of pent-up jizz in all directions. A definite must-must-see for you kit-loving groupies!
Scene 5: Flip-Flip Shower Fuck Gives Way To A Spray Of Pent-Up Twink Juice!
Cast: Kamyk Walker, Alexis Alday
From: Play To Win, Scene 3
You can never be 100% sure as to what you may or may not find in the showers after a game, but it seems like Kamyk Walker has hit the jackpot this time. How else would you describe Alexis Alday? Dark, smooth, well-hung ... and only too eager and willing to call Walker into the room for a bit of hardcore smooching (and much more besides)! Not that Walker needs much persuading, it has to be pointed out; and, being the insatiable pro that he is, soon has Alday down on his knees giving head like a world-class slut. An act he himself is more than happy to reciprocate it must be said.
But the action doesn't really start to hit boiling point until Walker has finally worked his knob into his new-found pal's tight little ass, clinging onto the pipework along the sides of the room as he pounds Alday's crack for all he's worth. Never let it be said, however, that the blond boy's always more willing to give than to receive. Tables turned and it's Alday who's calling the shots, quite literally banging the spunk out of Walker in the process. Minutes later, Alday spurts over Walker's hairless chest; leaving the two now-totally-spent youths to wash away the sticky produce of their passions!
Scene 6: Bickering Buddies Make Up Via A Sporty, Cum-Soaked Fuck-Fest!
Cast: Enzo Sky, Titus Snow
From: Football Focus, Scene 1
New boys Enzo Sky (Czech shirt, German scarf) and Titus Snow (Portuguese shirt, Dutch scarf) clearly have something of a love-hate relationship - a rather bi-polar friendship that swings between lashing out at each other one moment and snogging each other the next. Still, that's the way some bonds work; and suffice it to say that their bickering does not last long. Indeed, before you know it both these horny buddies have abandoned their quibbling - and their football! - and have settled down for some more intimate moments on the nearby sofa. Snow, especially, doesn't seem able to hold back his interest for what's inside his mate's shorts - exposing Sky's jockstrap and running his tongue along the handsome bulge.
Nor does Sky show any reticence in pulling off his strip and allowing his pal to finally take full advantage of his thick, meaty cock. By this point, of course, any hostility between the parties has been totally abandoned; with Sky soon returning Snow's favour with some clearly badly-needed fellatio. But it's Snow who ultimately takes the initiative; fingering his mate's raised ass and then ploughing his dick deep inside for maximum impact.
What ensues is a terrific showcase of hardcore twink-on-twink action, that's made all the fucking hotter by the fact that Snow actually wears his jock throughout; and finally culminating in him quite literally unloading what seems to be the entire contents of his balls all over Sky's pert little ass. That leaves Sky to rupture his sac onto Snow's face in return, with the recipient lapping up the jizz like an errant whore!