Summary:
Going to the toilet is a perfectly natural need, but this group of horny twinks take visiting the restroom to a whole new level in their constant search for the biggest, hardest cocks around. Indeed, "cottaging" has never looked such fun as they suck and fuck to their hearts' content – all in the knowledge that anyone could walk through the door and disturb them at any moment! With a dozen scenes and over 3 hours in length, this 2 disc classic is a must-have for all you sleazy lovers of cheap, anonymous sex!
A brilliant collection of sleazy restroom riders!

Over 3 hours long, 12 scenes and 24 models.
This title represent great value for money given the amount of quality content and running time. However, to ensure you don't waste money buying the same content twice, this compilation features scenes from the following titles:-
Scene 1:
From: Bareback Twink Park, Scene 2
Two cute indie twinks are smoking in the toilets when naturally they decide sucking cocks is more healthy. One is blond with tousled locks and the other is dark with a cute little semi goatee on his boy face - some great shots of him on his knees in the toilet chugging away on blondies fat dick while working his own rock hard cock. The dark haired one rims blondies shaved hole and we get some great close up shots of his ass crack before he sticks his cock straight up dark hair who of course loves it. It all ends with dark hair taking a big load in the face and mouth.
Scene 2: Rony Clue and Steff Torr
From: Dream Ticket, Scene 4
A coach pulls into some services and dirty blond Rony Clue and cheeky looking Steff Torr nip into the toilets for a comfort break. Let's hope the floor was clean because Rony spends a long time on it sucking Steff's big hard cock, and no doubt exposing himself to an increased risk of contracting housemaid's knee later in life. Steff proceeds to bend Rony over and ram him senseless, Rony cums being fucked, and Steff unloads over Rony's arse.
Scene 3:
From: Bareback Fuck Club, Scene 4
Toilet sex and threesome action!! These students pass the time fucking and being fucked whilst not in lectures. One smooth guy has a great thick cock which really does stretch his mate's hole. All three are fit as fuck and the ass rimming is a treat as the curly haired blonde rubs his hole against the waiting tongue. The cum shower at the end really isn't to be missed as the floppy haired boy takes it like a man.
Scene 4:
From: Bareback Skin Flick, Scene 3
Horny toilet wank!! Smooth Simon gets far too randy in the loo and has to jerk his great cock, working his shaft up and down, he thrusts forward against the bathroom tiles, fucking his hand until he feels he's going to cum, aiming into the urinal, he coats it in a layer of fresh sperm!!
Scene 5: Zach Hood, Kamil Fox, Philippe Delvaux
From: Graduation Gang Bang 2, Scene 3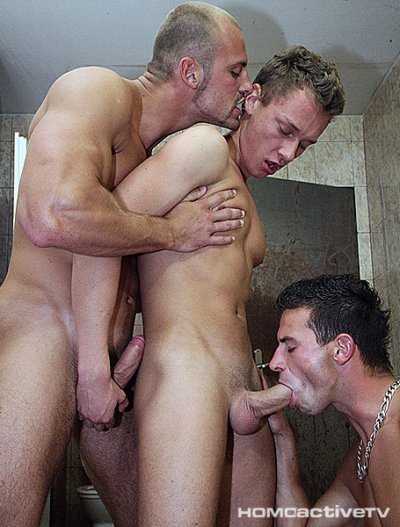 The arrival of the fabulously toned and generously equipped Zack Hood into any flick surely signifies that a film means serious business. Add the living legend that is Kamil Fox and the twinkish delights of Philippe Delvaux, then set the action in the confines of a toilet block, and you really do have the makings of a would-be classic. Indeed, this is a scene that (on paper at least) has cum-stains written all over it! What's more, it doesn't for one moment disappoint. Hood for his part is at his totally arrogant best, pushing young Delvaux about the room and rubbing his cock against the Belgian's rump in preparation for some hard fucking to come. Whilst Fox for his part has lost none of his manly charm in front of camera. The result is a truly mind-blowing – and, more to the point, ball-blowing! – escapade, culminating in the terrific moment when Hood and Fox simultaneously spurt their jizz all over Delvaux's cheeky young face. A definite must-see that'll have you tugging on your skin time and time again!
Scene 6: Toilet Room Sex!!
From: Dirty Secrets, Scene 6
Rick takes the opportunity to have more fun in the club as he follows a cute young fucker past the urinals and within seconds both are stark naked and Rick's getting his man meat right up the bottom boy's butt. Just as we are getting into the awesome duo, a journalist stumbles in and we get one of the hottest threesomes ever shot. His tanned toned body jumps right into the buttfucking, grinding away as Rick spit roasts him, both covering him in spunk from both ends, letting it splatter over his back and face, stuffing it back into his mouth as he tastes the hot cum.
Scene 7: Toilet Sex
Cast: Johan Vohny and Dominic Day
From: Bareback Frat Pack, Scene 4
Catching blonde Dominik jerking off in the loo, cute young Johan jerks himself off, fantasizing about the sight he's just seen, emptying his balls all over the urinal. But it doesn't end there. Word has got out about sexy Dominik's weekly wanks in the toilets, and Johan sneaks in to take advantage. Jumping into the cubicle, he catches our blonde boy at his horniest. Turning him around, he yanks down his trousers and pushes his enormous cock straight into the smooth peachy ass. Mercilessly fucking, Johan grinds deep inside, splashing his cum over the pale boys face and zips up and leaves, fully satisfied.
Scene 8: Luk Anders and George Willis
From: Dream Ticket, Scene 5
Rampant blond Luk orders a pizza, and when suspiciously attractive pizza boy George Willis, (smooth, well-built, and with an arse you could just eat) turns up Luk realises he doesn't have any money to pay. Thankfully George is willing to be paid in cock, and Luk quickly has George on the table, legs in the air, taking inch after inch of rock hard dirt-poor Russian dick. Luk comes in the pizza boy's face, who eats it all up.
Scene 9:
From: Bareback Skin Flick, Scene 5
Discovered in the toilet, Cley and Steve are soon set upon by a hot Joy, bringing his camera in for some after-hours filming!! Watching Steve taking a piss, Cley is attracted by his big dick and is on his knees in no time, getting super hard and Steve ready for more. Never one to miss out on a fuck, Joy joins in, getting his cock shared between the guys and then plunging it straight in, Cley taking both cocks one after the other, his ass crying out for cock!! Wanting to constantly fuck, Joy fucks Steve while he's fucking Cley, forming a horny daisy-chain of hot young twinks moaning in pleasure as their cocks and butts are used to full capacity!!
Scene 10: Matt Woody,
From: Bareback Fuck Club, Scene 2
Smoking hot scene, Matt and his blonde mate wait in the toilets for a shaved headed stud to cum and get jerked off. Spunking into a condom he's then fed his really thick load back and takes it all, cleaning out the condom with his cum covered tongue. He leaves, allowing the others to get down to some real dirty behaviour. The blonde guy has a great thick cock and a smooth body that will get your heart racing!! Seeing Matt pound his hole is truly awesome, with great close-up views to get your head moving in rhythm!!
Scene 11:
From: Bare Reunion, Scene 2
Two lads are smoking in the school toilets when the older one makes a move on his slim, blond friend. The slim lad is new to boy sex, but his long uncut dick quickly reacts to his mate's warm, wet mouth, stiffening to become a lovely thick knob. All it takes is a few fingers up this virgin ass and the lad shoots his sticky wad. The kid gets to taste his first cock, sucking his older mate's prick until he takes his first mouthful of spunk.
Scene 12:
From: Raw Cops, Scene 2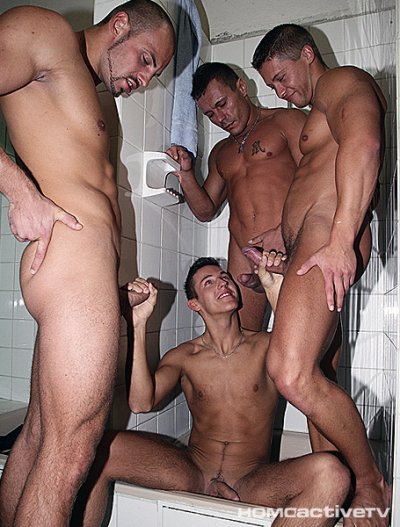 Anything with Zack Hood in is always hot. But put the guy into a police uniform, add three other stunners into the sweaty, claustrophobic backdrop of a shower-room and make sure there isn't a condom in sight and you've got the makings of a classic. Indeed, we defy anyone not to have their cock out even before Hood has pushed new-boy, Ian Dolman, into the showers and is encouraging his colleagues, Jacob Bishop and Jeff Stern, to assist him in the ritualised abuse of the fresh-faced rookie. The narration is at pains to tell us that this is the first time that Dolman's hole has seen any action, but if that's really the case then the kid's very much a natural, with his crack brutally pounded by a succession of thick, uncut cocks (Hood's included) and his face ultimately whitewashed by the pent-up contents of three heavy sacs of cream. If you can hold off from wanking to the sight of this boy's mouth awash with sperm then maybe watching gay porn isn't quite as much your thing as you might think!