Summary:
Nothing but orgies, gang bangs and big dicks! Watch these horny fuckers how they rim their meat in tight and innocent holes and shoot big loads! You surely don't want to miss out on this superb collection of group fucking! 2 DVD Set, 3 Hours of banging madness!

Awesome 2 DVD Set! Compilation DVD
This title represent great value for money given the amount of quality content and running time. However, to ensure you don't waste money buying the same content twice, this compilation features scenes from the following titles:-
Scene 1: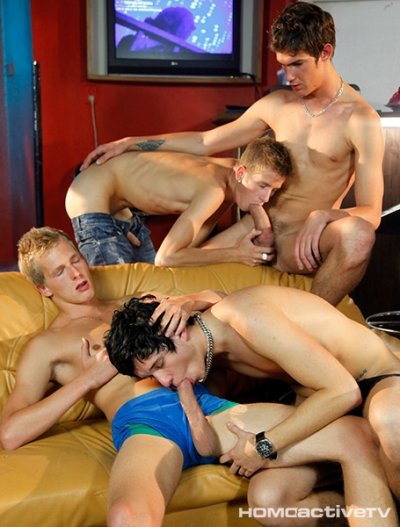 Throw four horny lads together in a bar, ply them with plenty of alcohol, and the result is this scorching foursome that sees Tom Nutt and Chad Rusler get royally shafted by Jon Roz and Carl Baxter – an escapade that we just know you're gonna love and which you'll be gagging to watch time and time again! And no small wonder. Nutt, as always, is a dirty-minded blond bombshell who can't wait to get some thick meaty raw cock up his ass; whilst Rusler shows similar tendencies when presented with the oversized ramrod that Baxter had throbbing in this over-excited crotch. Indeed, it's no fuckin' wonder that both fair-headed bottoms seem intent on making the most of Baxter's tool, taking it in turns to ride the monster to the max! Of course, given the talent on offer there's no prizes for guessing that the scene concludes with a veritable spunk-fest as all four guys spray their juices in whatever orifice comes available at the point of rupture; and needless to say there doesn't appear to be a drop of fresh jizz spilt! Rusler, in particular, produces a fine splurge; but it's Baxter who steals the show by gobbling Roz's juices and then jerking his beauty to a protein-rich high!
Scene 2:
9 boy gangbang!! Joey gets 8 cocks all wanting a bit of him after celebrating securing a place in the championship. After having his arse well and truly used by everyone, he's drenched in massive loads from every cock available before finishing it off himself. This gangbang will leave you gasping for more; even after you've joined in the spunk frenzy.
Scene 3: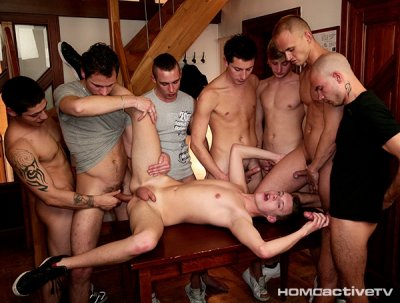 It's Robin Snoyer's birthday – and the moment you've all been waiting for, as a collection of some of the horniest studs and cock-sluts in the Czech Republic gather for the sort of party that most of us will only ever dream of! Beginning with a magnificent threesome (featuring Snoyer, Nick Gill and Toni Wall) which is almost an unforgettable scene in itself. As it stands, however, this superb session of cock-sucking and ass-fingering is merely an introduction to the main action to come; with the arrival of half-a-dozen other horny guests (armed with birthday cake) marking the onset of a truly spectacular orgy that'll have you working the rewind button to the point of breakdown! Centrepiece to the action, of course, is Snoyer; a young cutie who looks as wholesome and innocent as a slice of apple pie, but whose antics in front of camera soon prove that he's anything but. He's certainly a big hit with the likes of George Michael and Luis Bigdog, who have to take turns to thrust their hard cocks into every orifice that nature has given the boy; culminating in a frenzy of cum-shots that leave Snoyer's face coated in load after load of hot spunk! In short, it's total filth from beginning to end – and you dirty fuckers are gonna love every single second!!
Scene 4: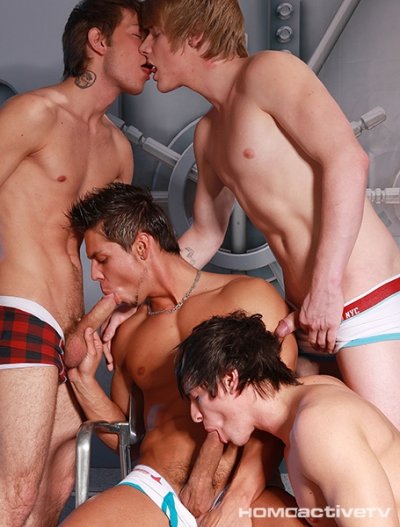 It's no damn wonder that the likes of Jack Rider, Chris Young and Sebastian Stiller find themselves standing agog when muscle-god Ennio Guardi puts on a show in the shower for them – this Czech beauty has a body to die for, after all, and it's no time at all before all three lads have joined the fellow for a hot, horny (and very wet) session of mutual cock-sucking and ass-rimming. Not that a star of Guardi's quality and reputation is gonna be satisfied with a few oral antics. This gym-addict needs to get his end away several times a day and indeed it isn't long before the fellow is working that handsome and well-used ramrod of his into a succession of tight, warm, eager butt-holes. As such stand by for a rampant series of hard fucks among these primed young sex-addicts, culminating in daisy-chain fornication between Guardi's three pals. Arguably the most memorable aspect of this scene, however, comes in the form of a series of breathtaking cum-shots – most notably from Guardi himself, whose knob blasts out wad after creamy wad of jizz like a machine gun in overdrive! It's a fantastic finale to a scene that'll have you wanking time and time again – guaranteed!
Scene 5:
FIVE BOY ORGY!! The most cum inducing scene of the film, this should not be missed, with these hung guys enjoying great oral action. It's Luky's last night so Steven Vulcan gets his three hung mates to help him make it one to remember! Full of huge rock hard cocks and smooth and sweet ass, Luky turns into a real bitch boy and takes each cock inside him in great fashion, being rammed hard by four cocks, it's not surprsingly he soon swims in the spunk shot out all over him.
Scene 6: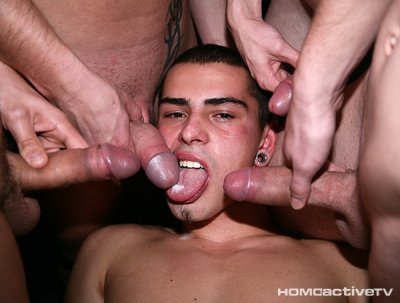 Julien Heath's kick-boxing match with Falco White finally arrives – but don't expect director, Vlado Iresch, to dwell long on the event. A blink of the eye and Heath has been declared the winner, setting up just the sort of victory celebrations that I'm sure we all wished followed every such encounter. For no sooner have Heath and White finished sparring than the likes of Carter Hides, Roney Clark and Christopher Kidd are pulling out their thick, meaty ramrods in anticipation of the suck-fest to come. Not surprisingly perhaps – given his dominance of the ring (excuse the pun!) – it's Heath who again secures centre-stage, slurping his mouth around every cock in the room. Don't shoot your load too soon, though. The highlight here is the sight of those same shafts dumping their wads over Heath's expectant face. Pride of place (not unnaturally) goes to Heath's vanquished combatant, White, who quite literally plasters the youngster's eyes and nose in baby-brew. It's a sight to warm the cockles of the heart, and one that'll swell Heath's grandma with indisputable satisfaction!
Scene 7:
We're not exactly sure if the sort of antics portrayed in this scene are anything like what goes on in the changing rooms of the Premiership – but hey, we can always dream! Six of the hottest, cock-craziest lads meet up for a steaming session of cock-sucking and ass-slamming that'll have you reaching for the rewind button and the Kleenex with equal regularity. Highlights include Luke Desmond's shaft – fuck, is that boy hung or what?! – and Marco Strutt (a cutie if ever there was one) putting his wand to good use in every corner of the room! Of course, you don't need to be much of a genius to realise that there's a grand total of six pairs of balls to unload here, and suffice it to say that none of them remain undrained by the scene's torrid conclusion. Spunk, it seems, is very much the order of the day for this team – and most of all for sweet Noah James, who ends up getting a stunning facial for his efforts. Prepare to blow your load!!
Additional Information
Categories: UK R18 / XXX Gay Adult, Gay DVD boxsets and Compilation DVDs
Running Time: 183 mins, Year: 2013
Price: From around £25* (2 DVD set)
Starring: Tom Nutt, Jon Roz, Chad Rusler, Carl Baxter, Martin Pilollow, Kamil Fox, Alexandr Kalas, Titch Jones, Lucky Taylor, Toby James, George Michael, Thomas Lee, Toni Wall, Robin Snoyer, Luis Bigdog, Johny Remarco, Rico Bowie, Garry Flicker, Nick Gill, Sebastian Stiller, Johan Volny, Chris Young, Ennio Guardi, Jack Rider, Tim Taillor, Luky Marco, Leon Cook, Jose Manuel, Steven Vulcan, Carter Hides, Julien Heath, Falco White, Roney Clark, Christopher Kidd, Johny Bravo, Mark Lee, Rob Levin, Brian Nash, Carl Baxter
Director: Vlado Iresch
Studio: Staxus
Buy DVDs online at: Homoactive, Simply-Adult.com and Radvideo (USA)
Download: Staxus
Gay Video On Demand: Staxus, See also: www.gayvod.co.uk
Member site: Staxus.com
Country: Czech Republic, Language: czech with english subtitles
Additional info: No Regional Coding