Summary:
If you're a fan of romantic vanilla then prepare for the disappointment of your life, as a filthy-minded collection of STAXUS sluts are gathered together for an animalistic display of cock-crazed filth that only a signed-up deviant could ever really hope to appreciate. Toilet sex, nipple-clamping, blindfolding, toy-play – believe us, these dirty cunts know every kink going as they push themselves and their mates to the limit for a non-stop spunk-fest that'll blow your mind!
Scene 1: Train-Spotting Chavs Head For To The Urinals For Some Flip-Flopping, Spunk-Inducing Fun!
Cast: Oscar Hart, Ryan Olsen
From: Tickets Please, Scene 3
Some boys like to indulge in a bit of class when it comes to meeting up for sex, but clearly neither Oscar Hart or Ryan Olsen are in that category of guy. For having met up one evening at a station in Prague, the two fellows head straight for some nearby urinals – and let's be honest here, they're not desperate for a piss! In fact, the only urge these two scallies have is the urge for cock – and hard cock at that!
Fortunately for them both, these two beauties are more than equipped to satisfy the desires of the other; and before you know it Hart is descending to his knees, unzipping Olsen's dungarees and feasting on the thick, meaty shaft that is already pounding away inside! A move that's soon being eagerly replicated by Olsen himself; before Hart proceeds to give his buddy's ass the kind of rigorous rimming that we'd surely all like our mates to provide! Especially – as in this case – it results in getting a fabulous length of raw cock being thrust inside your guts.
Mind, if there's something that young Hart enjoys almost as much as banging a horny, lubed-up ass-hole, it's getting his own horny, lubed-up ass-hole banged in return – a point that he's only too willing to demonstrate here. One minute he's balls-deep in Olsen's pucker; the next he's riding Olsen's shaft balls-deep in return! And with all this flip-flopping fuckery, it's little surprise that both lads are soon brimming at the point of ecstasy – each spewing a fabulous wad of creamy, pent-up nad-juice as a first-class finale to their antics. Train-spotting has never looked quite so much cum-inducing fun!
Scene 2: Birthday Surprise Gives Hot Lad An Abusive Session Of Sore Fun!
Cast: Angel Lopez, Izan Loren
From: Kinky Housemates, Scene 2
Most people celebrate a birthday by going out for a drink or having a special meal, but that's not what Izan Loren has in mind for his buddy, Angel Lopez, when the latter marks his special day. Instead, Loren leads the fellow off to his very special play-area, where he promptly ties Lopez to a column – his arms cuffed to a yoke, his nipples clamped, his balls weighed down by an impressive weight and his cock shielded by a chastity device. In other words, the youngster is quite simply left helpless – a mere play-thing for Loren's now-not-so-secret fetishes. What's more, the dominant pal quickly ups the ante by giving the lad a taste of the lash and the paddle; smacking his young, delicate skin with obvious relish, and for a few moments making Lopez wish he hadn't been quite so eager to take up his mate's offer of fun.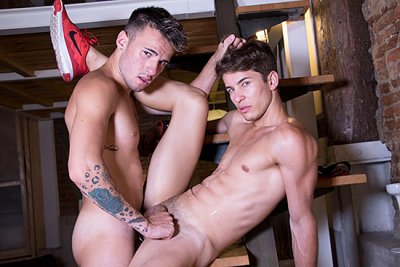 It's way too late to change his mind by this point, however; and, what's more, it's not long before Loren is turning his kinky attention to Lopez's hungry little arse-hole, which he proceeds to probe with his fingers in anticipation of a hot session of raw, hardcore fucking. Unsurprisingly, it's no time before Loren is energetically banging his mate against the column; before finally releasing the young lad from his restraints, bundling him down on the stairs and pummelling away at his pucker for all that the fellow's worth!
No fucking wonder that Lopez is quite literally on the brink in no time at all, boldly unleashing a torrent of jizz all over himself; whilst Loren signs off with a lively flood of goo moments later. As birthday surprises go, definitely one of the best!
Scene 3: Tim Law Gets Caught Red-Handed & Gets A Red-Raw Fucking From A Security Guard For His Pains!
Cast: Boris Orla, Tim Law
From: One Erection 2, Scene 3
Poor Tim Law. There he is, having a bit of fun – defacing the urinals – when along comes some over-zealous security guard, who threatens and cajoles him into a sordid sex act. To be fair, however, Law's definitely the kind of lad who is more than sufficiently charged to step up to the plate, so to speak – or, in this case, to step up to the thick, meaty, uncut cock that's now straining out of the blond top lad's trousers.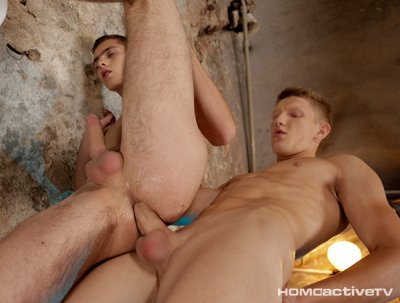 As such it's no time at all before the horny little youngster is feasting on the contents of Orla's neatly shaved crotch – a task that he undertakes with such skill and gusto that it's no time at all before Orla's replicating the act with similar enthusiasm. For both these lads, however, the ultimate experience is going to be a session of wild, inhibited fornication – and believe us when we say that neither boy disappoints. Indeed, it's no time before Orla's rimming his new-found buddy's ass and is giving Law the stiff, bareback fuck that he deserves, pushing his aching knob deep into the fellow's ass in a series of positions.
Little wonder that Law – who, as we've all long since known, was quite literally born to be fucked – is soon blasting a fabulous wad of jizz out of his balls whislt Orla continues to bang away at his ass. Whilst Orla finally calls it a wrap by shooting his over-generous deposit all over the twink's over-used pucker, before pushing the cream inside the hole. If all this dirty perversion doesn't blow you over the edge time and time again we don't know what will!
Scene 4: Two queer sluts
Cast: Aiden Jason, Luke Desmond & Skylar Blu
From: Army Brutality, Scene 4
Luke Desmond is a young soldier with a mighty big weapon – one that he puts to find use when he just so happens to spy two young twinks making out in what they clearly believe to be the privacy of some old factory units. Truth is, blond-haired Skylar Blu and cute-as-a-new-button Aiden Jason only have eyes for each other; but the unexpected interruption on Desmond's part and the sudden exposure of his meaty, uncut dick in their faces, is more than enough to persuade the pair that whilst two is good, three's fucking better!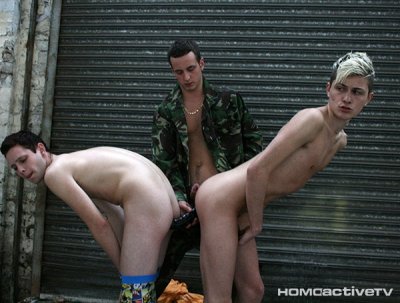 Little do they seem to realise that the older fellow has a bit of a kinky side to him that he's only too eager and willing to bring to the fore once in on the scene; and before they know it he's busy clamping their nipples for a little mindless fun. By the time the guy brings out a double-headed dildo with which to skewer the pair of innocent babes, Desmond clearly has them completely under his control; so it's little surprise that he proceeds to fuck both lads in turn, beginning with Blu who quite literally has the cum banged out of him! In short, a master-class in how young twinks can be used and abused by anyone with the guts to do just that!
Scene 5: Toy Loving Priestly Brothers Commune With A Hard, Jizzy Fuck!
Cast: Johnathan Strake, Mike Branco
From: Kneel & Pray, Scene 3
Who would've ever imagined that young priests had such a fascination with sex-toys? It's certainly a startling revelation, as Mike Branco and Johnathan Strake each go hell for leather on their own sweet arse-holes; before Branco switches his full attention on Strake's butt, whilst simultaneously gobbling on his buddy's dick. Indeed, Strake's appetite for a good old-fashioned anal pounding is clearly almost insatiable, given the way that he continues to take every inch of that big black dildo whilst munching away on Branco's swollen shaft.
Given the high-octane nature of this lad's desires, it's perhaps little wonder that his mate's only too eager and willing to take full advantage of the situation; lifting Strake's arse into the air and energetically rimming and fingering the horny little slit. To say that Strake takes everything that his fellow disciple thrusts in his direction is a statement of the fucking obvious – and, what's more, he's very quickly parting his cheeks to accommodate Branco's handsome ramrod.
It's a move that signals the start of a terrific set-piece, with Strake royally buggered in a whole series of positions – most notably reverse-cowboy style, when he bounces up and down on Branco's thick meat like a bitch in season. Little wonder that the fellow can't hold back from a sticky crescendo for long, spewing all over his belly. But his credentials as an out-and-out slut aren't totally signed off until he's taken a full-on facial courtesy of his mate's erupting cock-head; leaving him quite literally dripping with spunk and looking every inch the kind of whore we know and love!
Scene 6: Erotic Games Result In A Hard Raw Fuck & Oodles Of Jizz For Two Horny Big-Dicked Twinks!
Cast: Louis Blakeson, Noel Diamonds
From: Boy Games, Scene 2
Anyone who's ever seen the 1980's erotic drama, 9½ Weeks, will know that a blindfold can prove to be a very significant sex tool – something that young blond, Noel Diamonds, clearly appreciates when he hooks up with his horny little fuck-buddy, Louis Blakeson. Indeed, Diamonds is very much the driving power at the start of this encounter, covering his mate's eyes within a few moments of their initial smooch; then handcuffing Blakeson with a scarf, before stripping his dark-haired friend of all his clothes.
Any assumption that all of this sensual dominance on the part of Diamonds is going to result in Blakeson's ass getting a hard pounding is quickly dispelled, however, when proceedings take something of a surprising twist. For instead of Diamonds taking advantage of his buddy's obvious vulnerability by fucking the living daylights out of him, the fellow quite literally reverses himself onto Blakeson's raw, aching dick and allows his pal (still blindfolded and handcuffed) to pummel him from behind.
It's certainly a very imaginative escapade; but having ditched the kink, Blakeson's then very much back in control, slurping on Diamonds' handsome ramrod before taking another shot at his taller lad's ass-hole. All culminating in Diamond bouncing up and down on Blakeson's cock on a chair, his swollen knob flopping and slopping around in front of him with almost comic affect. Not that there's anything to laugh about when both lads finally come to the point of no return – a veritable pyrotechnic eruption that quite literally leaves them coated in a flood of hot jizz!