Summary:
Nothing beats sex in the great outdoors – as this bunch of horny STAXUS rascals are only too eager and willing to demonstrate. No mundane, vanilla, indoor sex for these boys. First opportunity and they're fucking away with the wind in their hair and the sun in their eyes; totally uninhibited in their wanton fornication, and maybe even getting a buzz from the thought of getting caught! Johnathan Strake, Chris Jansen and Paul Walker are just a few of the legendary STAXUS buddies who like their action to be unrestrained by indoor orthodoxies!
Scene 1: Biking Buddy Takes A Pit Stop To Enjoy A Rigorous Raw Fucking!
Cast: Johny Cherry, Chris Jansen
From: Biker Boyz, Scene 1
It's a tale of two contrasting personalities. Johny Cherry, innocently enjoying the countryside, using a blade of grass to make bird noises; and Chris Jansen, biker boy extraordinaire, wearing an ass-less suit that pretty much leaves nowt to the imagination! Of course, you don't need to be a rocket scientist to realise what's going to happen once these two young lads meet up; with Cherry quickly bowled over by Jansen's brazenly provocative attire, and the Danish lad taking full advantage right from the off. Indeed, neither lad remains dressed for very long, as they each take turns to gorge on each other's handsome cocks; before Cherry finally displays his distinctly carnal side, bundles his buddy over onto all fours and promptly starts to finger that beautiful bubble butt.
A few moments on and he's balls-deep in Jansen's pucker – which, given the Nordic boy's lewd reputation, is exactly where Jansen wants him to be. Fucking outside is never the easiest of options, however, so it shouldn't come as too much of a surprise that the action soon transfers to a nearby cottage, where both fellows can fully express their most promiscuous desires; and where (basically) Jansen gets his arse fucked in a whole series of positions.
Indeed, this is where the horned-up fucker is at his happiest – his hungry little fuck-hole being banged unmercifully, culminating in him squirting like a geyser mid-reverse cowboy! Which leaves him to bring proceedings to a happy conclusion by means of a helping hand – quite literally! – as he jerks Cherry's drooling cock off to a very sticky climax!
Scene 2: Doe-Eyed Horse-Whisperer Gets His Ass Rimmed & Fucked Raw!
Cast: Angel Lopez, Ray Mannix
From: Raw Rodeo, Scene 2
There's a serious risk that you'll have fallen totally head-over-heels in lust with young Angel Lopez in the first forty seconds of this sordid little escapade – and that's just as a result of watching him as he cavorts around in the luscious Czech countryside, feeding the horses, lying in the warm sunshine and looking fucking wonderful! Introduce Ray Mannix into the equation – as divinely hot as he ever was – and you have the making of a terrific duo that will seriously put you at risk of a severe wrist injury!
Things get off to a somewhat relaxed and casual start, however; with Mannix noting how beautiful Lopez's lips are, and the two buddies gently kissing and making out together. But don't be fooled into thinking that there's no passion between these gorgeous creatures. Indeed, by the time that Mannix has got down onto his knees so that he can unleash the Spaniard's badly swollen shaft from the rather skimpy denim shorts that he's supporting, the sexual tension between these horned-up buds is already almost too much to bear.
What's more, the chemistry only intensifies when Lopez takes his turn at fellatio – feasting on Mannix's manhood with real gusto, prior to him being bundled over a nearby bench so that Mannix can greedily rim and finger the twink's hairless pucker. All of which nicely introduces us to the main act – Mannix pounding away at Lopez's fuck-hole like wild animals, which ultimately results in the cute little bottom squirting like a geyser in appreciation. A display that soon results in Mannix rupturing and the two lads exchanging a gooey kiss!
Scene 3: A Fuckin' Hot Ride For Two Horny, Fresh-Faced Army Fuckers!
Cast: Florian, Evan
From: Spanish Army Sluts, Scene 3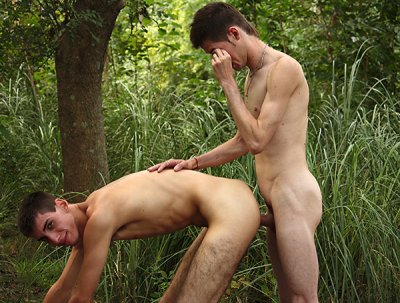 Playing at being soldiers can be rather tiring work. So much so that it's only understandable that young Florian and Evan decide to take the opportunity to break from their training in the woods to indulge in a little horse-play – which in this instance involves slipping out of their khakis and fondling each other's thick, meaty, uncut dicks! In fairness it's very much Florian who provides the lusty temptation, prompting his army pal to feast in his hard shaft and then forcing the said ramrod right down Evan's throat. In an act of reciprocal trading, Florian subsequently proves his taste for dick is equally ferocious; although by this stage it's pretty obvious that both lads are keen to get on with the nitty-gritty ass-grinding down on the forest floor. Hence it's not at all long before young Evan is bouncing up and down on Florian's lap – without so much as a condom wrapper in sight! Indeed, this horny youngster has a distinct penchant for hard cock, and is soon positioning himself against a tree so that Florian can thrust his knob even deeper. It's no wide wonder that both lads are each spurting like geysers just minutes later, with Evan's ass-hole serving as the chief target!
Scene 4: Roving Scout Tracks Down His Fuck-Buddy For A Hard Raw Ride!
Cast: Chad Johnstone, Mike Branco
From: Camp Fuckers, Scene 1
Some guys will cross over hell and high water to get to the man that they love – including, it seems, Mike Branco, who quite literally trundles through a forest to find fellow scout, Chad Johnstone, waiting for him outside their tent. Once safely united, of course, they immediately get down to the very serious business of cementing their affections; and within minutes both lads are stripped down to the waist and exchanging kisses. That, unsurprisingly enough, is but a foretaste of the hardcore action to come.
Before long, Johnstone has unbuttoned his pal's trousers and is greedily feasting on the fellow's now badly swollen shaft; before Branco promptly returns the compliment by slurping on Johnstone's completely hairless joystick. Indeed, both these boys clearly have a deep-seated appetite for fellatio, finally positioning themselves top-to-toe so that they can indulge in their passion simultaneously. Given what we already know about these two young fuckers, however, it doesn't come as too much of a surprise when they eventually go one stage further in their exploration of each other's bodies; with Johnstone finally thrusting that handsome, uncut shaft of his deep into Branco's divine little fuck-hole.
It's a move that pitches this outdoor encounter up to whole new level; not least of all because it's not long before the insatiable little blond is soon riding his mate's dick reverse-cowboy style for maximum effect. No fucking wonder that the young explorer is soon erupting for all he's worth; having very enthusiastically creamed Johnstone to a similarly sticky conclusion!
Scene 5: Two Horny Lads Catch Some Rays - But End Up Sucking & Riding Cock As They Do So!
Cast: Paul Walker, Mickey Taylor
From: Beach Bums, Scene 1
Paul Walker and Mickey Taylor head for the sand-dunes to catch some rays, but it's not long – about twenty seconds to be precise! – before Walker's in the mood for a wank. Not that this should come as any surprise to anyone who knows this young sex-god. The fact remains that Walker pretty much thinks about his cock morning, noon and night, and certainly Taylor doesn't seem to be at all perturbed at the sight of his buddy yanking his dick out to give it a well-deserved tug! Indeed, it's no time at all before Taylor's helping his over-sexed mate out – and who the fuck can blame him?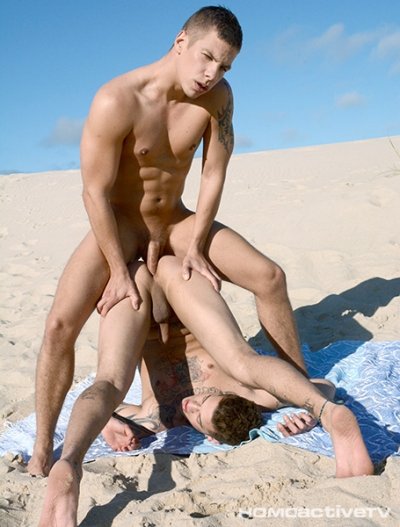 Let's face it, pretty much all of us would react in exactly the same way given the same circumstances; and, what's more, Walker promptly responds in kind. The result is a fantastic session of outdoor cock-sucking that we all know can only lead to one thing very quickly! And so it proves, with Taylor mounting Walker's nicely cut shaft cowboy-style for a no-holds-barred ride that both lads are gonna remember for a long, long time.
Indeed, we defy anyone who sees these guys in full rut not to reach for their own zipper in appreciation, and chances are you'll have dumped a load (or maybe even more) long before Taylor has been fucked to within an inch of his life in a whole series of eye-watering positions! However, whether your own wad proves as generous as the ones produced by these guys – most notably Walker, who pumps a magnificent squirt over Taylor's face – is another matter entirely!
Scene 6: Smoking Hot Recruits Go Jizz-Happy In A Raw, Ball-Bustin' Tryst!
Cast: Johny Cherry, Johnathan Strake
From: Army Dropouts, Scene 3
Life in the army isn't just about fighting and warfare – although that's a very important aspect of the role, admittedly. The truth is that much of a soldier's day is actually quite boring, as young recruits, Johny Cherry and Johnathan Strake, are discovering for themselves in the opening moments of this horned-up escapade. In fact, it's hard to imagine a more non-violent scenario as the two beauties light up cigarettes and enjoy a drawl in the forest together.
What's more, it's not at all long before this intimate moment between the two soldiers has transformed itself into something far more sensual – the mates exchanging a kiss, Cherry feeding Strake a berry from the hedgerows, and then finally both lads stripping down to enjoy the pleasures of carnality. Of course, there's no need to have a degree in military manoeuvres to realise who's going to have the passive role in this spunky little episode – anyone who's seen Strake in action before will anticipate that he's soon going to be riding Cherry's handsome shaft like the complete and utter cock-whore he is!
But at least to begin with there's an element of egalitarianism, as both lads take it in turns to slurp on all the aching flesh on display. It's not a prolonged foreplay, however. Strake's appetite for dick seems to increase with every passing performance, and Cherry is soon eagerly fingering the fellow's slit before thrusting every inch of his knob deep inside. What ensues is a full-on ass-banging romp, topped off by Strake literally exploding as he rides his mate cowboy style; before Cherry erupts in return!

Themes: Big Dick, Dark Haired, Fingering, Gym Sex, Rimming, Studs, Twinks, Uncut Cocks