Summary:
Some boys like their adventures with cock to involve dicks that are decidedly on the big side – and let's face it, those are the lads we've always liked the best! Dudes who feel totally uninhibited when confronted with horse-hung, horny studs, and who know exactly what to do with every throbbing inch on offer. Caleb Moreton, Georgio Black and Denis Marpol are just some of the oversized beauts; Lukas Leung, Mike Cage and Alan Capier just some of the size-queens who will quite literally stop at nothing to get the maximum stretch on offer!
Scene 1: The Love Of Monster Dick Gets This Horny Twink Well Stuffed!
Cast: Lukas Leung, Caleb Moreton
From: Humongous, Scene 6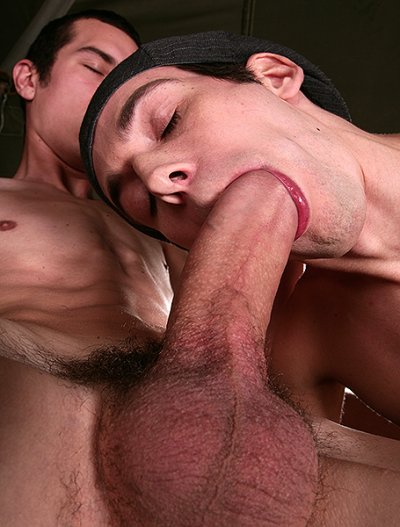 There's three things for which young Czech lads are well known for: drinking beer, having big cocks and fucking each other raw whenever they get the chance! And it's a notoriety that director, Vlado Iresch, makes the most of when he introduces Lukas Leung and Caleb Moreton in a beer-tent, where (to be honest) the love of alcohol is quickly eclipsed by the love of hard dick! Not that you'd really expect anything less from these two boys, who are soon sucking away on each other's knob-ends like it's gonna be made illegal, before Leung finally parts his legs to take full advantage of Moreton's over-sized member. Because, let's be honest here, there's nothing "small" about Moreton - a guy who's hung like the proverbial donkey, and who's more than willing and able to use the fact to full advantage - and it's with definite relish that Leung takes every inch that his drinking-pal has to offer. To his credit, Leung does bottoms everywhere proud; but ultimately it's no real wonder that the spunk is quite literally banged out of his balls! That leaves Moreton with the scene's climatic moment, as he spews the contents of his nads all over Leung's (now very sore) ass-hole, before pushing his spent shaft back inside. In a word, fabulous!!
Scene 2: Cocky Punk Gets A Right Hard Spit-Roasting From The Cops!
Cast: Nick Deniels, Zac Powers, Max Fonda
From: Big, Bigger, Biggest, Scene 5
Being used and abused by a couple of horny police-officers is perhaps not something we'd like to happen to us in reality, but in terms of a fantasy there's rarely anything hotter. As young Nick Deniels discovers when confronted by the menacing talents of Zac Powers and Max Fonda. These two horny cops want justice and they want it now - forcing the youngster to open up like a flower in the wake of their probing investigations. Before Deniels knows it, he's riding both of their knobs in quick succession - proving, without a shadow of a doubt, that there's few visions more cum-inducing than the sight of a cute newcomer getting mercilessly spit-roasted. Except, perhaps, the sight of that same young angel with cum dripping from his arse-hole and his mouth at the same time! A feat that Deniels (an angel if ever there was one) more than ably demonstrates.
Scene 3: Filthy Fucker Enjoys A Rigorous Pounding From The Fire Brigade!
Cast: Mathew Ross, Jeff Wills, Alan Capier
From: Monster Cock Inferno, Scene 1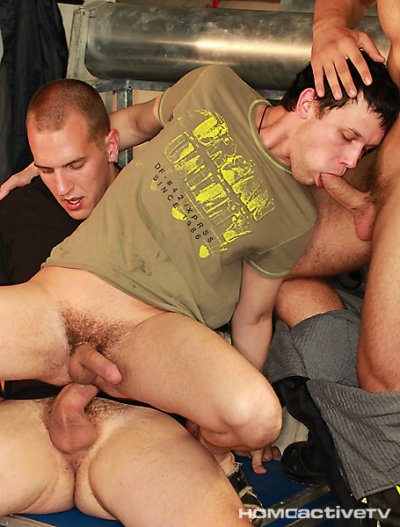 He might not have the cutest face, but fireman Jeff Wills boasts one of the thickest, meatiest uncut cocks you're ever gonna see on film - a fact that doesn't go unnoticed by young Mathew Ross, who steps into the crew's changing room to discover Wills half-dressed and boasting a quite magnificent semi! Suffice it to say that Ross is soon displaying just the kind of appreciation that pretty much all of us would show given half the chance, slurping on that magnificent rod for all he's worth. The entrance of Alan Capier into proceedings serves only to turn up the sexual notch even more; as the new arrival fights to get face-fucked by that kind-sized organ, before bending over to allow Wills to bang his raw cock right up his hungry ass. Porn veteran Capier isn't satisfied, however, until he's got Wills' massive monster pounding away in his man-cunt, positioning himself above the huge weapon and plonking his ass down on the beauty! It's not long before Capier has an ass-load of cum (courtesy of Wills) and a sticky facial (courtesy of Ross); whilst his own money-shot, over Wills' crotch, underscores his reputation as a complete whore where cock's concerned!
Scene 4: Sneaky Suited & Booted Wank Turns Into Full-Blown Raw Fuck!
Cast: Timmy Taylor, Xander Hollis
From: Too Big To Handle, Scene 1
It stands to good reason that anyone who follows STAXUS is comfortable with the idea of porn and takes tremendous pleasure from seeing gorgeous young guys perform in front of camera. But not everyone shares such appreciation, and for some the genre remains clouded with guilt and secrecy. A sentiment that young Timmy Taylor clearly shares given the manner with which he creeps past his sleeping lover, Xander Hollis, when returning home from work one day. For Taylor's objective is a sneaky wank in the company of his favourite blue movie - one of our many superb bestsellers without a doubt! - and hence the opening minutes of the scene feature a fine solo display from Taylor and his handsome, uncut cock.
But with Hollis dozing in the background it only ever seems a matter of time before the action hitches up a notch; and indeed the youngster's entry into proceedings signal the start of an unforgettable suck-and-fuck-fest that sees Hollis flicking back and forth between getting his arse pounded and his mouth stretched! It's an escapade that can have only one rightful conclusion, namely a terrific wad of jizz over Hollis's face. In short, ace!
Scene 5: Eager Office Boy Discovers His Horny Boss Is Hung Like A Horse!
Cast: Georgio Black, Mike Cage
From: My Big Fat Monster Cock, Scene 2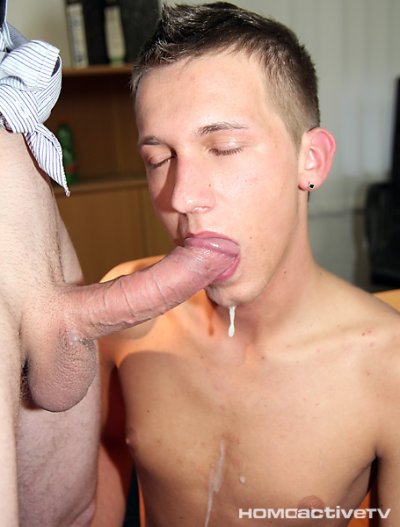 He might not be number one in the looks department - though that's not to say that he won't have his admirers given that he's here donning a shirt and tie - but what Georgio Black lacks in facial attributes he more than makes up for in the inches department. Believe us, this guy is quite literally hung like a horse, and it's no surprise that his underling, Mike Cage, is so eager to get acquainted with the monster when he steps into the boss' office. The fact that Cage then promptly proceeds to suck the grossly-sized beast right down to the roots surely warrants an accolade in itself; but this young office boy clearly only has one objective pretty much from the word go, and needless to report Black is only all too willing to oblige. Before you know it, that giant knob-head is sinking deep into Cage's young ass - and believe us, the subsequent sight of the lad bouncing up and down on Black's lap is more than enough to warrant some over-excited use of the rewind button. But it's the closing moments, with Cage's cute little face dripping with cream, that'll have you jerking off big time!
Scene 6: A Workroom Full Of Cocks Leads To A Cascade Of Steamy Spunk!
Cast: Franco Gregorio, Jacob Bishop, Denis Marpol
From: Massive Monsters, Scene 2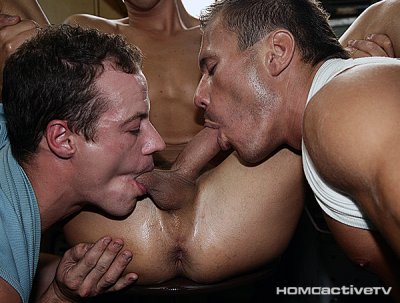 It's not just the college kids who are sex-mad in this town, and is it any wonder? With mega-hung pups on the corner of pretty much every street it's no great marvel that every resident guy around seems to think of cock 24/7! Including grease-monkeys Franco Gregorio and Jacob Bishop, who interrupt Denis Marpol from his work to examine the size of his spanner! Needless to say, we're not exactly talking about serious mechanics here. No, the only spanner these lads are interested in is the one that Marpol keeps tucked away in his green overalls, which they very promptly unleash from its resting place. Cue a slobbery session of cock-sucking and animalistic grunting from these beauties, which ultimately results in Marpol's sweet little ass getting fingered and fucked! The sight of the young beauty being spit-roasted is a definite highlight. As is that of (first) his face and (then) his ass being splattered with cum. You have been warned!

Themes: Bareback, Dark Haired, Facial Cumshot, Locker Room, Rimming, Twinks, Uncut