Summary:
2 DVD Set! Nothing but smooth young twinks with the biggest cocks ever! Two discs full with mainly bareback scenes, ultra hard fucking, long sucking episodes and monster cocks blasting huge loads of fresh boy cum!

Awesome 2 DVD Set! Compilation DVD
This title represent great value for money given the amount of quality content and running time. However, to ensure you don't waste money buying the same content twice, this compilation features scenes from the following titles:-
Scene 1: Tim Law Rides Some Uncut Blond German Twink Dick!
Cast: Tim Law and Phil Raven
From: German Sex Holiday 1, Scene 2
It doesn't really take much in the way of genius to see why blond German beauty, Phil Raven, is attracted to STAXUS exclusive, Tim Law – after all, what red-blooded guy would be able to resist the young twink's pert good looks?
Neither is it really rocket science to understand Law's brooding penchant for Raven, whose heavy mane of blond hair and handsome Teutonic frame is every inch what we'd expect given his nationality. Indeed, the on-screen sexual chemistry between these two sex gods is quite palpable almost from the very moment that the camera starts to whirr; and the prompt emergence of Raven's closely-trimmed uncut cock (whose size could almost warrant it a zip-code of its own!) only adds to the intensity of the encounter.
hat follows is a fabulous display of fornication that'll have you reaching for the Kleenex time after time; as Law rides that thick, meaty member in pretty much every direction known to man and quite literally gets the spunk fucked out of him in the process! But it's the flood of jizz that the boy gets blasted over his face courtesy of Raven's knob that warrants greatest acclaim – a chin-dripping finale of the highest order!
Scene 2: Monster Cock Alert!
Cast: Caleb Moreton, Paul Blow, Isaiah Abbiss
From: Filthy Skater Sluts, Scene 4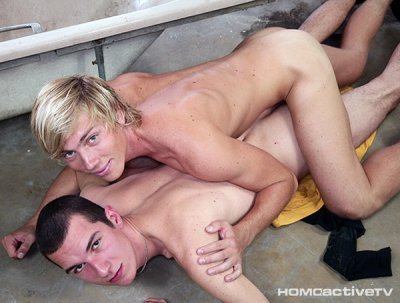 Monster cock alert! – as the oversized monster that hangs between Caleb Moreton's legs makes a stunning appearance in the company of horny twinks, Paul Blow and Isaiah Abbiss. Not that any of these three boys have anything to worry about in the size department; but you can tell from the look in Blow's eyes as he feasts upon Moreton's mammoth member that it's Moreton's dick that warrants the keenest attention. And no fuckin' wonder! This is a cock-and-a-half in every respect – the kind that wet dreams are made of – and it's hardly to be wondered at that Blow (a winsome blond) is literally gagging for all that meat to be thrust deep into his ass. When the moment finally comes the boy is quite literally like a cock-whore in a male-harem, moaning and gasping for breath as every inch is pushed deeper and deeper inside; whilst Abbiss sucks on his shaft from below. Altogether, it's the sort of breathless threesome that'll have you simultaneously reaching for the remote and jerking on your own knob time and time again. Don't pump too soon, though. After all, with an ass-load of cum and a face-load of piss, the sight of Blow's own money-shot is a truly unforgettable classic moment all of it own!
Scene 3: Cute, Over-Hung Beauty Works His Wrist On His Oversexed Cock!
Cast: Kevin Arbor
From: Raw Focus, Scene 3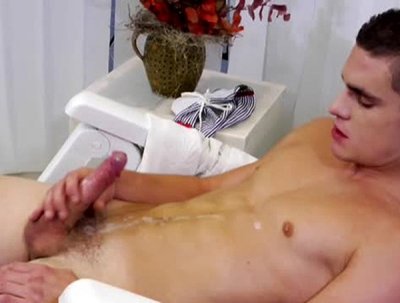 We might be completely wrong about this scene, but we reckon that by the time young Kevin Arbor steps out of the shower – some ten seconds in! – you're gonna be completely hooked on this dark-haired beauty. Why? Well, for one thing he's not exactly the kind of cute-faced twink you'd want to kick out of bed in a hurry; and for another he's blessed with the kind of equipment down below that is always gonna grab the attention of you porn-lovin' fanatics. Indeed, let's be honest here, Arbor's is the kind of cock that was almost made for the camera – which perhaps explains why this perverse little solo exists in the first place! Of course, a boy Arbor's age exists for one purpose only, namely to produce load after load of ball-batter in the quest to propagate the next generation. What's more, it's a purpose to which he's dedicated quite a bit of time until this point – and it shows! This is a young man who knows exactly how to work that ramrod of his into a creamy frenzy, and it's not long at all before he's blasting his belly with the fruits of his labour. Fingers crossed for more of this boy to cum; but meantime be assured that this is one wanker you will want to spend time with!
Scene 4: I Have A Dream ... Of Raw Black Cock In Hungry White Ass!
Cast: Tim Law, Tyler Johnson
From: Super Size Me, Scene 4
There was a time – no so long ago – when the idea of a white guy mixing with a black man (even in simple everyday social terms) was regarded as taboo. The thought of them having sex – not to mention black cock penetrating pert white ass – was a taboo in the extreme. But how the world has changed, as young, sweet-faced Tim Law discovers as he's confronted face-to-face with the enormity of Tyler Johnson's skyward-turned knob-end. Hey, a few generations back Johnson's ancestors would've been working the dirt to keep Law's forefathers in pampered luxury; but Law displays no such supremacist views as he worships the black dude's hugely superior cock with his eager twink mouth, stretching his lips and throat to the max. Finally, the kinky moment we've all been waiting for, as the camera captures in glorious detail the sight of Johnson's monstrous raw black mamba slipping into Law's hungry ass, signalling the start of a ball-busting union that'll have you jerking like fury! The cute white-boy never stands a chance, and it's not long before he's taking a furious blast of French negro seed all over his face. Equal rights have never looked so good!
Scene 5: Fantasy Face-Fuck Leads To Hot Cum Dripping From Every Hole!
Cast: Jack Cameron, Andy Rube
From: Bareback Vibes, Scene 2
Enjoying a cigarette and listening to some good music may be considered an indisputable pleasure for some, but for young Jack Cameron it clearly isn't enough as he slips into a fantasy involving the equally comely Andy Rube. As always, of course, Cameron is every inch pitch perfect – cute face, toned body, a fantastic cock and (arguably the most important aspect of all) a libido that's second to none. As such it's no surprise that he's soon face-fucking Rube on the sofa, whilst all the time maintaining an exquisite look on his own face that seems to underline the unarguable pleasure that this sordid little encounter is providing him.
Fact is, of course, that he really can't wait to get his thick, uncut knob-end deep inside the musician's pert ass – an ambition that he eventually achieves with noteworthy ease once he's taken time to rim Rube's hole into a state of feverish anticipation. The fuck that follows is every bit as energetic and unreserved as you'd expect from boys this age and is topped off nicely by Cameron white-washing Rube's arse-hole with a generous splatter of jizz and Rube dumping a load over Cameron's face in return. Filthy, but fuckin' magic!
Scene 6: A Magnificent Overhanging Foreskin

Cast: William Holder, Tom Nutt
From: My Big Fat Monster Cock, Scene 4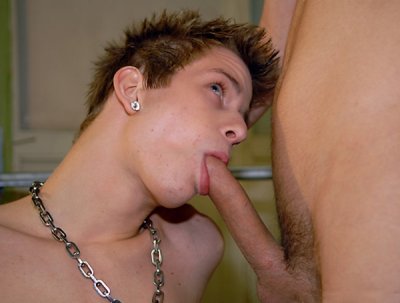 It's formulaic stuff, of course, but there's nothing typecast about the two lads who meet up in this gym, believe us – both William Holder and Tom Nutt have the sort of dicks in their sports-shorts that'll have you reaching for your own weapon in no time at all. Not that either of these boys show any lack of urgency when thrown together between the weights and running-machine – why, they're quite literally hanging off each other's butt-puckers like a couple of cheap whores before the cameraman even has chance to take position, and when you see what pops out of their pants you'll understand why. Holder's cock, in particular, is a beautifully proportioned organ with a magnificent overhanging foreskin that we defy anyone not to take to their heart (not to mention their mouth and their ass!) with all the relish of a dog on heat; and it's little wonder that Nutt eagerly takes the opportunity to ride the monster cowboy-style over the weight-machine. With a flip-flop fuck promptly ensuing, it's left only to conclude proceedings with a couple of mega-gooey, open-mouthed cum-shots!
Scene 7: Two big dicks
Cast: Luis Bigdog, Jon Bruno
From: Oversized, Scene 4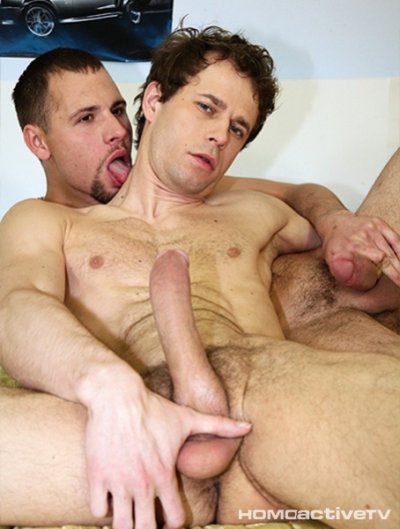 Luis Bigdog is nothing if not persistent – particularly when he meets a cute youngster that he really wants to fuck. So it should really come as no surprise that he's all over Jon Bruno like a bad rash, even though Bruno's reaction to begin with is a little less than enthusiastic. Seems like all the lad really wants to do is carry on reading his magazine – but geez, how boring is that? Bigdog has a pair of mega-full balls that need relieving; and besides, he clearly knows just what sort of punch Bruno's got packed in his pants ... a thick, upwardly-curved shaft that Bigdog's just gotta get a real good suck of! Not that Bigdog's knob-end is any less impressive, and by the time the two guys are 69-ing each other on the bed you'll be wondering how the fuck we find so many well-blessed fellows in the Czech Republic. As it happens, it must be something in the water – which may also explain the inane desire to ride dick, displayed here so ably by Bruno. No question about it, this guy's a total whore, and the way he "explodes" on Bigdog's lap at the end you'll be left wondering how he doesn't do his nads lasting harm!
Scene 8: A Prize-Winning Performance
Cast: Sebastian Stiler, Justin Gray
From: Bare Boy Band, Scene 4
We don't wish to pre-empt your opinions, but we know for a fact that you're just gonna love Sebastian Stiler, a young beauty who dreams of being the drummer in a band one day. For not only is this toned, dark-haired diamond the kind of youngster who would grace the stage at any rock concert, but he's got a definite taste for cock – as Justin Gray quickly discovers when he offers to give him some musical training. As it turns out, the only drumstick that Stiler's interested in is the one that's hanging between Gray's legs; as he promptly proves his cock-sucking credentials with a gloriously athletic display that not unsurprisingly leaves Gray's head reeling! What's more, this is a boy that loves raw cock in his ass too, for having feasted on his new pal's schlong like a common whore he then sits down on Gray's condom-free knob and proceeds to bounce up and down on the weapon like it's his lifetime's ambition. No question about it, this is a prize-winning performance; culminating in Stiler quite literally getting an ass-load of cum. By the time his hole is dripping, your balls will be totally drained!
Scene 9: Horny Twink Jerks Off, But His Buff Blond Haired Pal Just Wants To Ride A Monster Cock!
Cast: Caleb Moreton, Johny Bravo, Brian Nash
From: Bareback Football Orgy, Scene 3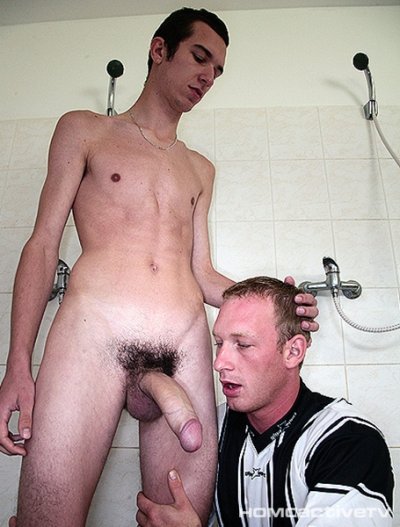 With Caleb Moreton returning to the shower-room to flaunt his assets once again, it's no wonder that a young boy like Johny Bravo can barely contain himself. In fact, he's jerking away like a teenager on Viagra almost as soon as he's stripped out of his sports-kit – dumping a terrific load on the changing room floor whilst Moreton watches from the next room. Whether Moreton's a little disappointed not to have got the opportunity to fuck Bravo's tight ass is something we shall never know; but a few seconds later and blond-haired hunk, Brian Nash, has emerged from the field of play to take Bravo's place. He shows no sign of reticence when it comes to stripping and joining Moreton in the showers. In fact, it's only a matter of a few seconds before Nash is taking every single inch of Moreton's cock up his ass – the slut!! A fantastic coupling thereby ensues, with Nash eventually sitting on Moreton – no mean feat! –and having the spunk banged out of him in the process. But it's the sight of Moreton spurting into Nash's mouth that eventually warrants the greatest accolade!
Scene 10: A Distinctly Tight Fuck
Cast: Carl Baxter, Sam Brooks
From: Humongous, Scene 2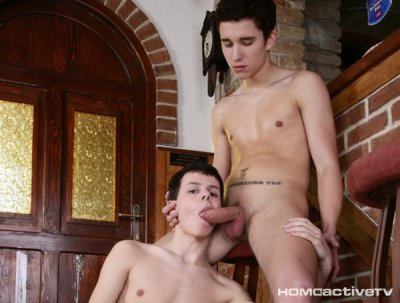 With a lean, toned body and an oversized cock between his legs, it's little wonder that young Sam Brooks can't resist the indisputable charms of Carl Baxter when the two horny pups happen to meet in a local bar. Indeed, there's no doubting the fact that the fellow's ass is literally crying out for attention given the way he quickly begins to finger himself whilst Baxter slurps on his cock. The hot young beauty is gagging for the feel of hard dick inside him – as those who've seen him in previous titles will undoubtedly recognise – and it's not until he can feel Baxter's big, swollen orbs bouncing off his arse from behind that his face finally blossoms into a smile. That said, the size of Baxter's monster means that it's a distinctly tight fuck, and, having taken another greedy suck on the beast so as to lube the meaty ramrod, lies down on a bar-stool so that Baxter can screw him from the front. Unsurprisingly, it's not long before Baxter's cock reaches boiling point – a cue for Brooks to get down onto his knees to take the full force of the blast over his face. The way he slurps on the ensuing flood of fresh jizz – together with Baxter's reciprocal reception moments later – will have you bursting with equal enthusiasm we're quite sure.