Summary:
They say if you wanna feel good about yourself then make sure you're wearing sexy underwear – an adage that this collection of horned-up fuckers uphold to the max in their quest for hot, anal action. Not that those tight-fitting jocks stay undisturbed for long. The likes of Angel Lopez, Tristan Archer and Alessandro Katz may look like the dog's bollocks in their underwear, but it's the hard flesh straining inside that's the real focal point for this group of cock-crazed pups!

Compilation Gay DVD - 6 Scenes
Description / Review:

Scene 1: Yuri Adamov Gets Banged Like A Common Tart By A Fitness-Mad Fucker With A Donkey Dick!

Cast: Luke Vogel, Yuri Adamov
From: Brief Encounters, Scene 1
No question about it, young Luke Vogel – a loud-mouthed chav, if ever there was one! – makes exercising look sickening easy; but what he demonstrates during the opening moments of this cum-inducing scene with Yuri Adamov in the form of press-ups and squat-thrusts is nothing in comparison to the physical display that ensues with his hot and horny fuck-buddy soon afterwards. Mind, when you're blessed with the kind of donkey-sized dick that Vogel has it's no real great wonder that you should be so cocky about yourself, or that your immediate thoughts and attentions are centred so readily on your groin.
So it should come as no surprise at all that he's quickly thrusting his thick, meaty, uncut shaft down Adamov's throat almost as soon as his buddy has made an appearance. Not that Adamov appears in any way upset at the sudden turn of events. We've all seen him in action long enough to know that the appearance of a truncheon like the one Vogel has stuffed in his pants is sure to get the lad into a sexed-up trance; and having tasted every aching inch of hard flesh on offer it's no surprise at all that he should be enjoying Vogel's tongue rimming his over-excited ass-hole as the two boys sixty-nine each other on a sofa.
But the real passion begins the moment that Vogel finally gets to plonk his monster member deep into Adamov's pucker, signalling the start of a truly terrific, breath-taking escapade that sees the bottom banged like a common whore before producing a magnificent hands-free cum-shot over the edge of the chair! A sight that makes Vogel's subsequent eruption appear almost second-rate ...
Scene 2: Archer's Got The Horn & Unloads His Quiver Into Hot Cute Blond!

Cast: Chris Jansen, Tristan Archer
From: Cuddle Up, Scene 3
Tristan Archer's feeling horny. We know this because he's laid out on a rug in front of an open fire, wearing nothing more than a pair of briefs and rubbing his crotch with an almost insanely enthusiasm. Truth, of course, is that the lad's at an age where he feels like this most of the time; and the introduction of Chris Jansen into the equation does nothing to dampen his ardour. Far from it, in fact; with the two fellows promptly making the most of the opportunity to smooch, before Archer makes a beeline for his new-found buddy's groin and pulls the Dane's swelling shaft into the open.
At that point, of course, you just know that we're at the point of no return. There's no way on this earth that Archer is going to let this handsome Scandinavian cock out of his sight; whilst the knowing look in Jansen's sapphire eyes tells you that he's not going to be happy until his pal has switched attention to his hungry little arse-hole. But first there's the not so insignificant question of fellatio to consider; with both lads taking it in turns to slurp on each other's bulging dick-heads.
Ultimately, however, both these mates are in the mood for some ball-busting, ass-stretching action; and it should come as no surprise whatsoever when Tristan first fingers and rims Jansen's slit, then buries his hatchet balls-deep into the inviting crack. For all its predictability, we defy anyone not to be completely entranced by the unrestrained rutting that ensues – the fire and the rug merely adding to the sexual thrill. No wonder it's little time before Archer creams his mate's hole, before Jansen erupts in return!
Scene 3: Hairless Buddies Sneak Off For A Spunky Session Of Ass & Cock!

Cast: Julian Fox, Zane Pieters
From: Raw Rodeo, Scene 3
All that fresh air in the great Czech outdoors has clearly had a serious effect on Zane Pieters and new boy, Julian Fox – why, they literally can't wait to become ensconced in the stables so that they can smooch and grind against each other like a pair of horned-up animals! Not that kissing and petting is the limit of their ambition, obviously. Indeed, you only have to take once glance at the extremely skimpy pair of shorts that Pieters is wearing to understand what's intended. The said attire doesn't remain on the young fellow for long, mind. Before you know it, Fox is down on his knees and removing every stich of his mate's clothing – desperate, as he clearly is, to enjoy the feel of Pieters's cock in his mouth.
He's not alone in wanting to engage in some hardcore fellatio, however. Having been pleasured by his pal, Pieters is soon replicating the favour – much to his evident delight! What's more, matters only intensify when Pieters finally pushes Fox to one side and begins to rim the newcomer's hairless little pucker; which in turn soon leads to Fox taking every inch of meaty, uncut cock that Pieters can force up his ass! Given Fox's inexperience in front of camera, of course, you'd be utterly forgiven for assuming that the youngster's subsequent performance is something of an anti-climax.
Something tells us, however, that this is a fellow who's far from untainted when it comes to matters of the flesh; as he rides his mate's ramrod like a total slut, then takes an ass-load of jizz for his efforts. All of which is nicely wrapped up by him jerking his gorgeous dick to a sticky finale!
Scene 4: Sleeping Sweethearts Start The Day With A Sweaty, Jizzy Fuck!

Cast: Andy Scott, Bjorn Nykvist
From: Face To Face, Scene 2
We've all had mornings like it – waking up and feeling as horny as fucking hell! And naturally it's always much, more worse – or better! – if you wake up next to someone who seriously floats your proverbial boat. That's the situation that Andy Scott finds himself in when he comes to consciousness lying next to Bjorn Nykvist; and it'll be no surprise to anyone that the urge to rut is soon blissfully overpowering the poor lad. As a result he's quickly making a beeline for his pal's handsome rump, which is barely concealed by the plush jockstrap that Nykvist is wearing.
That said, the pretty young blond isn't wearing them for long. Before you know it Scott has made serious inroads into its defences and is very eagerly rimming his mate's arse – an act that promptly brings Nykvist out of his sweet slumber. From that point onwards, of course, there's little stopping the fabulous assault that Scott adopts on his buddy – gobbling away on Nykvist's now rock-hard shaft, 69-ing the fellow with some serious no-holds-barred rimming, and then finally securing his vantage balls-deep in the young blond's guts.
It's a line of action that clearly meets with the bottom's overriding approval given the way that he reacts – writhing and groaning in pleasure and generally acting his part of wayward bitch. Indeed, anyone doubting that the sincerity of either party just has to consider the way in which each of these boys marks their final pitches – Scott blasting his pal's well-worked rosebud, and Nykvist firing off an arguably obscene wad over his own belly as well as his partner's joyously expectant face!
Scene 5: Novice Gets His Arse Well-Worked & Spunked By Older Stalwart!

Cast: Allessandro Katz, Benjamin Dunn
From: Twinks In Love, Scene 1
Having enjoyed something of a sabbatical in recent times, STAXUS favourite, Benjamin Dunn, clearly couldn't wait to get back in front of the camera when he heard about studio exclusive, Alessandro Katz. Seems like he couldn't wait to get his share of that pert little butt; and having shared a little time outdoors with the fellow – kissing and canoodling like a pair of star-crossed lovers – he's straight down to action once inside. Indeed, he clearly can't wait to give the new boy's pucker a close inspection – his ambition made all the easier by the fact that Katz is donning a jockstrap. Having taken a little time to rim the lad's hole, however, Dunn has soon turned his attention back to Katz's impressive shaft, which he promptly coaxes out of those tight-fitting pants.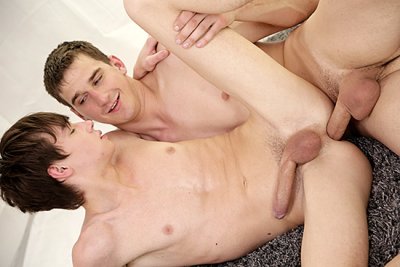 Cue a deliciously hot display of fellatio that quite literally leaves the younger man's head spinning; before the pairing finally couple off together in a stupendous 69-ing session that will almost certainly have you stroking away like fuckin' crazy! But the climax to proceedings only comes when Dunn finally establishes his complete dominance of the situation by thrusting his handsome, uncut ramrod deep into that novice's arse – a move that clearly delights Katz, who is quite literally left gaping in response.
No doubt about it, Dunn proves himself the total top here; underlining his credentials by ultimately creaming his buddy's ass with jizz, then sinking his spent rod back inside. No bloody wonder that Katz – his hole still stained with spunk! – can't wait to unburden a violent wad of goo all over his own stomach!
Scene 6: Older Priest Brutally Buggers Hairless Twink To Heaven & Back!

Cast: Angel Lopez, Filip Bethsaida
From: Kneel & Pray, Scene 4
For Filip Bethsaida, resistance is useless – especially when confronted with the divine temptation of Angel Lopez. Of course, that's an extremely understandable predicament given just how fucking gorgeous the young Spaniard is; and it will come as no surprise to anyone that the older priest now finally gives in to all his temptations so that he can enjoy the youngster to the full. What's more, what he discovers under Lopez's priestly garments doesn't come as a disappointment! The lad really is as stunning as he ever was; and Bethsaida immediately takes full advantage by grabbing hold of the boy's handsome shaft and slurping on it as if it were the elixir of life itself.
Having spent so long in denial, however, it's perhaps not too surprising that the fellow's objective quickly switches to Lopez's hairless little butt-hole – examining and fingering the beautiful pucker with such intensity that he rips the boy's pants to get at the hole! No damn doubt about it, Bethsaida really has got to have that ass for himself; and nothing – not even the fear of eternal damnation – is gonna stand in his way. Nor, for that matter, is Lopez about to turn down the experience of a slightly older cock – parting his legs with characteristic ease and taking every inch like a pro.
What ensues is a truly brutal display of older-on-younger fornication, with Lopez proving that when it comes to being a slut for dick then there really is no other competition – not least of all when he bounces up and down on Bethsaida's lap like a wanton whore! All of which results in both guys spewing like geysers in a sticky finale!