Summary:
The wettest DVD of the year! You like your action wild and wet? Then stand by for a complete drenching from this gang of sordid young piss lovers! These boys may look sweet and innocent, but when it comes to messing about with their friends they just can't get enough of that golden nectar! Emptying their balls and their bladders, they're never, ever happy until they and all their mates are completely soaked through! Three hours of ultimate filth by Vlado Iresch....
This title represent great value for money given the amount of quality content and running time. However, to ensure you don't waste money buying the same content twice, this compilation features scenes from the following titles:-
Scene 1: Hot Lovers Prove Their Commitment By Taking Each Other's Cum & Piss
From: Cum Fuckers - Scene 1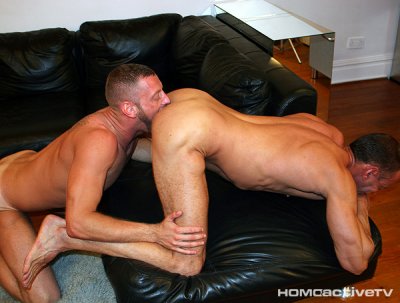 Tony and David are two muscle boys in their thirties. They're absolutely fucking filthy and cannot get enough of each other. They're enjoying every single second of their filthy fuckfest. Dave, 31, a little facial hair and Tony, dark and a bit Brazilian looking go at each other like rutting deer. They slurp, lick, grope and sniff like they're on heat. Welsh Dave has nipple rings and big tan lines and both have HUGE bodies - honestly Tony has biceps the size of someone's waist - and cock rings. Dave roughly pushes Tony over, spits on to his own cock and rams it in. It's a dirty grunting and groaning fuck with tons of verbal abuse and swearing. They swap roles and positions and manage to fuck every way you could imagine and a lot of ways you couldn't. My favourite is with Tony fucking Dave whilst Dave is basically doing a handstand. And the rimming, god, they're like dogs licking ice cream off a bowl. When David cums he gets in on his fingers and works it up Tony's hole, using it as lube. Then they move in to the shower for what is probably the single dirtiest sexual act you have ever contemplated, viewed, or participated in. David pisses on Tony. Then David pisses up Tony's arse. THEN David lies down in the bath and Tony releases Dave's piss all over him. The scene ends with some fabulous dildo play.
Scene 2: Horny Mate Just Loves His Dirty Friends To Cover Him With Loads Of Cum & Piss!
Dirty Piss Fuckers - Scene 2
The first part of this scene sees us with what starts off as a hot threesome, with two Twinkies filling their mate's mouth with their cocks, getting him to eat their cum. Then two others join these three guys and the piss begins to flow all over one of the begging willing piss-takers!
Scene 3: It's Piss Time For This Bent Officer, As The Prisoners Give Him A Real Good Soaking!
From: Raw Piss Prison - Scene 7
There's nothing "John the Piss" likes more than being pissed on by the inmates of Raw Prison. What's more, being a fellow who's more than willing to misuse his authority, he has just the ideal opportunities to live out his perverse fantasies. Cue a session of glorious yellow nectar, with piss sprayed liberally across his face and body by a group of horny prisoners. What's more, he's just the sort of fellow who's more than willing to get his fellow wardens to join in his perversions too. Is no debauchery too great for this man? Clearly not given that he doesn't smile until pretty much everyone has emptied their bladders in his direction. A definite must for anyone who likes their fun on the wet side!
Scene 4: Piss & Cum Fun For Two Students Sure Beats Having Their Nose In A Book!
From: Bareback Piss School - Scene 7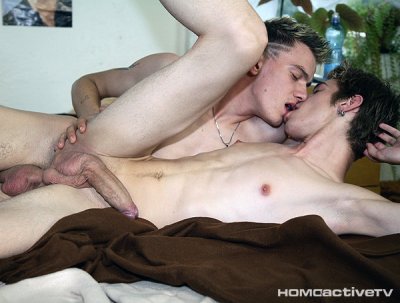 It's the end of a long, hard day – in more ways than one! – and Eamon August and Saul Maxwell make the most of a quiet moment to go over what they've learned in their lessons. Except, of course, everything we've seen so far tells you that it's not so much books and stationery that'll be needed here as hard cocks, open mouths and hungry ass-holes. And so it proves, as the two cuties ditch their quest for human knowledge in favour of much more carnal investigations. And who the fuck can blame them? You're only young once, and who on earth would choose study over the desire to scratch the sexual itch that these two lads are currently experiencing? Cue a sordid, rampant fuck-fest that sees Maxwell taking every inch of August's thick, raw rod up his ass; before he falls to the floor and gets the entire contents of August's bladder emptied over his face. It's left to the imagination as to who will clear up the mess that ensues, but with your balls now appreciatively drained, what the fuck will you care …?
Scene 5: Robin Few's Locker Room Orgy Is One Piss-Frenzy You Won't Forget!
From: Piss My Cum Away, Scene 2
Staxus favourite, Robin Few, has never been one to turn down the opportunity to prove his worth in front of the camera – a fact that's readily demonstrated here in the company of a crew of equally psyched-up guys who have only one thing on their mind. Namely, hot man sex! So after a brief session of cock-sucking, during which he gobbles meat like a bitch on heat, he's promptly bundled over a conveniently placed table and has knob after knob thrust up his butt! Culminating in a very sticky fiesta of sperm and piss that ends up all over his body and leaves him looking like one very happy young man – unsurprisingly! Special mention, however, must go to Michael Cross, who produces two truly spectacular cum-shots. Little wonder, though, given this level of debauchery!
Scene 6: Spunky Twink Gets Spit-Roasted For Starters, Then Totally Drenched With Piss!
From: Bareback Piss Factory, Scene 3
Fresh-faced Nick Deniels proves once again why he's such fabulously hot property by taking on the collected merits of Zac Powers, Egan Zeps and Bram Hester – turning the factory storeroom into a veritable den of debauchery in the process. Truth is, Deniels is seemingly wired up for cock – slurping off all that man-meat like a natural, before ultimately parting his legs for a succession of fucks from his over-sexed work colleagues. Not that he's alone in his appetite for beefy, uncut knobs – his pals taking turns to feed off each other whilst pummelling Deniels' hungry hole. But it's unquestionably Deniels who remains the star of the occasion from beginning to end – his performance culminating in his demand that Powers, Zeps and Hester all piss on him. A request that these young sex-whores are more than willing to realise, turning Deniels into a piss-sodden slut in the process. Totally filthy – and compulsive viewing!
Scene 7: Cute Young Recruit Gets A Facial Of Cum & Piss!
From: Special Piss Forces, Scene 1
The Cold War ended a long time ago now, but that doesn't mean that the Czech army isn't still on the look-out for young, virulent soldiers to defend the motherland. Whether Czech conscription policies reflect those adopted by the officers in this scene (Kamil Fox, Jacob Bishop and Semir Al Bakir) is a complete matter of conjecture, however. For these military stalwarts go utterly twink-crazy at the arrival of cropped-haired beauty, Julien Heath; forcing the gorgeous star of BARE RAVERS to dump a healthy load of spunk for their amusement, before knocking him down onto his knees and collectively pissing over his cute little face.
The resulting display is that of Heath dripping with the yellow nectar like a veritable whore – a sight that's gonna get you piss fans jerking like mad!
Scene 8: Pervy Headmaster Can't Resist Pissing On His Tearaway Students When He Gets The Chance!
From: Bareback Piss School, Scene 4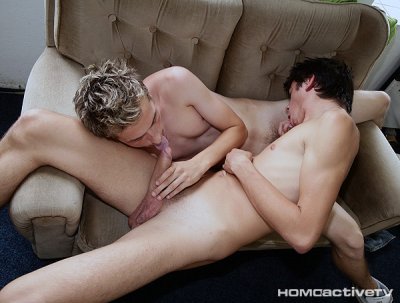 Teetering on the edge of despair, Madame Fox – the teacher from the opening scene – decides that there's nothing else for it but to escort some of the leading serial offenders to the headmaster's office, where (she hopes) they will be given some very stiff punishment to help them see the errors of their ways. As it happens, her boss (David Moser) is determined that such a reprimand be implemented on these wayward youths – but perhaps not quite in the manner that she herself anticipated. In the meantime, however, the three boys – Neil Cross, Teddy Green and Timothy Nixon – take the opportunity (when left alone in the headmaster's office for a few minutes) to return to the cock-hungry frolics that had so badly got them into trouble in the first place. Little wonder that Moser is so enraged when he returns to find spunk splattered all over his chair – a fury that promptly results in him whipping out his own cock and urinating over the offenders! If only all authority-figures displayed this manner of discipline!
Scene 9: Cock-Sucking, Piss-Draining Frenzy Is This Young Twink's Idea Of Heaven!
From: Piss My Cum Away, Scene 1
You know what it's like … a night out with the lads can so easily turn into a cock-sucking, ball-draining, piss-soaking orgy! Okay, well maybe not – unless, that is, you happen to be in the company of horny newcomer Sven Holland, who clearly has an insatiable taste for hard cock and who thinks nothing of blowing all his mates when the guys meet up for a beer. Needless to say, none of his friends are complaining – pulling him back and forth from cock to cock like the cheap piece of meat that he so clearly is. And whilst Holland never gets fucked, he does get a succession of cum-shots blasted down his throat, so that he ends up looking like a total whore – spunk splattered across his young face, dripping down his chin and neck. Good job all his pals have plenty of piss in their bladders to finally wash all that sperm away!
Scene 10: Pervy Patients Savour A Cum & Piss Fiesta Thanks To Their Equally Pervy Medic!
From: Doctor Piss, Scene 2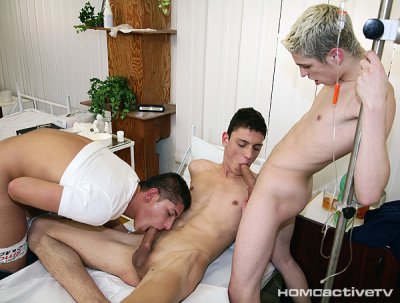 There are some who would argue that medical assistant, Alan Capier, has got the dream job – and this scene is living proof to that assertion. After all, not only does he get to examine some of the cutest twinks ever to walk this planet, but he also manages to check out some of the hot guys who come and visit those lads when they're cooped up in hospital. What's more, it's an aspect of his job that he undertakes with obvious relish. All that said, he's clearly blatantly unaware of the effect that his duties have on his patients, leaving the assembled threesome (Dan Westworth, Garry Brinkman and Falco White) to engage in a sordid threesome without him. His loss, however, is most definitely the viewer's gain, as the horny three get down to some very serious appreciation of each other's cocks, culminating in a fantastic spit-roasting and a now-trademark facial for Falco White. No doubt about it, this is one young lad who just lives for the taste of spunk, slurping the jizz down like it's the very elixir of youth!