Summary:
The interracial saga goes on! More massive black cocks pounding young innocent white boy holes!
Black is black and white is white, and never the twain shall meet. Well, not in this fantastic offering that's for fuckin' sure, as a collection of horny, black-lovin' white boys live out their ultimate interracial fantasies in front of the camera. And it doesn't take a genius to realise what it is that these guys love about the darker male! For if it's size that you're after then these handsome black studs are definitely a dream ticket in every sense. What's more, they know exactly how to use their extra inches – as these cute white asses are about to find out!
This title represent great value for money given the amount of quality content and running time. However, to ensure you don't waste money buying the same content twice, this compilation features scenes from the following titles:-
Scene 1: Connor Levi Manhandles A Big Black Dick & Gets A Load Of Hot Jizz Up His Ass In Return!
Cast: Devon Lebron, Connor Levi
From: Super Size Me 7, Scene 1
Champagne, strawberries, big black cock ... young Connor Levi just can't make up his mind which one of these he prefers when savouring the good life with the almost over-endowed Dominican, Devon LeBron. In the end, however, there can only be one winner, and ultimately it comes as no surprise when his buddy's monster-sized dick takes precedence.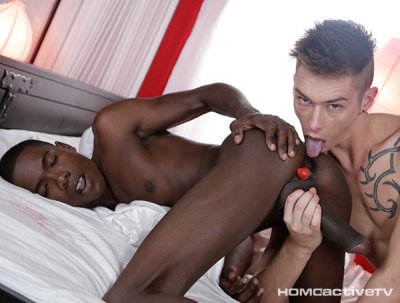 However, not before LeBron has taken the chance to enjoy the (admittedly smaller) delights of Levi's white fuck-rod, using the drink and berries as an added kinky aspect to his teasing indulgences. But arguably matters only begin to heat up significantly once the tattoed Brit boy gets the opportunity to unleash his impassioned energies on LeBron's meaty, uncut ass-stretcher, slurping on the beast with the kind of no-holds-barred fury that has long since been his trait as a porn star. No question about it, this is a fellow who clearly lives for cock in every sense; and, having lathered himself into a frenzy, he promptly turns his attention to LeBron's pert little ass, washing that dark rump with booze and smothering it with mushed-up fruit before enthusiastically rimming the rosebud.
But before you get any false notions, there's only one pucker that's gonna get fucked in this sexy escapade – and, not surprisingly given its reputation, it's the one between Levi's butt-cheeks! So cue a fabulous performance of ass-stretching credentials, as STAXUS's favourite power-bottom gets to work on that handsome mamba and receives a butt-full of jizz as a reward. Little wonder the guy spurts so much cum himself in response!
Scene 2: Cute Blond Twink Gets A Double-Penetration Cocktail & A Face-Load Of Black Jizz!
Cast: Alexander Syden, Barrington Peart & Devon LeBron
From: Super Size Me 4, Scene 3
He's like a sweet tender young lamb to the slaughter block, but the delightful Alexander Syden doesn't care – in fact, he's quite literally bubbling with youthful excitement at the prospect of being buggered by black sex-gods, Devon LeBron and Barrington Peart. And given what we all already know about these two handsome Dominicans is it really any wonder?
After all, LeBron and Peart each pack quite a terrific punch and combined as a duo they're almost the ultimate package! To his credit, Syden immediately begins to feast on their two monster dicks like a being possessed, deep-throating those oversized mambas and, in the process, reminding the two black dudes (not to mention us) that he's the perfect white slut whose only reason for existence right now is to be used and abused. It's a message that's underlined by the way he then proceeds to ride both dicks in turn, cowboy-style; before succumbing to arguably one of the ultimate taboos in the form of a double-black-cocked slamming.
Needless to say, the boy looks a total whore as he takes every inch on offer, wrecking his ass-hole in the process; but the ultimate humiliation doesn't come until LeBron and Peart jerk themselves off onto the youngster's face, leaving Syden dripping with jizz in the process. Totally perverse and unbelievably hot, this Caribbean interracial fuck-fest will leave you completely drained but very, very satisfied!
Scene 3: Keeping Fit? Will Sims Keeps Active By Working Out On A Big, Meaty, Uncut Black Cock!
Cast: Alejandro Marbena, Will Sims
From Super Size Me 9, Scene 2
It's arguably the worst kept secret in the biz, but the fact remains that young Will Sims is the biggest slut on two legs – a fellow who will quite literally do anything to get a nice big cock up his ass! So when he discovered that the STAXUS studio was being visited by Alejandro Marbena you can imagine the sudden state of overbearing excitement that swept over the lad. For not only is the handsome Dominican a fine specimen of alpha male superiority – a man who was born to be worshipped – but in keeping with that status he possesses one of the biggest, most utterly desirable cocks on the planet!
As such, Sims was almost gagging to be given the chance to prove himself – and, as you'll very quickly appreciate, he did himself (and us) proud. Clearly he's a fellow who knows exactly how to make a dick feel special; and having abandoned his workout session in order to claim possession of Marbena's engorged phallus, is soon giving every inch of that thick black knob the very keenest attention. Not to be outdone, Marbena returns the compliment and even rims the young lad's ass-hole, but we all know that Sims won't be happy until he's sat on his new-found buddy's cock and riding up and down every single inch of hard flesh on offer.
An objective that he soon achieves, it must be said – marking the signal of a breathtaking fuckfest, which sees Sims's ass stretched to the max. By the time both these fellows spew the contents of their nads to all and sundry there's every good chance you'll be drained of every last drop of cum in appreciation!
Scene 4: Wide-Mouthed Dick Casey Proves He Has An Even Wider Ass When It Comes To Big Black Cock!
Cast: Dick Casey & Devon Lebron
From Super Size Me 6, Scene 1
The ever-popular Dick Casey has always been of an adventurous bent, so it was no surprise that he was as keen as mustard to be paired up with the over-sized Devon LeBron for some interracial fornication – and believe us, it shows! Why, the horny fellow gives an even wider smile than usual when confronted with the stats of the black dude's mammoth butt-picker – proved beyond doubt courtesy of a handy tape-measure – and is soon quite literally wrapping his lips around the dark-skinned beauty. And who the fuck can blame him? The fact of the matter is that LeBron's black mamba is a beauty to behold; and whilst Casey is only too willing to allow his king-sized pal the pleasure of a giving a blow-job in return, it's all too obvious that he's really only interested in getting to see how much of that thick, meaty, uncut cock he can get inside his ass.
As such it's no great marvel that Casey's soon sitting down on LeBron's lap shortly after having been giving a hearty Caribbean rimming, and before you know it he's taking pretty much every inch that LeBron's been blessed with.
What follows is quite simply breathtaking, as Casey proves beyond doubt why he's one of the finest porn stars of his generation; and by the time his black buddy has filled his hungry fuck-hole with jizz there's every chance that you'll have shot your load. Whether you manage to achieve a climax like Casey, however, is quite another matter entirely – a stupendous, multi-shot geyser-like spurt of epic proportions!
Scene 5: Kris Wallace Takes A Mammoth Black Cock Up His Hungry White Ass & Loves Every Inch!
Cast: Kris Wallace and Alejandro Marbena
From: Super Size Me 10, Scene 2
Kris Wallace has been a very firm favourite with the STAXUS fan-base ever since he first appeared in front of our cameras, and it's not exactly difficult to see why. Cute as a button and with a physique to die for, he's pretty much the dream fuck of every gay man with a pulse. But if you thought the ratings of this Polish cock-magnet couldn't get any higher then maybe this stunning interracial scene with Alejandro Marbena could seriously change your mind. Young Wallace is as utterly desirable as ever; and given the opportunity to prove his worth with one of the biggest dicks in the biz he produces a truly sterling performance that will seriously threaten to burn an unforgettable imprint in your mind!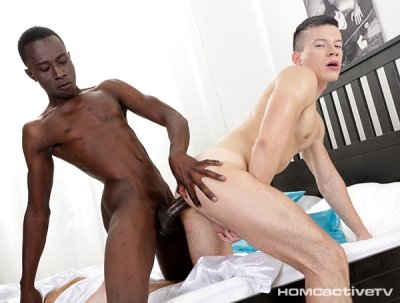 In short, Wallace is quite literally smokin' hot from the very start, and pounces of the Dominican's oversized trouser-snake like his life depended on it. Not that a session of oral adoration is ever going to satisfy this dirty-minded white boy – no matter how keenly performed! The fact remains that Wallace isn't really happy until he's got Marbena's thick, black fuck-rod deeply imbedded between his pale butt-cheeks – a sentiment that we suspect pretty much everyone who watches this little escapade will relate to.
From that point on, however, the Pole is truly in his element, taking every inch like a pro and ultimately concluding his performance cowboy-style with a cum-shot that Old Faithful would be proud of! The only thing left to top the show off would be for the fellow to take Marbena's load all over his face ... and guess what? This boy really is a total porn champ!
Scene 6: Lost For Words? Kurt Maddox Lets His Ass-Hole Do The Talking On A Big Black Uncut Monster!
Cast: Kurt Maddox and Devon LeBron
From: The Bigger, The Better, Scene 1
We've probably all been in situations where a linguistic barrier has prevented a full flow of information from one party or parties to another, but whether we've tried to overcome such difficulties in quite the unorthodox manner that Kurt Maddox adopts here with Devon LeBron is another matter entirely. Then again, it's true that there are certainly times when actions speak louder than words; and whilst the young twink could spend hours trying to communicate with the horse-hung Dominican via more traditional means, his decision to rip into the black dude's trousers and suck on the mammoth-sized dick inside means that the two guys are on the same wavelength in moments!
Indeed, it's with almost instinctive clarity that LeBron seems to know exactly what Maddox is after, and it's no time at all before the fellow's giving the youngster a textbook lesson in big black cock appreciation! In truth, of course, it's not exactly something that the Brit lad appears to be in much need of being taught; though whether the lad quite anticipates just how quickly he's going to find himself laid out on a desk with every one of LeBron's ten inches of wrist-sized dick thrusting up his ass is open to conjecture.
What we can say, however, is that he gives a world-class reception to the king-sized phallus, eventually riding the monster like a pogo-stick before working out quite a wad in the process. It only remains for LeBron to wank off into Maddox's face to mark the end of a premier coupling all round!