Summary:
2 DVD Set! Is there anything hotter than seeing a sexy man in shorts, playing sport? Well, what about seeing lots of sexy guys taking off their shorts once the game is over so that they can play with the handsome cocks they've got stashed inside? Yeah, thought so! What's more, we're not talking your average dick here. These hot and horny sport-loving beauties are quite literally hung like gods, and take any chance they can to use their equipment to full effect. Once that final whistle blows, it's a mega-loaded spunky suck-and-fuck fest each and every time!
This title represent great value for money given the amount of quality content and running time. However, to ensure you don't waste money buying the same content twice, this compilation features scenes from the following titles:-
Scene 01: Wrestling Buddies Oil Down For An Arse-Pounding Fuck-Fest!
Cast: Tony Conrad, Martin Muse
From: Oil Up 2, Scene 1
When you're presented with a couple of gorgeous, cock-hungry twinks like Tony Conrad and Martin Muse, you seriously wonder whether you need any gimmicks to enhance the performance. After all, these are the kind of lads that pretty much all of us could comfortably watch stroking solo in an empty room! Never ones to skip enhancing the show, however, we decided to provide these two hyper-horny beauties with a small paddling pool and a bottle of body-oil – and boy did they come up trumps in the asking! Indeed, we doubt there's any of our stalwart fans who won't be reaching for their zipper right from the off, as the two buddies gently make out on their bed. All that, however, is but a passive introduction to the main action to come; as both lads head straight into the pool for a hot, sticky session of play-wrestling.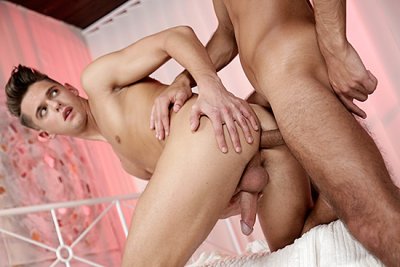 Now über hard and horny, they then promptly head back to bed to strip out of their costumes and to get down to the serious business in hand – or, to put it more precisely, in mouth! Indeed, these two lads suck dick like it's what they were born for; before continuing to rub their ramrods together frottage-style, then playing with each other's asses.
By this point you'll no doubt be feverishly wanking away and probably won't give a fuck as to which of these lads ultimately surrenders his arse to the other; but in the end it's Muse who gets the pleasure of sinking balls-deep into Conrad, which marks the start of a terrific set-piece, culminating in both boys squirting copious quantities of jizz all over the place. In short, totally and utterly ball-draining!
Scene 02: Big-Dicked Soccer Stud Gives His Team-Mate A Nine-Inch Hard Workout After The Game!
Cast: Jace Tyler, Paul Walker
From: Dream Team, Scene 4
Let's face it folks. If you were stood in the showers with Paul Walker after a hard game out on the pitch, how could you possibly fail to be bowled over by the equipment that he has stashed between his thighs? Believe us, that ramrod could quite literally have one of your eyes out if handled incorrectly! Fortunately for everyone concerned, we've definitely got an expert on the case here in the form of Jace Tyler, who appears to know exactly what to do with a dick that size and who will go to any length (excuse the pun!) to ensure that its owner is kept primed and (above all) happy!
It's no feckin' wonder, therefore, that Tyler is soon down on his knees giving all that engorged meat the kind of oral adulation that it almost unquestionably deserves. What's more, it's a move that a man's man like Walker clearly appreciates. So much so that it's barely any time at all before he's giving Tyler some much-needed attention, forcing his over-sized phallus down the lad's throat before aiming it in the direction of Tyler's hungry little ass. How do we know it's hungry? Well, judging from the manner with which it consumes every fat inch of Walker's knob what other conclusion could anyone possibly draw?
This is a fellow who's quite painfully gagging for a hard-hitting fuck, and soon Tyler is being banged around the locker-room like the common whore he so evidently is. A conclusion that's underlined by the manner with which he allows Walker to squirt a breathtaking wad of jizz over his face! If this sporting escapade doesn't get you nutting big time then what the fuck will?!
Scene 03: Soccer-Lovin' New Boy Gets Stretched By Tom Nutt's Monster!
Cast: Tom Nutt, Rob Rock
From: Football Focus, Scene 4
We've known Tom Nutt long enough to realise that he's a horny little fucker on the quiet, but it seems like he's found a like-minded buddy in the form of young Rob Rock – a handsome blond beauty that we pretty much know for sure you're gonna love almost as much as Nutt does in this terrific little scene. Even the projection of some on-the-field footie action can't distract either of these two mates; as Rock slurps on Nutt's almost over-generous ramrod with the kind of gusto and eagerness that you might not expect from a newcomer. Seems like this fresh-faced bugger might not be quite as inexperienced as he might like some of us to imagine – a suggestion that's then underlined when the two guys position themselves on the bed 69-style! No question about it, these would-be soccer stars are soon going at it hammer and tong; before Rock decides to turn his attention to his mate's pert, tight ass.
What follows is an almost textbook display of mouth-on-arse action, with the new boy clearly all too keen to show off his rimming skills for the camera. But believe us when we tell you that this is nothing compared to his skill at taking cock – a proficiency that's soon being tested when Nutt ploughs his hard, uncut dick straight into the lad's guts! What follows is a showcase display of hardcore sodomy, with Rock quite literally shafted in a whole series of positions; before Nutt concludes his efforts by giving his pal's tight pucker a much-deserved whitewash. All nicely rounded off by him taking a full-on blast of spunk in the face courtesy of Rock's exploding dickhead!
Scene 04: Sport-Lovin', Spunk-Bustin' Buddies Make The Most Of A Raw Locker-Room Fuck!
Cast: Connor Levi, Jaxon Radoc
From: Bareback Attack, Scene 4
As an athlete of any kind will tell you - be they either professional or amateur - playing lots of sport can sure leave you feeling stiff. It's just as well, therefore, that there's guys like Connor Levi around to help out with that sort of problem, as new-boy, Jaxon Radoc, discovers when the two of them meet in their team's locker room.
Needless to say, of course, Levi's idea of relieving all that in-built tension is probably somewhat different to what would usually be advocated by your everyday masseur or physio - but hey, Radoc doesn't seem to hold out any complaints, and neither (we strongly suspect) will you. Fact is that Levi's working his team-mate's swollen dick in pretty much no time at all; slurping on that nicely upturned knob, before finally giving in to temptation and swopping places with his pal on the examination bench so that Radoc can finally take full aim at his hungry little ass and fuck his brains out!
Which, give or take, is pretty much what happens - Levi taking every inch of raw cock like a pro and Radoc slapping into the twink's eager ass like his dick was literally made for the task! It's a sweaty, ball-busting union in every sense, which threatens to break the bench mid-fuck; and it almost comes as a relief when both boys bust their nuts in a fiery, spunky display that'll unquestionably have you jerking into ecstasy!
Scene 05: Sofa Chat & Craft Play Lead To A Hard Session Of Dick & Ass Fun!
Cast: Edward Fox, Roman Smid
From: Shoot This, Scene 2
Sitting on the sofa with your guests is a regular feature of many TV chat shows around the world, but chances are that you won't have seen many productions like the one featured here! Indeed, feel free to write in and tell us if you've ever seen a show where the compère informs the viewers that the stars will shortly be having sex - it is, after all, an unusual means of achieving ratings. Then again, when the highlight of the interview is a demonstration of traditional springtime Czech craft-making, is it any wonder that sex between the guests - in this instance Roman Smid and STAXUS exclusive, Edward Fox - is so fucking appealing?
Silliness over, then, and it's time for the two horned-up beauties to get down to the serious business of entertaining you bunch of cock-mad fuckers - and believe us they don't let the audience down, as they promptly engage in a heated session of mutual cock-sucking. That, of course, soon leads to Smid taking a very keen interest in Fox's fuck-hole, which he tongues and fingers in eager anticipation of the hard session of anal action that he's clearly now got planned!
Indeed, it's no time at all before the fellow is burying his thick, meaty dick right where it's wanted to go ever since the start of the scene - and boy, does Fox groan with delight or what? In fact, the lad is quite literally purring like a pussy as his innards are stretched to busting; and it's little surprise that he's soon squirting a healthy bolt of boy-goo in response. Finally, with Smid signing off with a customary rupture of his own, both lads are left spent and content!
Scnee 06: Twink-Time Fun In The Jacuzzi Leads To A Hot Fuck & Oodles Of Fresh Boy-Juice!
Cast: Chase Hunt, Mike James
From: Dive In, Scene 2
It's no fucking wonder that cute twinks Chase Hunt and Mike James are feeling as horny as fuck. For one thing, of course, they're both hot guys who are at an age when they're quite unable to think of anything other than hard cock and tight ass! For another, they've spent time in a Jacuzzi together - and most of us know from personal experience how those bubbles can leave you feeling hyped-up and quite literally ready for anything.
So it's no surprise whatsoever to see both these guys stripping out of their briefs in pretty much the first thirty seconds of this stupendous, cock-creamin' episode - which naturally leads to a great deal of eager dick sucking and even a bit of ball play courtesy of Hunt's lanyard! Soon both lads are laid out top-to-toe and engaging in a fine display of mutual fellatio; but it's James who's got the real horn for raw dick, and before you know it he's laid out with his legs akimbo openly inviting his buddy to thrust inside him. An invitation, it has to be said, that a guy like Hunt is never gonna refuse in a million years!
Cue a fantastic show of man-on-man rutting that's almost certainly going to push you to the edge more than once; culminating in James riding Hunt's swollen shaft cowboy-style in an apparent bid to enjoy the maximum penetration possible! And who can blame him? When you're as horny as this boy it's hard not to act the animal, and we doubt it'll come as a surprise to anyone when he blows his wad into Hunt's open mouth. Leaving Hunt to wank out his own fine spray of pent-up boy-juice all over his finely defined abs!
Scene 07: Jockstrap Fun Anyone? Milan Sharp Gets Sporty & Horny, Then Fucked & Creamed!
Cast: Thomas Swings, Milan Sharp
From: Fantasy Football, Scene 2
Sometimes (often to our surprise) it's the little things in life that can spark some of the most intense experiences - as Thomas Swings and Milan Sharp find out when they discover a discarded jockstrap in their local gym. After all, who would've thought that something so seemingly inconsequential could result in these two horned-up lads engaging in one of the hottest escapades you're likely to have seen in a long, long time?
Then again, what else would you expect from a couple of pals who clearly both get off on the idea of sniffing a stranger's underwear? These guys are mega-horny and ripe for a sweaty, bareback fuck; but first they engage in an almost obligatory suck-fest, taking turns to feast on all that hard uncut flesh on display. Let's face it though, a fellow like Milan Sharp is never really gonna be happy until his ass is bouncing off raw dick, and suffice it to say that it's not long before that's exactly what's taking place.
The contrast between Sharp's pale, white skin and his mate's tanned hide only adds to the enchantment of this pairing; but it's the bottom's characteristically insatiable sexual appetite that really makes this scene rock big time. Climaxing in Swings blasting his pent-up wad all over the lad's face and chest. If that isn't a fitting response to finding some sexy guy's jockstrap we don't know what is!
Scene 08: Billy Rubens Spurts Like A Fountain After Rugby-Tackling His Buddy's Well-Fuckable Ass!
Cast: Billy Rubens, Darius Ferdynand
From: Up & Under, Scene 3
Is there anything more enjoyable than being able to spend quality time with a good mate, downing beers together whilst watching the rugby? Well, nine times out of ten probably not. But sometimes - just sometimes - you find yourself in the company of a pal who's not only as horny as hell but who's as gorgeous as fuck, and on that occasion the sport on TV is always going to come a very poor second! As muscled beauties, Billy Rubens and Darius Ferdynand, each discover when they take time out to watch a match in each other's company. Of course, the fact that they've chosen to enjoy the rugby whilst laid out together on a bed probably doesn't help matters; and the game is very quickly eclipsed by the carnal desires that are soon sweeping through the minds of this dirty pair of randy fuckers.
Certainly Rubens doesn't seem to be able to contain himself as he sweeps his luscious lips up and down the length of Ferdynand's dick; and by the time that Darius is returning the compliment both lads are clearly on a different playing field altogether, all interest in rugby kicked into touch as they pleasure each other like a brace of over-sexed dingoes. Ferdynand, especially, can't wait to get working on his buddy's clearly over-sized balls; and it's not long before he's riding Ruben's knob in a series of cum-inducing positions.
Given the intensity of the fuck and the fact that Ruben's sac is quite clearly fit to burst, it's little surprise that the jizz is soon flowing thick and fast - Ruben delivering an almost mind-blowing geyser that has to be seen to be believed!
Scene 09: Sporty Boys Are Shaved & Primed For A Raw Session Of Hot Jizz!
Cast: Kai Alexander, Lex Blonde
From: Play To Win, Scene 2
Some guys get their exercise from taking up a sport, but for Kai Alexander and Lex Blonde the hardest workout always takes place after a game of basketball - alone in the locker-room, where they're able to give their cocks and ass-holes the kind of aerobic runabout that all of us dream of. Alexander, in particular, can't wait to get down on his knees to slurp and feast on Blonde's hairless dick; and it's not long before the compliment is being returned on Alexander's equally closely-shaved crotch.
Indeed, if you've got a thing for boys without pubes then this pairing is gonna have sent you into porn-heaven long before Alexander has seated himself down on his pal's knob; though don't bust your balls too quickly because the rampant display of hardcore fornication that follows from these lads is definitely worth a lengthy gander. Alexander, to his credit, takes Blonde's lengthy shaft in pretty much every position imaginable; culminating in a bench-fuck that'll have you knocking out a load in no time.
Just the sight of Blonde pumping his wad into the bottom's open, hungry mouth is quite simply magic - Alexander gobbling and swallowing his mate's jizz like any dirty whore should!
Scene 10: Billiard Boys Pocket Their Balls - Plus Their Cocks! - Into Twink's Arse!
Cast: Jack Cameron, Jack Rider, Alex Masters
From: Score!, Scene 5
Any scene that includes the absolute gorgeous STAXUS exclusive, Jack Cameron, and his lovely fat cock is almost inevitable destined to be a winner, but add a bit of kink into the mix and you're awarded with a scene that's truly unforgettable. Jack Rider is Cameron's partner in crime, as the two twinks take the opportunity to play a somewhat unorthodox game of pool that involves Alex Master's pert ass pocketing the cue and some of the balls! Not to be outdone, Rider gets his arse coated in beer, which Cameron and Masters lick up with their tongues.
No doubt about it, this is a scene with a distinct kink - somewhat different to your usual Czech twink escapades and one that we just know you're gonna love big time! Needless to report it isn't very long at all before Master is laid back out on the table, facing upwards, with Cameron and Rider's handsomely uncut cocks bountifully dumping the entire contents of their balls (or so it seems!) all over his sweet face. It's a defilement of the utmost order, and one that we just know you're gonna love big time. Suffice it to say that no billiard balls were harmed (or lost!) in the making of this perverse escapade!