Summary:
For some guys, having one hard dick inside their ass just isn't enough. Call them greedy, but they like to have to go one further! And if that makes them a slut then so be it. Fortunately, we know from many years of experience that our fans like an accommodating bottom – and let's face it, when it comes to accommodating cock these fellows are fuckin' masters! So get ready to rumble with a FOURTH!! collection of dick-crazy whores who just live and breathe to get their ass-holes stretched to the very max. Double helpings, anyone?
Compilation DVD - 6 Scenes
These titles represent great value for money given the amount of quality content and running time. However, to ensure you don't waste money buying the same content twice, this compilation features scenes from the following titles:-
Scene 1: Young Blond Gets A Double-Dicked Raw Fuck From His Horny Stud Buddies!
Cast: Zac Todd, Alexander Syden, Milan Sharp
From: Dirty Riders, Scene 3

Anyone who's previously seen the delicious strawberry-blond airhead, Alexander Syden, in action will already know that he just can't resist a hard cock when it's thrust into his face, so you can imagine his excitement when Zac Todd and Milan Sharp call in at his Prague apartment and immediately pull out their dicks for his attention.
Believe us, this boy is like a feckin' dog on heat and is slurping on all that fresh meat like his bloody life depends on it. Then again, with a pair of randy studs like Todd and Sharp in the room you can easily understand why! Suffice it to say, however, that it's no time at all before the two visitors are busy taking turns to fuck Syden's all-too-eager ass-hole, spit-roasting the bugger for all that he's worth and generally treating him like a worthless fuck-doll.
Things get even hotter, however, when the two buddies decide that what their blond mate needs is a raw round of double-penetration – which they're only too eager and willing to provide! It's a move that gets Syden bustin' his nuts in no time at all; whilst Todd and Sharp close out proceedings by jerking all over their witless pal's face for good measure. In short, total raunchy filth that has the STAXUS name written all over it and which will leave your balls totally and utterly dry!
Scene 2: All Holes Filled In A Birthday Double-Penetration Spunk-Fest!
Cast: Chris Young, Aaron Aurora, Eric Winterfield
From: Bare Briefs, Scene 2
Everyone who knows Aaron Aurora knows just what a dirty little fucker he is given half the chance, so it should come as no surprise that he quite literally jumped at the opportunity to get a real hard double-fucking courtesy of Chris Young and Eric Winterfield. No hesitation from this boy, that's for sure – and it shows, right from the very first moment that we see him making out on the sofa, sandwiched between Winterfield's golden locks and Young's oversized dick.
This is a fellow who just loves to play around, and needless to say it doesn't take many minutes before he's gobbling on Young's handsome ramrod – no doubt dreaming of the stretching that it's going to be giving his ass-hole in the very near future. As it happens, however, it's Winterfield who gets the first taste of Aurora's hungry little pucker, banging away at the hole with typical eagerness before Young takes a turn to open it up even further.
Things only reach breaking point, however, when the two tops decide to thrust both their cocks inside at the same time – pushing Aurora (and no doubt you filthy-minded viewers) to the point of ecstasy! All told, an eye-watering bonanza, topped off by Aurora taking a full-on jizz facial!
Scene 3: Double Penetration Threesome
Cast: John Parker, Jacob Hawke, Martin Bures
From: In The Deep End, Scene 4

Is there any better pleasure in life than having a shower after a hard session of exercise? Washing away all that sweat and grime and stepping out of the water feeling clean and fully re-energised. Well, actually, yes there is, as John Parker, Jacob Hawk and Martin Bures eagerly demonstrate here – it's called having a shower with two of your fuck buddies! Mind, this isn't just your usual, everyday threesome, and that's essentially down to young Hawk's contribution. After all, here's a boy who's quite clearly up for anything and whose enthusiasm for dick almost oozes from the screen.
Needless to say, Bures and Parker are more than willing to take advantage of their slutty, hyper-sexed friend, taking turns to spit-roast the boy before finally persuading both their cocks inside his ass at the same time. It's a stella performance from the lad, that's for fuckin' sure, and he tops it off (if indeed that's actually possible) by taking facials from both buddies. Yep, no doubt about it, this is a slut of the first magnitude and it's almost guaranteed that you'll be pumping out a load (or maybe more!) in appreciation. Fingers crossed that we see more of this spunk-hound in the cumming months!
Scene 4: Cute Blond Painter Gets Two Dicks For The Price Of One Up His Pert Little Ass!
Starring: Dick Casey, Neo Matthews, Kamyk Walker
Cast: Paint It Bareback, Scene 3

Springtime in the park, and Dick Casey and Neo Matthews are acting as muses for the creative juices of young blond painter, Kamyk Walker. Not that the artist seems that interested in creating a masterpiece on canvas. No, given the way he keeps feeling his crotch he's got art of a very different kind on his mind – as becomes all too apparent when he suggests that the two models come with him to his nearby apartment. The truth of the matter is that Walker's innocent-looking face disguises a distinctly kinky side to his character.
A deep, dark craving that only reveals itself as the boys strip off and begin to engage in a succession of cock-sucking, ass-rimming set-pieces. For this is a boy who won't be happy until he's seated himself on both Matthews and Casey's cocks at the same time! To anyone who hasn't seen this sort of thing before it might be considered an almost impossible task.
For a lad like Walker, however, who's as hot and as turned on as it's possible to get, it's almost – excuse the pun – like a walk in the park! What's more, we're absolutely positive that this exquisite show is gonna get you as horny as it's possible to get; and by the time the sticky facials serve as a sign-off you're gonna have nutted not just once but probably two or three times! In short, a definite classic from start to spunk-stained finish!
Scene 5: Two Double-Penetrations For The Price Of One, As Three Soccer Boys Fuck & Suck Off-Pitch!

Cast:: Jake Zhang, Oscar Roberts, Cody Reed
From: Bareback Attack, Scene 3
Every young lad enjoys a game of soccer, but for some it's the perks that go along with playing the sport that serve as the biggest attraction - spending all that time in close proximity with other horny boys being one classic example! So we shouldn't be at all surprised when Oscar Roberts and Cody Reed escort Jake Zhang off the football pitch for a little off-the-ball fun and frolics in the long grass.
Of course, what they know at this point that you probably don't is that Zhang is one fuck of a cock-whore - a fact that quickly becomes apparent as he sucks both his mates off. Yet his true credentials aren't really put to the test until Roberts and Reed decide to up the ante somewhat by double-fucking their buddy, which they achieve with almost breathtaking ease. Indeed, you're left to wonder whether this is the first time that Zhang has ever done this or whether he's something of a secret pro such is the skill with which he rides both those meaty uncut knobs.
Mind, he's not the only one with hidden talents here. Having been party to Zhang's double-stuffing, Reed promptly attempts to prove that whatever his mate can do he can do better. So cue a second DP session - this time with Reed at the centre of proceedings - before all three lads finally reach the point of no return and toss themselves off in a frenzy of cum-lust!
Scene 6: Amazing Triple Penetration Fuckfest Leaves Brit Twink All Spunked Out!
Cast: Aaron Aurora, Denis Reed, Milan Sharp, Neo Matthews
From: MaXXXed Out, Scene 4
Also available: Bareback Rookies, Thrill Seekers
European integration takes on a whole new dimension when Brit boy, Aaron Aurora, hits it off with a gang of horny Euro skater-boys (Denis Reed, Milan Sharp and Neo Matthews) for a fabulous triple penetration fuckfest that only a dedicated sex-fiend like Aurora could ever hope to keep up with. Fact is he's like a pig with truffles with all that hard continental dick around him, though in fairness he's clearly not the only guy in that room with a penchant for cock.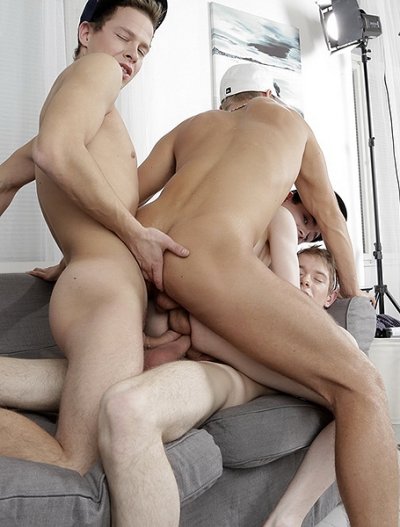 Fact is all of these chaps are greedy for flesh as they take turns to slurp on each other's meaty uncut knobs; but it's the lad from Blighty who takes centre-stage in a succession of double-penetrations courtesy of his big-dicked mates. That action almost pales into insignificance, however, when Aurora gets his ass-hole stretched by all three cocks at once. How he manages to take all that dick in one go will forever remain a mystery, but it's the performance of a lifetime – and something you're gonna be wanking off to for a very long time!
Suffice it to say it's not long before Aurora's on his knees and taking every drop of jizz those same three cocks can muster, leaving him all creamed out and totally satisfied!