Summary:
Some of the best Staxus scenes compiled on DVD!

Hop on board, strap yourself in and hold on tight for a hard and fast ride! These boys are the ultimate Thrill Seekers and they are going all out to find the hardest ride of their lives! Forget paragliding, extreme snowboarding and high rise escapades – it's a willing mouth, a hard cock and a wad of creamy spunk that gets these boys off!
Description / Review
Scene 1: Winter Wonderland? Cock-Banging Fresco Results In Cum-Frenzy Whiteout!
Starring: Kris Wallace, Rudy Bodlak
From: Snow Patrol, Scene 1
Dark-haired beauties, Kris Wallace and Rudy Bodlak, love nothing better than to take time out to enjoy a winter walk in the woods together – or at least that's what they might like you to believe from the snowy introduction to this scene. In reality, of course, there is one other activity that eclipses their love of the great outdoors – and no prizes for guessing what that is, as the two oversexed talents take time out to explore each other's taut, muscular bodies in the warm comfort of a nearby cloakroom.
What's more, the gusto with which they engage in their favourite hobby tells you everything you need to know about these horny young lads. Cock-jousting, dick-slurping, ass-rimming frolics are all part of the fun as the boys work themselves up towards a sweaty crescendo of raw fucking – the kind we just know you're gonna love big time!
Wallace's man-cunt just doesn't stand a chance as his buddy pummels away like a wild animal, leaving the kid gasping for breath but yelping for more! Suffice it to say that it isn't long before Wallace is quite literally having the jizz knocked out of him; before Bodlak erupts over his face, leaving the youngster looking the total slut!
Scene 2: Tim Law Loves A Swim – But He Just Can't Say No To A Ride On A Big, Black, Uncut Cock!
Cast: Carlos Santiago, Tim Law
From: Twinks Destroyed 2, Scene 2
Tim Law appears to love nothing better than to spend time swimming in the pool – or at least that's what he'd like you to believe. The reality, of course, is somewhat different, of course; as anyone who's seen him performing for STAXUS in the past will tell you. Indeed, the moment he sees young Carlos Santiago looking down at him from the balcony above his attitude to spending time in the water appears to change quite markedly. For before you know what's happened, Law has abandoned his aquatic antics and is back upstairs in order to give a thorough investigation to the handsome bulge in his buddy's pants.
And (make no mistake) what a bulge it is! Then again, given the size of the dick that soon emerges from the young black dude's crotch what else would you ever expect? Needless to say, the dirty-minded white boy is down on that oversized ramrod like a thirsty antelope at a watering-hole; slurping on every fabulous inch available with the kind of gusto for which Law has long since been world-renowned.
But what this filthy-minded Czech boy wants most of all is to have that thick, meaty, uncut dick deep inside his far from virgin ass-hole – an ambition that (in typical Law fashion) he achieves in no time at all. Indeed, he's very quickly quite literally riding Santiago's knob in reverse-cowboy style; before the horny black lad ploughs into his pucker with unrestrained might, banging a load out of Law's balls in the process. By the time the local fellow busts his nuts onto Law's face, there's every chance you too will have creamed!
Scene 3: Hot Session In The Changing Room Results In Raw Fucking & Oodles Of Jizz!
Cast: Benjamin Dunn, Jason King
From: Raw Twink Twister, Scene 3
An all-male locker-room is arguably one of the very few places left in this life where guys can simply be open and honest with each other in a way that's generally impossible in the "straight" world beyond its doors – which may or may not explain the proficiency of the setting in gay porn. Then again, it might just simply be the fact that hot, sexy men seem ever hotter and sexier within its sweaty confines – as keenly demonstrated here when Benjamin Dunn and Jason King find themselves alone together among the soccer shirts and shin pads!
Suffice it to say that it's not many minutes before both lads are taking it in turns to feast off each other's dicks – and believe us there's plenty to feast on! – before Dunn proceeds to rim King's pert little ass and then fill it to bursting point with his thick, uncut shaft. A fabulous fuck-session ensues, with not the slightest hint of rubber – all deliciously captured in full-on, close-up detail for your amusement, as Dunn bangs away at his mate's pucker courtesy of every position imaginable.
Most touching, maybe, is their final coupling down on the floor, with King's legs firmly wrapped round Dunn's body in a clinch that's as romantic as it is pornographic. But it's the sight of Dunn spooging over King's face and King knocking out a fine load over his belly that ultimately clinches it.
Scene 4: Amazing Triple Penetration Fuckfest Leaves Brit Twink All Spunked Out!
Cast: Aaron Aurora, Denis Reed, Milan Sharp, Neo Matthews
From: MaXXXed Out, Scene 4
European integration takes on a whole new dimension when Brit boy, Aaron Aurora, hits it off with a gang of horny Euro skater-boys (Denis Reed, Milan Sharp and Neo Matthews) for a fabulous triple penetration fuckfest that only a dedicated sex-fiend like Aurora could ever hope to keep up with. Fact is he's like a pig with truffles with all that hard continental dick around him, though in fairness he's clearly not the only guy in that room with a penchant for cock.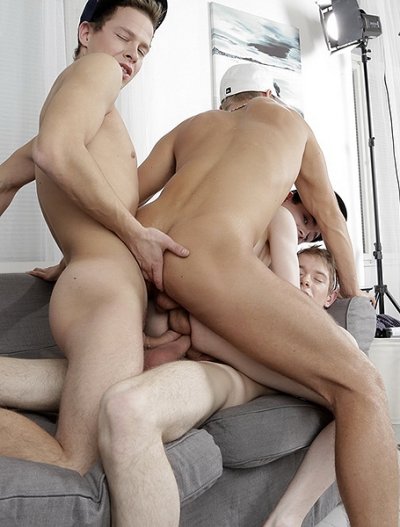 Fact is all of these chaps are greedy for flesh as they take turns to slurp on each other's meaty uncut knobs; but it's the lad from Blighty who takes centre-stage in a succession of double-penetrations courtesy of his big-dicked mates. That action almost pales into insignificance, however, when Aurora gets his ass-hole stretched by all three cocks at once. How he manages to take all that dick in one go will forever remain a mystery, but it's the performance of a lifetime – and something you're gonna be wanking off to for a very long time!
Suffice it to say it's not long before Aurora's on his knees and taking every drop of jizz those same three cocks can muster, leaving him all creamed out and totally satisfied!
Bareback Rookies Boxset I - 4 DVDs

Check out these hot Euro studs as they suck and fuck one another in this Bareback Rookies Box, a four disc set with cum-splattered all-bareback films! With their swinging uncut cocks, eager young holes and wild appetites for hardcore pounding, these boys aren't afraid to indulge their desires. See a barely legal teen getting his first experience of not one, but two huge black dicks, whilst another gets in deep with three spunk filled cocks!

The four titles included in this boxset appear to be Bareback Twinks, Naughty Seducers, Smooth & Tight and Thrill Seekers