Summary:
These boys are lusting hard for each other's hard cocks! They can't get enough of making each other cum big loads in their mouths and holes! All holes filled for a budget price!

Compilation Gay DVD
Description / Review:
Scene 1: Cute Youth Gets Face-Fucked & Spit-Roasted By A Pair Of Mega-Hung Studs!
Cast: Luke Desmond, Chad Cole and Finley Yves
From: Brit Lads: British Football Orgy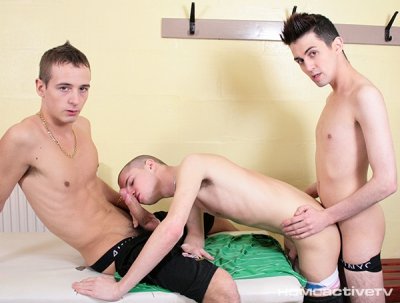 Fans of cute, cropped-haired youths beware – young Chad Cole is gonna be just your sort of footballing hero, as he tackles the dual onslaught of hot and horny opponents, Finley Yves and Luke Desmond, in the changing-rooms. An escapade that involves him sucking both their cocks in turn, before being royally spit-roasted by the lads. What makes the antics here all the more remarkable is the fact that both Yves and Desmond have the sort of equipment in their soccer shorts that would usually intimidate a youngster like Cole – but take our word for it, he takes every inch that those two tearaways have to offer in his stride. No doubt about it, this is one cock-hungry lad who'll grab you by the balls and won't let go until you've squirted every last glob of goo! What's more, he has a similar effect on Yves and Desmond, who dump their wads over his smooth, hairless body, before taking a smooch to celebrate the taste of victory!
Scene 2: Washing Away The Dirt Leads To Oodles Of Jizz On Fresh Flesh!
Cast: Ash Williams, Kaden Tate
From: Brit Lads: Fucking Mechanics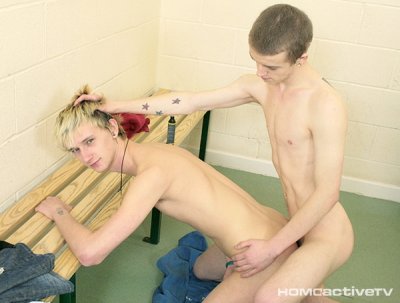 After a hard day's graft it's only natural that a young man wants to head for the showers to wash away all that grime and sweat from his cute, lithe body. Then again, it's also only natural that he should attract the attention of another fellow worker, slightly taller with blond highlights, whose intention appears not to be so much as wanting to wash himself down as wishing to take full advantage of the meaty uncut cock on offer. And let's be honest, who the fuck can blame this guy? We defy anyone not to do exactly the same as what is portrayed here, with the blonder fellow slipping down to floor level so as he can work his lips up and down the entire length of the young tattooed fellow's closely-shaved knob-end. Not that he's ever likely to be content with just a bit of oral, of course. No, this schlong-hungry punk isn't happy until he's been forced down across the changing room benches and is having his ass-hole well and truly pummelled by his cropped-haired workmate, taking every inch available like a compliant bitch. A rampant set-piece that only comes to a conclusion when neither lad is able to take any more and each fire generous wads all over their own hairless torsos.
Scene 3: Geordie Boys Football Kit Threeway Sets Up A Lashing Of Hot Jizz!
Cast: Drake Law, Lucas Davidson & Luckas Leyton
From: Chavs Vs Footballers, Scene 4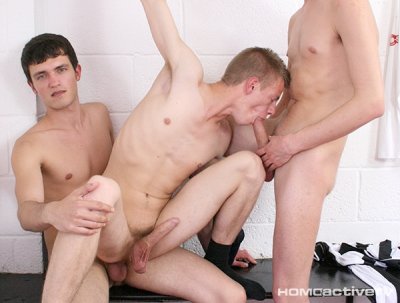 What do horny footballers get up to in the locker room before and after a game? It's not an unreasonable question given the amount of hot flesh that's always on show in those confined quarters, and Drake Law and Lucas Davidson go some way to providing an answer when they engage in a feisty session of mutual crotch-rubbing and subsequent cock-sucking for your inimitable pleasure. A session that only comes to a prompt conclusion when young chav, Luckas Layton, unexpectedly enters the room to catch the pair pleasuring each other. It's a development that promptly turns the session into a rip-roaring escapade of total dick worship, with Law (a cute young twink, it has to be said) and Davidson taking full advantage by thrusting their knobs down Layton's throat! Not that they're ever really gonna be satisfied until they've had the chance to give the young chav's ass-hole a good stretching, taking it in turns to plug Layton's hungry pucker and getting themselves into a feverish frenzy in the meantime. The spunk is always destined to roll big time – and those three juicy uncut phalluses don't disappoint. Prepare for a white-out of pent-up nad-froth!
Scene 4: Cock-Crazed Blond-Brit Gets His Ass Hammered - Just How He Loves it!
Cast: Jamie Sykes, Connor Levi
From: Brit Lads - Hoodie Sluts
Sometimes it's good to get to know our porn stars just a little bit better – otherwise the boys in question can seem somewhat two-dimensional. And it's with this in mind that director Michael Burling introduces us to young Brit beauties, Jamie Sykes and Connor Levi, asking them a series of questions before inviting them to get on with the job at hand (so to speak).
To some viewers all this banter will appear a tad superfluous – especially if you're simply gagging for a good wank. But to fans of the reality production technique it'll all serve as an added bonus to what eventually proves to be a fantastically hot coupling! Levi, in particular, is a real joy to watch – a terrific blond boy-babe who clearly just exists for the next hard fuck. Which (as it turns out) Sykes is only too willing and able to give him!
As such it isn't at all long before Levi is tossing out a fabulous load of pent-up teen jizz for your delectation; whilst his partner in crime gives up an equally delicious wad of baby-batter just a few minutes later. In short, we defy anyone with a taste in hot, young flesh not to be simply overcome by these two horny cock-magnets at the peak of season!