Summary:
There are the friends who are just your friends. Then there's the friends who you fuck around with. Finally, there's the friends who'll let you cream all over their face! Guys like Chris Young, Ariel Varga, Rick Nielsen and Dexter Bure, who love nothing better than getting their arses stretched to the max, before allowing their mates to whitewash them right between the eyes. Leaving them totally satisfied – and literally dripping with spunk! Bromance between buddies has rarely looked so close and intimate. Or, for that matter, so fucking sticky!
This title represent great value for money given the amount of quality content and running time. However, to ensure you don't waste money buying the same content twice, this compilation features scenes from the following titles:-

Compilation Gay DVD - 6 Scenes
Description / Review:
Scene 1: Ass-Crazed Masseur Gets To Rub Horny Dancer Into Raw Climax!

Cast: Chris Young, Johny Cruz
From: The Nutcracker, Scene 4
Confession, they say, is good for the soul - but whether it's possible to be too honest with your boyfriend is a matter of debate. Whatever the pros and cons of the argument, Johny Cruz decides to take the opportunity of Tyler Johnson's candidness to unburden some of his own guilt, namely an illicit encounter with horny masseur, Chris Young. Unlike many other porn scenes, the initial foreplay between the two twinks is kept strictly to a minimum here, as Young takes prompt advantage of Cruz's hungry ass to thrust his cock deep inside the youngster's butt.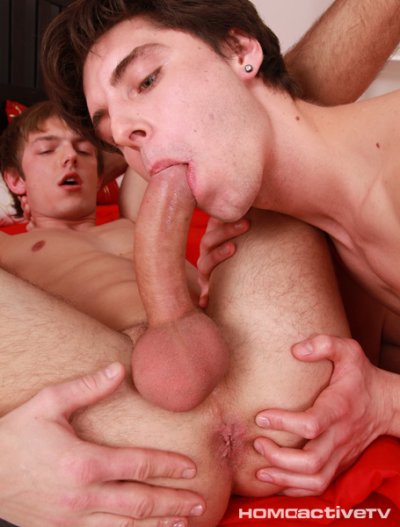 Only after the opening session of raw intercourse do the boys then proceed with what might consider to be the usual Czech-style antics, as they top-and-tail for a superb foray of sucking and licking that leaves young Cruz literally crying out for the next hard fuck. And geez does he get it, with Young pushing and pulling the cock-crazed dancer into a succession of near-unbelievable positions in order to accommodate his meaty bare shaft. It's really precious little wonder that both boys are soon bubbling on the brink of ecstasy; Young face-fucking his compatriot, before spewing jizz all over Cruz's fce!
Scene 2: Young Gym-Boy Gets Persuaded To Suck Dick & Fuck His Buddy's Raw, Hungry Hole!
Cast: Ariel Varga, Marcel Lavrov
From: Workout, Scene 2
It's not surprising that spending so much time working out in a dark, sweaty environment with only other guys for company can leave some men feeling the need for an even more intimate experience. Marcel Lavrov being one of them, as he abandons his aerobics on a workbench so that he can persuade Ariel Varga to engage in a one-to-one session that neither lad (or you!) are likely to forget in a hurry. It has to be said, however, that his initial move is not met with the most positive of responses - clearly Varga would much rather carry on with his more orthodox method of training. But Lavrov is nothing if not persuasive, and before long he's stripping his buddy of his clothes and inviting him to suck on the thick, meaty poleaxe that he's got stuffed in his shorts.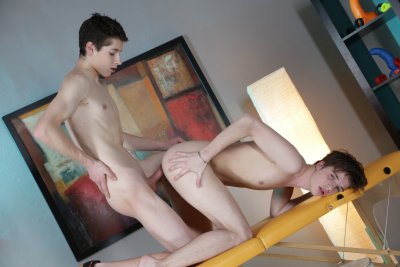 It's at this point, of course, that you'd expect our reluctant porn-star to balk; but the way the lad then proceeds to give head seems only to confirm our greatest suspicions, namely that this is a hardcore slut in the making! An inkling that only gets underlined when he and Lavrov promptly engage in some kinky toy-play to spice up the encounter even further. But of course the pinnacle of this top-notch encounter comes when Lavrov finally goes the whole hog and thrusts his by-now over-swollen shaft deep inside Varga's ass-hole, marking the start of a spunk-fuelled set-piece that eventually climaxes with Lavrov erupting all over his mate's face! Working out at the gym has never appeared so inviting!
Scene 3: Piano Practice? These Boys Would Rather Have A Raw Fuck & A Face-Load Of Jizz!
Cast: Xander Hollis, Felix Webster
From: Symphony 69, Scene 1
We're not exactly sure how many concert pianists practice their art whilst wearing a rather revealing jockstrap, but clearly for dark-haired beauty, Xander Hollis, it's something of a must. Perhaps the feel around his ass and cock help improve his playing, who knows? What we can say with some level of certainty, however, is that his kinky fetish soon attracts the attention of Felix Webster, who wanders into the room with the clear intention of stopping the fellow from working the ivories so that he can work on his dick instead. An ambition that's achieved with arguably unremarkable ease. Before you know it, Hollis is down on his knees and sucking the life out of Webster's cock - a compliment that the blond boy is only too happy to return a few minutes later.
What's blatantly obvious through all this wanton fellatio, ball-sucking and ass-rimming is that it's only a matter of time before Webster's ultimate ambition - of getting his fuck-buddy's raw shaft up his ass - is achieved; so it comes as no surprise when the moment finally arrives for Hollis to start banging away at the blond lad's ass-hole with characteristic gusto. A hot sweaty, on-the-floor fuck that culminates in both guys enjoying the kind of sticky, no-holds-barred facials you folks adore!
Scene 4: Locker-Room Sniffer Gets An Ass-Load Of Cock & A Face-Load Of Spunk!
Cast: Stanley Stone, Mike Cage
From Raw Twink Twister, Scene 1
Locker-rooms have long since been the setting of some pretty kinky filth over the years - a fact that probably isn't lost on young Mike Cage, who sneaks into this particular room on the look-out for some intimate, sporty items that will help satisfy his pervy desires. Unsurprisingly, it doesn't take him long to start getting up-close-and-personal with a selection of jockstraps, trainers and crotch-boxes - sniffing and rubbing the artefacts and getting quite a magnificent hard-on in the process.
But not everyone can be expected to appreciate this sort of behaviour - Stanley Stone included. Stepping into the room unexpectedly, this dark-haired beauty clearly doesn't take kindly to seeing someone getting off in this somewhat unusual way; and immediately sets about forcing Cage into a hot and horny suck-and-fuck session. Not that Cage appears to need much in the way of persuasion, it has to be said.
Using a white sock as a rather nifty accessory, Stone is soon thrusting his dick into every orifice that his fuck-buddy has been blessed with; culminating in the dirty-minded bottom riding Stone's raw ramrod like a bitch on heat. But it's the sight of Stone's meat spewing right across Cage's face that'll really blow your fuse. In two words, fucking brilliant!
Scene 5: Orlando White Gives His Hot & Horny Fuck-Buddy A Raw, Open-Air Fuck!
Cast: Orlando White, Rick Nielson
From Open Range 2, Scene 1
It's not your usual location for a sex date - half way up an apple tree! - but that's exactly where Orlando White and Rick Nielson are making out during the opening minutes of this horny little encounter. What the Health & Safety Executive would have to say about this apparent recklessness is anyone's guess, of course; but the good news is that both these sexy fuckers make it back down to the ground without any damage to life or limb, and that they're soon able to continue their set-piece against the relative safety of a garden bench. Not that the new location appears to give White any impetus to remove the skimpy blue denim shorts that he's wearing - the fellow even sits rimming Nielson's ass in them! - but it's not long before both guys are in the mood for something a little more intense than simply sucking dick.
Cue White finally breaking free of his clothes and prepare for the fantastic sight of his thick, raw shaft breaking through his Nielson's hungry little ring. It's a move that signals the start of an energetic coupling that'll have you unzipping and wanking in no time, as Nielson takes his mate's ramrod with the kind of gusto you've no doubt come to expect from our boys. All culminating in White blasting the contents of his balls are over the fellow's ass-hole; before sticking his dick back inside for good measure, and then finally allowing Nielson to empty his own wad over his face in return!
Scene 6: Boy-Bitch Ariel Varga Falls To The Big-Dicked Charms Of Dexter Bure!
Cast: Ariel Varga, Dexter Bure
From One Erection 2, Scene 2
With his baseball cap and slightly cocksure demeanour, Dexter Bure is perfect boy-band material, and it's little wonder that it takes little effort on his part to woo thick-lipped Ariel Varga out of his pants. Indeed, one minute Bure is happily strumming on his guitar, the next he's pushed the instrument to one side and is eagerly feasting on his mate's handsome, uncut dick! It's a deft move for sure, and one that gains an immediate response from Varga, who simply can't wait to replicate the action on Bure's over-engorged ramrod.
The result is a fabulous oral set-piece that sees both lads feasting on all that hard meat with typical boyish enthusiasm, and which will no doubt leave you horny fuckers feeling hyped up in response. But these guys are only just beginning. Bure's clearly in the mood for a little kink before he fucks the living daylights out of his buddy; and having rimmed Varga's ass, proceeds to finger his mate's pucker and thrust the digit into the lad's mouth. Needless to say, Varga's response is just what we all want to see - sucking on the finger again and again as if to underline his subservient role in the action.
A role that's promptly re-emphasised when Bure thrusts his thick, meaty knob deep into his fuck-hole. No question about it, Varga's definitely the bitch in this coupling, and by the time he's ridden Bure's cock cowboy-style he's definitely on the brink of a creamy tsunami of jizz. But not before Bure has spewed his own magnificent wad all over the bottom's face; leaving Varga to spray his generous eruption as a fitting wrap to proceedings!