Summary:
Having climaxed at the top of the charts, the big question for these boys is how to stay there. Fortunately for this group of handsome beauties it's not so much being pitch perfect that matters as being horned up and ready to suck cock and fuck ass whenever and wherever the urge demands. Kris Wallace, Connor Levi and Brad Fitt lead the charge for the number one spot as another sticky, spunky escapade enfolds for this worldwide phenomena. Be ready to shout, be ready to scream – but most of all, be ready to enjoy the hottest wanks of your life!
Description / Review:
Scene 1: Kris Wallace Lays His Guitar To One Side In Favour Of A Hot, Horny, Bareback Ass-Stretching!
Starring: Kevin Ateah and Kris Wallace
Music has clearly always been one of Kris Wallace's great passions, but does it compare to his love of raw dick? Well, if this fantastic scene with Kevin Ateah (plus mannequin) is anything to go by then the answer to that question is most definitely a big fat no! Not that there's anything wrong with seeing the boy strum on his guitar in the opening moments of this raunchy encounter; but the arrival of Ateah soon sees Wallace putting his instrument to one side so that he focus all his attention on the juicy package that the young Pole knows is stuffed inside Ateah's crotch.
Mind, it's a passion that's evidently shared by Ateah himself, and it doesn't come as any surprise when we see the two lads slurping off each other's cocks 69-style shortly afterwards. It's a turn of events that quite evidently puts both guys in the mood for something even more intense; and, having engaged in some mutual rimming, it's time for Wallace to put his butt on the line for his legion of hot, lusty fans. Cue a fabulous session of sweaty, breathless, bareback fucking that sees Ateah fucking the living daylights out of his buddy.
Not content with a straightforward rut, however, Ateah's soon giving Wallace's crack the full treatment whilst his own pucker is being stretched by a butt-plug! Seems that both these beauties have a desire to be filled; and it's no surprise when each proceeds to bust their nuts in right royal style, leaving them drained, satisfied and (in the case of Wallace's face) coated in jizz!
Scene 2: Boy-Bitch Ariel Varga Falls To The Big-Dicked Charms Of Dexter Bure!
Starring: Ariel Varga, Dexter Bure
Also available: Young Dumb & Splattered in Cum - One Last Time (Compilation)
With his baseball cap and slightly cocksure demeanour, Dexter Bure is perfect boy-band material, and it's little wonder that it takes little effort on his part to woo thick-lipped Ariel Varga out of his pants. Indeed, one minute Bure is happily strumming on his guitar, the next he's pushed the instrument to one side and is eagerly feasting on his mate's handsome, uncut dick! It's a deft move for sure, and one that gains an immediate response from Varga, who simply can't wait to replicate the action on Bure's over-engorged ramrod.
The result is a fabulous oral set-piece that sees both lads feasting on all that hard meat with typical boyish enthusiasm, and which will no doubt leave you horny fuckers feeling hyped up in response. But these guys are only just beginning. Bure's clearly in the mood for a little kink before he fucks the living daylights out of his buddy; and having rimmed Varga's ass, proceeds to finger his mate's pucker and thrust the digit into the lad's mouth. Needless to say, Varga's response is just what we all want to see – sucking on the finger again and again as if to underline his subservient role in the action.
A role that's promptly re-emphasised when Bure thrusts his thick, meaty knob deep into his fuck-hole. No question about it, Varga's definitely the bitch in this coupling, and by the time he's ridden Bure's cock cowboy-style he's definitely on the brink of a creamy tsunami of jizz. But not before Bure has spewed his own magnificent wad all over the bottom's face; leaving Varga to spray his generous eruption as a fitting wrap to proceedings!
Scene 3: Tim Law Gets Caught Red-Handed & Gets A Red-Raw Fucking From A Security Guard For His Pains!
Starring: Boris Orla, Tim Law
Also available: Cock Lovin' Deviants (Compilation)
Poor Tim Law. There he is, having a bit of fun – defacing the urinals – when along comes some over-zealous security guard, who threatens and cajoles him into a sordid sex act. To be fair, however, Law's definitely the kind of lad who is more than sufficiently charged to step up to the plate, so to speak – or, in this case, to step up to the thick, meaty, uncut cock that's now straining out of the blond top lad's trousers.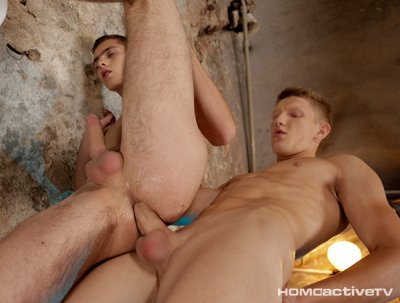 As such it's no time at all before the horny little youngster is feasting on the contents of Orla's neatly shaved crotch – a task that he undertakes with such skill and gusto that it's no time at all before Orla's replicating the act with similar enthusiasm. For both these lads, however, the ultimate experience is going to be a session of wild, inhibited fornication – and believe us when we say that neither boy disappoints. Indeed, it's no time before Orla's rimming his new-found buddy's ass and is giving Law the stiff, bareback fuck that he deserves, forcing his aching knob deep into the fellow's ass in a series of positions.
Little wonder that Law – who, as we've all long since known, was quite literally born to be fucked – is soon blasting a fabulous wad of jizz out of his balls whislt Orla continues to bang away at his ass. Whilst Orla finally calls it a wrap by shooting his over-generous deposit all over the twink's over-used pucker, before forcing the cream inside the hole. If all this dirty perversion doesn't blow you over the edge time and time again we don't know what will!
Scene 4: A Celebratory Gangbang Gets This Bunch Of Horny Beauties All Fucked Up & Spurting Spunk!
Starring: Benjamin Dunn, Brad Fitt, Connor Levi, Kris Wallace & Milo Milis
Also available: Bareback Bukkake Frenzy 2 (2 DVD set)
It's celebrations all round as the members of the world's latest hit boy-band take time off their heavy schedule of concerts and guest appearances to spend a little quality time together, which in effect means sipping champagne and then banging each other senseless! Of course, anyone with half a knowledge of the STAXUS stable of boys will anticipate Kris Wallace and Benjamin Dunn being the dominant parties in this five-guy fuck-fest, but in the course of events it's not just Brad Fitt, Connor Levi and Milo Milis who surrender their ass-holes for your entertainment.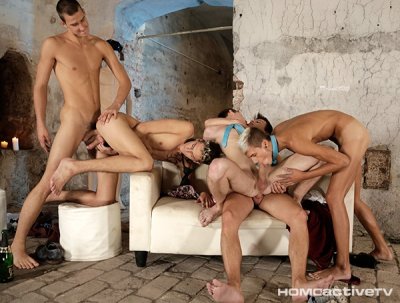 The fact of the matter is that young Wallace clearly can't resist the idea of getting his pucker stretched by Dunn's handsomely-sized ramrod – and who the fuck can possibly blame him? Seeing the likes of Levi and Fitt getting pummelled by all the hard dick on offer clearly leaves the fellow aching for some stiff attention of his own, and before you know it he's sitting on Dunn's lap and getting stuffed cowboy-style like some cock-lusty whore.
In the meantime, anticipate enjoying the sight of hard, uncut knobs getting the kind of no-holds-barred oral attention that most guys can only ever dream of; plus a rimming-chain that'll quite literally leave your asses tingling in appreciation. But it's the sight of five handsome young bucks rutting like horned-up alley-cats that'll really endear you to this sordid escapade; culminating in a pyrotechnic display of jizz that leaves Milis coated in baby-brew and the rest of the gang looking keenly buzzed-up and content. Your own heavy wad is nigh on assured!