Summary:
Director John Smith escorts our horny young team of cock-loving beauties to a local Czechia indoor pool for a hot, steamy session of strokes and lengths. Don't be fooled though, it's not the swimming that interests the likes of Boris Lang and Milan Silver; as tight, revealing speedos quickly unleash a bevy of fresh dicks that need urgent attention. And with a frenzy of sucking, rimming and fucking on tap, this is one poolside gay twink-fest you won't wanna miss!
Scene 1: Playful Pups Go Poolside For A Hard Session Of Cock & Hot Cum!
Cast: Milan Silver, Ron Negba
There almost seems to be a romantic connection between Milan Silver and our latest newbie, Ron Negba, as they cavort together playing ball in the pool; but anyone who's expecting a lengthy show of smooching once they've jumped out of the water could be in for a disappointment. This isn't to say that the two lads don't kiss, of course – the sensuous nature of their friendship makes this almost an inevitability. Yet it's pretty clear that neither of these handsome dudes really wants to hold off from a much more carnal encounter; and within a few seconds Negba's attention has travelled down his mate's handsome body and he's very lovingly caressing Silver's torso and upper legs in anticipation of unleashing the swelling length of flesh that he already knows is buried inside the fellow's laced-up trunks.
It's no time at all, of course, before the said schlong is finally out in the open – at which point any semblance of decency between these two fellows is very promptly laid to rest! Indeed, Silver's soon replicating his buddy's efforts – devouring Negba's shaft with great open-mouthed gusto, before fixing his eye on the pup's hairless pucker, which he rims, rubs and fingers in anticipation of the main event. Cue a stupendous fuckathon, which sees our cute, curly, floppy-haired fresher taking every inch of Silver's deliciously uncut fuck-pole in a whole variety of positions; before the horned-up top literally can't take another thrust and creams Negba's slit with a thick rope of jizz. Giving our bottoming hero the chance to prove his own worth with a creamy blast of spunk over his taut belly!
Scene 2: Boris Proves A Lifesaver & Takes A New Boy's Cherry In Return
Cast: Boris Lang, James Kingston
Being the lifeguard on duty when there's only one person in the water isn't the most taxing of jobs, so it's perhaps not too surprising that hunky Boris Lang's mind begins to wander at the start of this encounter with playful minx, James Kingston. In fact, before you know it we're in the midst of pure fantasy; with the cute, young swimmer now lying face-down and lifeless in the pool, and Lang springing promptly into action in a desperate bid to rescue him. It won't come as any great surprise to anyone to know that it's a rescue bid that meets with complete success – Lang dragging his charge onto the side of the pool, before lying him out on a bench to recover.
What may serve as something of an eye-opener, however, is the speed with which the kiss of life becomes the kiss of lust – at which point it's very much business as usual in terms of hardcore porn, with Lang eagerly diving down into his mate's leopard-pattern speedos in order to feast on the aching rod of meat inside. Suffice it to report that the new boy is equally energetic in return; ferociously devouring his life-saver's ramrod, before allowing Lang his taste of the spoils in the form of his plucked little fuck-hole. Yes, folks, you've got it right – Lang's about to get his reward for all his heroics in the form of Kingston's tight cherry, which he duly snatches with characteristic verve and gusto. Little wonder that the floppy-haired beaut is soon jerking out a heavy load of cum in appreciation; before Lang seals the deal by spewing into his pal's mouth, and the two fellows exchange a spunky kiss for the final wrap!
Scene 3: Soaped-Up Swimmer Gets A Hard Massage & Even Harder Fuck!
Cast: Orri Gaul and Max Grey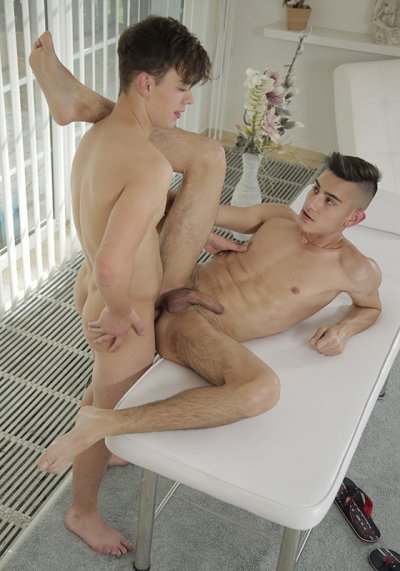 Sometimes, the hottest porn can actually be the simplest – indeed, when you've got a gorgeous lad like Orri Gaul in the mainframe chances are it can be pretty much as straightforward and uncomplicated as it comes. Give him the chance to strut around naked – or in this case swim in a pool and then jump out to take a soapy shower – and all a director like John Smith has to do is sit back and film; safe in the knowledge that there surely isn't a gay porn-loving guy on the planet who won't relish the delicious results. Unable to resist the urge to notch things up a little further, however, it's not long before Smith introduces the divinely hot little pup to the massaging talents of the equally handsome Max Grey, who (not surprisingly) has his eye on Gaul's deliciously uncut cock and hairless butt. What's more, getting his hands on those gems has surely never been easier, as Grey oils every inch of his buddy's mouth-wateringly hot body and slowly works his way towards his mischievous goal.
Sure enough it's not long before both the lads are 69-ing each other on the massaging table like a couple of horned-up sluts; slobbering and salivating over dick with the kind of energy and gusto that you'd expect from boys their age. But the coupling turns decidedly stratospheric when Grey finally achieves his goal and buries his aching ramrod deep into his mate's raw fuck-hole, signalling the start of a truly ball-busting escapade that'll have you wanking like fury. All of which culminates nicely with a near-obscene explosion of spunk that quite literally leaves Gaul splattered from head to foot!
Scene 4: Texting Tart Gets His Arse Fucked Hard & Coated In Hot Spunk!
Cast: James Kingston, Ron Negba
You can't help but get the distinct impression from the start of this terrific set-piece that young James Kingston is a bit of a slutty little bastard on the quiet. After all, whilst his handsome boyfriend – newbie Ron Negba – takes a dip in the pool next door, he's busily posting suggestive texts on social media courtesy of his mobile phone. It's not exactly the actions of a prim and proper bud, that's for sure; and our suspicions are only confirmed when he proceeds to catch hold of Negba's pants and rub them against his swelling crotch. Yep, this is a fellow who enjoys carnality in all its kinky glory; and the arrival of his partner – who by this point has jumped out of the water and dried himself up – confirms that suspicion.
Why, the lad is smooching with his beau in pretty much next to no time; and in return Negba is soon taking total advantage by pulling Kingston's hard dick out of his speedos and devouring the lad's handsome, uncut ramrod with unquestionable zest. What Negba really wants, however – and which soon becomes all too apparent – is a taste of his boyfriend's hairless little fuck-hole; and it's not long before we're being treated to a veritable classic, as the lad rims the tight starfish and then finally buries his uncut meat deep between Kingston's butt-cheeks. What ensues is a truly breathless, ball-busting escapade that will almost certainly have you grabbing your own aching pole in sticky appreciation; which culminates in Kingston being fucked on the floor and getting his violated slit soaked in spunk. No wonder he then spurts out a violent wad all of his own!