Summary:
New boy, Adrian Bennet, proves the common link, as a collection of horned-up, spunk-obsessed buddies team up for an unadulterated bareback fuckfest that will have you wanking like fury time and time again! Keen as mustard, the cute young newcomer savours every single fucking moment to relieve every single hard cock going; from riding Vittorio Vega's handsome shaft to deflowering fellow rookie, Zist Stevens. Throw in some cake fun, courtesy of monster-hung buddie, Joel Tamir, and it's a sure-fire recipe for multiple unloadings! This is another gay twink bareback download from Europe's best porn studio STAXUS you just have to own!
Scene 1: Newbie Meets His Superman For Hard Lesson In Pleasuring Cock!
Cast: Adrian Bennet, Zist Stevens
There's always something strangely alluring about seeing some handsome lad getting deflowered for our pleasure, and this horny little training session – which sees the strangely named Zist Stevens being introduced to the pleasures of gay sex courtesy of Adrian Bennet – proves no exception. To be fair, the young pup appears to make no bones of the fact that he's at the STAXUS studios for one reason, and one reason alone: money! As such, he's almost certainly in the "gay for pay" category, which in itself might give good cause to question how hot this scene is gonna be.
But the decision of director, John Smith, to team this newbie up with a confident "superman" like Bennet soon seems to pay dividends; with Bennet very quickly taking the lead by slurping on his co-star's dick, and then encouraging Stevens to practice his cock-sucking skills on part of the duvet that has been shaped phallically for such a purpose.
Not that slurping on material is ever gonna be a match for gobbling away on hard, male flesh; as Stevens finally discovers when he musters the courage to devour Bennet's aching shaft for the very first time. From which point onwards, any hesitation that the copperhead showed appears to be promptly pushed aside; as Stevens then rims and fingers his buddy, before thrusting his thick, ass-stretching poleaxe deep into Bennet's guts. For a newcomer, it's a terrific show, and there's no disguising the pleasure that Bennet clearly enjoys with every manly thrust; which culminates in him receiving a butt-load of jizz, before squirting a sac-load all over Stevens' mouth!!
Scene 2: Newbie Gets A Fucking Great Welcome On Vega's Meaty Shaft!
Cast: Vittorio Vega, Adrian Bennet
There's a first time for everything, of course; and even the most legendary of gay porn stars has to start out somewhere. Not that we're claiming new boy, Adrian Bennet, is especially destined for greatness, but what better stepping-stone to stardom could there be for the fellow than a horny duet with the truly amazing, Vittorio Vega? And indeed, this young blond punk grasps opportunity with both hands – not to mention an open mouth – as he sinks in this great twink XXX download to his knees to gobble away on Vega's handsome, uncut schlong; indulging in every thick inch that our stalwart has to offer, before Vega himself returns the compliment as if to show the rookie how it should be done. All of which leads nicely to the couple 69-ing on the sofa like a pair of cock-obsessed felons.
That in itself proves to be an appetising display; but matters quickly turn even more intense when Vega bundles his new playmate against the edge of the chair, then energetically rims Bennet's hairless little rosebud in anticipation of the hard, uncompromising fuck that we all know is clearly on the cards. So sit back, unzip – if you haven't yet done so! – and savour the delightful show of Vega quite literally violating his sweet-faced companion in every position imaginable; culminating in a doggy-style coupling that ultimately results in Bennet's pucker getting whitewashed in a thick blast of pent-up cum. That display is surely enough to push even the most ardent fan over the edge; but just to make sure, Vega gobbles away on Bennet's erupting shaft, before both sluts give a knowing smile to the camera!
Scene 3: Let Them Fuck Cake? Seems Like It For These King-Sized Buds!
Cast: Beno Eker, Joel Tamir
A slice of delicious chocolate cake is always a pleasure, of course – but when it's up against the prospect of hard cock then there's every good chance that it's gonna seem second-best. As such, we shouldn't really be too surprised that the horny duo of Joel Tamir and Beno Eker appear to abandon the prospect of food – albeit as scrumptious as a double chocolate-layered gateau – so that they can put all their efforts into consuming each other's meaty, uncut schlongs! And considered the monster that bounces out of Eker's pants is it really any wonder?
Needless to say, Tamir doesn't waste a second in getting his lips around that handsome ramrod; but initial appearances can be deceptive, and when his mate decides to add to the experience by smearing the cake all over his throbbing salami, you quickly realise that director, John Smith, has been toying with us fans all along. Truth is, that cake was clearly destined to be part of the act all along; with the appearance of Tamir's oversized ramrod soon afterwards literally serving as the icing on the cake. Indeed, there's a significant risk of premature climaxes all round as Eker proceeds to feverishly rim his buddy's hairless rear; before pushing Tamir over the table and forcing every solid inch of hard dick up into his guts. The action turns even more stratospheric when Tamir sits down on Eker's lap and rides dick like a whore – his own grossly swollen shaft flopping happily around in the process! A bit of doggy-style fucking to conclude and both horned-up starlets are spewing a mega volley of pent-up spunk in appreciation!
Scene 4: It's An Ass-To-Mouth Romance For Two Raw-Crazed Beauties!
Cast: Adrian Bennet, Beno Eker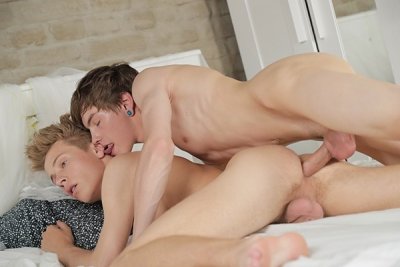 No need for any convoluted introductions here, lads – the two boys in question (Adrian Bennet and Beno Eker) are clearly so into each other that we pretty much hit the deck running, with both fellows kissing and fondling like a couple of long-separated lovers on a much-overdue rendezvous. Which, of course, may actually be the case! Certainly the way they rub their swollen cocks and heavy balls together seems to indicate as much; sensually frottaging before the lens, then finally tumbling into 69-position so that they can each feast on the very generous display of man-meat on offer. Which in turn soon leads to Eker casting his eye on Bennet's tight little starfish, which he spits upon and greedily rims in anticipation of the hardcore romp that we know is soon going to be exploding onto our screens. What's more, the sweaty, raw, primaeval fornication that thus ensues doesn't disappoint; with Bennet intermittently casting his body down onto Eker's lap to ride his buddy's swollen shaft, whilst occasionally switching positions so that he can enjoy some ass-to-mouth.
And this spirit of alternation continues once Bennet is laid out on his back taking every inch that Eker can muster; a constant flicking back and forth between arse and oral action that will surely have a whole barrage of fans jerking like crazy. As such, it might almost come as something of a relief when Bennet finally wanks himself off reverse-style over the bedsheets; prior to Eker underlining his credentials as power-top by squirting out a mammoth stream of pent-up goo right across his mate's face!