Summary:
We've known for a long time that the boys from STAXUS can be a sensuous bunch – even if they usually only appear interested in hot, raunchy sex. On this occasion, however, it's all about the senses; as the legendary Jaro Stone gets joined by the eclectic mix of Martin Rivers, Noah Matous and newbies Bjorn Nykvist and Jake Beaumont for a rich, indulgent stray into intimacy. No question about it, it's cuddles all round – but admittedly only after they've taken hard cock up their ass and spunked all over each other's cute faces! Some things about our horny young fuckers never, ever seem to change!
Scene 1: Cute Buddy Creams Stone's Ass With Yogurt & His Face In Jizz!
Starring: Jaro Stone, Martin Rivers
Also available: Twinks Get Stoned Again (Compilation)
Admittedly, there probably isn't a gay guy alive who wouldn't get excited at the sight of Jaro Stone's butt on display, so we're quite sure that most of us will be in total sympathy with young Martin Rivers when he finds himself totally unable to resist the fellow at the start of this horny little escapade. Whether so many of us would then do what Rivers does – dolloping a spoonful of yogurt on Stone's crack and licking it off – is another matter entirely, of course. That said, it's a move that does the trick in terms of bringing Stone to consciousness; at which point the action promptly takes off, with the lads quickly discovering that a hot session of passion the night before has done little to dampen their ardour for hard cock.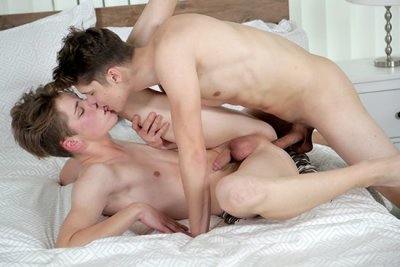 Indeed, neither fellow seems able to get enough dick as they first take it in turns to suck each other off, then pleasure each other simultaneously by means of some heady 69-ing. But suffice it to say that it isn't very long at all before Stone is turning his attention to his buddy's tight little pucker, fingering the hungry hole before plunging balls-deep inside. It's a move that pleases the cock-crazy little bottom, that's for fucking sure; as Rivers proceeds to ride his mate's dick in a whole series of positions like a fully-certified bitch!
All of which soon culminates in Rivers finally achieving a lifelong dream of gay guys across the world, as he quite literally whitewashes Stone's face in spunk – a sight that will warm the hearts and harden the dicks of STAXUS fans everywhere. As will the vision of the two chaps exchanging a gooey, creamy smooch for the finale!
Scene 2: Bath-Time Buddies Get Soapy & Spunky With A Hard, Raw Fuck!
Cast: Bjorn Nykvist, Julian Fox
Also available: Fucking Blonds Have Much More Fun Again
Is there anything more enjoyable than a nice long soak in the bath? Especially at the end of a long, hard day and you just want to wash all those stresses and strains away! Well, what about a splash in the bath with one of your mates? It's definitely something that appeals to Bjorn Nykvist and Julian Fox, that's for sure; as the two horned-up buddies make their way to the bathroom and very quickly engage in some clearly much-needed smooching. And suffice it to say that it's not very long before these lads are getting up to something far more intense than a bit of innocent kissing.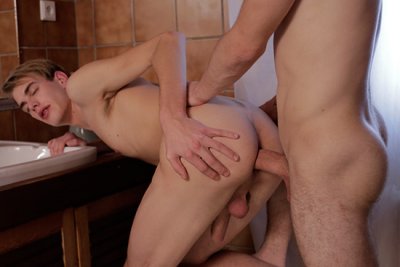 Indeed, you can rest assured that the sight of hard, aching meat is soon in the offing; with Fox keen to soap his pal's meaty ramrod, before eagerly munching on every inch of dick that Nykvist has to offer. What's more, Nykvist isn't averse to a bit of hardcore fellatio himself by the look of things; before Fox bundles his buddy out of the water and turns his keen attention on the fellow's hairless little pucker. It's no time at all before the hungry little hole is getting all the attention that it wants and deserves courtesy of Fox's seemingly insatiable rocket; with the horny top energetically pounding for all he's worth into Nykvist's guts.
It's a move that the filthy-minded bottom evidently appreciates; and he's soon taking things one step further by plonking himself down on Fox's shaft and riding those inches like a bitch on heat. A move that soon has Nykvist rupturing like a geyser mid-fuck; before Fox brings the show to a sticky conclusion by creaming a fine wad of jizz into his pal's mouth!
Scene 3: Horny New Boy Takes A Shower, Then Fucks His Buddy Red Raw!
Cast: Jake Beaumont, Mark Flynn
Also available: Fuck Buds (6 Scene compilation)
Keen to prove that he's the cleanest boy in town, new lad Jake Beaumont heads straight for the shower to enjoy a much-deserved wash-down – only to discover that all his efforts to keep fresh are soon to be all in vain, thanks to the arrival of his horny boyfriend, Mark Flynn. To be fair, however, there's no denying that young Flynn plays somewhat hard to get in the opening minutes of this terrific duo – sitting at the far end of the sofa from Beaumont, with his legs crossed. It soon becomes clear, however, that the lad's somewhat negative body language is all something of an act; and the moment Beaumont makes an advance, the guard is quickly abandoned. So much so, that Flynn is down on his buddy's dick within moments, slurping hungrily on every inch on offer and looking (as ever) like the total slut that he is.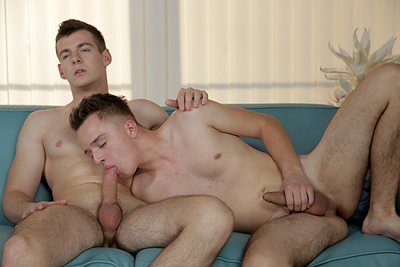 Indeed, there's no denying that this is a fellow who quite literally can't wait to get his hairless little pucker stretched to buggery, and who's quickly laid prostrate on the chair with his legs in the air to underline the point. A brief interlude of rimming over, and Beaumont is greedily taking full advantage of the situation – burying his handsome ramrod balls deep into the twink's fuck-hole with unquestionable gusto!
Suffice it to say that it's just the beginning of a ball-busting session that sees the little slut banged in a fabulous succession of positions, and which culminates in Beaumont whitewashing his ass in a thick wad of pent-up jizz. A turn of events that's arguably eclipsed just a few minutes later by Flynn wanking out a geyser-load of hot spunk in response!
Scene 4: Flip-Flopping Hairless Beauties Enjoy A Raw, Jizz-Laden XXXmas!
Cast: Martin Rivers, Noah Matous
Also available: Flip Flopping Fuckers 1 (Compilation)
As the narrator at the start of the scene correctly points out, Christmas can be a truly lonely time when you're not with the person you love. Fortunately for the ever-resourceful Martin Rivers, imagination is a wonderful thing; and we quickly discover that his boyfriend, Noah Matous, is merely a simple wish away. It's all seasonal bunkum, of course – but who would deny a horny young beauty of River's calibre the chance to cavort with one of our all-time mega-sluts? Indeed, there's no getting away from the fact that Matous is on top-notch form right from the off, as he pounces down onto his buddy's hairless crotch and begins to do more gobbling than a festive turkey!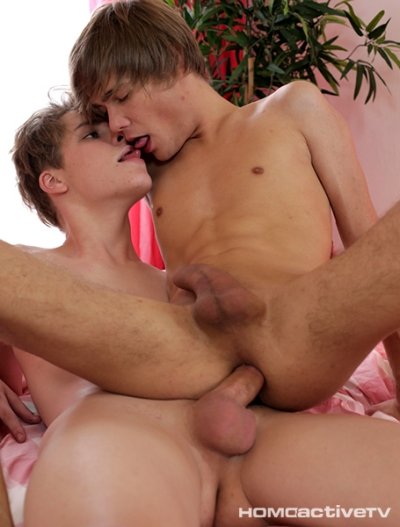 Clearly unwilling to be outdone, Rivers is soon replicating the performance – feasting on Matous's equally smooth dick, before promptly turning his attention to the lad's closely plucked butthole, which he eagerly rims in anticipation of thrusting his achingly rock-hard ramrod deep inside. Anyone anticipating a run-of-the-mill fuck is in for even more of a shock than Rivers was when his present magically transformed itself into a porn-star legend. For it turns out that both lads have a taste for some hard anal action; and, having banged Matous for all he's worth, Rivers is soon receiving much the same attention in return.
The result is a truly spectacular flip-flopping frenzy, which would make any Christmas morning perfectly unforgettable. All of which not surprisingly soon brings both boys to the point of no return – thick, creamy wads of spunk that have surely been welling up in those tight balls all Advent!