Summary:
It takes real balls to cold call on strangers and tell them all about your faith and spiritual beliefs – and this bunch of proselytising beauties have got plenty of cock to go with it! Lads like Mark Fontana, whose method of converting the sinful souls of Prague involves using every inch of meat between his legs – not to mention his pert, dick-hungry ass. And when there's no-one around to convert, there's an eternal stream of fellow devotees; as Connor Rex, Zac Law and Lucas Drake cum together to worship at the altar of hard cock, with a baptism of spunk guaranteed every time! Being saved has never looked hotter!
Scene 1: Horny Convert Donates A Thick, Hard Cock & A Mouthful Of Jizz!
Cast: Mark Fontana, Vitali Kutcher
When you're part of a religious cult, it goes without saying that proselytising is all part of a hard day's work – spreading your message to everyone that you meet and explaining how their lives could be made so much better if only they embraced your way of thinking. Which in Mark Fontana's instance here means stopping your bicycle in the park to spend a few minutes sharing the good news to a rather forlorn-looking Vitali Kutcher. To Fontana's eternal credit, he sure as hell works wonders – before you know it Kutcher is following him home to learn more about the work of the Mormon church.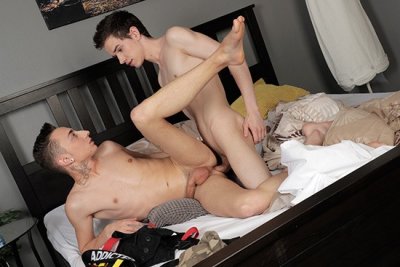 But it's not very long before the religious aspect of this conversion has been sorely eclipsed by plain old lust, as the two fellows promptly fall into an embrace and begin to pull each other's clothes off! At which point it's the worship of the mighty phallus that very much takes centre stage; with both buddies enjoying a last supper of meaty, uncut dick, before Kutcher promptly begins to rim Fontana's hungry little arsehole for all it's worth.
By this point, of course, any hope of Fontana maintaining his holier-than-thou persona has long since been tossed aside; and it almost comes as a relief when he finally parts his legs to accommodate a carnal conversion to raw anal action. Cue the delirious sight of him interchanging between riding and deep-throating Kutcher's violently erupting member; as he finally abandons his crisp white shirt (and his last vestige of saintly dignity), before jerking out a thick wad of creamy spunk out of his upturned shaft all over Kutcher's tongue!
Scene 2: Holy Lads Spread The Love With A Raw Fuck & A Baptism Of Goo!
Cast: Connor Rex, Zac Law
Also available: Twink In Service (6 Scene Compilation)
Also available: Bareback Blessings (Compilation)
Connor Rex and Zac Law are a couple of wholesome, devout Mormons, who clearly feel called to spend time out on the town. Not to drink and party, as you might expect with boys their age; but to act as a witness to their faith and to do good wherever they see the opportunity. That's not their only calling, however. Back in the privacy of home, where they spend time reading scripture together, they also feel called to express their love for each other in the only way they know how – something we feel might not go down so well with their Church's hierarchy.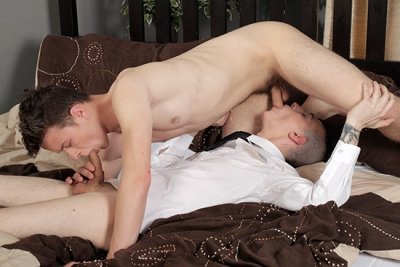 But horny boys will be horny boys; and it doesn't take many minutes before the two spiritual brothers are expressing their lusts and affections in the only way that they know. As a result, Law's down on Rex's handsome ramrod like a hungry dog with a bone; before Rex responds in kind, and then the two lads engage in a heated mutual exchange in the form of some delicious 69-ing. All of which culminates in something of a playful tease from director John Smith, with Rex eagerly rimming Law's pert little ass – a move that might lead anyone to assume that it's Law who's gonna get heartily buggered.
On the contrary, however, Rex then promptly bounds onto Law's rock-solid shaft to prove that he's the only bitch in this relationship; riding dick like a pro in a succession of hot positions, interspersed by him gobbling on the source of his pleasure. It's a top-notch performance for sure, and one that soon has Rex squirting out a hot load; before he receives a much-welcomed baptism of jizz all over his cute face!
Scene 3: Flip-Flop Veg Lovers Taste Raw Dick & Exchange A Spunky Kiss!
Cast: Mark Fontana and Lucas Drake
Also available: Flip Flopping Fuckers 2 (Compilation)
It's breakfast-time at the mission house, and the boys are not unnaturally very hungry; but for Mark Fontana and Lucas Drake it's an appetite of a much more carnal nature that's concentrating their attention. So much so that at the first opportunity they're snogging each other's faces off and ripping off their clothes. Of course, anyone who knows these boys would never expect anything less; and it will come as little surprise to see fall to his knees in order to worship his pal's succulent, uncut shaft and beautiful low-hangers. Nor will anyone be particularly amazed to see Drake returning the favour – feasting on Fontana's nicely curved ramrod and acting out the bitch.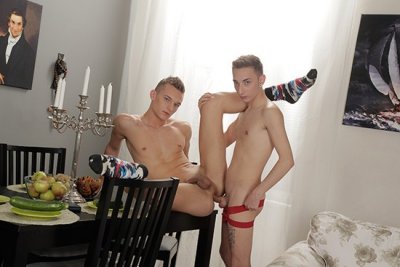 What may come as a little bit of an eye-opener – not to mention an ass-opener! – is when Fontana decides to spice things up a little bit by thrusting a handsomely sized courgette into Drake's very welcoming hole; playfully tonguing the vegetable as if to lube it for the occasion. It's a very kinky, imaginative introduction to the fucking that promptly ensues; with Drake manfully taking his mate's dick like the veritable pro that he is, prior to Fontana deciding to enjoy his share of the action by plonking himself down on his mate's knob and riding it reverse-cowboy style.
Ever the greedy one, however, Drake can't resist another taste of hard dick in his guts before the encounter comes to an end – a fitting testimony to the lad's cock-crazed reputation, and which soon brings him to a sticky climax. All of which leaves Fontana to cream Drake's cute little face with a sac-load of jizz, before both exchange a gooey goodbye kiss!
Scene 4: Prayer Buddy Enjoys A Spiritual Rapture Of Hard, Uncut Cock!
Cast: Mark Fontana and Connor Rex
Man cannot live on bread alone – so the good book says. But let's face it, when it comes to hot, well-hung twinks there's definitely only hard cock on the menu, as Connor Rex and his spiritual mentor, Mike Fontana, are here only too eager and happy to demonstrate! Indeed, these two young beauties can't wait to put their frugal meal to one side so that they consume something far more fulfilling; indulging in some passionate smooching together, before energetically ripping away at each other's clothes so that they can feast on the generous platter of dick that's nestling away in their trousers.
To be frank, if the sight of suited and booted beauties indulging in hardcore fellatio is your kind of entertainment then there's every possibility that you could've blown your proverbial gasket a long time before Rex finally takes aim at his buddy's pert little arse. But those of a more restrained nature will be rewarded by the sight of the cheeky favourite giving Fontana's pucker a rigorous rimming, before shafting his mate good and proper with the full, uncut length of his gorgeous joystick.
It's a move that his horned-up buddy seems to appreciate, that's for fuckin' sure; as Fontana ably writhes and squirms with pleasure on the end of hard cock like it was his one and only destiny. Indeed, we hazard a guess that it's not so much his salvation he's contemplating as he bounces up and down on Rex's lap, but rather how much longer he can hold off from spewing like a fountain! A task he ultimately (and predictably) fails at; prior to gobbling at his pal's dick as it violently erupts!