Summary:
These boys love the music – but believe us, they love cock even more. In fact, there's pretty much no denying the fact that they just live for the next fat, uncut cock cumming their way. Which is just as well given that the likes of George Basten and STAXUS exclusive, Jack Cameron, seem to attract hard, raw meat like a honey pot attracts bees! Forget the DJ, this bunch of randy fuckers just can't wait to quit the dance-floor to engage in some filthy bareback action!

Description/ Review:
Scene 1: Sleeping Beauty Proves Himself As A Cum-Hungry Cock Whore!
Starring: Chris Young and Tim Law
Also available: Mega Cocked, Mega Loaded 2 (Compilation)
Also available: Eager Butt Playroom (Compilation)

It's really no fucking wonder that Chris Young is feeling as randy as hell. After all, if you had a boyfriend as cute and fresh-faced as Roy Lust then you'd almost certainly be gagging for the next hard fuck yourself. Unfortunately for the lad, however, his puppy-eyed lover is fast asleep in bed – and doesn't look in any hurry to get up. Until, that is, Young proceeds to whip out his cock Sleeping Beauty Proves Himself As A Cum-Hungry Cock Whore! for a wank. Seems like Lust isn't quite as unconscious as he'd have everyone believe, and before you can say "I'm a cock whore!" is slurping on Young's meaty ramrod like a true professional.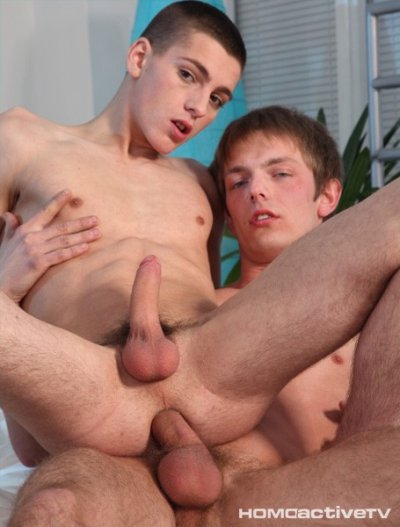 It's a turn of events that will almost certainly appeal to all of you out there who love the prospect of watching two horny pups rutting like wild animals – and believe us, you're not gonna be disappointed. Lust, in particular, is a veritable gift before the camera, stretching his legs to encompass Young's thick raw shaft to an almost breathtaking angle. Can the human anatomy really achieve such contortions? Apparently so, as Lust gets royally banged by his compatriot, before both lads spew the contents of their heavy balls over each other, rubbing their uncut knobs together in the resultant goo.
Scene 2: Fantasy Face-Fuck Leads To Hot Cum Dripping From Every Hole!
Starring: Jack Cameron and Paul Rube
Also available: Big Is Beautiful (2 DVD Compilation)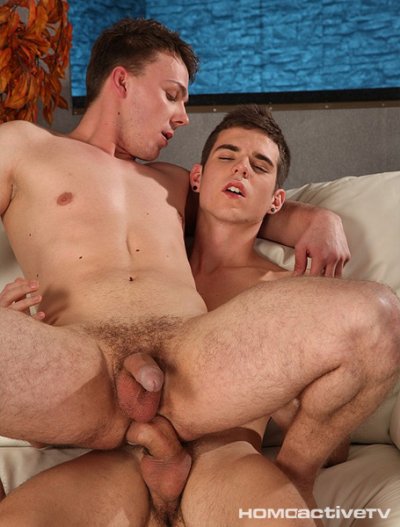 Enjoying a cigarette and listening to some good music may be considered an indisputable pleasure for some, but for young Jack Cameron it clearly isn't enough as he slips into a fantasy involving the equally comely Andy Rube. As always, of course, Cameron is every inch pitch perfect – cute face, toned body, a fantastic cock and (arguably the most important aspect of all) a libido that's second to none. As such it's no surprise that he's soon face-fucking Rube on the sofa, whilst all the time maintaining an exquisite look on his own face that seems to underline the unarguable pleasure that this sordid little encounter is providing him. Fact is, of course, that he really can't wait to get his thick, uncut knob-end deep inside the musician's pert ass – an ambition that he eventually achieves with noteworthy ease once he's taken time to rim Rube's hole into a state of feverish anticipation. The fuck that follows is every bit as energetic and unreserved as you'd expect from boys this age and is topped off nicely by Cameron white-washing Rube's arse-hole with a generous splatter of jizz and Rube dumping a load over Cameron's face in return. Filthy, but fuckin' magic!
Scene 3: Four-Way Fuck-Fest Sees Asses Stretched & Hot Spunk All Over!
Starring: Jack Rider, Tim Law, Sebastian Styller and Ennio Guardi
Also available: BB Bukkake Frenzy 3 (2 DVD Compilation)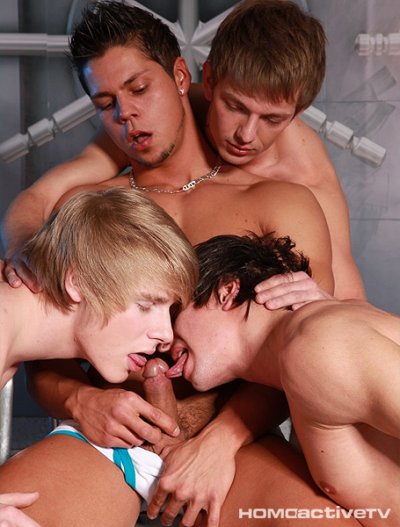 It's no damn wonder that the likes of Jack Rider, Tim Law and Sebastian Styller find themselves standing agog when muscle-god Ennio Guardi puts on a show in the shower for them – this Czech beauty has a body to die for, after all, and it's no time at all before all three lads have joined the fellow for a hot, horny (and very wet) session of mutual cock-sucking and ass-rimming. Not that a star of Guardi's quality and reputation is gonna be satisfied with a few oral antics. This gym-addict needs to get his end away several times a day and indeed it isn't long before the fellow is working that handsome and well-used ramrod of his into a succession of tight, warm, eager butt-holes. As such stand by for a rampant series of hard fucks among these primed young sex-addicts, culminating in daisy-chain fornication between Guardi's three pals. Arguably the most memorable aspect of this scene, however, comes in the form of a series of breathtaking cum-shots – most notably from Guardi himself, whose knob blasts out wad after creamy wad of jizz like a machine gun in overdrive! It's a fantastic finale to a scene that'll have you wanking time and time again – guaranteed!
Scene 4: Dirty Cock-Hound Gets A Hard Pounding & An Arse-Load Of Jizz!
Starring: George Basten and Will Sims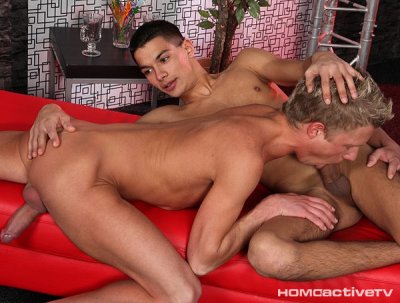 He's been around for so long now and appeared in so many hot titles that it's hard to believe that there's anyone left in the Czech Republic who hasn't had sex with the legend that is George Basten, but as far as we can tell this scene marks his very first encounter with young Will Sims – a cropped haired darling who is immediately devoured by Basten the sex machine and transformed in the process as notch on the bedpost number umpteen squillion! For the fact of the matter is that Basten is the slut of all sluts, and it really is next to no time before he's mounting Sims and pushing the entire weight of his body down onto his very latest lover's thick, meaty cock. All totally raw, naturally – just as Basten likes it! The sight of Sims' shaft thrusting its way in and out of Basten's pucker will have you straining at the bit right from the off, as will the sight of him swivelling around on the rod so as Sims can fuck him the other way. But it's the glorious vision of the fellow spewing the contents of his nads over his belly whilst Sims whitewashes his ass that'll ultimately blow you away. All topped off by seeing Sims rework his spent, spunk-soaked cock deep into Basten's guts!
Scene 5: High Octane Fuck-A-Thon Gets These Cute Lads Spurting Like Mental!
Starring: Aslan Brutti and Paul Cube
Also available: Horse Hung & Horny 4 (Compilation)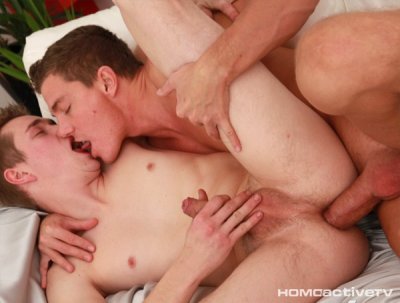 There are occasions when porn can seem just that little bit – well, staged. Lacking in passion or charisma. Well rest assured that this is most definitely not one of those scenes, as Aslan Brutti and Paul Cube come together (quite literally) for a scorching fiesta of pure lust. Indeed, it's obvious from the very start that these are two boys who are really into the task at hand – a pair of highly-charged fuckers who would arguably be jotting down each other's numbers at the end of the shoot to arrange more of the same behind closed doors. Be that as it may, prepare to savour the sight of two beautiful young men sucking, licking, rimming and (ultimately) fucking like a couple of wild dogs on heat! We defy anyone not to be blown away by the sight of pert, pale-skinned Cube bouncing up and down on Brutti's unsheathed knob or – a little later – being screwed from behind on the sofa. Indeed, we reckon that any self-respecting porn pro will have shot their load several times by the point in the encounter that these boys take turns to spray generous loads of cum all over each other. Raw, energetic and totally wicked, it's a spunk-churner all round!