Summary:
No, nothing to do with Tchaikovsky – save for the inclusion of two professional ballet dancers. Rather a cock-pulsing, ball-busting expose of the world of dance that'll have you grabbing onto your meat and giving it a rigorous work-out time and time again! From big black dicks to hungry twink asses, this is a fine offering from new director, John Smith, featuring some of the horniest, dirtiest sluts with the greediest ass-holes around. Prepare to be waltzed off your feet!
Description / Review:


Scene 1: Interracial Fornication Sees Young Twink Going Totally Black!
Cast: Cast: Johny Cruz, Tyler Johnson
Also available: Twinks Like It Big - Compilation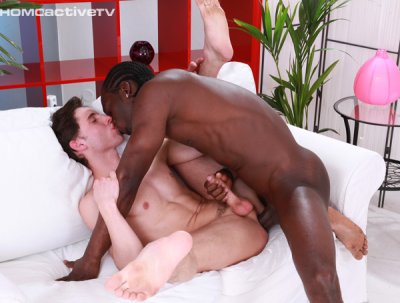 All great artists have one thing in common, namely their commitment to their chosen art. So it's no great wonder that wannabe dancing prima-donna, Johny Cruz, arrives in Prague with steely determination in readiness for his forthcoming interview at the ballet house. Unfortunately for him, however, he's accompanied by a sex-crazed boyfriend in the shape of Tyler Johnson, a muscle-bound black Frenchman who takes every opportunity to lure Cruz from his exercises. Of course, it would take a fellow of inordinate resolve to resist a sex-god of Johnson's magnitude, and before you know it Cruz has pirouetted to the sofa and is having his horny little pucker rimmed in readiness for the hard pounding to come. Prior to that point, however, the young white boy pays homage to his boyfriend's upturned schlong, deep-throating the fabulous trouser-snake; before finally allowing the raw monster to fuck his pert ass in pretty much every position imaginable. It is, without doubt, a superb performance from both boys, which concludes with a veritable flood of jizz from both parties followed by a sensuous cum-laden kiss that'll blow you away!
Scene 2: Cute Cock-Whore Gets Stuffed Both Ends From His Horny Mates!
Starring: Tim Law, Dick Casey and John Core
See also: Let's Play With Tim Law
Also available: Eager Butt Playroom (Compilation)
Some boys have only one love all their lives and wouldn't dream of straying from their boyfriend's bed. Others, like Tim Law, are complete sluts – a guy who's only too happy, willing and able to take whatever opportunity for cock comes his way! Ironically, one mere glance at the lad would make you think that he's the very picture of innocence, with his doe-eyed energy and winsome smile. But this is a guy who clearly thinks nothing of playing around with one fucker one minute and with another the next – beginning with fellow twink, John Core, who clearly can't wait to get some of that hard meat up his ass at the first opportunity.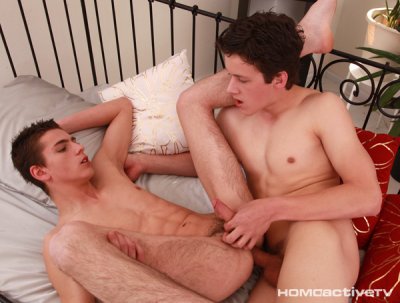 Not that Law is adverse to taking dick himself, as the two cuties battle it out in a flip-flop cock-crazed session that'll have you on the brink of ecstasy. Don't blast too soon, however. Core's barely caught his breath from his own sticky climax when thin-lipped beauty Dick Casey – who's been watching from the wings – steps in to allow Law a delicious gobble of his meaty, uncut knob. The resultant goo proves to be quite literally one in the eye for Law, who reaches his own sticky, breathless climax just a few moments later.
Scene 3: Designer Pants Make Way For Bare Dick For These Sweet Boys!
Starring: Shane Barret and Rudy Valentino
Also available: Bigger By The Fucking Dozen (compilation)
They're each as cute as fuck, so it's perhaps no surprise that both Shane Barret and Rudy Valentino are sporting quite magnificent hard-ons in their designer underwear right from the very beginning of this scene. After all, how could either of these boys fail to have been turned on by the other? Not that the briefs stay on either of them for very long, it must be said. Before you know it, Valentino is tugging away at his mate's last remaining shred of dignity and is giving the thick, meaty, uncut cockhead that he's discovered in Barret's pants the kind of mouth-to-mouth resuscitation most of us ordinary mortals can only ever dream of.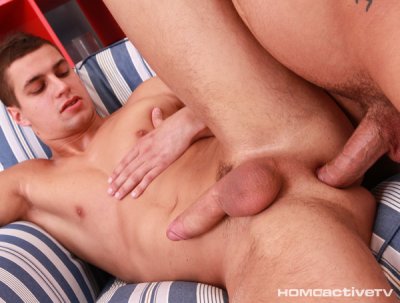 Believe us, this young man seems seriously obsessed with Barret's dick, feeding off its hard length and lapping at its tender, swollen end like it's the first bit of meat he's had for years; but if he thinks his dick's gonna get reciprocal treatment then he's in for a rude surprise. After all, Barret has only one intention here – to fuck Valentino's ass red raw and to coat it with a splash of jizz. An ambition that he achieves with remarkable ease; leaving Valentino the chance to erupt for the camera courtesy of a tight-fisted hand-job!
Scene 4: Ass-Crazed Masseur Gets To Rub Horny Dancer Into Raw Climax!
Cast: Chris Young, Johny Cruz
Also available: Young Dumb & Splattered in Cum - One Last Time (Compilation)

Confession, they say, is good for the soul – but whether it's possible to be too honest with your boyfriend is a matter of debate. Whatever the pros and cons of the argument, Johny Cruz decides to take the opportunity of Tyler Johnson's candidness to unburden some of his own guilt, namely an illicit encounter with horny masseur, Chris Young. Unlike many other porn scenes, the initial foreplay between the two twinks is kept strictly to a minimum here, as Young takes prompt advantage of Cruz's hungry ass to thrust his cock deep inside the youngster's butt.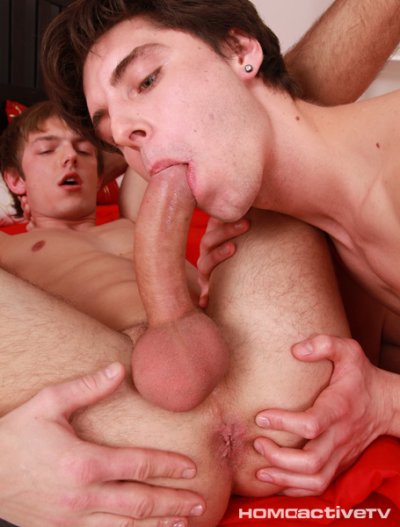 Only after the opening session of raw intercourse do the boys then proceed with what might consider to be the usual Czech-style antics, as they top-and-tail for a superb foray of sucking and licking that leaves young Cruz literally crying out for the next hard fuck. And geez does he get it, with Young pushing and pulling the cock-crazed dancer into a succession of near-unbelievable positions in order to accommodate his meaty bare shaft. It's really precious little wonder that both boys are soon bubbling on the brink of ecstasy; Young face-fucking his compatriot, before spewing jizz all over Cruz's face!