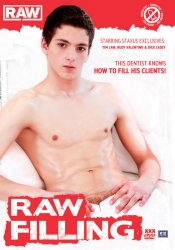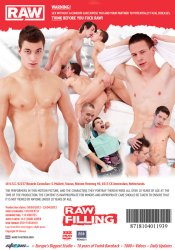 Features the gorgeous
Rudy Valentino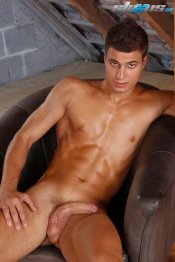 Rudy Valentino can also be seen the the following movies:-

Summary:
Relax, dentophobes – this dental practice is like no other in the world! For when this gorgeous young dentist tells you to open wide you can be guaranteed that he's not referring to your mouth! What's more, he's got a patient base that's universally male, totally gorgeous and 100% obsessed with raw cock-action! So sit back and prepare to be filled with some of the hottest, hardest dick on the planet, as top-notch boy-ass gets shafted and stuffed with prime Czech jizz!
Description / Review:

Scene 1: Hot spurting face full of jizz!
Cast: Dick Casey, Abbas Loins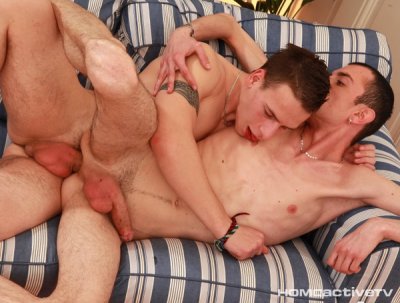 Killing time in the dentist's waiting room is not exactly most people's idea of fun, but young Sam Brooks turns the experience completely on its head when he takes the opportunity to sit back and dream of his ultimate fantasy encounter – which in this instance involves horny bottom, Abbas Loins, meeting up with wide-mouthed hunk, Dick Casey, whose thick, meaty uncut pole is just screaming out for attention from the depths of the handsome jocks he's sporting. Fortunately, Loins is more than adequately adept at handling rampant man-meat, as he deep-throats the aching ramrod before squatting down on the shaft for the kind of bareback fucking few would ever forget. Thereafter, Casey begins to take control, banging away at the young twink's ass on the sofa from behind, before forcing Loins onto his back and promptly pummeling him to a hot, feverish climax that leaves his belly awash with fresh jizz. But as Loins knows only too well, there's still plenty of spunk bubbling away in Casey's sack, and it's with merry expectation that the twink gets down on his knees to allow the top to generously splatter his face with the pent-up contents of his nads!

Scene 2: Smooth twink hard pounding

Cast: Sam Brooks, Fredie Lung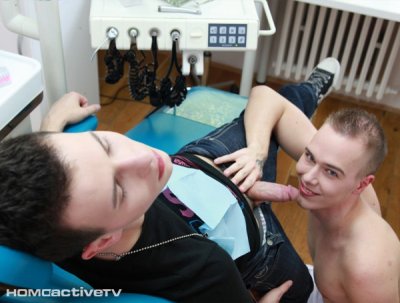 If only all dentists were like Fredie Lung – young, friendly, divinely good-looking and with an insatiable appetite for cock! – we'd all be having our teeth checked out on a much more regular basis. Indeed, one can't help but feel that cheeky chappy, Sam Brooks, would probably call on the fellow several times a week given half the chance! What's more, who the fuck could blame him if he did? Why, Doctor Lung's almost worth all the discomfort and cost that a visit to the dentist usually entails! For not only does he suck dick like a trooper, slurping on Brooks knob-end whilst the patient lies back in his chair, but he also takes cock up the ass like a veritable trooper – his legs splayed out akimbo so that Brooks' unsheathed rod can get balls-deep access into that tight but hungry pucker.
The fellow is an unquestionable whore; and it's no wonder that Brooks is soon spraying the vicinity with baby-batter as a consequence. Not that Brooks is himself adverse to acting the role of provocateur, as he concludes the scene by taking hold of Lung's dick so that the cute bottom can erupt inside his mouth; leaving the pair to wrap up their sordid antics with sticky, spunky open kiss!

Scene 3: Buff stud takes apart two queer twinks
Cast: Rudy Valentino, Deon Fox

Who in their right mind could possibly fail to be swayed by the handsome charms of Rudy Valentino. Not Deon Fox, that's for sure – despite the fact that they're in a dentist's waiting room, where anyone could walk in on them at any moment. Still, maybe that's all part of the added thrill, as Valentino makes his move and gets gobbling down on Fox's meaty trouser-snake at the very first opportunity. It's a move that Fox, with his trendy beard and coiffured hair, is very quickly replicating; and it's little surprise that Valentino, who's the buffer of the two lads, is soon bearing down on the youngster, rubbing his crotch against Fox's cock in a display of imitation sex.
It's at this point, of course, that we half expect Valentino to thrust his knob into Fox's tight little ass-hole so as to give the young slut the pounding of his life. Instead, Fox produces a superb stand-alone cum-shot; leaving Valentino to head off into dentist Tim Law's consultant room. Needless to say, Valentino's charms soon work their magic yet again, as he sucks, rims and finally fucks Law into bare ecstasy, eventually spurting like a trooper! No question, this is one consultation that'll leave you utterly drained!

Scene 4: Inked and fucked
Cast: Damien Talbot, Brian Hogan

Doesn't dental assistant, Bryan Hogan, realise that watching porn can send you blind, and that watching it at work can result in instant dismissal? Apparently not, given that he's energetically jerking away on his wood when he should be preparing patients for the attention of his boss, Damian Talbot. Fortunately for him, Talbot's arrival on the scene only seems to get his superior into a rather infuriated sexual lather, as he roughly bundles Hogan down to service that thick, veiny cock that he has stashed in his pants. The underling's apparent reluctance at this point does little to convince, it must be said – but then, of course, who would ever believe that someone could resist the advances of Damian Talbot in full throttle?
Indeed, as if to underline the point it's barely a few moments on before Hogan has positioned his ass directly onto Talbot's meaty ring-stretcher and is getting himself poked good and hard in pretty much every position imaginable! Seems like this young tattooed wanker is a bit of a slut on the sly – a fact that's underlined by his willingness to slurp on his partner's cock as it pumps out a fine wad of pent-up jizz at the scene's finale.

Scene 5: Two Straight Hunks Spit-Roast A Mega Cock-Hungry Twink!
Cast: Dick Casey, Drew Paskin, Adrian Smallwood
Also available: Bareback Butt Stretchers 3 (2 DVD set)
Also available: Eager Butt Playroom (Compilation)
Perhaps it's something they put in the water, but there's no doubting the fact that simply sitting in this particular dentist's waiting room seems to get the lads in this town real fuckin' horny. Just ask Dick Casey and Drew Paskin, whose passion for the written word is nothing compared to their lust for hard dick as they toss aside their magazines in order to satisfy much more carnal appetites. Of course, Paskin's animalistic reaction to the sight of Casey's beefy shaft is not to be wondered at – after all, who could hope to resist that degree of pulsating temptation when thrust directly in your face like that? Not this sweet-faced boy that's for sure, as he slurps on Casey's ramrod before allowing it to penetrate his hungry little ass-hole.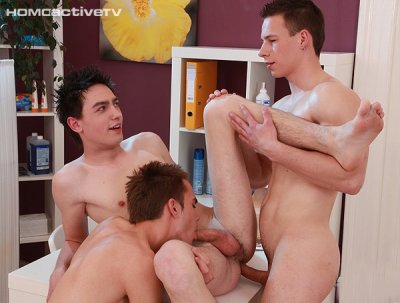 Cue the arrival of Adrian Smallwood, whose reaction to finding the two guys fucking each others' brains out is somewhat unorthodox to say the least. For before you know it he's climbed up onto a table and pushed his knob down Paskin's throat, whilst Casey continues to pound away from beneath. Needless to say, by the time Paskin has knocked out a load and his mates have each spurted over his face, the room is awash with oodles of jizz!
Additional Information
Categories: UK R18 / XXX Gay Adult, Bareback Sex, Europeans, Horsehung, Military, Muscle Men, Twinks/Young Meat, Uncut Cocks, Anal Sex, Big Loads, Big Balls, Black Men, Blonds, College/Dorms, Cum eating, Facial Cumshots, Kissing, Live Sound, Older Men/Younger Men, Oral Sex, Rimming, Rough Sex
Running Time: 102 mins, Year: 2012
Price: Around £26*
Starring: Sam Brooks, Dick Casey, Deon Fox, Bryan Hogan, Tim Law, Abbas Loins, Fredie Lung, Drew Paskin, Adrian Smallwood, Damian Talbot, Rudy Valentino
Director: Vlado Iresch
Studio: Raw Films
Buy DVDs online at: Homoactive, Simply-Adult.com and RadVideo (US)
Download Raw Film titles at: : Homoactive (UK/EU) and Radvideo (USA)
Gay Video On Demand: Raw Films, See also: www.gaydvds.tv
Member site: Staxus.com
Country: Czech Republic, Language: Czech with English subtitles
Additional info: No Regional Coding