Summary:
Remember those youthful, carefree days, when your raging boner was the centre of your universe and all you could think about was the next hard fuck? Well get set to relive those hedonistic pleasures to the max, as a bunch of horned-up STAXUS twinks team up for the kind of hardcore, raw sex that only the young can truly savour and enjoy. Everyone's favourite cock-whore, Ron Negba, joins an outstanding crew of studs and pups – Jake Stark and Vitali Kutcher included – for a jizz-soaked frenzy that you're just gonna fucking love!
Description / Review:

Scene 01: Fireside Fuckers Prove A Raw Cock Hit With Lashings Of Spunk!
Cast: Dimitri, Vittorio Vega
It may be warm in front of the fire, but that's nothing compared to the heat that is being produced by Vittorio Vega and Dimitri as they provocatively work their dicks inside their pants at the start of this fantastic fireside duo. Not that the hyper-horny Dimitri's sexy underwear stays on him for long, it must be said. First opportunity and he's jumping straight out of them – clearly all too eager to waggle his sexy rump in his mate's direction in a bid to drive his dark-haired pal to the next level. If that's his tactic then fuck it works; with Vega quickly under his buddy's magical spell, bidding Dimitri towards him to suck his cock.
And boy does the young Mexican give head – gobbling away for all he's worth in what can only be described as an almost desperate bid to get Vega's dick inside him as quickly as possible. Not that Vega is himself averse to enjoying a bit of horny fellatio, as soon becomes apparent; but it's obvious even at this early stage in proceedings as to which of these two lusty sluts is set to have his guts stretched to the max. As such it will surely come as no surprise to anyone when Dimitri is finally bundled over a chair, rimmed like a pro, and then finally pummelled like some backstreet whore. Then, as if to underline his credentials as a top-class rent-boy, the fellow promptly mounts his bud's lap and rides every inch of Vega with the sort of gusto that you'd expect from a long-standing performer rather than a relative newcomer. All of which soon culminates in him spewing furiously mid-fuck; before Vega fires off an almost delirious volley for a stunning finale!
Scene 02: Skyping Pals Meet Up For A Hard Session Of Raw Sodomy & Jizz!
Cast: Andy Scott, Casey Flip, Rhys Kogan & Vitali Kutcher
Isn't modern communication a wonderful thing? Thanks to services like Skype we can literally talk to our friends anytime, anywhere – and, as Jake Stark and Vitali Kutcher are eager to demonstrate here, you can then arrange to meet up at a moment's notice. As it happens, of course, these buddies literally live on the same side of town; so no sooner has Stark demonstrated his hot and horny credentials on Kutcher's tablet – showing off his cock in the process – than he's popping round to his mate's apartment for some one-on-one action. And suffice it to say that it doesn't take many minutes before he's got his dick back out in the open; with Kutcher taking full advantage by diving straight onto that thick, uncut schlong for some energetic fellatio. An act that Stark is only to willing to replicate in return.
It's not long, however, before Kutcher wants to turn all the attention onto Stark's horny little butthole – a very understandable desire given just how appetising his mate's tight, hairless pucker is. Moments on and Kutcher is quite literally tongue-deep between Stark's buns; before taking hold of that meaty shaft of his and pushing deep into the fellow's guts for all he's worth. It's a move that Stark clearly relishes given his gasp of satisfaction; and it signals the start of a truly ball-busting escapade that sees the young bottom fucked in a whole series of positions, most notably perhaps reverse-cowboy. Little wonder Stark is soon squirting out the contents of his nads in sweet appreciation; whilst Kutcher uploads his own fabulous multi-shot brew to give a cum-sodden finale!
Scene 3: Shower Buds Spring Into The Bedroom For 69-ing & Hard Cock!
Cast: Abir Tevel, Jared Shaw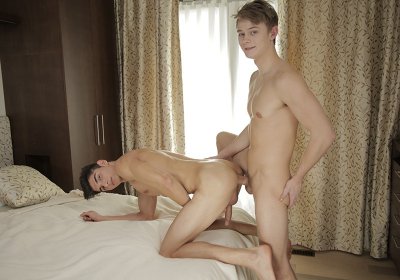 Let's be perfectly frank about it, Jarde is the kind of boy you could watch taking a shower for hours (literally!) – even longer, perhaps, when he decides to soap his sack and crack as provocatively as he does here. Anyone hoping to enjoy such a lengthy display from the fellow will arguably be set for disappointment, however, with the arrival of a very curious Abir Tevel on the scene – though given the manner with which the tattooed newcomer gets his cock out in order to wank off to Jarde's performance, we've a sneaking suspicion it's the kind of let-down that won't linger for long. Indeed, chances are by the time Tevel has jumped into the shower to exchange a long, lingering kiss with his mate, before dragging the lad out into the bedroom, any sense of artistic frustration will have long since been forgotten. And for very good reason. After all, we're all about to witness a cock-sucking extravaganza from these two buddies – each first taking it in turns to slurp on the hard flesh, before eagerly 69-ing away for all they're worth.
Which in turn soon leads to Tevel taking a distinct interest in his mate's freshly-soaped fuck-hole; rimming the hairless pucker, before thrusting every inch of his dick inside the young Romanian's hungry guts. All of which signals the start of a truly unforgettable escapade, during which Jarde gets hammered in a whole series of positions; culminating in him spewing for all he's worth over his own belly, prior to Tevel squirting over his arse and then sticking his spent, but very jizzy shaft, back into his co-star's butt whilst sharing a goodnight kiss!
Scene 4: Horny New Boy Gives Teasing Blond Buddy A Hard, Meaty Bang!
Cast: Ron Negba, Vittorio Vega
Is Vittorio Vega looking just a little bit nervous at the start of this deliciously hot escapade with Ron Negba – a somewhat understandable predicament given the fact that he's about to be teamed up with one of the hottest properties on the gay porn circuit at present – or is he simply as horny as fuck? In truth, it's quite likely that both factors are playing their part in these opening moments; but if you think the new boy is about to baulk from the opportunity that's literally laid out before him on the bed then you'd better think again. Fact is, Vega isn't set to allow this luckiest of chances to slip through his fingers; and before you know it he's gazing up at Negba as he thrusts his buddy's dick down his throat. Not that everybody's favourite blond slut is in any way less enthusiastic about giving head; and having each taken it in turn to devour every straining inch of flesh, both buddies are soon 69-ing away like a pair of Parisian whores.
All of which soon leads to the main part of the action, as Vega takes the leads and thrusts that thick, meaty, uncut ramrod of his deep into Negba's ever grateful boy-cunt; signalling the start of a stupendous display of twink-rutting, that has their hotel room turning almost incendiary. Indeed, if you can hold back from dumping an appreciative wad as these two sluts slog it out for all their worth – Negba calling out for Vega to fuck him ever harder! – then all due credit. What's impossible to overlook, however, is the top-notch, spunk-soaked finale; as both lads cement their rankings by producing the kind of climaxes most of us can only marvel at!