Summary:
Stunning looking Eastern European young studs bare back, giving us many facial cum shots and cum in the mouth moments, in a very classy fuck sensation of a porn movie.

Description / Review:
You can tell that this is going to be a bit of a naughty experience as soon as the titles roll, as you see a clothed drop dead gorgeous blond young stud hunk, dancing on part of the screen as the titles roll, he goes in and out of focus to the rhythm of the music playing.

There is a drop dead gorgeous, theme to all the men in this film and believe me I'm not exaggerating the truth when I state such an obvious observation. All these guys are Eastern European and if they were chocolates, every one of these smooth, sexy mind blowing, amazingly handsome lookers, would have been made totally by hand to the finest of specifications.

Scene 1: Cameron Jackson, Michael Armano



The first scene kicks off with Cameron Jackson who happens to be one of many totally gorgeous blondes in this, who could so easily make you wet your bed in many a dream. Cameron's blond floppy hair, his soft totally handsome face, his smooth body and young skin are just a total delight to behold. Cameron starts to get his body played with by Michael Armano who plays a photographer. Michael has short brown hair a sexy handsome face, with a bit of a square jaw line and a fit smooth young stud body. It' not long before both Cameron and Michael are joined by a third sex god. This scene has some great close up bare back fucking. These three guys know what to do when their hungry, tasting and swallowing on each others man juices.

Scene 2: Dion Phillips and Michael Armano



Michael seduces a friend Dion Phillips, half way up some stairs at an exhibition, which shows some of the pictures he has shot of Cameron. Dion and Michael are soon at it. Dion is yet another stunning looking Eastern European man, who is totally handsome and so perfectly toned and smooth. The sex is quick as they don't have long and Michael gets a mouth full of Dion's brilliant white sex piss.

Scene 3: Cameron Jackson, Robert Driveman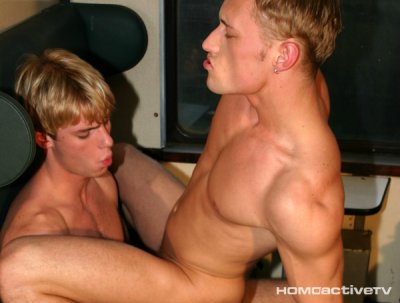 Mean while blond puppy Cameron gives a long faced, blond young stud dressed in an army uniform a good checking out, with his puppy dog eyes, as they are both seated opposite each other on a train. The drop dead gorgeous army lad Robert Driveman has short blond hair and turns out to be feeling just as randy as Cameron. After Robert has had only a few puppy dog glances from Cameron's sexy man peepers and after seeing Cameron, quickly adjusting his crotch, he finds his hormones can know longer cope with Cameron's good looks, so in his excitement he takes his this army boots off and moves one of his feet right onto Cameron's crotch, rubbing his foot hard over it. This of course is just the signal our blond wet wipe Cameron wanted and he presses Roberts's foot hard into his crotch with his hands, then the fun begins. They end up all over each others cocks like a rash, they both have blond butts to die for and Cameron has gorgeous blond slightly hairy legs. Great anal fucking takes place and Robert gets a nice throat full of white sex piss down his throat, courtesy of Cameron.
Scene 4:


It's very rare you see such nicely fit young studs as good looking as all these men, in just one film. It's even more of a rarity to have them all bare back. For good measure quite a few treat us to not only facial cum shots, but cum pouring into their perfect mouths too. Every guy is a gorgeous looker and the sex is crisp, clean and so very horny. All cocks are uncut and all the guys speak in English. All the seven scenes are more than worth a rewind and they are also worth many a number of freeze fames.

Scene 5: Jay Renfro, Jason Hill,
Also available: Staxus Models: Jay Renfro


Jay Renfro treats us to an immediate indulgence in gay sex. Working his smooth ass open with not one, but two dicks begging to slam inside him. Jason and Chris take it in turns to fuck his sweet hole in positions that will blow your mind and your load!! Chris is a real top fucker, spreading his legs as he allows his awesome dick to push right up to the hilt into Jay whilst Jason watches from below. It's not long before the sparks flying attract the cops, who spy on the hot three-way just as all three dicks empty themselves. Who could resist jerking off to this? The cops certainly can't!!
Scene 6: Cameron Jackson