Summary:
It's springtime in Prague, and the horned-up young twinks of our favourite city are getting even more horned-up than usual! Not that that's going to offend their ever-loyal fans, of course. Far from it, in fact. Indeed, is there anything hotter than seeing the likes of Alessandro Katz and Titus Snow getting down and dirty with the likes of Benjamin Dunn and Jace Reed? It's most definitely lust as much as love, of course; but so long as those tight twink arses are being stretched and the spunk is spraying like April showers, who the fuck cares?
Description / Review:
Scene 1: Novice Gets His Arse Well-Worked & Spunked By Older Stalwart!
Cast: Alessandro Katz, Benjamin Dunn
Also available: Rampant Fuckers (6 Scene Compilation)
Having enjoyed something of a sabbatical in recent times, STAXUS favourite, Benjamin Dunn, clearly couldn't wait to get back in front of the camera when he heard about studio exclusive, Alessandro Katz. Seems like he couldn't wait to get his share of that pert little butt; and having shared a little time outdoors with the fellow – kissing and canoodling like a pair of star-crossed lovers – he's straight down to action once inside. Indeed, he clearly can't wait to give the new boy's pucker a close inspection – his ambition made all the easier by the fact that Katz is donning a jockstrap. Having taken a little time to rim the lad's hole, however, Dunn has soon turned his attention back to Katz's impressive shaft, which he promptly coaxes out of those tight-fitting pants.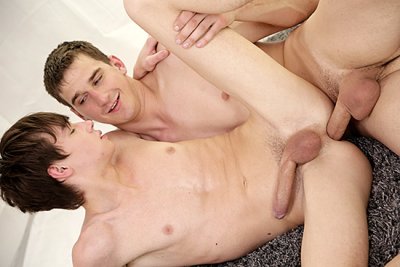 Cue a deliciously hot display of fellatio that quite literally leaves the younger man's head spinning; before the pairing finally couple off together in a stupendous 69-ing session that will almost certainly have you stroking away like fuckin' crazy! But the climax to proceedings only comes when Dunn finally establishes his complete dominance of the situation by thrusting his handsome, uncut ramrod deep into that novice's arse – a move that clearly delights Katz, who is quite literally left gaping in response.
No doubt about it, Dunn proves himself the total top here; underlining his credentials by ultimately creaming his buddy's ass with jizz, then sinking his spent rod back inside. No bloody wonder that Katz – his hole still stained with spunk! – can't wait to unburden a violent wad of goo all over his own stomach!
Scene 2: Raw Springtime Fornication For A Big-Dicked Bud & His Lover!
Starring: Titus Snow and Jace Reed
Also available: Bigger By The Fucking Dozen 2 (Compilation)
Springtime is always a perfect time to fall in love, and in Prague – where all the boys seem particularly cute and well-hung – the chances of it happening appear so much higher. It should therefore come as little wonder that young Titus Snow appears to have found his knight in shining armour in the form of Jace Reed, as the two fellows survey the cityscape amidst a backdrop of rising sap and tree blossom. Not that they waste much time admiring the view, it has to be said.
Before you know it the horny lads have abandoned their outdoor sojourn and are enjoying a little private time together – their pants very quickly abandoned as they promptly forget all that romantic slush and engage instead on a hard-hitting session of cock-sucking and ass-banging! All nicely prompted by Snow, who clearly can't wait to get his mouth around Reed's handsome chopper – and no fucking wonder given its infamous dimensions!
Not that Reed appears in any way less reluctant to return the compliment; but you don't need to be a rocket-scientist to appreciate where this coupling is headed, and before you know it Snow is enjoying having his arse-hole fingered and rimmed in anticipation of a good, old-fashioned stretching courtesy of his mate's oversized schlong. Indeed, it's a no-holds-barred fuck-fest as Snow quite literally gets banged to buggery in a whole series of positions; culminating in Reed creaming the lad's well-worked pucker. That leaves the bright-eyed visitor to sign off proceedings by squirting out an eye-watering blast of pent-up spunk, coating Reed's face in the process!
Scene 3: Pool Boy Gets His Gaping Ass Pumped Hard & His Face Creamed!
Cast: Benjamin Dunn, Titus Snow
Also available: Facial Buddies (Compilation DVD)
Titus Snow's latest travail takes the handsome South African to a rather plush indoor pool in downtown Prague, where he encounters the lean, leggy delights of Benjamin Dunn in the changing rooms. Not that anything implicitly sexual takes place between the pair at that point; but having taken a swim, and finding Dunn lazing away on a lounger in an adjoining room, the young man decides to chance his arm by jumping into a nearby shower and providing a provocative display of all his assets.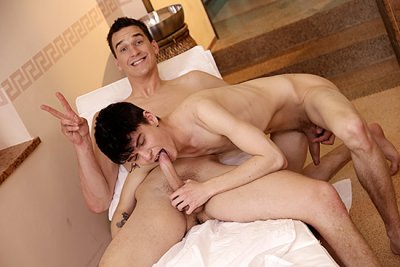 It's a show that surely not even a blind eunuch could ignore; and, needless to say, Dunn is soon in total raptures at the spectacle, beckoning the boy forward and immediately inviting him to have a heavy, open-mouthed slurp on his oversized dick. It'll come as little surprise to anyone, of course, that Snow doesn't turn his back on such an envious opportunity, eagerly feasting away on every generous inch that his new-found buddy has to offer. By this point it's pretty obvious that the young lad is soon going to be skewered by the said phallus; but first the two guys engage in a short session of 69-ing that really sets the mood nicely for the hard-hitting fuck to come.
And boy does the lucky lad get it when the moment arrives – riding Dunn's shaft like a bitch on overdrive, reverse cowboy style, then taking it from behind for all he's worth. It really is little wonder that he's soon erupting like a fucking volcano all over his belly; before Dunn concludes proceedings with a truly breathtaking volley of spunk across Snow's mouth, chin and neck that leaves the guy dripping of goo!
Scene 4: Filthy Pool-Boy Gets Fucked & Creamed By Three Horny Twinks!
Cast: Alessandro Katz, Chad Johnstone, Jace Reed, Johny Cherry
Also available: Bareback Bukkake Frenzy 4 (Compilation)
There's no questioning Nick Vargas's commitment as a doctor – at least if the opening few minutes of this terrific scene is anything to go by. Indeed, this is a fellow who will quite literally go the extra mile for his patients, as his encounters with (first) Jacob Waterhouse and Jeffrey Lloyd amply demonstrate. Clearly not the kind of medic to flippantly dismiss their ailments, he's more than willing to use every tool at his disposal to find out what's wrong with them – even to the point of offering them his cock to suck in a bid to ease a sore-throat, or dipping his dick up their ass to help out with constipation.
But it's when these two horny young patients arrive at his surgery together that things sure as fuck heat up between these three fellows; and within seconds the thick, meaty, uncut cocks in their pants are coming out to play! What ensues is a truly fabulous threesome that we just know any STAXUS fan is going to quite simply love; with each dick taking it in turns to serve as the focal point of the action. Ultimately, however, it's Lloyd who takes centre-stage; beginning with an imaginative set-piece where Vargas and Waterhouse are either side of him, sucking each of his balls, before the doctor finally ploughs his joystick deep into the lad's ass.
It's a move that clearly excites the young bottom enormously. So much so, in fact, that having taken a brief respite whilst Vargas fucks Waterhouse instead, Lloyd gets his ass plugged so that his buddies can cream his gaping hole. Allowing him to jerk out his own pent-up load of boy-juice to call this would-be classic to a halt!