Summary:
The Spanish construction industry might have hit something of a bad patch in recent years, but you can take it as read that this bunch of fit, blue-collared fuckers are determined to pound some life back into it! David Sky, Mike Cole and Mark Fontana join up with hired hand, Titus Snow, for some of the hottest, horniest outdoor action imaginable; as director, Timmy Treasure, lets them put their brick-laying skills to one side in favour of raw action of a distinctly carnal nature. Hard hats at the ready, these boys are ready to drill till they cream!
Description / Review:

Scene 1: Peeping Mike Gets His Arse Pounded By A Horny Mega-Hung Pal!
Cast: David Sky & Mike Cole
After a hard morning's work, David Sky is ready for a break – but being the kind of guy that he is, it doesn't take many moments before his mind is wandering to thoughts of how he can pleasure that thick, uncut cock of his. Glancing around him to ensure that no-one can see, he promptly pulls the aching shaft out of his overalls and begins to tug on the meaty rod for all he's worth. What he doesn't realise, however, is that there's a Peeping Tom on the prowl in the shape of the ever-horny Mike Cole; who promptly saunters into eye-shot under the pretence of shovelling sand under the midday sun.
It's a bold move for a skinny twink, that's for sure; but nowhere near as adventurous as what follows next, when he bundles himself up into Sky's seat and reveals to his workmate that he's seen the guy – once again a picture of innocence – having a wank. It's at this point, of course, that Cole runs the risk of getting the beating of his life for insolence. What occurs instead, however, is everything you'd expect from a top-notch porn flick, as Cole goes down on his buddy and gives Sky's deliciously oversized shaft a much-needed blow-out.
Again, it's a daring move – and one that gets its very just reward, as Sky bundles his mate against the side of the excavator and first rims and then pounds the young lad's arse. What's more, what ensues is a truly imaginative display of red raw fornication; with Cole fucked in a whole series of positions (even on top of the digger itself), which ultimately sets him jizzing into the dirt! All nicely rounded off by Sky furiously spunking all over his pal's face!

Scene 2: Horny Worker Sizes His Mate Up With A Hard, Raw Ass-Fucking! HD
Starring: David Sky and Titus Snow
Also available: Long Schlongs Ride Again (Compilation)
Everyone knows it's vitally important to have overalls that fit you when you're a workman of any kind – after all, you have to spend all day, every day in them! But petite Spaniard, David Sky, takes accommodating his work colleague's need for new clothing to a whole new level when Titus Snow arrives for a fitting. After all, most fitters are content with sizing their client up with a tape-measure; but in this instance Sky very clearly wants to make sure he's got a handle on every single aspect of Snow's measurements, including the size of the thick, meaty dick that he's got stashed in his pants. What's more, he doesn't bother wasting time getting a ruler out; instead he promptly falls to his knees and sizes Snow's cock out with his mouth.
Of course, it's all a very tongue in cheek introduction to this wild, raunchy encounter; and it's not long before the taller lad is making his own assessment of Sky's equipment in return, feasting on his buddy's shaft with the kind of gusto that you'd anticipate from a lad of Snow's reputation. But before you know it the Spanish boy's attention has moved on to his colleague's delicious fuck-hole, as he bundles Snow up against one of the work benches and presses home to full effect to ensure that every inch of that oversized knob hits home.
The result is a truly fantastic show-stopper of a performance, with Snow riding dick like a bitch on acid in a variety of positions; before he finally spews a furious spray of jizz all over himself mid-fuck. All of which presents Sky with the honour of signing off by wanking out his sticky climax all over his buddy's chin!

Scene 3: Brick-Laying Buddies Flip-Flop To A Raw & Creamy Explosion!
Cast: Mike Cole, Titus Snow
We're not one hundred percent sure that Titus Snow is going to win any prizes for his bricklaying efforts – some of the bricks aren't quite as aligned as they possibly should be – but chances are there's not going to be too many viewers of this splendid open-air extravaganza that are set to care that much. After all, you're more likely to be blown away by the introductory panoramic drone-view – not to mention, of course, the sexual antics that ensue once the ever-horny Mike Cole turns at the scene.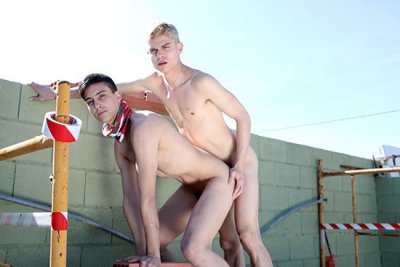 By this point it turns out that Snow's overdue for a work-break; and what better way to relax than getting your mate's cock out and giving the handsome member a vigorous working with your mouth? Certainly Cole doesn't seem to hold out any objections, that's for fucking sure; replicating the attention himself soon afterwards on Snow's closely shaved dick. What both boys secretly want by this point, however, is those same juicy shafts poking away in their bare innards – an ambition that quickly becomes a reality.
First Cole gets bundled over some of the scaffolding so that Snow can energetically thrust into his arse; then roles promptly get reversed, as the blond boy jumps up onto his work-mate's lap and rides Cole's dick like the bitch we've long since realised he is! Indeed, Snow clearly can't get enough of that delicious ramrod in his arse; subsequently taking it missionary-style, whilst wanking out a terrific wad of creamy boy-batter over his own belly. The cue for Cole to produce what seems like an even more ferocious cascade of goo over Snow's tattooed chest!
Scene 4: It's Hard Hats & Hard Dicks For These Cute Cock-Lovin' Builders!
Cast: Mark Fontana, Mike Fontana
Pretty much everyone who knows him will tell you that Mark Fontana is a dirty-minded punk, who will take any opportunity that comes his way to get his cock out; but even so it still seems to come as something of a surprise to his pretty namesake, Mike Fontana, when the lad discovers Mark having a surreptitious wank in a quiet corner in the middle of the working day.
Still, Mike's attitude is promptly akin to accepting that if you can't beat them then you might as well join them; and drawing up a plastic bucket to sit on, the lad pulls out his own aching knob and begins to enjoy some much-needed self-stimulation himself.
The result is the fabulous sight of both Fontanas wanking off in the sunshine like a pair of horned-up bookends; before Mark takes full advantage of the situation by falling to his knees and giving his mate an energetic blowjob. It's a very bold move, but it's one that quickly has the desired effect; as Mike immediately gives head in return, before bundling his mate over a nearby table and thrusting his meaty, uncut ramrod deep inside the young pup's arsehole. What ensues is the kind of no-holds-barred fuck session that would surely put the sparkle into any working day, and which soon – not surprisingly – brings both lads to the point of no return. So it is that Mike delivers a stupendous wad of boy-juice, which he neatly splatters all over Mark's face; before Mark, who at this point is literally still dripping with goo, unburdens his load towards his work-buddy's mouth. All of which is then nicely topped off by the two boys exchanging a spunky smooch!