Summary:
It's the world's most popular game – and it's little wonder that the guys who play it quickly become global superstars. But this team of horned-up fuckers aren't so much interested in what takes place on the pitch as what goes on in the locker-room after the match. Suffice it to say that it isn't just the referee's whistle that gets blown; as STAXUS legend, Jaro Stone, captains old favourites like Mickey Rush and Tom Nutt, as well as luscious newcomers Titus Snow, Rob Rock and Enzo Sky. With everyone hitting the scoresheet, and balls rupturing in both halves, this is one cum-drenched tournament you won't want to miss!
Scene 1: Bickering Buddies Make Up Via A Sporty, Cum-Soaked Fuck-Fest!
Cast: Enzo Sky & Titus Snow
Also available: Fucking Footballers (6 Scene Compilation)
New boys Enzo Sky (Czech shirt, German scarf) and Titus Snow (Portuguese shirt, Dutch scarf) clearly have something of a love-hate relationship – a rather bi-polar friendship that swings between lashing out at each other one moment and snogging each other the next. Still, that's the way some bonds work; and suffice it to say that their bickering does not last long. Indeed, before you know it both these horny buddies have abandoned their quibbling – and their football! – and have settled down for some more intimate moments on the nearby sofa. Snow, especially, doesn't seem able to hold back his interest for what's inside his mate's shorts – exposing Sky's jockstrap and running his tongue along the handsome bulge.
Nor does Sky show any reticence in pulling off his strip and allowing his pal to finally take full advantage of his thick, meaty cock. By this point, of course, any hostility between the parties has been totally abandoned; with Sky soon returning Snow's favour with some clearly badly-needed fellatio. But it's Snow who ultimately takes the initiative; fingering his mate's raised ass and then ploughing his dick deep inside for maximum impact.
What ensues is a terrific showcase of hardcore twink-on-twink action, that's made all the fucking hotter by the fact that Snow actually wears his jocks throughout; and finally culminating in him quite literally unloading what seems to be the entire contents of his balls all over Sky's pert little ass. That leaves Sky to rupture his sac onto Snow's face in return, with the recipient lapping up the jizz like an errant whore!
Scene 2: Horny Newcomer Gets A Kinky, Spunky Locker-Room Initiation!
Cast: Jaro Stone, Titus Snow
Also available: Twinks Get Stoned (6 Scene compilation)
Also available: Hit The Woodwork (2 DVD compilation set)
Titus Snow might not be any good at football, but one thing he doesn't have the slightest bit of difficulty in is letting Jaro Stone know just how sexy he finds the fellow after the two lads return to the changing-room at the end of a match. Of course, how anyone could ever find Stone anything other than fucking drop-dead gorgeous is something that no-one associated with STAXUS could ever hope to understand; and dressed up in his football kit the young beauty is quite simply even more stunning than usual!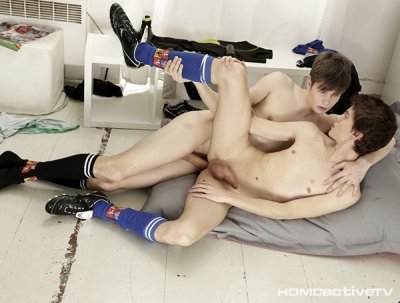 Certainly young Snow shows no quiver of hesitation whatsoever in sucking on his pal's nipples and reaching into his jockstrap – a move that immediately draws a very favourable response from the ever-horny Stone, who's soon slurping on his team-mate's shaft and then using his soccer-boot to stimulate Snow even further. Indeed, this rather kinky aspect to proceedings continues once Snow has had chance to feast on Stone's dick in return; with Stone using his feet (still donning football socks!) to first wank his pal's shaft and then rub against his arse.
Little wonder that young Snow is so eager to raise his legs in the air to underline his availability; with Stone then licking his boots, then rimming his tight, inexperienced hole. It's almost enough to get even the most seasoned viewer to the point of no return; and needless to say matters only intensify even further when Stone finally asserts his position as lead-role by ploughing the newcomer's pucker with characteristic gusto. All of which soon results in both boys splattering each other's faces with creamy goo!
Scene 3: Inked-Up Footie Buddies Put On A Heavy, Spunked-Out Fuck-Up!
Cast: Mickey Rush & Tom Uli
Also available: Young Dumb and Splattered in Cum Yet Again (6 scene compilation)
Let's face it, if you fall asleep on a sofa in as provocative a pose as newcomer, Tom Uli, does here then you've really got to expect trouble – especially if you're in the company of such a totally horned-up bastard as Mickey Rush! After all, we all know Rush well enough by now to realise that he's never going to turn down an opportunity like this; and, stepping into the room, he's soon taking full advantage of the situation by sloshing a generous squirt of oil over his buddy's exposed flesh. Needless to mention, Uli doesn't remain asleep for very long – Rush sure as fuck makes certain of that by running his fingers all over Uli's back, slapping his pert little ass and sucking on his toes!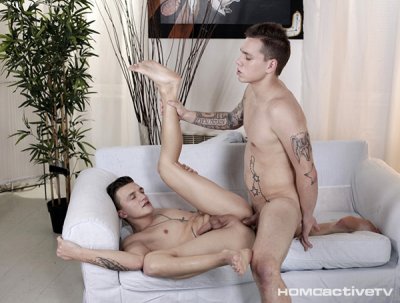 But of course it's the response we all want and expect; and proceedings only intensify when the cocks of both lads start to make an appearance and they each take it in turns to enjoy a sweaty, energetic session of hardcore fellatio. It's a performance that's going to especially appeal to those who like their boys on the inked side; but even the less appreciative will surely enjoy the sight of Rush enthusiastically rimming his pal's sweet, shaved fuck-hole; which sets the scene up really nicely for the inevitable ramming to come, with Uli surrendering his STAXUS cherry to Rush's handsome shaft with arguably surprising gusto.
Clearly this guy isn't as new to the task as he'd like us to think; but that takes nothing away from the terrific show that both mates put on, culminating in Rush whitewashing and re-fucking Uli's pucker, before Uli squirts his jizzy wad all over his pal's face and shoulder!
Scene 4: Soccer-Lovin' New Boy Gets Stretched By Tom Nutt's Monster!
Cast: Rob Rock & Tom Nutt
Also available: Sporting Monsters (2 DVD Compilation)
Also available: Hard Ride (Compilation)
We've known Tom Nutt long enough to realise that he's a horny little fucker on the quiet, but it seems like he's found a like-minded buddy in the form of young Rob Rock – a handsome blond beauty that we pretty much know for sure you're gonna love almost as much as Nutt does in this terrific little scene. Even the projection of some on-the-field footie action can't distract either of these two mates; as Rock slurps on Nutt's almost over-generous ramrod with the kind of gusto and eagerness that you might not expect from a newcomer.
Seems like this fresh-faced bugger might not be quite as inexperienced as he might like some of us to imagine – a suggestion that's then underlined when the two guys position themselves on the bed 69-style! No question about it, these would-be soccer stars are soon going at it hammer and tong; before Rock decides to turn his attention to his mate's pert, tight ass. What follows is an almost textbook display of mouth-on-arse action, with the new boy clearly all too keen to show off his rimming skills for the camera.
But believe us when we tell you that this is nothing compared to his skill at taking cock – a proficiency that's soon being tested when Nutt ploughs his hard, uncut dick straight into the lad's guts! What follows is a showcase display of hardcore sodomy, with Rock quite literally shafted in a whole series of positions; before Nutt concludes his efforts by giving his pal's tight pucker a much-deserved whitewash. All nicely rounded off by him taking a full-on blast of spunk in the face courtesy of Rock's exploding dickhead!