Summary:
Given it's the world's most popular game, it's perhaps not surprising that one foray into the life of the footballing elite was simply not enough; as some of Prague's hottest soccer stars gather once again for a sordid session of ass-banging fury! As ever, Jaro Stone leads the field of cock-draining talent; with Ray Mannix, Joel Vargas and new signings, Mike Cole and Zane Pieters, ensuring that the spunk's on tap from start to final whistle! Indeed, with everyone hitting the scoresheet, and balls rupturing in both halves, this is yet another cum-drenched tournament that you simply won't want to miss!
Scene 1: Soccer Buddy Gets His Fuck-Hole Pounded By His Hairless Mate
Cast: Max Bishop, Mike Cole
Also available: The Spanish Are Coming (2 DVD set)
Also available: Naked Beauty, Cock Pleasure
There's no doubting that Max Bishop and Mike Cole both love their soccer; but it doesn't take very long before their arrival at their city apartment proves that their first love will always be hard cock! Which is pretty good news for everyone concerned, of course, given that it's dick action we all wanna see. Suffice it to say that it's only a matter of a few seconds before both lads are quite literally tearing each other's kits off; before Bishop makes a beeline for his buddy's lily-white jockstrap and its deliciously sweaty contents. Clearly this is a boy who has a real taste for hard Spanish cock – and believe us when we tell you that he's far from disappointed in what he discovers throbbing away inside! Not that Cole is averse to enjoying a tasty bit of fellatio when the chance arises, gobbling on Bishop's divinely hairless ramrod with energetic gusto.
But this is a scene where the boy from Iberia is very much the centre of attention; and with this fact in mind it's no surprise that Bishop soon has his pal laid out prostrate on his back, legs akimbo. Naturally, that gives the fellow full access to the sweet little twink's pucker, which he first squeezes, slaps and fingers, then proceeds to stretch to the max with his swollen, uncut shaft. That marks the start of a terrific session of energetic sodomy, that sees Cole buggered to the core in a whole series of positions; culminating in him riding Bishop's love-stick like a cheap tart, before squirting a fiery load of jizz whilst being pounded on his back. Leaving the horned-up top just enough time to empty his own balls in an appreciative blast!
Scene 2: Flip-Flopping Footballers Get Their Big Balls Pumped & Emptied!
Cast: Jacob Waterhouse, Ray Mannix
Also available: Fucking Footballers (6 Scene Compilation)

Ray Mannix is back – and he wants to blow up Jacob Waterhouse's balls! Okay, so we're actually talking footballs; but (unsurprisingly) it's not long before his attention has reverted to what lies inside his buddy's shorts. Mannix is a boy who quite literally lives for cock, after all; and before you know it he's reverted to type and is feasting on Waterhouse's nips whilst groping the fellow's crotch. What very quickly becomes apparent, however, is that Waterhouse is just as horned-up for dick as his pal – making a beeline for Mannix's groin, sniffing the hot, sweaty pair of jocks he's wearing, and finally unleashing the thick, meaty shaft of meat that's straining within. It's not long, of course, before Mannix is returning the compliment – gobbling away on his mate's ramrod with all-too-characteristic fervour!
But by this point, of course, our old STAXUS favourite has only one objective, namely to get Waterhouse's cock firmly embedded inside his arse! It's a wish that his mate is only too willing to fulfil; and soon Mannix is riding the handsome phallus reverse-cowboy style like a bitch on heat. If you thought that this was going to be a straightforward fuck-and-run, however, then you're in for a very big surprise. For having taken every inch that Waterhouse can muster, Mannix promptly unmounts, gives his friend's knob a very eager slurp, and then promptly buries his own shaft inside his pal's hungry little ass in return! Cue a fantastic, no-holds-barred fuck that culminates in both boys quite literally exploding – in Mannix's case, all over Waterhouse's face. Fucking ace!
Scene 3: Jaro & Ray Sneak From The Pitch For A Soccer Suck-&-Fuck Fest!
Cast: Jaro Stone, Ray Mannix
Also available: Twinks Get Stoned (6 Scene compilation)
Also available: Big Boys (Compilation)
Some scenes simply have the title "classic" written all over them right from the off – this one being a top-notch example. After all, not only does it include the combination of STAXUS legends, Jaro Stone and Ray Mannix, but it involves the two fellows being dressed up in their soccer kits and looking as sexy as hell! Is there a gay man alive who wouldn't be bowled over completely from seeing this pair of horned-up fuckers? We seriously doubt it. For, if anything, they really do seem to be hotter than ever here; as they sneak a crafty suck-and-fuck fest away from prying eyes. Fortunately, the cameras are there to capture every cock-straining moment of action; with Stone making the first move by getting down on his knees to feast on his soccer-buddy's meaty ramrod.
That's even before the two fellows have made their way into the main apartment; whereon they immediately pull off each other's clothes, allowing Mannix to savour a very wide-mouthed suck on Stone's achingly gorgeous fuck-stick. There's an element of desperation about these lads that will almost certainly have you straining at the bit, of course; but things only intensify when Stone finally makes his move and thrusts his dick straight up Mannix's arse, having fingered and rimmed it ready. The climax of the ensuing copulation comes, however, when Mannix uses a sock to work his mate's pole, then heavily plonks himself down on Stone's lap reverse-cowboy style! If there's still a dry eye in the house by this point it'll be a fucking miracle. Even more so when both boys squirt their wads for the cash!
Scene 4: Horny Players Head For A Spunky Shower-Room Spit-Roasting!
Cast: Joel Vargas, Mike Cole & Zane Pieters
Also available: Bareback Butt Stretchers 3 (2 DVD set)
Also available: Hit The Woodwork (2 DVD compilation set)
For some guys it's the ninety minutes on the pitch that counts. But for others, it's what goes on after the game that really matters. If you class yourself in the latter of those categories, then rest assured this scorching hot trio – featuring STAXUS regular, Joel Vargas, and gorgeous newbies, Mike Cole and Zane Pieters – will most definitely be of significant interest. For having taken time out for a kick-around outside, the three beauties head for the showers, where they quickly strip down and start splashing about in the water. Of course, you don't need to be a genius to realise that their seemingly innocent cavorting is but a prelude to something far more hardcore – the fact that they're all sporting quite remarkable hard-ons tells you that!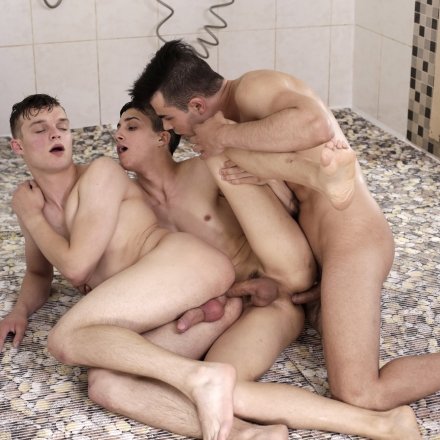 Indeed, all three lads are soon energetically gyrating against each other; before Cole and Pieters finally succumb to their youthful desires and simultaneously begin to slurp on Vargas's handsome cock. That signals the start of what can only be described as near hero-worship of the older lad's body, with the two buddies eagerly rimming Vargas's arse; before Vargas asserts his authority and starts to bang Cole's pert little ass.
Cue the beginning of a truly terrific fuck-fest that'll almost certainly blow you sky high – Vargas fucking Pieters, Pieters fucking Cole, Vargas fucking Cole fucking Pieters! All of which culminates (unsurprisingly) in a succession of cumshots – first Cole, then Vargas, then Cole again! Before Pieters finishes things off by jerking out a heavy wad of prime goo, which his two filthy-minded mates very eagerly lap up!