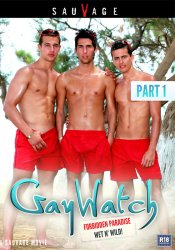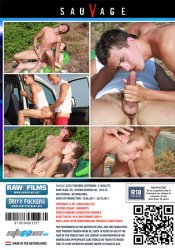 Also available
Gay Watch part 2


Summary:
Finally available: The block buster release of the year! This Christmas feel the sunshine as this Staxus release takes you to Gran Canaria, where our hot boys engage in ultra horny sex episodes. They suck hard twink cock on the beach and fuck eager holes totally raw in hotels and night clubs! Forget The Hoff, here is Gaywatch!
Description/ Review:

Scene 1: Horny Rookie Proves To Be Nothing More Than A Cock-Hungry Bitch!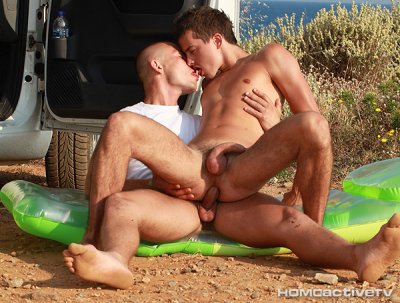 Rookie lifeguard, Matt Loughton, doesn't quite know what to do with himself when his older colleague, cropped-haired stud, Marty Love, gets his cock out in the car and starts to play with himself; but it doesn't take much encouragement on Love's part to get the youngster's lips firmly wrapped around his meaty, uncut cock! What's more, Love himself is only too willing to replicate the favour, allowing the new boy to face-fuck him like a horny bitch on heat. Fact is both these lads are up for hardcore action, and it comes as no surprise when they slip out of the vehicle so that Love can thrust that handsome raw shaft deep into Loughton's tight, but clearly very eager hole. The sight of the older lad ploughing masterfully into ecstasy will have you reaching for the Kleenex – not least of all when Loughton takes on his mate's meaty weapon cowboy-style at the back of the beach. Little wonder the lad is soon spurting cupfuls of jizz all over his own belly; though the highlight of the scene is an almost unbelievable twelve-shot on Love's part that quite literally threatens to blast Loughton away. If that doesn't get you off big time then maybe you should quit porn altogether!
Scene 2: Shower-Time Turns Into Spunk-Time With This Pair Of Beauties!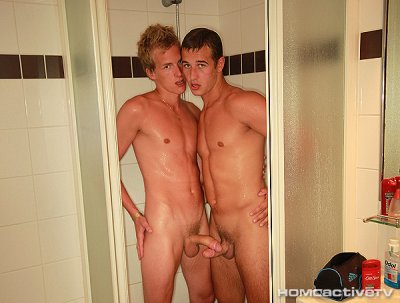 There's just something about watching a young man take a shower that gets the juices going big time – not least of all when the guy in question is as fuckin' fit as Mathew Ross and is sporting quite a handsome show of wood between his legs. Indeed, this is one boy who doesn't really need any encouragement – though the arrival of blond wonder, Jon Roz, only sets the fellow's temperature rising even more! Before you know it, the two lads are jerking each other off with undeniable gusto – until Roz falls to his knees and gives that head the kind of tight-lipped slurp that we all know it thoroughly deserves. It's little wonder that Ross is soon dumping quite a delicious load over his mate's lips; before Roz stands to attention and squirts the contents of his balls all over Ross' cock! Raw ass action lovers will clearly prefer to look elsewhere, but there's no denying the simple, uncomplicated beauty here of two boys in their spunk-spurting prime!

Scene 3: Mouth-To-Mouth (Cock) Dreamin' Turns Into Hot, Raw Boy Action!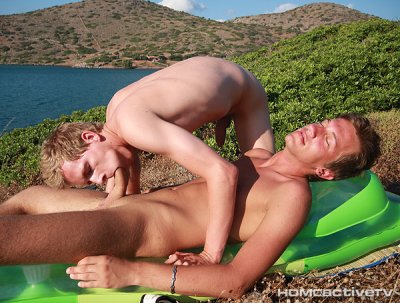 Having already busted a nut (or two!), Jon Roz is now a lifeguard on a mission – although whether saving lives comes into the equation is anyone's guess! Fact is, he's clearly only concerned with giving mouth-to-mouth to whatever hard cock cums his way, and in this instance it's the fine, manly rod between Mike Cage's legs that catches his unrivalled attention. High up on a sun-kissed cliff-top, overlooking the bay, these two beauties savour a sordid session of love-making that'll have you knocking out a load with one hand and booking your tickets to the Med online with the other! In fairness, the oral antics between these two lads are kept to a minimum – mainly because Roz clearly can't wait to get that bare knob of his buried deep into Cage's hungry little hole! As such, the two fellows are soon banging away like a pair of over-sexed rabbits, and it's perhaps little surprise when Cage screams out that he's gonna cum and promptly lashes out with a stream of hot jizz all over his smooth, shaved front. It's then down to Roz to conclude proceedings with another fine show of sperm that Cage eagerly laps up, resulting in a final sticky, jizz-primed kiss.
Scene 4: Blond Angel? More Like A Dirty Cock Whore In This Jizz-Soaked Encounter!
Cast: Dave Cook, Peter Clarke
Also available: Offered (Gay Compilation)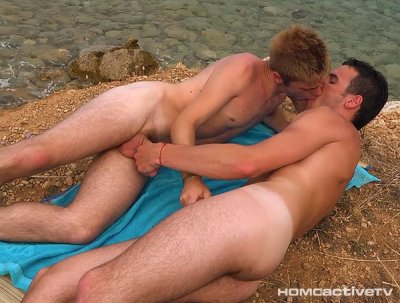 He might look like butter wouldn't melt in his mouth, but don't be fooled by blond twink, Dave Cook. Fact is he's a dirty-minded fucker on the quiet – as we quickly discover when we see his voyeuristic shenanigans on a beach-towel overlooking the sea. The sight of dark-haired Adonis, Peter Clarke, splashing around in the water below is more than enough to get this kid all hot and excited; and the scene only gets even hotter when Clarke steps out of the sea, walks up to his admirer and allows Cook to start working his mouth up and down the length of his handsome ramrod. It's a show of appreciation that Clarke for his part is only too eager and willing to return, resulting (not surprisingly) in him pumping out a generous charge of fresh cum into the older lad's mouth. The real highlight here, however, is that of Clarke's own knob-end squirting a really hefty wad over Cook's pup-like face, coating the cutie in the process!

Scene 5: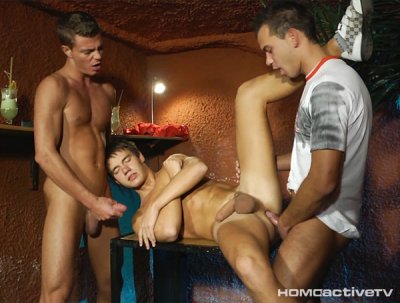 If there's one thing wrong with this scene it's the fact that young Brent Davon never actually joins in with the ensuing threesome between Asian Brutti, Angel Dee and Sergey Vorobev – preferring instead to jerk himself off whilst his workmates hit it off with the town's visitors – but hey, don't let that stop you from enjoying one of the hottest threesomes of the year! Indeed, let's be perfectly honest here, you wouldn't kick any one of the trio out of bed in a hurry, and just to watch the three boys savouring each other's dicks and pleasuring each other to ecstasy is very much a treat in itself. Angel, especially, is one young punk to die for; and the fact that the scene is captured at a rear of a public bar only makes the encounter all the more exhilarating. No great wonder that Davon can't hold back from erupting – and that's even before the moment that Dee and Brutti take it in turns to thrust their thick, condom-free cocks into Vorobev's pert young ass! The spit-roasting that follows will have you slapping your monkey for sure; as will the sight of Vorobev getting well and truly splattered, as all three boys empty their sacs with typical teenage fury!

Scene 6: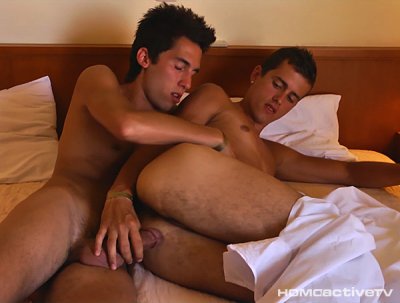 We've all been there – waking up in bed next to the guy we love (or indeed just the guy we lust after!) and immediately finding ourselves overcome with the desire to fuck their brains out! That's certainly the situation in which young Nicolas Cruz finds himself here when confronted with the sight of Matt Loughton's nicely exposed bubble-butt – and geez, what a lovely bit of arse it is too! Fact is, that rump was simply made for fucking, and it doesn't warrant any explanation on Cruz's part when he promptly thrusts his cock forward to fill the space between Loughton's cheeks! Fortunately for us there's no time wasted messing around with condoms. Instead, Cruz's aching shaft slips straight inside right up to the balls – signalling the start of a heavy session of arduous fornication that we defy anyone not to enjoy. That said, the ultimate highlight here is that of Cruz erupting all over Loughton's pulsing little pucker, before then pushing his shaft back inside to ensure that all that cream gets worked into the bottom's guts. Maybe it's the trickle of jizz from his well-worked slit that then helps Loughton provide his own fabulous volley of ball-batter as a finale!
See also: Gay Watch part 2
Additional Information
Categories: UK R18 / XXX Gay Adult
Running Time: 90 mins, Year: 2011
Price: Around £25*
Starring: Jon Roz, Matt Loughton, Nicolas Cruz, Mike Cage, Marty Love, Tom Nutt, Mathew Ross, Dave Cook, Peter Clarke, Julien Adagio, Brent Davon, Asian Brutti, Angel Dee, Sergey Vorobev, Andy Nash, Jimmy Snyder
Director: Vlado Iresch
Studio: SauVage Movie
Buy DVDs online at: Homoactive, Simply-Adult and RadVideo (US)
Download Sauvage Movie titles at: : Homoactive (UK/EU) and Radvideo (USA)
Gay Video On Demand: SauVage, See also: www.gaydvds.tv
Country: Czech Republic, Language: Czech with english subtitles
Additional info: No Regional Coding