Summary:
Home is where the heart is, so they say. But for this bunch of horny fuckers it's not so much the heart that counts as the amount of big, hard, uncut cock that they can get to enjoy – be it in the bedroom, the living room, or even laid out on the kitchen table! Brit boy, Jasper Roberts, and Belgium beaut, Liam Stone, join a collection of cock loving home-birds as they quite literally fuck their way around the house; for an ass-stretching, ball-bursting escapade that leaves every one of our horned-out twinks totally drained of every single drop of cum!
Scene 1: Fridge-Raider Gets His Arse Banged To A Very Sticky Explosion!
Cast: Joel Tamir, Liam Stone
Young Liam Stone has the munchies – that almost incurable urge to fill your body with totally unwholesome crap after you're smoked a joint or had mindless sex – and heads (inevitably under such circumstances) for the fridge; but it's clearly nothing compared to his insatiable desire to get his fill of meaty, uncut, throbbing cock. As such, any attempt by Stone to retrieve anything to eat is very quickly curtailed by the arrival of his horny buddy, Joel Tamir, who is soon provocatively grinding his body against him and smooching away like a dog on heat.
It's a very suggestive introduction to the action, that's for sure; and it'll surely come as no surprise to anyone that both lads soon have their dicks out and are taking it in turns to give each other the kind of hardcore fellatio that dreams – and hot porn! – are made of.
For a guy of Stone's calibre, however, even the allure of a blowjob to die for is nothing compared to the prospect of a no-holds-barred banging on the kitchen table; and within minutes he's laid out on his back getting his pert little arsehole rimmed to high heaven in anticipation of the high octane sodomy that you just know is all set to take place. Indeed so it proves, with Tamir finally ploughing into his mate's guts with top-notch gusto; and Stone acting the complete bitch as he rides that handsome schlong in a whole series of positions. It's enough to push even the most hardened stalwart into stratospheric ecstasy; not least of all when both fellows call it a wrap by blurting the contents of their nads all over each other's sweet, expectant faces!
Scene 2: Brit Red-Head Makes The Cut With A Hard, Raw Double-Dicking!
Cast: Jasper Rhodes, Ron Negba & Vittorio Vega
First things first: if you like red-heads then you are definitely in for a fucking mega-time treat with the appearance of Jasper Rhodes as Vittorio Vega and Ron Negba's flat-mate. This handsome British ginger is not only deliciously pale-skinned, blue-eyed and sporty, but he's also as horny as fuck – so much so, in fact, that whilst Vega and Negba make out on the sofa in the adjoining room, he reaches for a dildo and literally plonks his arse down on it to give his guts a damned good stretching. His two buddies, meantime, are busily feasting on dick like it's going out of fashion, which in itself is almost worthy of fevered acclaim.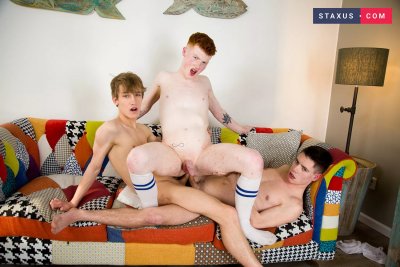 But it's genuinely not until Rhodes finds himself unable to contain his curiosity and steps into the next room to make this escapade a threesome that matters turn decidedly explosive; with the copper-top immediately becoming the centre of attention for his ass-hungry colleagues, taking both their cocks in his mouth and then being promptly spit-roasted on the sofa.
All of which inexorably leads to the climatic moment of the whole performance, as the two home boys shove their cocks into the Brit boy's arsehole simultaneously – a right royal double-dicking that will almost certainly have a whole throng of fans going mental in delight. And what a fucking show-off, as Rhodes then turns things stratospheric by sitting on both shafts for the ride of his life. Little wonder that both Vega and Negba are soon blasting furiously like geysers – splattering Rhodes' face in the process! – before the Brit yanks his big bulbous head to a multi-squirted climax!
Scene 3: Sleepy Beaut Joins His Bud For A Hard Fuck & A Mutual Facial!
Cast: Liam Stone, Navon Raffi
Having travelled all the way from his native Belgium in search of the very best sexual adventures a young man could ever hope for, the last thing Liam Stone wants to be confronted with is a lover who prefers sleep to hard cock. As such, the lad might be forgiven for feeling that his journey to Prague is all set to be a big disappointment when he wakes up in Navon Raffi's bed to discover that his fuck-buddy appears too fatigued to play.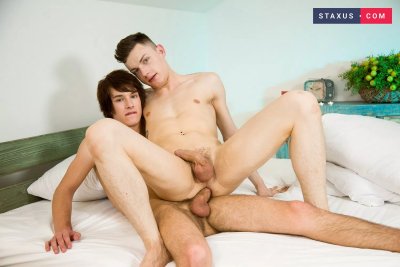 Anyone who's ever seen Raffi in action, however, knows full well that that's not a situation that's ever gonna last long; and so it proves here, with the exchange of a few kisses clearly sufficient to wake the sleeping prince into a cock-crazed fever. Indeed, moments later and the two fellows are 69-ing like their fucking lives are depending on it; before Raffi finally directs his keen attention on the new boy's sweet little fuck-hole and begins to rim Stone for all he's worth. Suffice it to say it's no time at all before Naffi's handsome, uncut schlong has replaced his tongue in proceedings, forcing every hard inch of twink flesh deep into his mate's guts – much to Stone's clear relief.
Cue a fabulous display of boy-on-boy rutting that sees Naffi quite literally pummel the newbie in a whole series of top-notch positions – exactly the kind of entertainment that is gonna get a legion of STAXUS wankers yanking their dicks in appreciation. For all that it's arguably the sight of the two lads spewing the contents of their balls over each other's faces as they top-and-tail for the climax that merits keenest acclaim; a fitting mega-sticky crescendo for a first class act!
Scene 4: Parting Partners Make Up With A Hard, Raw Fuck Of A Goodbye!
Cast: Cobe Loewe, Joel Tamir
There comes a moment in every sexual relationship where you have to choose whether you're in it for the long-term or not – and sadly in this instance it looks like young Joel Tamir has decided that it's the end of the road for him and his handsome beau, Cobe Loewe. Given that all Loewe wants to do is eat cake and watch television that's probably an understandable conclusion, of course; but just when you think that Tamir is finally going to walk out the door for good – having packed his bag and donned his coat – the fellow decides to give his lover one final chance to prove himself.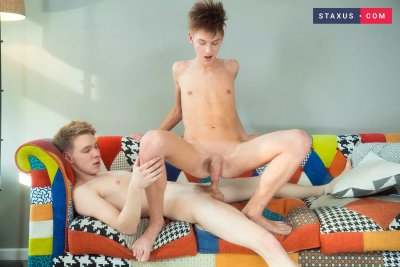 And boy does it prove to be a good decision! For it turns out that Loewe isn't quite as interested in either food or TV as first appeared – especially when confronted with the opportunity to feast on a thick, uncut shaft or to get his own aching schlong gobbled in return. Nor does the lad show any disinterest when finding himself face-to-face with Tamir's divinely hairless pucker, which gets brazenly presented to him – and which he's quickly rimming and fingering like a true STAXUS whore.
Not that he's content to hold back from taking full advantage of the situation; and before you know it the guy is sidling up behind his lover and thrusting every solid inch of dick he possesses deep into Tamir's guts. That, of course, marks the commencement of a fabulous display of twink-on-twink rutting that leaves Tamir's fuck-hole gaping in joyful appreciation; before Loewe rounds things off by creaming his mate's sweet face, and Tamir blasts his own spew to cement what's set to be a long-term union!