Summary:
Is it the mystical sphere that drops from outer space that sets the cocks of a gorgeous team of horny twink models throbbing like fucking crazy? Or is simply the return of the legendary Lucas Drake? You be the judge, of course; but let's just say that Drake's quest for hard dick is just as frenzied as ever, and it's not long before every meaty, uncut shaft on set is rock hard and ready to shoot the kind of thick, juicy loads that you want to see in a great twink porn download. Featuring mammoth beauty, Alex Whale, and a bevy of horned-up beauties, this is one imaginative suck-and-fuck-fest that'll have you dumping load after load, time and time again!
Scene 1: Lucas Drake Gets A Raw Double-Dicking & A Face-Load Of Cum!
Cast: Beno Eker, Joel Tamir & Lucas Drake
Also available: It Take Two To Tango (2 DVD set)
Let's face it, if you were looking for someone to teach you how to suck cock then a veritable living legend such as Lucas Drake probably wouldn't be too bad a trainer – as horny newbie, Beno Eker, discovers when his efforts at fellatio prove to be a little disappointing. Not that he's lacking in enthusiasm, it has to be said.
It's more a question of technique; and beckoning assistance from Joel Tamir – who until this point has been more interested in his mystical sphere than the sexual antics of his friends – Drake is soon able to demonstrate the difference between cock-sucking that's arguably best forgotten and the kind of deep-throated gymnastics that will quite literally blow your mind!
All of which very quickly leads to a stupendous round of oral escapades from the three lads; before attention finally turns to what's all set to be the main star of this lusty performance, namely Drake's insatiable little arsehole. Of course, anyone who's ever seen the slutty fucker in action before will know that this is a boy who never quite knows the limit when it comes to penile attention to his guts; and needless to say it's no time at all before he's proving his credentials once again by plonking himself down on both Eker and Tamir simultaneously for the kind of double-dicked escapade that you filthy-minded fuckers just love. And believe us, you're not about to be disappointed in any way, as Drake gets his hungry rear stretched to the max in not one, but two positions; prior to him getting his face coated in his mate's cum, and then awarding Tamir with his own facial blasting!
Scene 2: Restless Dreamer Wakes To Give His Horny Mate A Gaping Arse!
Cast: Joel Tamir, Vittorio Vega
Seems like the mystical sphere has a distinctly aphrodisiacal effect on young lads in their prime – or at least that definitely seems to be the case with Vittorio Vega, whose somewhat fitful sleep leads to a very wild encounter with his orb-yielding buddy, Joel Tamir. Before you know it the two mates are kissing away like a couple of love-sick teens; except in this instance there's little sign of any restraint, as Tamir makes a headlong, open-mouthed shot at Vega's handsome ramrod and begins to slurp on every rampant inch that's available.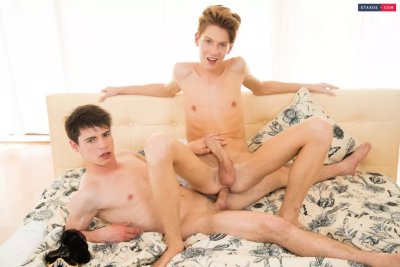 And believe us, Vega displays little effort in trying to knock back such attention; choosing to lie back on the bed instead so that he can savour the feel of Tamir's tongue on his most intimate quarters. Of course, you don't need to be any kind of gay porn aficionado to understand that what Tamir really wants is to get that thick, uncut schlong deep inside his guts; but first the horny pair engage in a heated session of 69-ing, gobbling away for all they're worth like a couple of downtown whores!
Ultimately, however, Tamir's urge for a good arse-stretching proves just that little bit too much; and it's with palpable relief that he finally sits himself down on Vega's joystick and rides it like a professional bitch. It's a sight that's almost enough to induce a premature explosion from even the most battle-weary fan; and matters only intensify when the fellow first gets buggered doggy-style, then gets taken on his back for a gaping crescendo. No fucking wonder that both pals are soon spurting like geysers, leaving Tamir's well-worn arse dripping with goo!
Scene 3: Alfresco Tai Chi Leaves Big-Dicked Beaut Filled With Raw Cock!
Cast: Alex Whale, Lior Hod
The spirit of the sphere may well have induced Lior Hod into an open-air frenzy of Tai Chi; but given the option of training his mate, Alex Whale, in martial arts, or alternatively fucking the living daylights out of the well-hung fucker, Hod opts for the latter. And who the hell can blame him? Whale is pretty much everything a horny gay lad could ever wish for – tall, slim, and boasting the kind of king-sized dong that is literally the stuff of dreams. He's also a dirty little slut, if truth be told – a fact that's quickly underlined by the haste with which the fellow fires his attention at Hod's crotch, pulling dick out of his mate's pants and slurping on it like a fully paid-up cock-whore.
Little wonder that Hod is very quickly turning his eye to his buddy's hungry, hairless pucker; pulling the guy's cheeks apart to fully expose the tight little rosebud to the camera, before eagerly rimming it in anticipation of the hardnosed fuck that's now very much on the cards. Indeed, no prizes for guessing that Whale is quickly impaled on Hod's throbbing shaft; taking every inch on offer in a whole series of positions, and displaying the kind of totally wanton bravado that this relative newcomer is already renowned for. Given the intensity of the coupling, it's perhaps no surprise that Whale is very quickly at the point of no return – squirting all over his own belly, whilst Hod continues to bang away mindlessly at his arse. Nor will it probably amaze you to know that Whale then underlines his credentials as a premier-class trollop by taking a full-on facial, to leave him brimming with smiles and covered in spunk!
Scene 4: Car-Cleaning Slut Soaps Up To Take His Mate's Throbbing Shaft!
Cast: Lucas Drake, Navon Raffi
He may have lost his cute, blond curls, gained a rather trendy tattoo on his arm, and look a little bit older than used to be the case, but some things never seem to change – and let's face it, Lucas Drake was, is, and always will be a total and utter cock-slut! A fact that's underlined when he arrives to help clean Navon Raffi's car wearing nothing more than a smirk and the sort of magnificent hard-on that could literally have someone's eye out!
To be fair, Drake actually seems to spend far more time lathering up his own body rather than soaping down the paintwork, but you can bet your last dollar that Raffi isn't about to complain. In fact, before you know it the fellow is down on his knees giving Drake's meaty, uncut shaft a real good going over with his tongue; before both fellows take full advantage of the back of the pick-up truck to simultaneously explore and probe each other's intimate quarters.
Given his character, however, and the fact that Drake can never, ever say no to a throbbing cock in his arse, it's no big marvel that the said fellow is soon taking full advantage of the situation – plonking his lithe little frame down on Raffi's knob and riding every inch at full pelt like it's bonus time at the local brothel! Of course, given the amount of dick that the lad has had pounding his guts over the past few years – both on-screen and off! – it's a marvel Drake still has any sense left in his rump. To his credit, however, this is a top-notch performance from the cocky slut; culminating in him lapping at Raffi's erupting shaft, before blasting out a violent wad of jizz all of his own!