Fucking Footballers (6 scene Compilation) : Staxus

There are the friends who are just your friends. Then there's the friends who you fuck around with. Finally, there's the friends who'll let you cream all over their face! Guys like Leo Ocean, Yuri Adamov, Xavier Sibley and Milan Sharp, who love nothing better than getting their arses stretched to the max, before allowing their mates to whitewash them right between the eyes. Leaving them totally satisfied – and literally dripping with spunk!
Back Of The Net - Gay DVD - Studio: Staxus Sport Ladz

It's the aim of the game – to get the ball into the back of the net! But for these horse-hung, over-sexed footballers, that's not the only goal here. In fact, their game-plan seems to hinge upon getting their cocks into each other's holes and the contents of their cum-sacs into each other's faces!

Cast: Jace Reed, Ruben Bart, David Sky, Nick Vargas, Xavier Sibley
Bareback Football Orgy - Gay DVD - Studio: Sauvage

WOOHOOO! SauVage is back with a quality bareback production. Super smooth twinks with a passion for football fuck and suck to accomplish their goals.

These horny ball specialists fill up fresh boyslut holes with hot spunk over and over and will have you hot & hard in no-time!

World Cup Wankers - Gay DVD - Studio: Sauvage

The sporting event of the summer arrives in a blaze of glory – and no, we're not talking about what's happened in Brazil these past few weeks! Yuri Adamov, Shane Hirch, Sven Laarson and Johny Cruz lead from the front for a full ninety minutes of prime-time sporting fornication that'll have you reaching for the tissues long before the final whistle!
Football Focus - Gay DVD - Studio: Sauvage

It's the world's most popular game – and it's little wonder that the guys who play it quickly become global superstars. But this team of horned-up fuckers aren't so much interested in what takes place on the pitch as what goes on in the locker-room after the match. Suffice it to say that it isn't just the referee's whistle that gets blown; as STAXUS legend, Jaro Stone, captains old favourites like Mickey Rush and Tom Nutt, as well as luscious newcomers Titus Snow, Rob Rock and Enzo Sky.
Football Focus 2 - Gay DVD - Studio: Sauvage

Given it's the world's most popular game, it's perhaps not surprising that one foray into the life of the footballing elite was simply not enough; as some of Prague's hottest soccer stars gather once again for a sordid session of ass-banging fury! As ever, Jaro Stone leads the field of cock-draining talent; with Ray Mannix, Joel Vargas and new signings, Mike Cole and Zane Pieters, ensuring that the spunk's on tap from start to final whistle!
Offside - Gay DVD - Studio: Staxus Sport Ladz

Blond sex-god, Philippe Delvaux, heads from his native Low Countries to the Czech Republic. His mission? Officially, to play football with the lads from Prague. In reality, to enjoy as much cock and ass action as humanly possible! An objective this Belgian cock-slut enthusiastically grabs with both hands, as the world of soccer is transformed into a spunk-sodden, nad-busting frenzy!

Offside Trap - Gay DVD - Studio: Staxus Sport Ladz

Don't worry – you don't need to understand football's offside rule to appreciate this latest sporting gem from director, John Smith. After all, whilst the love of the beautiful game is clearly ingrained in every one of these eye-candied young twinks, their love of cock always cums out on top!
Penalty Shootout - Gay DVD - Studio: Staxus Sport Ladz

Out on the pitch their job is to score goals, but when they're together in the locker-room it's all about scoring holes, as this superb soccer-inspired offering from Michael Burling is only too eager to demonstrate. Featuring the premier talents of some of STAXUS's finest, including exclusive Billy Rubens, top-stud Paul Walker and power-bottom Skylar Blu, this is a definite must-see for anyone who fantasises about what goes on behind the changing-room doors. Hard cocks, hungry asses and a plethora of spunk make this the perfect shoot out!
Bareback Soccer Punks - Gay DVD - Studio: Punkz
Cover punk Sebastian's bareback kickabouts with his best buddy have paid off, and he is invited to summer soccer camp. Team strip poker, bareback gang bangs, double penetration, dildo action are all on the training schedule!
Bareback Soccer Punks 2 - Gay DVD - Studio: Punkz
At long last, a second helping of football-inspired bareback antics from your all-time-favourite locker-room. No need to understand the off-side rule. So long as you know how good it is to see raw cock pounding away into open ass then you're guaranteed 90 minutes of ball-inspired, spunk-inducing action!
Bare British Footballers - Gay DVD - Studio Rentboy UK
Bare British Footballers shows us what these English soccer lads get up to in the changing rooms! The boys are practicing for their local team by kicking a ball around in the park. However, when nobody is watching, they get very naughty!
Bareback Soccer Sluts - Studio: Twinkz

World Cup fever hits the Czech Republic, as a group of gorgeous, horse-hung twinks get into their football kits and start practising their ball skills. As it happens, however, it isn't very long before their shorts are being pulled away and their thick, uncut ramrods are all pumped up and ready for action.
Chavs Vs Footballers - Gay DVD - Studio: Brit Ladz
It's a question that has dominated philosophical debate for eons: Who's better? Chavs or footballers? Okay, so maybe the greatest minds aren't exactly wracked over the issue, but one thing's for sure – this collection of horny sports boys and their tearaway counterparts will quickly help you overcome any post-Olympic blues. Well-hung and all as horny as fuck, these lads just can't wait to tear into each other for a cock-crazed, spunk-fuelled festival of hot fornication!
Euroboy Hard 7 - Arse 'N' All - Gay DVD - Studio: Euroboy
A XXX football kit fingering and fucking frenzy from start to finish! Big dick wanking, locker room threesome and shower scene. Straight off the pitch these young kit-lads show where their real ball skills lie.
Football Studs - New - Gay DVD - Studio: Triga Films
Real fit football lads in this spunk filled footy release. Sit back and watch these striking fuckers strip off and shoot another winning hot load. Real, straight european lads getting their balls out! These lads enjoy it, so will you!
Football Wankers 1 - Gay DVD - Studio: Triga Films
Football Wankers Vol 1! The original Wankers movie kicks off with a fit British lad sporting one huge cock whilst in a mucky Umbro top and spunk stained white shorts, wanking himself on his couch and occasionally using a footie boot over his knob!....
Football Wankers 2 - Gay DVD - Studio: Triga Films
Wearing crisp, clean Trackie bottoms, shin-pads and footy boots, these filthy straight and bi lads are straight out of training and ready to blow.....
Fuckin Footballers - Gay DVD - Studio: Triga Films
Following on in our proper Triga straight bloke style, we present Fuckin Footballers. What's better than seeing a fit lad all dressed up and ready to play in footy kit? Those fuckin' footballers? In association with JNRC Productions, Fuckin Footballers is a spunked packed film bursting with unbelievably cocky and fit European straight lads.
RudeBoiz 7 Football Ladz - Gay DVD - Studio: RudeBoiz
The latest Rudeboiz has horny young scallies in football gear ready to rip it off one another and ram each others face and ass until they shoot and score!! Including one of the best simultaneous cumshots ever seen, this Rudeboiz won't let you down!!
Soccer Lads - Gay DVD - Studio: Euroboy Express

Jockstraps, Musclar Thighs, firm round butts and loads of balls play! Hot on and off the pitch soccer sex. These lads love having a kick about but it is usually a pre-amble to getting out of their kit and into each other's holes!
Soccer Camp - Gay DVD - Studio: Triumvirate
2 hours of hot guys, great sex and lots of football kit action. Sex in the lockeroom, in the goal, on the pitch, with the super cute referee, a hot three way, a dormitory orgy,some cum eating and some barebacking. Do I need to go on?
Soccer Camp #2 - Gay DVD - Studio: Triumvirate
I am tempted to say that this is better than the first one but to be honest both of these Triumvirate movies are great. Buy it for the cute twink being gang banged if nothing else.
Soccer Boy - Gay DVD - Studio: Mansize By Private

Soccer Boy is the story of 10 gorgeous, athletic guys who meet for a game of 5-a-side soccer in their sports center.

But the game gets very heated as the sexual tension reaches 'fever pitch'.
World Soccer Orgy Part 1 - Gay DVD - Studio: Staxus Platinum
Celebrate a Summer of Soccer with 20 cute, young, big-dicked international players. Eurocreme will score a winner with this cum guzzling, ball busting hot-as-fuck footie epic. You won't be disappointed!
World Soccer Orgy Part 2 - Gay DVD - Studio: Staxus Platinum
As the Festival of Football comes to a climax Eurocreme's Cup overflows with spunk! A 15 stud cum gushing orgy and five other sizzling scenes - each one has cute guys with big throbbing cocks. Superb!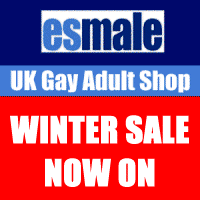 Esmale (UK Gay Adult Shop) sells a large range of gay adult sex toys including a range of fetish and restraint products, Cock and Ball play items, Whips, Paddles and Slappers, Blindfolds, Masks and Hood and are the UK stockist of Mr B leather and fetish products. They also sell a large range of men's designer underwear, condoms and lube, fleshjacks, jock straps and anal toys. Treat yourself!
Save an extra 10% on top of their already discounted prices with our exclusive code 'GAY10'. Click here to shop
See also: www.gayadultshops.co.uk