Summary:
Don't worry – you don't need to understand football's offside rule to appreciate this latest sporting gem from director, John Smith. After all, whilst the love of the beautiful game is clearly ingrained in every one of these eye-candied young twinks, their love of cock always cums out on top! STAXUS favourites Milan Sharp and Vitali Kutcher get joined on the touchline by star new boy, David Hollister, for a classic showpiece of off-the-pitch action, featuring some of the biggest boys in the game giving it hard and raw to ensure a spunk-splattered post-match frenzy long after the final whistle (and hard cock) has been blown!
Scene 1: It's Shaken Not Stirred For This Cute Cock-Loving Soccer Slut!
Cast: Connor Rex, Vitali Kutcher
Also available: Long Schlongs (6 Scene Compilation)
Most of us would surely baulk at the prospect of having our mixer-drink stirred by a guy's cock, but Connor Rex – fresh from playing soccer with his buddy, Vitali Kutcher – is clearly ready and willing to be the exception. Of course, the fact that the oversized stirring-stick in question belongs to a guy like Kutcher is surely good enough reason to go along with the fun; and Rex compliments the high-natured jinks by donning his mate's dick with a selection of lemon-slices for good measure. It all makes for a fine-spirited aperitif for the hard-natured action that we all know is just around the corner; and suffice it to say that both horny strikers are soon on top notch form, with Rex gobbling down on Kutcher's cock and Kutcher knocking his mate's legs into the air so that he can greedily rim on the pretty little rosebud now proudly on display.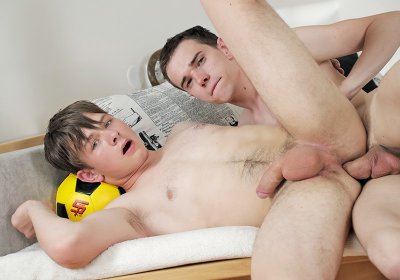 Those of you who enjoy a prolonged foreplay might be in for a little bit of disappointment here, however. The fact of the matter is that both these boys are horned up to the max; and it's no time at all before Kutcher can't hold back a moment longer from plunging his meaty ramrod deep into Rex's arse. No doubt about it, the cute-faced bottom is in fucking extra-time bliss as Kutcher's balls slap gamely against his rump; and to underline the fact he's regularly changing positions and taking slurps off his buddy's joystick between moves. Little wonder that this pair of wonder-sluts are soon preparing for the final whistle; taking it in turns to blast a clearly much-needed wad of spunk towards each other's open mouths for a top-notch finale!
Scene 2: Flip-Flop Flip Gives His New Footie-Buddy A Right Hard Fucking!
Cast: Casey Flip, Rudy Stone
Also available: Athletic Ass Bangers 3 (Compilation)
It's no wonder that sporting buddies Casey Flip and new boy, Rudy Stone, are in need of a drink. Kicking a ball around together in the hot weather is very thirsty work, after all; but if you think they won't have any energy left to fool about then you're in for a big surprise. Fact of the matter is that more water goes over each other than actually gets drunk, which in turn leads to both lads having to take their shirts off. This, being porn, naturally only leads to one thing; and before you know it the two mates are exchanging a hungry smooch, with Flip taking an early dive onto Stone's already badly swollen ramrod. Unfortunately, a public park is not exactly the best place to enjoy a blow-job – unless, of course, you want to end up being arrested or something! – so the two lads head back home to take off exactly where they left off outside.
As such, it's a case of kits off and cocks out; with both lads taking it in turns to feast on the meaty shafts they had stuffed inside their soccer shorts, before Stone finally turns his eye to his mate's pert little rump. Cue a rigorous session of rimming and fingering of Flip's tight hole; before Stone – who, like his mate, is still donning his sporting jocks – thrusts his meaty shaft inside. Ever the sharing pair, however, all this is but a prelude to a flip-flop turnaround, with Stone promptly plonking himself down on Flip's cock and riding his buddy in return. Indeed, there's no denying the fact that it's Stone who probably enjoys most of the anal action here; before both team-mates call it a score-draw by creaming off to a gooey crescendo!
Scene 3: Overawed Fan Gets His Hungry Hole Called To Hot Raw Service!
Cast: Connor Rex, David Hollister
Also available: Big Boys (Compilation)
Also available: Hit The Woodwork (2 DVD compilation set)
It's not every day that a young man gets invited to a footballer's locker-room, but for the gorgeous Connor Rex – sat in a city park, savouring the foot-skills of the divine David Hollister – that's exactly what happens here. Don't think for one moment that Rex is going to end up admiring Hollister's various trophies and medals, however; for having quickly realised that his somewhat overawed visitor has a thing for socks, the would-be sports-star promptly invites his new-found buddy to join him on the bench, at which point (unsurprisingly) things take on a decidedly carnal bent. Indeed, Hollister's down on Rex quicker than you can say "Sparta Prague" – trailing his mouth across the youngster's hairy belly, before diving straight into Rex's box to enjoy every inch of meaty flesh that's already straining inside.
Not that Rex is any less keen to encounter the sportsman's dick face-to-face; slobbering along every inch of Hollister's joystick, before rimming the buddy's hairless pucker. But it's Rex's own hungry hole that serves as the setting for the anal action to come; with horny Hollister promptly packing a punch into the young lad's fuck-hole, much to the clear delight of Rex. Indeed, just seeing the lad ride cowboy-style on Hollister's raw ramrod is surely proof enough to anyone that this is a lad who's quite literally delirious for cock; and we doubt there'll be too many fans who aren't wanking furiously away to a hot sticky climax long before both these lads spew for all they're worth. An act that leaves Rex's furry treasure-trail coated in a rich, satisfying gooey brew!
Scene 4: Wannabe Player Proves His Worth With A Spunky Fuck-Fest!
Cast: Casey Flip, Milan Sharp
Also available: Long Schlongs Ride Again (Compilation)
The transition from playing in the junior squad to taking a position in the senior team is always a major moment for any wannabe footballer, and it goes without saying that it's vitally important that the player maintains the encouragement and support of managers and agents to ensure as smooth a changeover as possible. Guys like Milan Sharp, who have their hands on the purse-strings, and whose support is vital if a young man like Casey Flip stands any chance of living out his dream of making it big in the sport. Fortunately for Flip, it seems that he is well versed on how to win the heart of a fellow like Sharp; and suffice it to say that before you know it the young lad is quite literally sat on the guy's lap, demonstrating his willingness to do whatever it takes to turn his ambitions into reality.
Which to Sharp, of course, means getting his lips around the youngster's handsome cock – not to mention ensuring that Flip does the same to his own notoriously oversized schlong! As such, it's not long before the two fellows are eagerly 69-ing each other like a couple of cheap whores; until Sharp's insatiable urge for dick quite literally overcomes him and he slaps himself down on Flip's lap so that he ride the cute twink's buttpicker for all he's fucking worth. What follows is a terrific escapade of hard anal boy-sex, with Flip working his buddy's pucker so hard that it's left proudly gaping as a result. Little wonder that Sharp is soon spraying all over his own tummy; whilst Flip sounds the final whistle to a deal by merrily dumping a magnificent spew of hot spunk all over Sharp's face!