Summary:
In our sedentary world, it's important to keep as physically active as possible – so full credit to our boys for wanting to get out there and keep fit! All the same, there's no denying that their idea of a physical workout is perhaps somewhat different to your usual recommended cardiovascular exercise; with the likes of Kris Blent, Ray Mannix and Jaro Stone quickly abandoning their jog around the block in favour of a hardcore drill of cock-sucking and ass-fucking. It might not be conventional, but with spunk-drenched faces and jizz-coated puckers all round, we've a sneaking suspicion there's gonna be very few complaints!
Scene 1: Raunchy Runners Suck, Rim & Fuck To A Gooey Facial Crescendo!
Cast: Andy Scott, Camil Chaton, Kris Blent, Simon Caress
Given all the heady amounts of exercise that the handsome trio of Andy Scott, Camil Chaton and Simon Caress display during the opening moments of this terrific set-piece, you'd think that their trainer, Kris Blent, would be more than satisfied. The blond-haired Dutchman is not an easy man to please, however. As he rather brutally informs them, his grandmother could run better than they do – a comment that clearly upsets a few egos in the room given the indignity with which it's received. But it's the remarks about their body-odour that really seems to ignite their fury; and which quickly results in the young trainees taking matters into their own hands by launching a full-on sexual assault on their boss.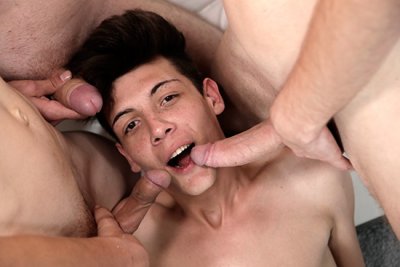 t which point, any fatigue that these hairless beauties may have been feeling is quickly forgotten; with their thick, uncut shafts quickly making an appearance, as Blent teams up with Scott, whilst Chaton and Caress slurp on cock nearby. Not that these two pairings remain independent of each other for very long, it must be said. Indeed, all four boys are soon a veritable chain of ass-rimming, dick-munching fury; before their lusts begin to take further hold of them and they take it in turns to thrust their hard, aching shafts into each other's fuck-holes.
Given the amount of cock on offer, of course, it's all very understandable; with Scott and Blent arguably proving the main centrepieces of action. In the end, however, it's Scott who wins outright as chief slut – allowing all three of his horned-up mates to spew over his face, before creaming out his own fine load!
Scene 2: Horny Athletes Run A Hard-Cocked, Face-Splattered Threesome!
Cast: Kris Blent, Lucas Drake, Ray Mannix
Also available: Let's Play With Lucas Drake (compilation)
When you're training for a big race it's important that you keep your eyes on the prize; but even so it's more than just a little understandable that Kris Blent and Ray Mannix find themselves distracted when they encounter young Lucas Drake running around solo in the woods. After all, who wouldn't find their heads similarly turned by the sight of this handsome young beauty in all his sweaty glory? Fortunately for them both, Drake's clearly more than happy to go back with them to Blent's apartment, where the exercise routine can happily continue – albeit in a very different form! Indeed, it's not the lads' legs that are getting a cardiovascular workout when these three horned-up buddies hit the sofa, rather the meaty, uncut cocks that promptly emerge from their running shorts!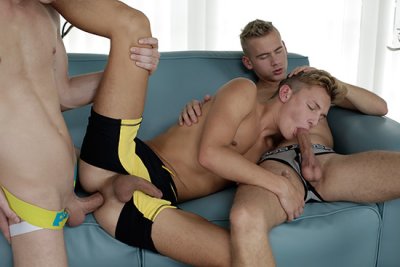 That's perhaps more than just a little understandable given the cock-lusty characters in question here – it's difficult to know which one of these boys is the biggest slut! – and it'll come as no surprise to anyone that all three lads spend the ensuing minutes gobbling away like it's going out of fashion. Ultimately, though, it's Drake who slowly emerges as the centrepiece of the action; with Mannix and Blent taking it in turns to rim his well-worked pucker, before then energetically ploughing that delicious, hairless hole for all they're worth.
The sight of Drake being tossed around and spit-roasted will almost certainly have you jerking off like crazy; culminating in both tops creaming his arse. All of which is topped off nicely by Drake splattering Mannix's face in return for a top-notch sticky finale!
Scene 3: Cramped Beauty Gets His Arse Ploughed Raw By Hung Porn God!
Cast: Jaro Stone, Peter Nowac
Also available: Twinks Get Stoned Again (Compilation)
All athletes know the danger of muscle cramping – a condition that can strike at any time, be it during low-level training or high-octane exercise. Fortunately for new boy, Peter Nowak, the problem here is very quickly rectified – courtesy of STAXUS favourite, Jaro Stone, who clearly knows exactly what to do to relieve a painful bout whilst the two lads warm-up together. Not that his focus is on his buddy's leg for long, it must be said. No, Stone is way more interested in the straining bulge that's quickly appearing in Nowak's crotch; stroking the fellow's swollen quarters, then promptly feasting on the thick, uncut ramrod that he discovers inside the guy's shorts.
It's a move that excites Nowak into replicating the deed – devouring Stone's much-used weapon, before both beauties line up on the sofa 69-style to gobble away on each other simultaneously. To be fair, the sight of these handsome sluts going top-to-toe for all they're worth is nigh on enough to get most of us to the brink of sticky pleasure there and then; but rest assured young Stone isn't content until he's thoroughly rimmed that tight virgin ass of his mate and followed through by sticking every inch of his shaft deep inside the lad's hungry little rectum.
Suffice it to say, Nowak's very quickly savouring the experience to the max; riding his mate's over-experienced pole cowboy-style, before sucking Stone off once again and then parting his legs for a further pleasure ride. All of which soon culminates in Stone squirting all over the bottom's pucker; leaving Nowak to cream out his own gooey, sticky load!
Scene 4: Cute Twink Gets A Spunky Shoot With Jaro's Handsome Cock!
Cast: Jaro Stone, Lucas Drake
Young photographer, Lucas Drake, is like a thing possessed – and for very good reason, it must be said. After all, he's just encountered Jaro Stone doing his daily workout in the park; so it's quite understandable that he wants to snap a few shots of the legend. Finally meeting Stone face-to-face, he promptly invites the athlete back to his apartment for a shoot – although (as quickly becomes apparent) it's really a shoot of a very different kind that he's got in mind. Then again, what else would you ever expect from a mega-slut of Drake's disposition?
Eyeing his chance, he persuades Stone to take off some of his clothes – then promptly steals a kiss. Given the fine physical qualities that Drake has to offer, it's no surprise that the eager sportsman is only too willing to respond exactly as Drake hoped – stripping out of his training clothes, and allowing the horned-up pup to slurp on his already half-swollen shaft. Of course, you don't need to be anything of an expert in gay porn to anticipate that that same cock will soon be balls-deep in Drake's tight little ass-hole; though not before Stone has given the insolent little pup a very energetic blow-job and rimming.
The relief on the handsome bottom's face when his buddy finally ploughs into him is a beauty to behold, however; signalling the start of a truly terrific set-piece, which finally culminates in the boy riding Stone reverse-cowboy, then spurting hands-free all over the floor. It's a truly memorable performance from the lad in every sense; nicely topped off by him taking Stone's sticky, pent-up goo all over his tongue!