Summary:
Out of all the boys who have appeared in front of the STAXUS cameras, there's one horny, young fucker who's always top of the listings – with fellow stars and fans alike! Jaro Stone – smooth, sexy, well-hung and always, always up for fun with lads of a similar disposition. From his very first appearance as an 18 year old fresher, to his more sophisticated facial-haired persona of more recent appearances, he's never once failed to impress. "Getting Stoned", it seems, is now the highest honour in the biz – as the cock-hungry likes of Angel Lopez, Bjorn Nykvist and Martin Rivers are only too happy and eager to demonstrate!

Compilation Gay DVD - 6 Scenes
Description / Review:

Scene 1: Cramped Beauty Gets His Arse Ploughed Raw By Hung Porn God!

Cast: Jaro Stone, Peter Nowak
From: Keep On Running, Scene 3
All athletes know the danger of muscle cramping - a condition that can strike at any time, be it during low-level training or high-octane exercise. Fortunately for new boy, Peter Nowak, the problem here is very quickly rectified - courtesy of STAXUS favourite, Jaro Stone, who clearly knows exactly what to do to relieve a painful bout whilst the two lads warm-up together. Not that his focus is on his buddy's leg for long, it must be said. No, Stone is way more interested in the straining bulge that's quickly appearing in Nowak's crotch; stroking the fellow's swollen quarters, then promptly feasting on the thick, uncut ramrod that he discovers inside the guy's shorts.
It's a move that excites Nowak into replicating the deed - devouring Stone's much-used weapon, before both beauties line up on the sofa 69-style to gobble away on each other simultaneously. To be fair, the sight of these handsome sluts going top-to-toe for all they're worth is nigh on enough to get most of us to the brink of sticky pleasure there and then; but rest assured young Stone isn't content until he's thoroughly rimmed that tight virgin ass of his mate and followed through by sticking every inch of his shaft deep inside the lad's hungry little rectum.
Suffice it to say, Nowak's very quickly savouring the experience to the max; riding his mate's over-experienced pole cowboy-style, before sucking Stone off once again and then parting his legs for a further pleasure ride. All of which soon culminates in Stone squirting all over the bottom's pucker; leaving Nowak to cream out his own gooey, sticky load!
Scene 2: Cute Buddy Creams Stone's Ass With Yogurt & His Face In Jizz!

Cast: Jaro Stone, Martin Rivers
From: Cuddle Up 2, Scene 1
Admittedly, there probably isn't a gay guy alive who wouldn't get excited at the sight of Jaro Stone's butt on display, so we're quite sure that most of us will be in total sympathy with young Martin Rivers when he finds himself totally unable to resist the fellow at the start of this horny little escapade. Whether so many of us would then do what Rivers does - dolloping a spoonful of yogurt on Stone's crack and licking it off - is another matter entirely, of course. That said, it's a move that does the trick in terms of bringing Stone to consciousness; at which point the action promptly takes off, with the lads quickly discovering that a hot session of passion the night before has done little to dampen their ardour for hard cock.
Indeed, neither fellow seems able to get enough dick as they first take it in turns to suck each other off, then pleasure each other simultaneously by means of some heady 69-ing. But suffice it to say that it isn't very long at all before Stone is turning his attention to his buddy's tight little pucker, fingering the hungry hole before plunging balls-deep inside. It's a move that pleases the cock-crazy little bottom, that's for fucking sure; as Rivers proceeds to ride his mate's dick in a whole series of positions like a fully-certified bitch!
All of which soon culminates in Rivers finally achieving a lifelong dream of gay guys across the world, as he quite literally whitewashes Stone's face in spunk - a sight that will warm the hearts and harden the dicks of STAXUS fans everywhere. As will the vision of the two chaps exchanging a gooey, creamy smooch for the finale!
Scene 3: Pink Beauty Gets Double-Dicked With A Hands-Free Crescendo!

Cast: Jaro Stone, Lucas Drake, Rob Nielsen
From: Double Me, Scene 1
Okay, okay, so the choice of a pink unicorn onesie is almost certainly a fashion disaster; but when it comes to dreaming up two horny buddies to give him the spit-roasting of his life, young Lucas Drake couldn't choose better than Jaro Stone and Rob Nielsen. One, after all, is an established STAXUS legend in his own screen-lifetime. The other is a novice in comparison - but with his Tintin good looks and gym-toned physique, Nielsen is just exactly the kind of hyper-horny fucker needed to make this a threesome to remember.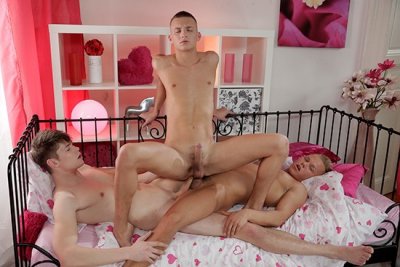 Indeed, the good news is that the unfortunate all-in-one bed-suit is quickly discarded once Drake gets a look-in on what's inside his fantasy fuck buddies' pants; first savouring every solid inch of Stone's fabulous ramrod, before finally gobbling eagerly away on Nielsen's oversized equipment. By which point, of course, it's fucking obvious that Drake's exquisite little pucker is going to be serving as the focal-point for all the action hereon in; with Stone eagerly rimming the hairless hole (whilst Nielsen bangs his dick down Drake's throat), before slamming home with his meaty, uncut salami.
What might not be so immediately evident, however, is that the filthy bottom's appetite for man-meat is bordering on the obsessive. So much so that Drake is soon sitting on both shafts simultaneously, then changing positions to accommodate both mates from behind. It's graphic, it's extreme; and with Drake shooting hands-free before Stone creams his arse and Nielsen jizzes his face, this top-notch filth will have you squirting over and over again!
Scene 4: Swimming Buddies Head Out Of The Water For A Hot, Raw Fuck!

Cast: Jaro Stone, Angel Lopez
From: Big Is Better, Scene 1
No question about it, Jaro Stone and Angel Lopez are such a fucking hot pair of horned-up beauties that you could surely quite literally sit and watch the duo splashing about in the water all day; but the fact of the matter is that they're never the sort of boys who can play too innocent for long. Indeed, you won't find yourself having to wait more than a minute or two before both beauties are out of their swimming trunks and engaging in somewhat suggestive play; which soon leads to the guys smooching away in anticipation of a decidedly hardcore session.
Not unnaturally, of course, given the nature of their characters and the fact that Lopez in particular is quite simply a living, breathing cock-whore, it's no time at all before the initial round of vigorous dick-munching has given way to an energetic session of sodomy; with Lopez eagerly parting his legs so that his butt can accommodate the full length of Stone's infamous poleaxe. And to his credit, the young lad takes every fucking inch like the pro that he is; getting buggered raw in a whole series of positions, whilst taking intermittent breaks to slurp on his buddy's cock as if to keep reminding himself (if indeed it was ever needed!) that Stone's beautiful buttpicker is actually for real.
No need to worry about that though, boy. Our Stone is as one hundred percent legit as the day is long; and having finally secured his place cowboy-style on the summit of the fellow's cock, it's no wonder that Lopez is soon spurting like a fountain in sweet appreciation. Before finally allowing Stone to unload a fine wad all over his face!
Scene 5: Legal Newbie Awards Bad Boy With A First Class Ride Of Hot Ass!

Cast: Jaro Stone, Bjorn Nykvist
From: Hung Jung, Scene 1
Whoever said that lawyers don't have a heart? Or that the only thing that they truly appreciate and understand is hard cash? Well whoever it was, the image of legal minds being solely obsessed with mercenary reward is definitely in for a bit of a bashing here; as fresh-faced solicitor, Bjorn Nykvist, displays his distinctly compassionate side when Jaro Stone enters his office looking for representation in court. All the same, there's still no such thing as a free lunch; and whilst our legal eagle might not be thinking of the bucks, he almost certainly thinking of the fucks! Indeed, it's a definitely a deal of a carnal kind that's quickly getting brokered between these handsome youngsters; with the two buddies heading straight for bed in order to run through a few points of order.
Needless to say, it isn't long before both their dicks are the centrepiece of negotiations; with a fine display of cock-sucking quickly developing into an ambitious session of energetic 69-ing. Ultimately, however, the urge to get Stone's infamous butt-picker deep inside his guts simply proves too much for the blond-headed Nykvist; who then proceeds to get his innards bashed to a legal high in a succession of positions, most notably reverse-cowboy.
It's enough to send even the most dullened of fans into a spunk-fevered frenzy; and it certainly isn't long before Nykvist's cock is squirting out a generous wad, which Stone eagerly laps up to full effect. Not that Stone's ensuing eruption is any less intense; as both lads underline their rank as top-notch performers by exchanging a final devilishly jizz-laden smooch!
Scene 6: Massaging Trio Make Sure All Holes Are Filled With Monster Dick!

Cast: Jaro Stone, Milan Sharp, and Martin Rivers
From: Massage Me, Scene 4
Having spent a little time sweating it out in the sauna, handsome lovers Milan Sharp and Martin Rivers head off in turn to enjoy the sensual delights of horny masseur, Jaro Stone. To be fair, Stone is the epitome of a professional when faced with the prospect of applying a rubdown to Rivers' back; but the arrival of Sharp (and his oversized schlong!) notches the sexual tension up significantly. For before long both Stone and Rivers are helping relieve their monster-hung buddy of all the stresses of the day - making a beeline, of course, for the thick, uncut pole that by this point is straining for attention.
It's a turn of events that certainly seems to get Stone's juices rising, that's for sure - evidenced by the ease with which Sharp and Rivers subsequently strip the fellow of his pants and proceed to give the cute masseur a taste of his own sensuous medicine. Soon our ever-tireless performer is having his arse caressed and rimmed like a cheap slut; before Rivers finally puts him out of his wanton misery and thrusts every inch of his ramrod deep into the lad's hungry hole.
It's a move that we know for sure is gonna have a legion of die-hard fans burgeoning on an early cream-off; and things will only get worse for them when they see writhing on the end of Sharp's hard monster. But if anything it's seeing Rivers take Stone's place that marks the crescendo for this trio - the young lad bouncing up and down on the pole like a fucking marionette! That, and the sight of Sharp's cock erupting like a shaken bottle of champagne all over Rivers' face for a spunk-fest of a finale!
Themes: Big Dick, Blond Haired, Facial Cumshot, Massage, Rimming, Threesome, Twinks, Uncut Cocks