Summary:
You could say they're just greedy bastards, but there are some guys for whom one cock will never, ever be enough. In fact, they're not satisfied until their dirty little whore-holes are being stretched to the max by two meaty dicks at exactly the same time!! Guys like Johnathan Strake and Lucas Drake, who not only ride double like old veteran pros, but who do it in fucking style – all of which soon results (not surprisingly) in some very sore asses! Good job their mates have plenty of spunk in the tank to cool those nicely ruined holes down!
Scene 1: Pink Beauty Gets Double-Dicked With A Hands-Free Crescendo!
Starring: Jaro Stone, Lucas Drake, Rob Nielsen
Also available: Twinks Get Stoned Again (Compilation)
Okay, okay, so the choice of a pink unicorn onesie is almost certainly a fashion disaster; but when it comes to dreaming up two horny buddies to give him the spit-roasting of his life, young Lucas Drake couldn't choose better than Jaro Stone and Rob Nielsen. One, after all, is an established STAXUS legend in his own screen-lifetime. The other is a novice in comparison – but with his Tintin good looks and gym-toned physique, Nielsen is just exactly the kind of hyper-horny fucker needed to make this a threesome to remember.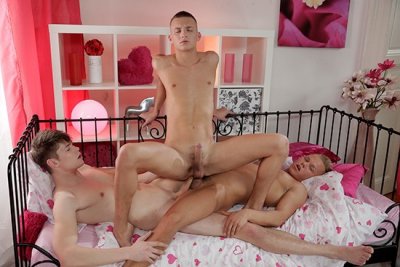 Indeed, the good news is that the unfortunate all-in-one bed-suit is quickly discarded once Drake gets a look-in on what's inside his fantasy fuck buddies' pants; first savouring every solid inch of Stone's fabulous ramrod, before finally gobbling eagerly away on Nielsen's oversized equipment. By which point, of course, it's fucking obvious that Drake's exquisite little pucker is going to be serving as the focal-point for all the action hereon in; with Stone eagerly rimming the hairless hole (whilst Nielsen bangs his dick down Drake's throat), before slamming home with his meaty, uncut salami.
What might not be so immediately evident, however, is that the filthy bottom's appetite for man-meat is bordering on the obsessive. So much so that Drake is soon sitting on both shafts simultaneously, then changing positions to accommodate both mates from behind. It's graphic, it's extreme; and with Drake shooting hands-free before Stone creams his arse and Nielsen jizzes his face, this top-notch filth will have you squirting over and over again!
Scene 2: Hairless-Arsed Beaut Gets Double-Fucked & Splattered With Jizz!
Cast: Bjorn Nykvist, Lucas Drake, Vitali Kutcher
Also available: Long Schlongs (6 Scene Compilation)
Donkey-dicked new boy, Adam Webb, is definitely keen – especially when he wakes up one morning and discovers that he and his mate, Vitali Kutcher, have overslept. Unfortunately – or fortunately, whichever way you look at it! – there's simply no way that he's going to get his mate out of bed in a hurry; especially when Kutcher realises that Webb is hung like a horse and as horny as hell! In just a few moments the hot little bitch's mouth is hanging off Webb's ramrod like his life depended on it; leaving the kinky bastard so turned on that he's quickly allowing Webb to shove sex-beads up his tight arse-hole.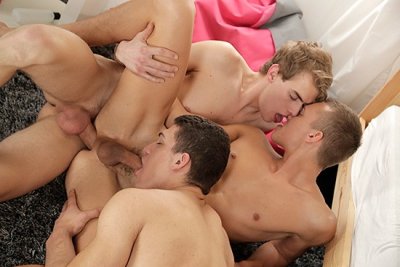 All of which sets the scene nicely for the ensuing threesome the next day, when Lucas Drake and Bjorn Nykvist discover Webb fast asleep in his bunk and decide to compare his oversized flagpole with their own handsome shafts. Not surprisingly, it doesn't take long for Webb to wake up – at which point Drake soon becomes the focal point of all the action, with his buddies thrusting their aching dicks into the lad's mouth, before ripping off his clothes to enjoy what's nestling inside the boy's pants.
Cue a truly terrific threesome between these divine beauties, which culminates in the almost unbelievable sight of Drake plonking his hairless hole straight down onto his mates' cocks simultaneously and riding them together like a bitch on acid. If that doesn't take you to the point of ecstasy – no doubt flicking the rewind button as you jerk! – we don't know what will. But seeing the slut's face getting creamed by a tsunami of cum makes it a climax guaranteed!
Scene 3: Small Guy Gets Two Big, Fat Dicks To Ride & A Face-Load Of Jizz!
Cast: Jaro Stone, Johnathan Strake, Lucas Drake
He's never been the greatest party animal in town, so it's perhaps not that big a surprise to see Jaro Stone taking a little bit of umbrage when his house-buddies (Lucas Drake and Johnathan Strake) arrive home late one evening having very clearly had one or two drinks. However, whilst they may be a little bit inebriated they're still both as sexy as fuck – something a guy like Stone has never been able to resist! As a result, the three mates are quickly smooching away like a trio of over-sexed hog-whores; and before you know it Stone is stark-bollock naked with Strake feasting off his dick and Drake rimming his arguably under-used ass-hole.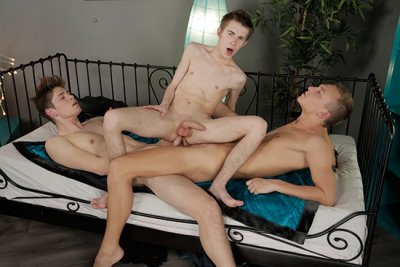 It all serves as a tasty appetiser for the main action to come, which centres very much on the diminutive Strake, whose own little pucker has never been reticent when it comes to action – and who once again proves his worth as a power-bottom when confronted by the sight of two beautiful cocks in full rut! Suffice it to say that the horny fucker takes everything that Drake and Stone can throw at him; with Drake taking time out to enjoy some of the action for himself when the three lads join up for a daisy-chain fuck-fest.
But there's absolutely no doubting the highlight of this terrific escapade – the unbelievably hot sight of Strake plonking himself down on the combined lengths of both his buddies' dicks and riding them like the totally uncontrolled slut that he is. In his excitement, he quite literally spurts like a geyser all over himself; before taking a face-load of spunk for a finale. In short, a blistering, jizz-inducing wank-fest!
Scene 4: Two Horny Twinks Get Their Empty Holes Well & Truly Stuffed!
Cast: Johnathan Strake, Milan Silver, Vince Todd
Also available: Bareback Bukkake Frenzy 4 (Compilation)
On paper, of course, it might seem pretty obvious that Johnathan Strake is set to be the focal point of this handsome little threesome – and suffice it to say that director, John Smith, doesn't disappoint. Why should he? Strake is a born-again devotee where cock is concerned, and there's little fear of him turning his nose up when confronted with two of the tastiest, uncut schlongs in the biz. Yet the first part of the action here actually centres on new boy, Vince Todd – or, more specifically, Todd's hairless little pucker. For having produced a couple of anal beads from under his pillow, Strake promptly decides that it might be a really good idea to see whether Todd's tight, virgin hole can accommodate the said toys – a task that Milan Silver is only too willing to assist him with.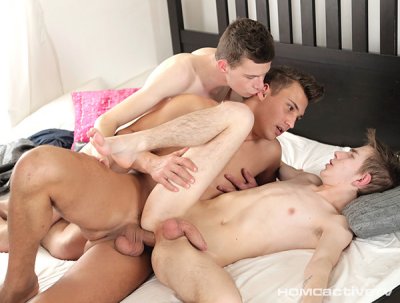 As a result, Todd's rump is given a really good workout by the lad's mates; with the appearance of hard dick being somewhat on the minimal side. All that changes big style, however, once Strake returns to type; taking the focus of everything that Silver can thrust in his direction, whilst Todd helps out with some vigorous rimming and sucking.
So if you enjoy watching some crazy little fuck-slut being banged in a succession of positions, before riding a stud like a bitch, then this is definitely your kind of scene. All of which culminates in Strake erupting all over himself; prior to the lad taking a full-on face-load courtesy of Silver. Leaving Todd to sign off his debut performance with a splendid, mega-voltage explosion of his own, whilst getting his guts pummelled again by those unforgiving beads!