Summary:
If you like your sex on the vanilla side, then good for you. If, on the other hand, you enjoy action in the bedroom – and beyond! – that has a little bit more of a bite then you've definitely cum to the right place here. Here the emphasis is most definitely on boys and their toys, as a cavalcade of dirty fuckers try to hit their sexual high by means of some of the biggest dildos imaginable.
Milan Sharp, Jaxon Radoc, Xander Hollis and Kamyk Walker are just some of the unseemly characters who just love to push respectability to the very limits for a third time …

Beschreibung:
Wenn ihr auf Blümchensex steht, bitte schön. Wenn ihr aber auf Action im Schlafzimmer - und an anderen Örtlichkeiten! - steht, die etwas mehr Biss und Schmackes hat, dann aufgepasst: Hier liegt der Fokus eindeutig auf den Jungs und ihren Spielzeugen und eine ganze Kavallerie versauter Stecher zeigt gerne, wie Mann sich mit einigen der größten Dildos zu sexuellen Höhenflügen stimulieren kann! Milan Sharp, Jaxon Radoc, Xander Hollis und Kamyk Walker sind nur einige der anrüchigen Gesellen, die die Grenzen der Anständigkeit zum dritten Mal aufs Äußerste dehnen...

Compilation DVD - Six Scenes
Scene 1: Filthy Skaters Love Dildo Play, A Hard Fuck & Loads Of Hot Cum!
From: MaXXXed Out, Scene 1
Starring: Aaron Aurora, Marc Sage
Skaterboys just love to have fun - but for Aaron Aurora and Marc Sage it's never quite as simple as getting on your boards and wheeling down the street. For these two doe-eyed beauties just can't ever resist the demanding call of their sexual appetites, which in this particular instance leads them to break into an abandoned building so that they can suck and fuck to their hearts' content.
It's at this point that you'll probably become acutely aware of the difference in stature between these two lads - Sage being tall, lanky and at least a head's height above the somewhat petite Aurora. Don't worry though, folks, the said difference doesn't prevent Sage from being at just the right height when he falls down to his knees to give his cute pal's cock the sucking it rightly deserves. Or, indeed, to force an oversized dildo up Aurora's arse a little later on.
Cue the ultimate kink of seeing Aurora dildo-fucked whilst Sage mounts Aurora's dick cowboy-style and gives the ramrod a real hard ride; before the sex-toy is discarded and the pint-sized pup continues to fuck Sage from behind. Sage's reward? A full creamy facial of teen-jizz that'll push you right over the edge!
Scene 2: Double-Headed Dildo Fun Gets These Big-Dicked Boys Working Each Other's Assholes!
Cast: Milan Sharp, Chris Young
From: Army Initiation, Scene 1

Don't expect to be messed around with some lengthy prologue in this scene. The fact of the matter is that we're immediately thrown into the thick of the action when Chris Young discovers that his bunk-mate (Milan Sharp) is secretly working his ass with a massive dildo in the bed above him. Needless to report, Young - being the helpful chap that he is - is soon giving Sharp a helping hand, thrusting the sex-toy somewhat mercilessly into the youngster's hole for your personal pleasure.
It's a turn of events that we know you kinky bastards are really going to enjoy; and suffice it to say it isn't long before Young is slurping off the end of his pal's meaty ramrod as if to underline the enjoyment that both these boys are clearly having here. But the fun, as they say, is only just in its initial stage; and soon the lads are really upping the ante by simultaneously fucking each other with a double-headed dildo.
It's pervy, it's hot, and there's every fuckin' chance that you're gonna drop a load in response. Don't bust a nut too soon, though. Both these oversized boys are working themselves up for the kind of flip-flop fuck that they (and you) deserve, and, taking it in turns to bang away for glory, they're soon spunking great wads of jizz everywhere. Fabulous!
Scene 3: Hot Wax & Dildo Fun Proves This Young Innocent Is Anything But!
Cast: Drake Law, Neo Matthews
From: Doubled Up, Scene 2



With his fresh-faced, "innocent" smile and his lithe, delicate frame, who could possibly resist the charms of young Drake Law? Certainly not Neo Matthews, that's for fuckin' certain. Not that he's gonna be left unspoilt for very long once Matthews has had his way. Before you know it, the guy has tempted Law out of his jeans and is working the brightly coloured pair of briefs that he discovers underneath off the boy as well.
Needless to say, once Matthews has induced the removal of that final line of defence it's pretty much plain sailing for the horny top, who then proceeds to slurp on Law's neatly shaved cock almost like a being possessed. Mind, if Law thinks that Matthews is gonna now be content with just a bit of oral stimulation then he's in for a major surprise. Cue a rather kinky turn of events as Matthews proceeds to pour hot wax on the cutie's tight balls and to thrust an arguably oversized dildo up the boy's tight ass.
Any remaining sense that Law is a wide-eyed innocent by this stage has certainly been totally dispelled by this point; and indeed by the time that Matthews jerks a fine wad of jizz into the boy's face you'll be left with one conclusion - Law is a total slut!
Scene 4: Aussie Sex God, Jaxon Radoc, Toys With Skylar Blu's Hungry Little Ass-Hole!
From: More & More, Scene 1
Starring: Jaxon Radoc, Skylar Blu
With his near-legendary libido, it's no fucking wonder that Skylar Blu makes the most of every opportunity that comes his way to give his beautiful dick some much-needed solo attention; but the arrival of company, in the form of Aussie-boy, Jaxon Radoc, appears only to increase his burgeoning sexual desire all the more. Not that that should come as any great surprise, of course. Radoc is a spunky stud in every sense of the word, and takes full advantage of the fact that Blu is one of the ultimate sluts in the biz.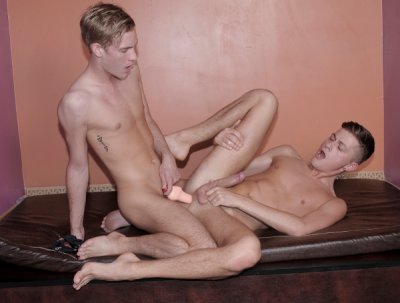 Within minutes he's tugging on the Brit lad's love-pole and rimming the guy's ass, which appears only to push Blu onto an even higher carnal plateau than before - if indeed that's possible! But given the level of bedroom experience that the fellow has had in recent years, it always takes a certain extra something to impress Blu. Fortunately for him, this truly spunktastic escapade sees him teamed up with a youngster who's more than capable of thinking outside the box and going the extra mile.
Cue the introduction of some rather unorthodox toy-play, during which Radoc gives his mate's pucker a real hard work out, including a double-penetration cock-and-dildo fuck! No soddin' wonder that Blu has such a broad grin on his face, as his pal from down under helps stretch his ass to a whole new level. The result, not at all surprisingly, is very, very gooey and sticky - exactly how our fans love it!
Scene 5: Twink Anal Explorations!
Cast: Milan Sharp, Xander Hollis
From: More, Scene 2

Deliciously romantic and sumptuously filmed, we join horny twink boys Milan Sharp and Xander Hollis as they share an intimate night in bed. Xander shows off some rather special moves as he works his friend's boner in some interesting deep-throat oral, but some more traditional positions allow for a great view as the boys lick and slurp on each other.
Xander's tight little butt is perfectly positioned as he straddles the slim frame of his lover, and with just a little manoeuvring Milan's lengthy raw tool is sliding up inside him for an exquisite ride that has the boy throwing his head back and stroking his own solid shaft! With a little rimming, Milan's twitching opening welcomes the throbbing inches of Xander's meat pole and he gets a deep thrusting from the boy in return, but their anal explorations have only just begun.
A rather large dildo is soon in play, stretching out Milan's smooth little butt as he gasps with pleasure. But the clear plug is what Xander really wants to try. With his hole open and a perfect view of his interior, Milan shows off his most private place for his lover to enjoy, and all that excitement soon takes both boys to the edge of cumming, unloading their delicious juices for each other in a mess of mutual cum facials!
Scene 6: Sam Kirby Gets Double Teamed & Creamed By Kurt & Kamyk!
Cast: Kamyk Walker, Kurt Maddox & Sam Kirby
From: Twink Extreme, Scene 3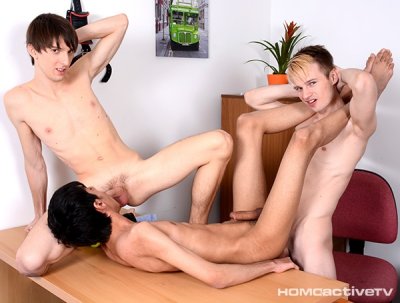 It's not often that we feature a Chihuahua in one of our scenes, but in fairness Connor Levi's pet enjoys only the briefest of film appearances. Truth is the poor thing comes a disappointing (though not surprising) second to Kamyk Walker's dick, which for the record is soon working its way down Sam Kirby's throat when the young British-Asian lad turns up for a job interview. By this point Levi has disappeared with his dog to the vets, but the fellow's understudy, Kurt Maddox, is more than capable of conducting all the necessary model checks - including the obligatory examination of Kirby's ass-hole by means of a collection of sex toys and dildos. Not that a couple of horny, professional whores like Walker and Maddox are going to be satisfied until they've got their cocks deep inside the visitor's rump, and needless to report it's no time at all before Kirby is laid prostrate across a desk with a hard knob poking him from either end. To his credit, the newbie takes every rampant inch that's fired his way with remarkable ease - an indication perhaps that this is a boy who's not quite as much of a novice as he'd have you believe. Certainly he gains the appreciation of his two interviewers, that's for sure; culminating in Walker spraying a fine load of jizz all over his face, before Maddox switches ends and does exactly the same. What the family at home would say if they could see him is anyone's guess, but Kirby leaves the room a much-used fellow, with a contented smile on his gooey face!
The Kinky Fuckers Series
Compilation Gay DVDs

Kinky Fuckers 1


Kinky Fuckers 2


Kinky Fuckers 3