Summary:
Pushing the limits a bit further, this brand new movie has some pretty young things in some serious situations. Forced hard bareback fucking and piss swallowing, bondage, mummification, waxing, foot fucking and more. Nasty, cruel, but oh so HOT!
Description / Review:
Scene.1: Mega-Sordid Sadistic Suck-&-Fuck Session!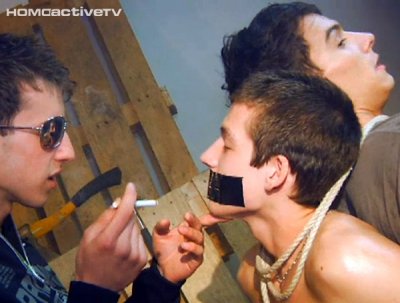 Is this the real life? Is this just fantasy? Excuses to Queen and their legendary Bohemian Rhapsody, but that's exactly what young blond, Ashton Gates, is wondering when he and his pal, Francisco Ruck, get taken to a bed-sit in the middle of nowheresville in the quest for gainful employment. Falling to sleep, Gates imagines that he and Ruck have fallen victim to a gang, who sell young guys to rich, perverted clients – a dream that immediately introduces us to the first mega-sordid suck and fuck session, where Hari Marple and Francisco Ruck play host to the sadistic whims of Chester Poole. Tied to their chairs, these young innocents are subjected to a seemingly endless tirade of humiliation and degradation – though given their excitable state it's difficult not to conclude that they're privately enjoying serving as their captor's sexual playthings. Ruck's position in proceedings is particularly unappealing – fucked by Poole against his will and then having his pretty face used as a cum-rag. Worse is to follow, however. The arrival of Alan Capier into proceedings sees him pissed on and foot-fucked with equal fiendish relish. He does, however, at least get the double pleasure of cumming directly into Capier's arsehole and then licking it all out.

Scene.2: From Hot Wax To Hot Piss, These Boys Just Love Humiliation!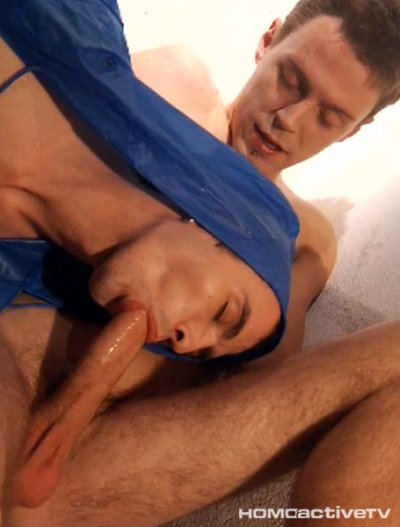 This isn't your ordinary sort of porn flick, so the appearance of Jon Reid carrying a lighted candle whilst dressed in a plastic shower cover and Lukas Brenkus wrapped from the neck downwards in cling film and with masking tape stuck over his mouth doesn't seem all that out of place. That said, it's a decidedly unfeeling character that doesn't show some degree of compassion for young Brenkus when Reid begins to drip hot wax onto his crotch, before forcing the unfortunate fellow to suck that thick, uncut shaft that he has nestling between his legs. Moments on and that same meaty monster is being forced into Brenkus's tight little pucker, forcing the excitable bottom against a wall in the process. Still, even if Brenkus isn't particularly enjoying the experience, the same cannot be said of Reid, who bangs away with gleeful relish before unburdening that heavy sack of his over Brenkus's leg. In this movie, however, everyone has to enjoy themselves, and the bottom's punishment for failing to do so is a terrific golden-shower courtesy of Rolando Wyer et al. Little wonder the cute little pup looks so thoroughly dejected by the time the end credits roll!

Scene.3: Young Innocent Victim Gets All His Tight Holes Filled Big Time!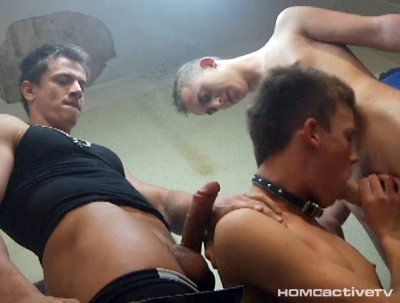 In a scene that's almost reminiscent of Eli Roth's controversial mainstream offering, Hostel, young Robin Snoyer discovers what it's like to be the unwilling plaything of Rolando Wyer and Noel Spencer. A brief (and somewhat surreal) session of knife-play will appeal to anyone who enjoys sex with a bit of bite; but it's not until Snoyer is being forced down onto Wyer's and Spencer's cocks that matters really start to gain momentum. Indeed, it's not long at all before Spencer is first rimming the young cutie's pucker and then thrusting his meaty, uncut cock inside, whilst Wyer savours the delights that having a young mouth wrapped around your knob-end can deliver. Not that a fellow of Wyer's calibre is gonna be satisfied with a blow-job, of course; and indeed it's no time at all before the two tops have switched places and Wyer's ass-crazy ramrod is balls-deep in Snoyer's hungry little ass! For someone who was initially so reluctant, however, Snoyer shows a remarkable degree of enthusiasm for the inevitable money-shots – taking young Spencer's load right between the eyes. That said, it's hard not to feel for the lad when he's subjected to the final humiliation of a golden shower – a fate that has a rampant inevitability about it in this flick!

Scene.4: Wanna Play, Boy? Young Lad Gets Tied Up & Tortured!

Cast: Julien Tomlinson, Alex Grander
Also available: Fuck 'Em Till it Hurts (2 DVD Compilation)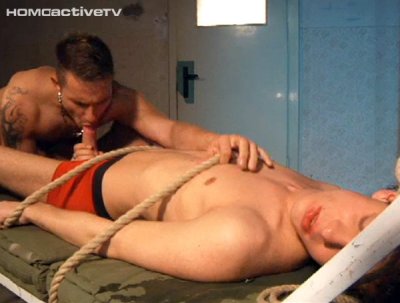 The nightmare continues, with young Julian Tomlinson now serving as the unwilling victim to the inglorious antics herein portrayed. Tied to a bed by Alex Grander, he is first forced to drink beer by means of a funnel; before finding Grander's thick, hard, uncut shaft rammed down his throat. The fact that he's supporting quite a boner in his pants, however, suggests that he has a somewhat secret appreciation of his treatment – a fact that's only underlined when his ropes are untied and he clearly makes no effort to escape. Indeed, the only thing on this boy's mind is how he's gonna get that sweet little ass of his filled to the max. Fortunately for him, that's not a particularly difficult thing to get accomplished in this madhouse, and before he has time to consider his prospects he's got his legs strapped up to the bed's headboard and his hungry little pucker fully exposed. Now nothing stands in the way of his rump and the fucking of a lifetime courtesy of Grander – and needless to say that's exactly what the tight, virgin hole promptly experiences! Being forced into something you don't want to do has never looked so fucking appealing ...

Scene 5: The Nightmare Ends – But The Piss & Spunk (Not To Mention The Pain!) Just Keeps On Cumming …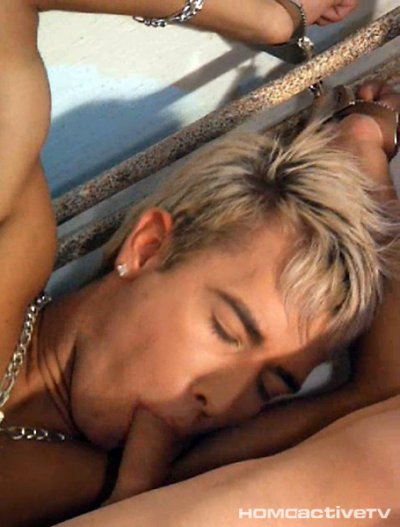 At last, the moment we've all been waiting for. After all, the whole mystery of this film is that we're not exactly sure whether what we're seeing is fantasy or reality, and whether what Ashton Gates is witnessing is actually happening or if the young blond sex-muffin is suffering from some sort of mental collapse. Before the final revelation, however, comes the young man's moment of personal torment – courtesy of Mike Nolden, who discovers Gates tied up in the basement of the hostel and who quickly decides to take full advantage of the lad's vulnerability. Rather than organising a rescue, Nolden is soon stuffing his thick, uncut ramrod down Gates' throat – though not before he's keened the boy's senses up somewhat by dripping hot wax onto his young, smooth body. Nolden, it seems, is keen to use and abuse his discovery, and won't be satisfied until he's got Gates' hard-on banging away at his guts – an ambition that he accomplishes with surprising ease considering that Gates is supposed to be an unwilling accomplice in events. But that, of course, is all part of the movie's ambiguity, with Gates ending the encounter with a face-load of jizz and piss and a grin that you'd usually associate with the Cheshire cat! A sight that'll get you jerking off like crazy for sure, and which leads effortlessly to that promised revelation and the final twist in the tale …
Additional Information
Categories: UK R18 / XXX Gay Adult, Download Gay DVDs
Running Time: 110 mins, Year: 2011
Price: Around £26*
Starring: Lukas Brenkus, Alan Capier, Ashton Gates, Hari Marple, Mike Nolden, Chester Poole, Jon Reid, Francisco Ruck, Robin Snoyer, Noel Spencer, Julian Tomlinson, Rolando Wyer, Paul Yoon
Director: Vlado Iresch
Studio: Abused
Buy DVDs online at: Homoactive and Simply-Adult and RadVideo (USA)
Download Abused (Staxus) titles at: Homoactive (UK / EU) and RadVideo (USA)
Downloads & online Streaming: Abused, See also: www.gaydvds.tv
Member Site: Staxus.com
Country: Czech Republic, Language: Czech with english subtitles
Additional info: No Regional Coding