Summary:
Following the balls-bustin' success of ABDUCTED & DEGRADED, you dirty-minded bastards had only one demand: a sequel!
And this is it – another mind-blowing session of pissing, fisting, torture, double-penetration and pretty much every other depravity you can dream of. Those boys from Prague sure weren't happy – as you'll see from the agony of their faces – but we know you vanilla-haters won't give a fuck, as red-raw arses and splattered faces once again become very much the order of the day!
Scene 1: Horny Officers Give Youngster A Piss & Spit-Roast Cock & Fist Fuck!
Also available: Piss Takers (2 DVD Compilation)
Hold onto your hats, boys – not to mention your cocks! – it's gonna be a bumpy ride! Indeed, from the very moment this scene opens, with Alan Capier being dragged kicking and screaming to the "playroom" of Andy Toll and Chris Bolton, you just know that this is a film with added bite. Vanilla lovers, be warned – from the very moment that Capier is left hanging by his feet and forced to suck the two hard dicks that are thrust into his face, there's not a hint of moderation to be seen. Both Toll and Bolton – here acting out the roles of police-officers – throw themselves wholeheartedly into their roles, taking fiendish pleasure of pissing all over Capier's face and arse-hole, before systematically spit-roasting the poor unfortunate with their thick, uncut skewers! Little wonder that Capier should look so disorientated and dishevelled – though he does manage to take a mouthful and ass-load of cum with meritable gusto. He also takes a fist up his guts like a maestro to conclude the scene's antics. In short, a definite must-see for those who like their porn to be devilishly wild and without reservation.
Scene 2: Sweet & Innocent? Not For Fuckin' Long, As Bigdog Marks His Raw Scent!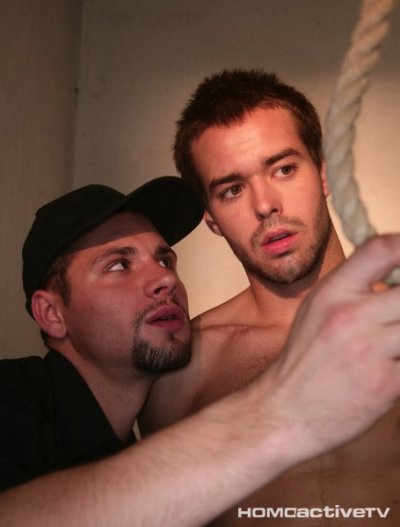 superb bit of casting teams young Todd Reid – whose sweet vulnerability always seems to ooze from the screen – with top-notch top-man, Luis Bigdog. Of course, the fact that the scene begins with Reid tied to a chair and confronted by a hangman's noose only serves to underscore the youngster's sensitivity; though Bigdog appears to show little (if any) reticence when it comes to taking full advantage of the situation. Before you know it, it's police brutality all the way as Bigdog forces Reid down onto his meaty, oversized butt-picker; then teases the youngster's butt-hole with fresh piss and a baton. Of course, anyone with a smitten of good sense knows that Bigdog's only biding his time before he thrusts that monstrous shaft of his deep inside Reid's coy little hole, and it isn't long before the officer is fingering that said tight slit in preparation of the hard-nosed fucking to come! Given that Reid is handcuffed and laid prostrate across a chair, he doesn't really have much choice – but it's hard not to note the young lad's eager response, as he takes every inch of Bigdog's shaft and (ultimately) savours a mouthful of jizz for his efforts!
Scene 3: It's A Lesson In Thuggery All The Way As Police Officer Fucks Youth Raw!
Cast: Caleb Moreton, Jim Austin
Also available: Wider and Wider (2 DVD compilation)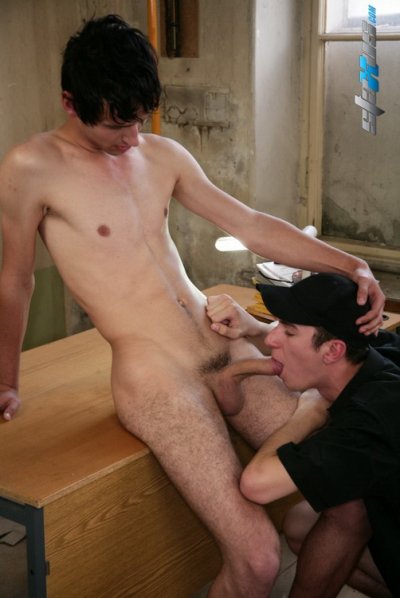 For some, the thought of police abuse is a complete anathema. Assuming you're not amongst that number – at least in terms of your fantasies – then the following scene is all set to float your boat big time! Caleb Moreton is the offending officer in question, who clearly loves nothing better than to spend his time torturing unwilling inmates such as Jim Austin – a dark haired, well-hung youth whose only crime is to find himself in the wrong place at the wrong time. All that said, Austin's not an altogether unwilling victim once he's been released from his state of bondage – indeed, he's clearly only too eager to allow Moreton the opportunity to examine his tight little ass at close quarters. Officer Moreton for his part is soon fingering that tight horny pucker with undeniable relish – preparing that hungry hole for that thick role of man-meat he has hanging between his thighs. Minutes on, and Moreton's shaft is exactly where it was born to be – balls-deep inside Austin's pooper, banging away raw for all that it's worth! What follows is the kind of brutal, sweaty coupling you'd expect, signed off by a stunning facial that leaves Austin's face dripping with oodles of jizz!
Scene 4: Two Prisoners Get Forced To Suck & Fuck In The Name Of The Law!
Cast: Logan Boxley, Mark Godlin, Chris Bolton
Also available: Wider and Wider (2 DVD compilation)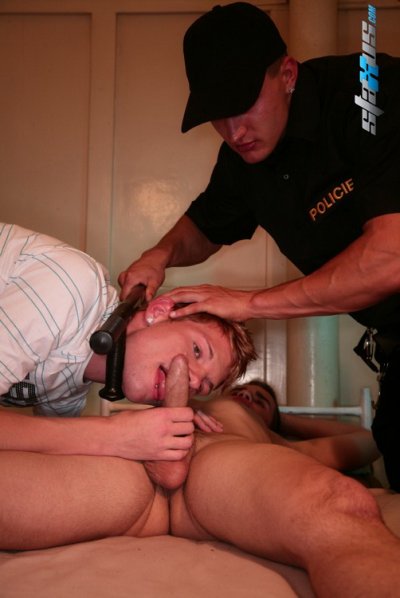 More police brutality ensues now, with Chris Bolton bundling young strawberry-blond Nick Kelson into a cell with dark, cropped-haired Mark Godin. What the human rights lawyers would say is anyone's guess, but prisoner dignity is the last thing on Bolton's mind as he promptly demands that Kelson start sucking on Godin's dick, then thrusts his own beefy member into Godin's mouth. That, of course, is only for starters, however. A few minutes on and Kelson is taking the full length of a thick rubber dildo up his ass – courtesy of his fellow prisoner – whilst Bolton spanks the youngster's rump so hard that it actually leaves a red hand-print on the flesh! A hard-nosed, raw spit-roasting is now very firmly on the cards, as Godin takes full advantage of Kelson's hungry little hole and thrusts that meaty shaft of his deep inside. If anything, however, it's Bolton who has the thicker shaft, and bearing in mind that this is one police officer who won't be satisfied until his balls are bouncing off the youngster's butt, it comes as no surprise when Godin is pushed right out of the way so that Bolton can fuck the living daylights out of the boy. Needless to report, it's a jizz-fest all the way as all three guys daub the scene's conclusion with a cascade of hot spunk!
Scene 5: Young Trafficker Receives Piss 'N' Cum Punishment For His Crimes!
Also available: Fuck 'Em Till it Hurts (2 DVD Compilation)
Concealing drugs up your arse is not something that we would ever recommend – and yet it's a common technique for those in the illegal narcotics trade, as young Nick Deniels demonstrates when two hard-nosed police-officers (Jack Blue and Denis Reed) provide the fellow with a very physical examination whilst in detention. Not surprisingly, they take clear exception to what they find in that tight little crack – immediately punishing the lad with a fine spray of warm piss. That, however, is just for starters. Before Deniels really knows what's happening, he's got a cock being thrust down his throat and a fistful of fingers working their way up his ass! Little wonder that he struggles on his ropes, especially when another load of fresh piss gets sprayed over his face!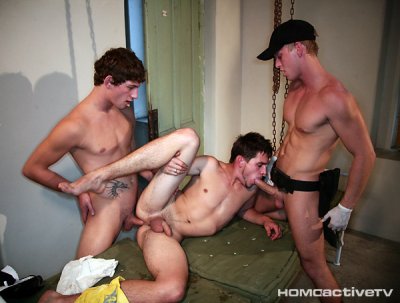 This is one punishment, however, that he's never gonna escape; and it's with a distinct air of inevitability that he's soon being firmly spit-roasted by the two officers. The highlight of the scene, however, comes when Reed and Blue decide to give the youngster the stretching of his life, forcing their thick, manly cocks into his hole at the same time for a wanton display of double-fucking that'll stay long in the memory! Whether he eventually tells the grand-kids about the day he got his face with streams of hot, sticky spunk, however, is anyone's bet!
Scene 6: Caleb Moreton's Monster Cock Gives Up Another Sticky Load Of Hot Jizz!
When you've got a cock that needs its own zip-code, it's perhaps only right and fitting that it gets its own scene from time to time – in this instance acting as a short but superb finale to the earlier antics, as mega-hung Caleb Moreton takes time out from his usual police duties to enjoy a deeply satisfying two-handed wank! It's definitely more than enough to keep even the hardiest size-queen more than satisfied, as Moreton works the entire length of that beefy shaft of his with his usual enthusiasm. Needless to say it's no time at all before the lad's tight little jap's-eye is erupting with a fine show of thick, creamy jizz – a must-see for all of you out there who love to see tasty, uncut shafts yielding the contents of a horny, young man's balls!