Summary:
Just because someone's wearing a uniform doesn't always necessary mean that they motives are not disingenuous, as hot newbie, Anah Amory, discovers from the off in this distinctly noir take on the gay cop genre. Indeed, expect a rough ride from these horny officers – not to mention the odd perverse twist – as the cops battle hard cock and full balls for a top-notch uniformed escapade that'll leave your own truncheon distinctly well used! Rudy Stone, Johnathan Strake and a welcome return from STAXUS favourite, Alessandro Katz, make this the kind of dick-laden, spunk-sodden investigation you will never, ever forget!
Scene 1: Cute Twink Gets Served Up For A Brutal, Ass-Splitting Fuck-Fest!
Starring: Johnathan Strake, Rudy Stone
If STAXUS did courier service deliveries, the result would almost certainly be SexFed – a very specialist door-to-door service that ships hot young twinks out to horned-up customers who have a craving for a real-life sexual plaything. It's pure anarchic fantasy, of course, brought to life brilliantly here by kinky doctor, Ezra Gibson, who tells the tale of Rudy Stone taking delivery of a drop-shipment containing none other than the delicious Johnathan Strake. Unwilling to allow the precious cargo to provide the client with any disruptive behaviour on arrival, the medic thoughtfully ensures his client's optimum satisfaction by delivering the goods bound and gagged – something that Stone takes full advantage of, immediately bundling the twink over the wooden casing so that he can take aim at Strake's unprotected arse.
Indeed, it's barely more than just a few moments before the happy customer is burying his dick deep into the young twink's guts – the sticky tape over Strake's mouth ensuring that any vocal disruption is kept to a minimum. As it turns out, however, the delightful bundle of twink pleasure proves to be far more receptive to Stone's attentions than you might think; for having finally had his gag and straightjacket removed, Strake quickly busies himself to the task of feasting on the stud's delicious ramrod, gobbling on cock like it's his life's only purpose. Still not content, the lad promptly bounds onto Stone's shaft and rides it with his ass like a full-time bitch; blasting a heavy wad of spunk in the process, before allowing his pal to whitewash his cherubic face!
Scene 2: Hooded Cops Give Horny Twink A Hot Spit-Roast & A Jizzy Facial!
Cast: Alessandro Katz, Anah Amory & Rudy Stone
We're not exactly sure what felony new boy, Anah Amory, has committed at the start of this splendid escapade to warrant the arrival of a couple of balaclava-donning police officers – namely Rudy Stone and Alessandro Katz – but the two cops sure as fuck soon lay down the law in typical STAXUS fashion; pouncing on the lad and promptly taking it in turns to feast on the fresh dick that they find between his legs. Of course, you might also be wondering at this early stage of proceedings as to what on earth a bed is doing stuck outdoors – it's not your usual location for such things, after all.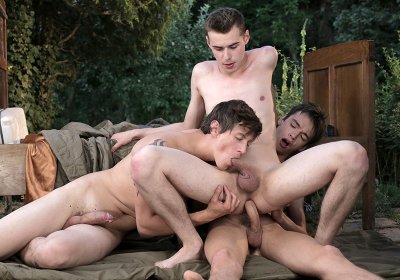 But chances are such musings will be short-lived, as our two stalwarts take full advantage of the situation to violate the young newbie's petite, hairless body – slurping on his dick, rimming his cute arse-hole and (within less than ten minutes) finally popping his cherry courtesy of Stone's achingly hot ramrod! Indeed, by the time Amory is being fabulously spit-roasted by his two horned-up mates there's every good chance that you'll have completely forgotten about the absurdity of the situation and will be busy tugging away on your dick with all your might! Don't bust a nut prematurely, however.
With Stone and Katz now in full spate, Amory's about to be buggered to high heaven – much to his obvious delight! Cue a stupendously hot bollock-slitting set-piece that sees the young lad skewered in a succession of positions; before Katz and Stone seal the deal by creaming his face. All nicely topped off by Amory returning the favour so that the two officers can snowball his spunk!
Scene 3: Kinky Doc Feels The Arm Of The Law In Extreme Anal Assault!
Cast: Ezra Gibson, Greg Noll
Rogue medic, Ezra Gibson, is all set to get a taste of his own medicine – and we have a sneaking suspicion you're gonna love it. Big time! It all starts when a very handsome police officer – Greg Noll – arrives at the doctor's clinic carrying Johnathan Strake's straightjacket; at which point Gibson quickly realises that his somewhat questionable antics have been rumbled and that he's in for a long, hard, probing interview courtesy of the local constabulary. Exactly how intrusive remains yet to be seen, of course; but the way that the cop promptly handcuffs the chap and pushes him over his desk gives the game away all too quickly.
Fact is, Gibson's in for a very hard ride indeed; and having had a sock pushed into his mouth to prevent him from making any noise, Noll pops out his dick and immediately thrusts it into his interviewee's raw arse. Foreplay is very much out of the question, it seems; but not content with fucking Gibson up the arse with his dick, the officer then decides to use a rubber truncheon to give the doc's hole a further stretching. How Gibson takes so much of the thick, black rod is anyone's guess, but it sure as fuck seems to send him into a frenzied rapture of excitement – gobbling away at Noll's knob at the first opportunity, licking the officer's boots and then finally reversing his pucker back onto Noll's oversized ramrod! It's a hot, kinky, no-holds-barred display, which is topped only by the sight of the lad then bouncing up and down on the cop's lap; before spewing mid-fuck like a geyser, and leaving Noll to coat his arse-hole with a wad of jizz!
Scene 4: Hot Fornication Meets Gay Noir In A Jizzy, Flip-Flopping Climax!
Cast: Charlie Keller, Connor Rex
There's no denying the distinctly dark side to this topsy-turvy escapade starring Icelandic cop, Charlie Keller, and Czech homeboy, Connor Rex – the latter's somewhat unexpected demise midway through the scene serving as testimony to the fact that this is not your typical, everyday STAXUS offering. That rather surprising revelation may leave you wondering how the remainder of the action pans out, of course; but suffice it to say that this is a very arty and thoughtful presentation, which flits back and forth in time and possibly requires almost as much cerebral as carnal analysis.
All the same, there's no denying that the pairing of Rex as a troubled youngster and Keller as an equally troubled police officer proves a heady, cock-swelling mix; right from the moment that the cop discovers his muse hiding away in a country barn, where he promptly takes full advantage of the situation to first rim the lad's arse and then bugger the hole with his truncheon and dick!
All of which inexorably leads to a complete twist in the action come the second half of the performance, with Rex now gagged and restrained in a straightjacket; whilst Keller mounts the lad's cock cowboy-style and proceeds to ride that deliciously appetising pole for all he's worth. Finally free, Rex then takes the officer from behind – banging the fellow's ass with such sweet ferocity that Keller quickly finds himself unable to hold back from a sticky cum-storm! Clearly not wishing to be outdone, Rex responds with his own crazy climax; spraying Keller's hole with goo, then dipping his dick for good measure!
Themes: Blond Twinks, Dark haired, Gay Twinks (18+), Jockstrap, Police Gay Sex, Policemen, Twink Abuse, Twink Bareback, Twink Flip Flop, Twink Rimming, Uncut Twinks, Uniforms