Summary:
Some young guys will go to any lengths for a taste of sexual pleasure, from bondage and spanking to being treated like a bitch for someone else's sick sexual fantasy. What's more, these well-hung boys will do it all bareback! If vanilla's your flavour then look elsewhere; but if the sight of cute twinks getting a mega-hard pounding from the big, uncut cocks of aggressive tops is your kind of action then you've definitely cum to the right place for a top-notch wank!
Scene 1: Cellar-Bound Fun For A Blond Twink Means All Manner Of Abuse!
Cast: Micky Di Carlo, Nick Kelson
Also available: Wider and Wider (2 DVD compilation)
Down in the cellar, tattooed hunk, Micky di Carlo, wants to play with his new toy – namely young blond twink, Nick Kelson. Being a sensible guy, of course, he's taken every precaution to ensure that the youngster doesn't get cold feet when it comes to the fun and games, strapping the lad up with ropes before thrusting his thick, veiny shaft into the youngster's mouth. To his credit, Kelson displays little sign of being an unwilling party in proceedings; indeed it's hard not to glimpse a twinkle of anticipation in the boy's eyes when Carlo pulls out a big black dildo and begins to thrust it deep into the hungry bottom's ass. And where a big black dildo goes, a rampant dick is sure to follow!
Cue a fabulous session of hardcore fornication, which sees Kelson reamed from behind like a common whore before taking a ride up and down on Carlo's lap. It's the kind of action that's almost bound to produce a terrific blast of pent-up cum from pretty much anyone – and Kelson doesn't disappoint, spewing out the contents of his balls whilst that meaty rod of Carlo's continues to pound his arse. Only to be topped off by Carlo himself blasting a generous load of jizz over the cute blond's face!
Scene 2: Down At The Gym, A Young Cute Bitch Gets The Bang Of His Life!
Cast: Chris Young, Jim Falk
We're not exactly sure how the arrangement came about but young Chris Young primary reason for going to the gym isn't so that he can get toned but so that he can act out the role of Jim Falk's bitch – a position that clearly appeals given the boner that he has sprouting from his crotch whilst his hands are cuffed together. What's more, Falk clearly enjoys the arrangement, taking the first opportunity available to sink his knob into Young's hungry mouth to enjoy an ardent session of face-fucking.
Nevertheless, when it comes to oral pleasures it's very much Young that appears to be the expert, deep-throating his mate's dick right up to the fuzz and looking every inch the desperate slut he clearly is. As such, it's no real surprise when Falk bundles the beauty over the weight-machine and thrusts his raw cock into Young's tight ass-hole, sparking a stupendous session of hard, unbridled man-to-man action that culminates in the young bottom erupting all over his own belly and then allowing Falk to download a healthy deposit of jizz into his open mouth. Clearly this is one young bitch who doesn't mind being taken for a ride and who has the sticky lips to prove it!
Scene 3: Football Fantasy Sees A Dirty Little Cunt Get Spanked & Fucked!
Cast: Marty Love, Damian Driek
It's just a wild fantasy – but believe us, Damian Driek's footballing daydream is exactly the kind of perverse sport that you dirty wankers are gonna enjoy big time! Marty Love is the leather-bound, cropped haired, paddle-wielding brute who pulls Driek from out of the shower for a wanton, uncontrolled session of arse-spanking, ass-banging abuse – and, what's more, Driek clearly loves every dirty, filthy moment of action! Beginning with him slurping on Love's handsome cock and balls, before the two lads couple up for a magnificent episode of 69-ing that'll have you jerking on your own meat like some miscreant youth!
What really excites, however, is the knowledge that Driek will soon be taking every inch of Love's hard dipstick deep inside his hungry crack – and loving it! And so it proves, with the youngster parting his legs for an unbridled course of bareback frolics and (ultimately) dumping a fine spray of jizz from his neatly shaved cock in the process. It's difficult to deny, however, that it's Love who eventually produces the classier money-shot, rupturing his nads into Driek's pucker and leaving the young bottom with a self-satisfied smile on his lips!
Scene 4: Hot, Horny Soldier Forces A Blond Pretty Boy Into A Raw Fuck!
Cast: Nick Kelson, Angel Dee
Okay, this scene involves a bottle-blond twink, namely Nick Kelson, a horny sod in uniform by the name of Angel Dee, and a whole bundle of sexual energy that's pretty much impossible to ignore. In short, it's just the kind of unmitigated filth that we know you're just gonna love and which will seriously threaten to wear away the rewind button on your remote. It's difficult to overlook the gusto with which Dee enters the fray, describing Kelson's inviting arse-hole as "amazing" and whipping out his fat, uncut cock in appreciation.
Fact is, the young soldier just can't wait to get balls-deep into the inviting hole, and it's little surprise that Kelson is soon skewered onto Dee's knob and writhing around in a cacophony of pleasure. No doubt about it, this is a pounding that the bottom won't forget in a hurry, as he's taken from every angle by the officer's raw dick and left quite literally gasping for breath. It's horny, near-desperate stuff and it's no great wonder that Kelson is soon rupturing big-style! Nevertheless, it's the sight of Dee firing his unsheathed weapon all over the twink's pretty face that ultimately serves as the magnificent showpiece ending.
Scene 5: Anatomy Lesson Fun Results In A Spunk-Soaked, Filthy Foursome!
Cast: Mike Cage, Nick Gill, Chad Rusler, Russel Mellon
We're not exactly sure if Biology lessons are really like this in the Czech Republic, but if they are then we reckon there's gonna be a huge demand inthe gay community for the Russel Mellon school of anatomy. After all, this is one teacher who believes wholeheartedly in hands-on (not to mention mouths-on!) study, and who encourages his students to study the male anatomy at very close quarters. Suffice it to say that Mike Cage, Nick Gill and Chad Rusler show little reluctance in engaging in his style of tuition, stripping off at the very first opportunity and promptly engaging in a hardcore, condom-free suck and fuck session that'll no doubt get all the boys involved a much-warranted A Grade!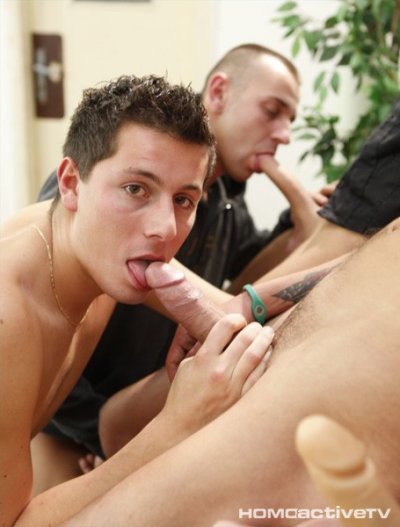 Arguably the highlight is a centipede-style fuckathon between three of the lads; but the use of a thick, black dildo and a double-headed sex toy add an additional spark to proceedings. Of course, given the amount of testosterone on show here it's really no wonder that this is one lesson that ends with a veritable cascade of spunk, some very sticky faces and four pairs of very empty balls! Suffice it to say by the time it's a wrap there isn't a dry eye left in the school!