Summary:
We live in sedentary world – thanks to all the labour-saving devices that we've filled our homes and work-places with – so it's always good to find time to grab a little exercise to keep us fit. A philosophy that this collection of horned-up buddies are only too willing to follow to the letter. But having worked out in the gym, played a game of footie or even wrestled down with their mates, the likes of Kris Blent, Johnathan Strake and Orlando White never forget that their favourite exercise involves countless quantities of hard cock squirting copious amounts of hot goo! It's a workout routine like no other – and one you'll unquestionably appreciate in this second show of high octane sporting prowess!
Scene 1: Post-Match Blues Get Banged Away As Paul Walker Gives His Mate's Ass A Locker Room Workout!
Cast: Paul Walker and Jake Kelvin
From: Penalty Shootout, Scene 2
Let's face it folks, who wouldn't feel a bit overawed by finding themselves alone in a locker-room with the one and only Paul Walker? Well, that's certainly the impression that Jake Kelvin gives when the two of them return from action on the pitch – and it doesn't take many seconds for the ever-assured Walker to take full advantage of the situation. Clearly sensing that he's set for another easy fuck, the young stallion's got Kelvin down on the floor in order to pay homage to that meaty, cut knob of his – and believe us, any initial awkwardness is promptly dismissed as Kelvin savours every rampant inch that his fuck-buddy can thrust in his direction.
Not that a fellow of Walker's disposition is ever gonna be content with a mere blowjob, mind – no matter how enthusiastic it might be! No, what this stud wants is a taste of that tight little asshole that he knows is nestled between Kelvin's butts; and needless to say it's no time at all before that's exactly what the fellow is enjoying!
The pleasure's not all one-way traffic, however. Kelvin responds with understandable relish at having eight inches of dick pushed into his guts; and, having bounced up and down on Walker's pogo-stick, accommodates the oversized shaft from behind like a long-term pro! It's enough to bring out the animal in anyone – and Walker responds accordingly, banging away with typical verve and energy. Suffice it to say it's not long before both lads are ready to hit the back of the net, producing a veritable cascade of jizz that leaves both cocks well-drained and satisfied. Just like yours, no doubt!
Scene 2: Hot, Sweaty Wrestling Session Results In A Hot, Sweaty Suck & Fuck Session!
Cast: Connor Levi, Orlando White
From: Pin Down, Scene 3
The ancient sport of wrestling has always seemed a little homoerotic, what with its links to the ancient Greeks and all the close bodily contact that is such an integral part of the contest. But the arrival of its latest participants, Orlando White and Connor Levi, takes the activity to a whole new level. Levi is the classic blond twink, whose love of hard cock makes him the perfect foil to White's raw masculinity; whilst White himself is as fucking gorgeous as ever.
Indeed, it seems only right and proper that the contest between the two lads sees White prove victorious on the fight-mat; before Levi gets on his knees and gives his pal's closely shaved dick a tight-lipped blow-job as if to pay homage to White's physical superiority. And that sense of dominance continues as the young twink proceeds to take every hard inch on offer up his hungry little butt-hole; culminating in the top spewing the generous contents of his nads across Levi's tongue and face.
It's brutal, uncompromising and – let's be honest here – totally unmissable; and by the time that these two beauties have finished their rutting we've absolutely no doubt in our minds that you'll have jerked out a couple of loads at least. Sex in and out of Lycra has never looked so appealing!
Scene 3: Young Czech Twink Gets A Right Dutch Buggering & Hot Facial!
Cast: Jacob Waterhouse, Kris Blent
From: Biker Boyz, Scene 2
Being a proud Dutchman, Kris Blent's cycling skills are second to none. Being one of the horniest gay guys on the planet his boy-craving skills are equally well-defined – as becomes apparent here (once again!) when he returns home after a bike ride in the country to find Jacob Waterhouse patiently sat awaiting attention. Something Blent gives him big time! Indeed, these two buddies are soon gyrating against each other, kissing and fondling like a couple of whores; before Waterhouse finally falls to his knees and starts to feast on his mate's big, uncut schlong!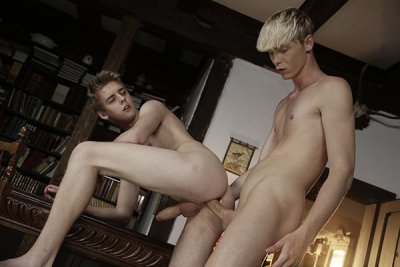 It's a somewhat understandably lengthy show of appreciation, that's for sure – and it leaves the boy from the Low Countries with a particularly keen appetite for dick even for him. As a result he's soon slurping on his mate's ramrod and rimming and fingering his arse; before the temptation just gets way too much and he finally forces his aching shaft deep into Waterhouse's pucker. It's a move that certainly seems to press all the right buttons as far as this very horned-up bottom is concerned, with Waterhouse riding dick in a whole series of positions – and clearly loving every fucking minute of it!
So much so, in fact, that he's soon reached the point of no return, squirting a very handsome wad of pent-up jizz all over his own firm, toned belly. That's more than enough to get Blent teetering on the edge – at which point he promptly towers above his pal, then jerks out a tremendous volley of pure Dutch ball-brew over Waterhouse's face! A lingering, snowballed smooch finally serves as the wrap to this classic!
Scene 4: Horny Greased-Up Buddies Wrestle Down To A Full-On Raw Fuck!
Cast: Florian Mraz, Joshua Levy
From: Oil Up 2, Scene 3
We're not totally convinced that the opening action is quite as dramatic as the music suggests, but there's certainly no denying that watching Joshua Levy and Florian Mraz as they play-wrestle together is a homoerotic dream-cum-true. Beginning outdoors, before heading for an indoor romp, these two greased-up beauties put in their very all as they slip and slide around the screen; until in the end, exhausted from their tussling, they collapse into an exhausted heap on the floor. It's at this point that you could very easily be left wondering whether either of these buddies actually now has the energy to lead the action to a more sexualised state; but we've a sneaking suspicion that both these lads are of an age and disposition to always pull a top-notch fuck-fest out of nowhere, and so it proves!
Indeed, it's no time at all before both fellows are rubbing their badly swollen dicks against each other – which is a treat in itself, of course, but which only seems all the more intense with the additional factor of body oil. Not that either of these boys – or, for that matter, any of us fans! – are ever going to be the content with frottage. So it comes as something as a relief to everybody concerned when Levy finally breaches Mraz's last remaining barrier and slips his gorgeously oversized shaft deep inside his pal's hungry little ass-hole. Needless to say the ensuing fuck is a pure pleasure to behold, with Mraz characteristically enjoying every inch on offer. Little wonder that the young slut is soon squirting energetically mid-fuck; before Levy calls it a day by creaming his red raw hole!
Scene 5: A Raw Session Of Hard Cock Makes Keeping Fit Look A Fuckin' Doddle!
Cast: Kurt Maddox, John Steel
From: Twin Takeover, Scene 1
Some experiences are totally universal, no matter where you go in the world. Falling in love, feeling the sun on your face, spending time with a good friend ... and encountering hot, sexy guys in your local gym! In this instance, skinny young fellows who don't seem to carry so much as an ounce of excess flesh on their bodies.
John Steel and Kurt Maddox are the two chaps in question – a pair of sex-starved Hungarians, whose time together in the locker-room very quickly becomes the perfect opportunity for some sordid, hardcore antics. If you like your guys to be muscular and toned then prepare to be disappointed. Steel and Maddox are most definitely on the leaner side of slim, which if anything only appears to make their handsomely proportioned dicks look all the bigger!
What's more, they both seem to know exactly what to do with those said ramrods, both of which are nicely shaved and deliciously swollen. As a result, the pair engage in the kind of fabulous flip-flop fuck that ought to be made a compulsory part of the sporting curriculum; culminating in a very sticky, spunky crescendo that leaves both fellows totally drained in every sense. Getting to know your team-mates has rarely (if indeed ever) looked quite so appealing!
Scene 6: Horny Gym Bunnies Hop Off Home For A Hot, Jizzy Suck & Fuck!
Cast: Johnathan Strake, Noah Matous
From: Bareback Gym Buddies 2, Scene 4
Outdoor gyms are all the rage these days – and provide the perfect means for those who can't afford their own personal gym equipment to keep fit. Indeed, for young lads like Johnathan Strake and Noah Matous they're a positive God-send; although in fairness it's not long before these two beauties have decided to abandon their more orthodox fitness routine for something a little kinkier. So it is that they head back to their apartment, whereupon they engage in a little bit of destressing – courtesy of some clearly much-needed foot-massaging.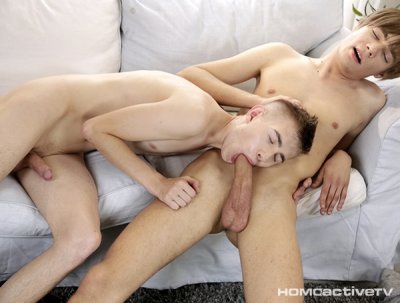 It's not long, however, before other parts of their bodies are screaming out for the same kind of attention – as Strake discovers when his hand reaches down into Matous's crotch! At which point Matous promptly retaliates by diving down onto his buddy's now clearly straining cockhead; signalling the start of a tremendous session of fellatio from both lads, which ultimately results in Matous rigorously rimming and fingering Strake's hungry little arsehole.
It's obvious by this stage in proceedings, of course, that it's not just Matous's finger that's going to be giving his mate's fuck-hole the once-over; and before long Strake is impaled on that ever-insatiable cock and feeling Matous's over-ripe balls eagerly slapping against his butt-cheeks! It's a turn of events that the hyped-up bottom clearly enjoys given the energetic manner with which he then proceeds to ride his pal's dick like a total whore; culminating in him jerking out a generous load of jizz, before sucking the jizz out of Matous's hairless shaft to secure his share of cash!