Summary:
Not everyone's happy enjoying one cock at a time. Some lads just aren't content unless they've got two big, aching shafts pounding away at them – one at each end of their bodies! And it's these kind of horny, dick-crazed sluts that we celebrate once again in this third instalment of spit-roasting madness. Fresh-faced twinks like Kevin Ateah, Alessandro Katz and Tim Law, who just love getting stuffed like pigs courtesy of their mates's meaty dicks – and who always get rewarded with rich lashings of hot, sticky spunk!!
Compilation DVD - 6 Scenes
This title represent great value for money given the amount of quality content and running time. However, to ensure you don't waste money buying the same content twice, this compilation features scenes from the following titles:-
Scene 1: Horny Students Get Joined By Their Mate For A Hot Spit-Roast!
Cast: James Wilson, Kevin Ateah, Rudy Valentino
From: Valentino's Valentines, Scene 4
Filling the time between lessons at college can be an arduous task - there's really only so much hanging around and smoking that you can do! - but James Wilson and Kevin Ateah seem to have the solution. Slinking off from Rudy Valentino, they find a quiet room to enjoy a little intimate fun, which in this instance involves (unsurprisingly) a great deal of nipple play and cock sucking.
Still, with dicks like those between their legs, not to mention ferocious libidos, such antics are no great wonder. Before you know it these lads are stark-bollock naked and 69-ing each other like a pair of hyper-sexed dingos on heat! A turn of events captured beautifully on camera for us all to enjoy to the max. What's more, it's not long before Ateah is riding back and forth on the full length of Wilson's shaft, having his ass stretched to breaking point in the process. How could this scene possibly get any hotter?
Well, re-introduce Valentino into the proceedings for a daisy-chain threesome and the temperature rises even higher - reaching boiling point when Wilson cums in Ateah's ass and Valentino uses the jizz as lube to get himself off. No wonder Ateah spurts cum like a fuckin' geyser!
Scene 2: Three Cock-Crazy Firemen Hose-Down With A Torrent Of Spunk!
Cast: Johny Cherry, Jeffrey Lloyd, Chad Johnstone
From: Fire Me Up, Scene 3
If you're wondering what Chad Johnstone is doing in the shower with his pants on - and you won't be alone! - be assured that it's just his way of washing both himself and his clothes at the same time. It's probably not the most logical explanation, if truth be known; but it's the one that he gives his mate, Johny Cherry, who (not surprisingly) is clearly unimpressed and very quickly responds by getting down on his knees in order to remove the offending item! At which point Johnstone's handsome, uncut member bobs into view - signalling the start of a terrific oral session.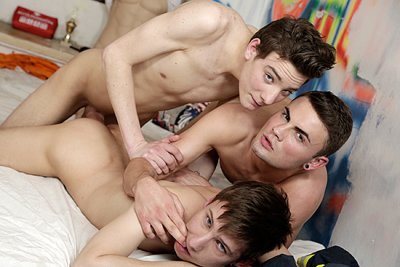 But all this, of course, is but a foretaste of the real action to come; featuring the introduction of Jeffrey Lloyd, who's falling to sleep whilst awaiting his turn in the shower. As it turns out, however, Lloyd's appetite for a wash-down is nothing compared to his hunger for hard cock; and within a few moments he is quite literally attempting to get Johnstone and Cherry's dicks down his throat simultaneously, having cast aside his heavy uniform just a few moments before!
Cue a ball-busting suck-fest, with all three lads taking turns to greedily gobble on all the meat on offer; before Cherry becomes the focal point of the action, with his two workmates taking it in turns to pound that dirty little ass-hole of his. To his utmost credit, the young bottom put on a truly sterling performance; banged to the max by his hyped-up colleagues in a succession of cum-inducing positions. Culminating in all three lads finally reaching the point of no return; as a cascade of pent-up spunk leaves the trio dripping with hot jizz!
Scene 3: Dick Smolderingly Hot Threesome As Spiderman Fucks & Creams Two Horny Twinks!
Cast: Kamyk Walker, Milan Sharp, Tim Law
From: Web Of Sperm, Scene 1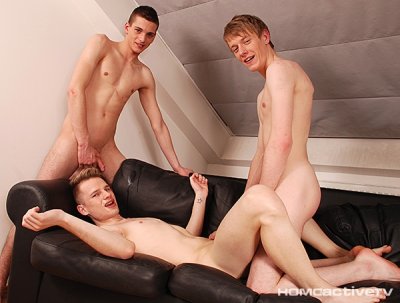 Crime, as they always say, doesn't pay - although this spunky escapade might leave you wondering whether that's strictly true. After all, how else would Tim Law and Kamyk Walker have ever encountered Spiderman (alias Milan Sharp) were it not for the fact that they've just stolen a bag - full of money, we presume - which the superhero wishes to retrieve? As it is, their misdemeanour is in effect rewarded when they're cornered by Sharp and forced to get down on their knees to worship his thick, meaty dick - which, it has to be said, they undertake with characteristic gusto, taking turns to slurp on the handsome rod like their very lives depended on it. What's more, it's not too long before both lads are taking the said raw knob deep inside their asses, one after the other. No doubt about it, this is nothing like anything you've ever seen in any previous Spidey production; and by the time cute-kid Walker is being hammered by the action-hero's oversized cock second time round, we've absolutely no doubt that you'll be on the verge of your own creamy blast-off. A predicament that faces all three guys here - most notably Law, who creams Walker's face, and Sharp, whose copious, multi-shot climax really does have to be seen to be believed!
Scene 4: Geordie Boys Football Kit Threeway Sets Up A Lashing Of Hot Jizz!
Cast: Drake Law, Lucas Davidson, Luckas Layton
From: Chavs Vs Footballers, Scene 4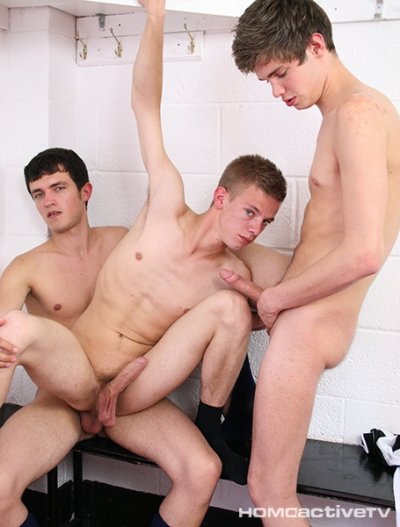 What do horny footballers get up to in the locker room before and after a game? It's not an unreasonable question given the amount of hot flesh that's always on show in those confined quarters, and Drake Law and Lucas Davidson go some way to providing an answer when they engage in a feisty session of mutual crotch-rubbing and subsequent cock-sucking for your inimitable pleasure. A session that only comes to a prompt conclusion when young chav, Luckas Layton, unexpectedly enters the room to catch the pair pleasuring each other. It's a development that promptly turns the session into a rip-roaring escapade of total dick worship, with Law (a cute young twink, it has to be said) and Davidson taking full advantage by thrusting their knobs down Layton's throat! Not that they're ever really gonna be satisfied until they've had the chance to give the young chav's ass-hole a good stretching, taking it in turns to plug Layton's hungry pucker and getting themselves into a feverish frenzy in the meantime. The spunk is always destined to roll big time - and those three juicy uncut phalluses don't disappoint. Prepare for a white-out of pent-up nad-froth!
Scene 5: Life-Saving Drill Results In A Fiery, Spunk-Drenched Threeway!

Cast: Gabriel Angel, Alessandro Katz, Kellan James
From: Fire Me Down, Scene 1
It's obviously important that would-be firefighters know the basics of first aid, including the provision of mouth-to-mouth resuscitation; so it's not surprising that new-boy, Kellan James, is keen to ensure that fellow novice, Alessandro Katz, is clued up on such an emergency procedure. But who to practice on? The good news is that they've got the company of horny French favourite, Gabriel Angel, who immediately gets commissioned to lie down on a table in order that the two boys can demonstrate their oral skills.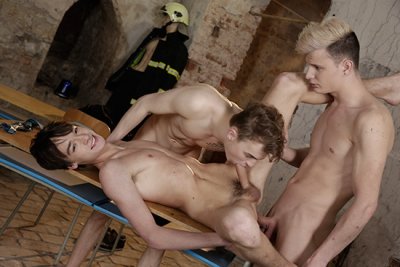 The bad news, however, is that neither James or Katz appear that bothered about fine-tuning their life-saving skills. Instead, whilst one boy passionately smooches the young Parisian on the lips, the other heads straight for his crotch and gives some clearly much-needed resuscitation to his handsome, uncut cock. Suffice it to say that that signals the start of a tremendous threesome between these gorgeous buddies; with shirts and trousers tossed to one side and dicks getting a good airing as a result. At which point you're probably wondering which of these over-sexed buddies is all set to enjoy a good old-fashioned ass-stretching.
In the end that privilege goes to young Katz, who's very quickly the centre of attention - getting his tight little hole rimmed and buggered in equal measure by both his horned-up pals. Given the circumstances it's little surprise that he should soon be rupturing his balls in excitement; before Angel and James stand either side of him and proceed to whitewash his pretty face in a veritable tsunami of richly-deserved baby-batter!
Scene 6: Cute Twink Gets His Ass-Hole Stretched & Pumped To The Max!
Cast: Tim Law, Jack Rider, Rudy Valentino
From: Score, Scene 4
You like cute, barely-legal looking boys in football strips and jockstraps? If the answer to that question is yes - and why shouldn't it be?! - then you're in for a treat with this trip of cock-crazed felons. STAXUS exclusive, Tim Law, looks particularly stunning in nothing but a red jockstrap; whilst Jack Rider and Rudy Valentino (dressed in full kit) are clearly totally overcome by the fellow, and are soon making the most of the opportunity by stripping the twink of his last vested remains of respectability so that they can suck his young uncut knob. Not that a bit of fellatio is ever gonna satisfy this pair of over-sexed punks. The fact is that neither of these boys will be happy until they've each taken turns to thrust one raw cock up his ass and another down his throat. Seems like it's their lucky day then, as Law is soon taking their butt-puckers from every direction, proving once again just what a complete cock-slut he is in the process. It's no real wonder that neither Valentino or Rider are able to hold themselves back for very long, and before you know it Law is down on his knees taking spunk from both boys. Leaving the young bottom to dump a load of his own in response!