Summary:
Super twink Jose Manuel and his friends in ultra hot bareback sex episodes! Two spunky duos, a very nice threesome and a creamy orgy complete this friendly priced DVD!
Compilation DVD
However, to ensure you don't waste money buying the same content twice, this compilation features scenes from the following titles:-
Scene 1:
Cast: George Basten, Eugen Procci (Dominik Trojan)
From: Wet Dream, Scene 5
If seeing George thrust his way in the last scene wasn't enough, we see him again with stunningly handsome Eugen Procci on a photo-shoot!! Luckily still in tight speedos, George and Eugen quickly get too turned on to get their big docks in their pants. This final scene is full of intense action with Eugen constantly sliding down on Georges Rigid pole. You can tell these young guys are really into each other and that makes this scene so damn hot your screen might melt.
Scene 2: Two spunk-magnets
Cast: Philippe Delvaux and Rico Armin
From: Graduation Gang Bang 2, Scene 1
You could almost feel sorry for poor Philippe Delvaux. He travels all the way to Prague for a long weekend, only to discover – horror of horrors! – that the apartment he's staying in is also being used by a horny group of Czech twinks, in the first instance by blond cutie, Hunter Lea, and his dark-haired compatriot, Rico Armin. As a result, the weary traveller – who at this point is still clearly unaccustomed to the ways and customs of his hosts – finds himself having to wait outside whilst the two spunk-magnets engage in a heady 69-session.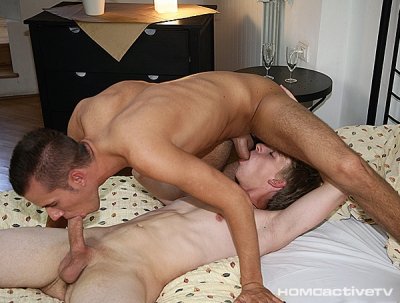 Then, as if to add insult to injury, his wait is prolonged further by the arrival of Eric Harper, who bolts through the door at almost the same moment as Lea has dumped a generous load of cum and left the room stage right! As a result, it's actually Harper's pert little ass that ultimately gets the attention of Armin's handsome, uncut shaft – the two over-sexed pups banging away for all their worth as if to practice for the major event to cum! Rest assured that Delvaux's unexpected wait, however, is very much our gain …
Scene 3: Alex Stevens, Thomas Dyk
From Body Heat, Scene 6
Celebrating Thomas' birthday, all the boys are out on the town, and Alex is getting hornier and hornier for a bit of the birthday boy. Finding each other on the beach, the two sexy lads are united at last and spend an eventful afternoon playing around on the beach. Getting onto the rocks, Alex lowers himself on Thomas in an awesome aerobic display, bouncing on his dick supported only by his arms, and of course Tom's big bare dick as it slides in and out of the tanned Twink.
Scene 4: Awesome group jerk-off!!
Cast: Nicol Cabiria, Dale Cole, John Paul, David Wallet, Frederico Weiss, Julien Breeze, Jay Couple
From: Coming Out, Scene 1
Delicious young Julien has the dream home, and loves throwing wild parties with all his stunning friends, swimming, fooling around and getting drunk!! Challenging them to a jerk-off, the winner is the first to shoot their load, and it looks as though no-one is in a rush!! These lads get their cocks out and start stroking straight away, getting rock hard and pumping hard. Blonde boy Julien wins the race, shortly followed by load after load of fresh spunk flying out of throbbing dicks!! Even without boy on boy action, this scene is going to get your mouth watering!!
Scene 5:
Making time for one last fuck before he leaves for London, our hot journalist stops by a big dicked twinks house, taking photos, it's not long before we get what we want and both lads are stripping off. Huge dicks bouncing from under tight underwear, giving a 69, both hot dicks get sucked, becoming slick with saliva, ready to be easily slipped into a tight hole, opening it up as it feeds deeper, pushing harder and faster until it can't go any more. Taking dick, the tattooed stud gets the entire length pumped into him, reaching places deeper than ever as his big balls slap against his ass.
Scene 6: Alumni Brower & Force
Cast: Brian Brower & Larry Force
From: Graduation Gangbang 1
Blond favourite, Brian Brower, has built a whole reputation on being the sort of eager bottom we'd all love to come across (so to speak!) but on this occasion he exchanges his usual position to act as top to the almost equally hungry cock-slut that is Larry Force. Indeed, Force's butt-slit doesn't really stand a chance against the sort of enthusiasm that Brower always seems to display in front of the camera; and it's hardly any time at all before the pair's first, tentative kisses have been replaced by some extremely hardcore man-sex. Beginning with a fabulous "69" sofa-session, which sees Brower giving the sort of rimming that most of us would literally die for. But it's the unrestrained butt-bang finale, together with the resultant cum-shots, that serve to make this a truly unforgettable coupling.