Summary:
Awesome 2 DVD pack with nothing but massive twink cock pounding fresh twink holes! Non stop bareback goodness featuring 18 barely legal boys in 12 hot scenes!
Description / Review:
Scene 1: Sex Before The Party
Cast: Nick Cock, Eamon August
From: Bareback Bar Boys, Scene 2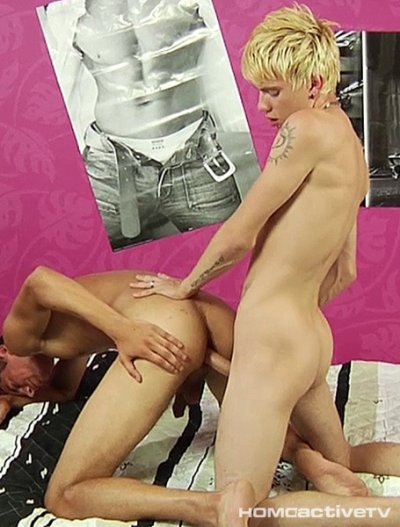 Sometimes just the thought of getting down and dirty at a gay bar can get you in the mood – a predicament that Nick Cox and bottle-blond Eamon August experience together in the privacy of their bedroom. Fact is, neither of these lads could wait to slip out of their trousers for your entertainment, which explains the speed with which each of their straining cocks jump out of their pants and onto the screen – believe us, before you know it they're taking turns to slurp up and down the length of each other's dicks, before then sword-fighting those two knobs against each other and immediately engaging in a feisty session of 69-ing that'll unquestionably have you reaching for your own dripping cock! Don't blow too early, though. The sight of August's unsheathed poker dipping into Cox's ass is most definitely something you won't want to miss, after all. Nor would it pay to overlook the ultimate result of such mindless fornication, as August splatters a fine wad of cream into his mate's ass. But the coupling's finest moment has to be Cox's own double-digit spurt that leaves his balls totally and utterly unburdened and his hairless belly awash with spunk!
Scene 2: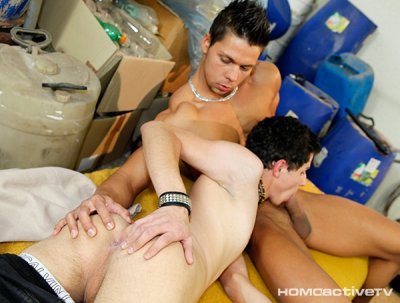 All that "tagging" can leave even the most virile young man drained, as muscular stud, Ennio Guardi, discovers when he encounters Keny Austin fast asleep and appearing every inch as sweet and innocent as it's possible to look. The truth of the matter, of course – as quickly becomes apparent – is that Austin's nowhere near as inexperienced between the sheets as he'd like others to think; and it's no time at all before he's pouncing on Guardi's uncut cock, sucking it into life like the common whore he clearly is. Guardi, for his part, looks as fucking delicious as ever – a light goatee only adding to his masculine dominance – and it's no surprise that Austin is soon overcome with raw desire, mounting the stud's rampant shaft and giving the meaty shaft the kind of ride Guardi is unlikely to forget in a hurry. Cue a fabulous bareback encounter that sees the young bottom fucked in pretty much every position imaginable, Guardi's tanned, toned body contrasting nicely with Austin's lily-white flesh as the two boys bang away like a pair of wild animals. All culminating in a truly fantastic, ball-bustin' cum-shot from Guardi that has to be seen to be believed!
Scene 3: Cute, Over-Hung Beauty Works His Wrist On His Oversexed Cock!
Starring: Kevin Arbor
From: Raw Focus, Scene 3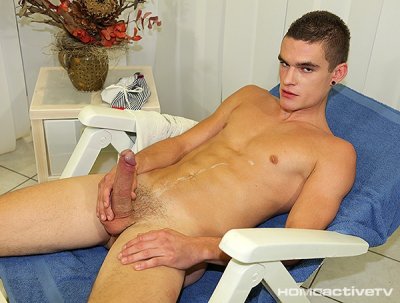 We might be completely wrong about this scene, but we reckon that by the time young Kevin Arbor steps out of the shower – some ten seconds in! – you're gonna be completely hooked on this dark-haired beauty. Why? Well, for one thing he's not exactly the kind of cute-faced twink you'd want to kick out of bed in a hurry; and for another he's blessed with the kind of equipment down below that is always gonna grab the attention of you porn-lovin' fanatics. Indeed, let's be honest here, Arbor's is the kind of cock that was almost made for the camera – which perhaps explains why this perverse little solo exists in the first place! Of course, a boy Arbor's age exists for one purpose only, namely to produce load after load of ball-batter in the quest to propagate the next generation. What's more, it's a purpose to which he's dedicated quite a bit of time until this point – and it shows! This is a young man who knows exactly how to work that ramrod of his into a creamy frenzy, and it's not long at all before he's blasting his belly with the fruits of his labour. Fingers crossed for more of this boy to cum; but meantime be assured that this is one wanker you will want to spend time with!
Scene 4: The World of Hard Dicks
Cast: Marcel Bimore, Tom Nutt
From: Monster Cock Inferno, Scene 4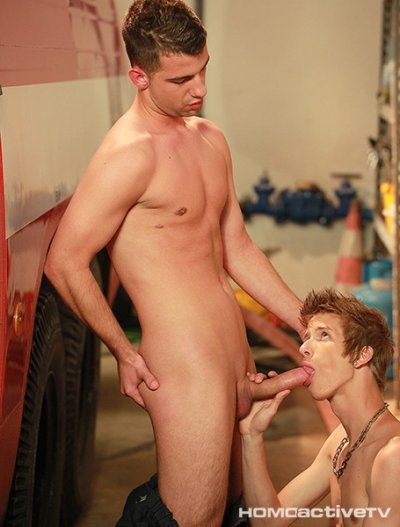 Young Marcel Bimore "retired" from shooting porn a while ago, but when you're blessed with a cock like his – with a mind all of its own, no doubt! – it's difficult to resist at least the occasional return foray into the world of hard dicks and hungry, willing asses! A difficulty made all the harder by our offer to couple him up with young blond slut, Tom Nutt, whose reputation as a cock-junkie is most definitely not unwarranted. Indeed, whilst Nutt is a novice in the world of fire-fighting, he's most definitely got every certificate going when it comes to gay sex – as he ably demonstrates here when Bimore shows him around the station. Suffice it to say that it isn't very long before Nutt's down on his knees giving Bimore's closely-shaved cock a really hard work over, much to the satisfaction of the older fellow who clearly can't wait to get that same aching shaft planted deep into the new-boy's ass. Needless to report, it's not long at all before Nutt's propped up against the engine and taking every hard, raw inch that Bimore has to offer, culminating in him riding cock cowboy-style and spewing like a geyser. What's more, he rounds off the scene by taking Bimore's load down the throat!
Scene 5: A Sordid Garage Fuck
Cast: Lex Olsen and Rolando Wyer
From: My Big Fat Monster Cock, Scene 1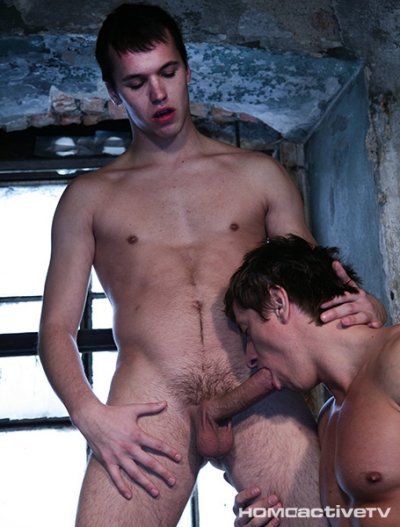 It's always extremely satisfying when you can please your boss; but how many of us, we wonder, have ever had the opportunity to impress our employer as young Lex Olsen does here? How Rolando Wyer actually knows the kind of package that Olsen has stuffed in his pants is a matter of conjecture, of course, but needless to say he wastes no time at all in getting the lad's oversized shaft right down his throat at the very first opportunity. Olsen for his part is only too eager and willing to reciprocate the favour, and before long is rimming his gaffer's neatly shaved ass like a being possessed. But the boy's primary goal by this point (and Wyer's for that matter!) is to get the entire aching mass of dick that he has between his legs deep into Wyer's hungry hole – an objective that he achieves with remarkable ease given the dimensions of the dick in question! Cue a sordid garage-fuck that has the boss skewered like a piece of cheap meat and eventually spurting like a whale in no time at all; whilst Olsen concludes proceedings with a fabulously sticky spew all over Wyer's expectant face!
Scene 6: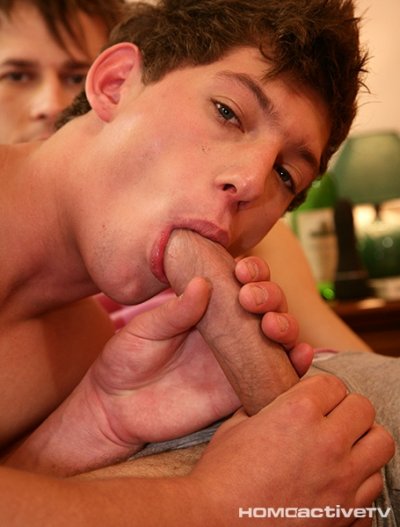 If you like beefy, uncut dicks with a decidedly upward curve to their girth then you're gonna fall head-over-heels in lust with the beauty that young Jon Bruno has stuffed between his thighs, of that we can categorically assure you. What's more, you won't be alone in your admiration, as we discover when Jack Blue steps out of the shower to witness his mate with a glorious show of morning wood – the sort, quite simply, that just can't be ignored! As such it's absolutely no surprise at all that Blue should immediately fall down onto the bed to give the one-eyed monster some tight oral attention. A move that quickly brings Bruno to consciousness – resulting in eager reciprocation upon Blue's own asset, including some magnificent deep-throat action worthy of an award. Indeed, it's not long before Bruno is forcing the said shaft up his hungry little pucker, riding Blue's rod for all he's worth and quite literally getting the spunk fucked out of his nut-sac as a result. The sight of Bruno's curved "little" beast spitting its venom in all directions will have you reaching for the Kleenex for sure; but Blue's own subsequent climax, over his pal's chin, is equally pleasurable, and the relief that only freshly-emptied balls can give is palpable from both lads.
Scene 7: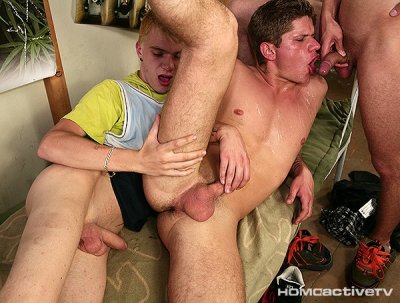 Their fashion may be questionable, but one thing's definitely certain: these three guys are complete and utter sluts. As quickly becomes apparent when they take time together to examine some cam-shots from the toilets in their local club. Most decently-minded persons would be horrified at the debauchery that's taking place there – but not these lads, for whom the sight of hot guys making out simply results in them wanting to do exactly the same! Eamon August – whose blond hair has been dabbed with a patch of green dye (all in the name of fashion!) – proves himself particularly influenced by what he sees, slipping his hand into Chester Poole's jeans and slurping on the big fat cock that he discovers inside. Needless to report, it's not long before Tonny Ross is pushing his own swollen shaft into August's open mouth; whilst the added kink of a sweaty trainer only adds to this young cutie's passions. Little wonder that he can't wait to fuck both Ross and Poole in turn, with spunk soon being pumped in all directions as a result. It's the sight of Poole's face dripping in jizz – courtesy of a huge load from Ross – that ultimately steals the scene, however.
Scene 8:
When you've got a cock that needs its own zip-code, it's perhaps only right and fitting that it gets its own scene from time to time – in this instance acting as a short but superb finale to the earlier antics, as mega-hung Caleb Moreton takes time out from his usual police duties to enjoy a deeply satisfying two-handed wank! It's definitely more than enough to keep even the hardiest size-queen more than satisfied, as Moreton works the entire length of that beefy shaft of his with his usual enthusiasm. Needless to say it's no time at all before the lad's tight little jap's-eye is erupting with a fine show of thick, creamy jizz – a must-see for all of you out there who love to see tasty, uncut shafts yielding the contents of a horny, young man's balls!
Scene 9: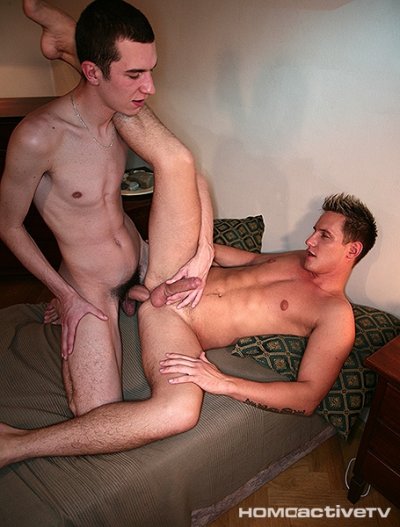 Students drink too much – but that's hardly a revelation! Sometimes, however, they drink so much that all their usual inhibitions get forgotten and they start doing things like making moves on their room-mates. Why it should take alcohol to get Alex Grander to make a pass at Caleb Moreton is anyone's guess, mind – after all, with the sort of monster cock that Moreton has packed between his thighs, you'd have thought that Grander would've made his move ages ago! Still, some boys need a little Dutch courage; and, having woken his friend in the hope of a little hardcore action, soon discovers that his lusts are very much reciprocated. Cue a stunning session of nocturnal cock-sucking that eventually results in Grander impaling himself on his mate's mammoth member. It's a sight that'll bring tears to your eyes and a great deal of blood to your crotch; as the horny hunk writhes and grinds his way towards ecstasy. It's not long before the fellow has dumped a grand load of jizz over his own belly; whilst Moreton's engrossed shaft spews into his ass to produce a mega-sticky crescendo!
Scene 10: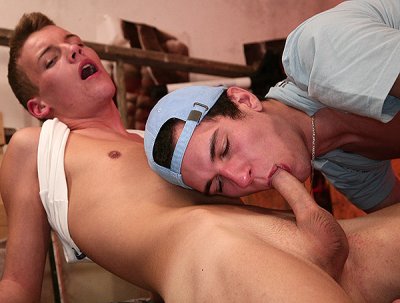 Young Robin Snoyer's a naive young thing if ever he thinks that someone of Caleb Moreton's pedigree is gonna waste time entering some pointless dancing competition when he could be fucking some cute, barely-legal twink (like Snoyer himself) – but that's exactly Snoyer's approach in the opening moments of this scene. Not surprisingly, it's an idea that receives short shrift from Moreton, who immediately reaches for his zipper and tells his comely companion to concentrate on more important matters – like sucking his beefy, uncut shaft! A suggestion that meets with little if any resistance from Snoyer, whose interest in dancing clearly isn't matched by his enthusiasm for cock! Then again, who can exactly blame him? Moreton's knob is the kind that you could spend all day admiring, and it's little wonder that Snoyer should soon be presenting his rump in eager anticipation of the inevitable fuck to come! Moments on, and Snoyer is firmly skewered on the monster, gasping for breath in much the same fashion as he does when Moreton finally dumps a fine load of cum into his open mouth!
Scene 11: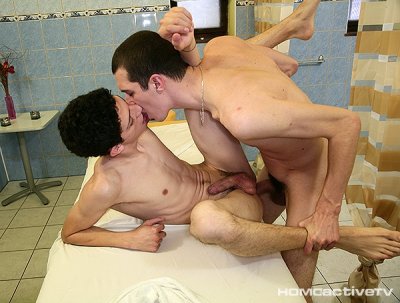 Anyone giving mega-packaged Caleb Moreton a massage must know that there's a distinct danger that he's gonna want ALL his muscles rubbed – but even if young Ali Montero wasn't fully aware of the guy's expectations at the start of the scene, it isn't very long at all before the mammoth-sized top is making his intentions very, very clear! No doubt about it, the cute Mexican bottom is going to be expected to accommodate Moreton's ramrod in every one of his holes as part of this rubdown – so it's perhaps just as well that Montero is such a skilled artiste when it comes to handling aching, oversized dicks! Indeed, the lad's pretty much gagging to ride the stiff salami from the very moment that it flops into his hands; and, having 69-ed each other to maximum rigidity, Montero's eager and ready to ride cowboy-style! Mind, with a raw cock that big poking away in his ass it's no wonder that he's soon at the point of no return, spewing all across his belly before Moreton proceeds to coat his ass! Hey presto, Montero (now dripping with sticky, fresh jizz) is the very picture of contentment.
Scene 12: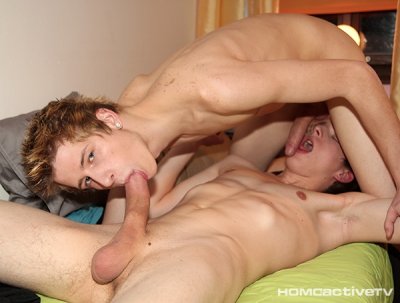 We already know just how horny young Tom Nutt is, but given the ages of the lads at this school it's perhaps not altogether surprising that he's not the only frisky, hyper-sexed twink around. Indeed, his room-mate, Jon Roz, is equally as obsessed with cock, and it doesn't take much effort on Nutt's part to distract the youngster from his studies. Talk about half-hearted resistance – this boy's down on Nutt's neatly shaved crotch quicker than a whore in season! Soon the two lads are slurping away on each other's shafts without a care in the world; taking turns to lap on all that hard meat before Roz finally takes command of the situation and pokes his sheath-free knob-end deep into Nutt's hairless man-cunt. As it turns out, however, it's not the lengthiest of fucks. Roz is clearly on the brink of dumping a thick, heavy load right from the off, and within minutes we're treated to a close-up view of his aching rod pumping onto Nutt's perky little button. It only remains for Nutt himself to jerk out his own wad of creamy goo (accompanied by yourself, we're quite sure!) and the action is complete.

Awesome 2 DVD Set! Compilation DVD