Summary:
2 DVD Set They come in all shapes and sizes, from handsome, well-hung studs to pert, cock-loving twinks, but one thing's for sure about Spanish lads – they're all as fucking sexy as fuck! A fact that clearly hasn't escaped STAXUS's Czech and British boys, who've always jumped at the chance to enjoy some Iberian cock or ass! And with the likes of David Sky, Ruben Bart, Mike Cole and Josh Milk on parade, it's little wonder that the action in question really is as hot as cums. So prepare for a Spanish invasion like no other – with the help of some neighbourly Portuguese – that quite literally leaves faces and asses awash with spunk!
This title represent great value for money given the amount of quality content and running time. However, to ensure you don't waste money buying the same content twice, this compilation features scenes from the following titles:-
Scene 01: No Birthday Bumps - But Lots Of Hard Dick & Jizz For This Boy!
Cast: David Sky, Xavier Sibley, Jace Reed
From: Super Size Me 11, Scene 2
It's young Xavier Sibley's birthday - but if he thinks he's going to get away with an uneventful occasion then he's in for something of a shock. After all, his best buddies, David Sky and Jace Reed, are clearly not in the mood to allow the day to go unmarked - bounding down the stairs with a bottle of fizz and playfully jumping on the fellow. Not that a guy like Sibley needs much encouragement, of course - as quickly becomes evident! Before you know it, all three lads are smooching, rubbing crotches, sucking nipples and generally teasing each other; before finally Sibley pulls Reed's oversized cock from his briefs, unwrapping the best present any boy could hope for in the process!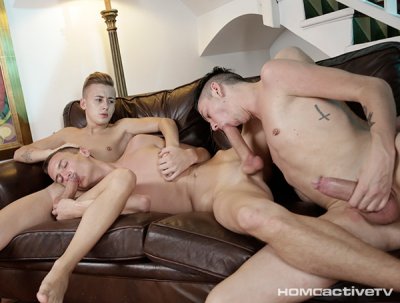 It's a move that changes the dynamics of the encounter almost at once, with Sky and Sibley also stark-bollock naked within seconds; at which point a veritable tsunami of cock-sucking ensues. Not surprisingly, however, it's Reed's enormous shaft that takes centre of attention, with the French and Spanish boys positioning themselves either side and feasting on the generous roll of rock hard flesh. And who the fuck can blame them? All the same, let's not forget the fact that this is Sibley's special day - and what he really wants is hard cock up his ass!
A wish that both Reed and Sky are only too willing and able to help make come true. First Reed pins the fellow down on the sofa, buggering him to high heaven in the process; then Sky pummels him from underneath, cowboy-style. Having dumped his own wad mid-fuck, Sibley then finally gets his cute little face splattered by a river of jizz!
Scene 02: Forceful Coach Gives His Dick-Lovin' Pupil A Real Rough Ride On His Thick, Meaty Shaft!
Cast: Paul Walker, Alex Santana
From: Aced, Scene 3
Somehow you can't imagine the likes of Rafael Nadal or Roger Federer sneaking off-court to enjoy a cigarette, so it's little wonder that Alex Santana's coach (Paul Walker) is rather disgruntled to find his charge puffing on a fag when the lad should be out on the baseline practising his game. Except it quickly becomes apparent that it's not this particular foible that has upset the coach, but rather the fact that Walker has discovered that the fellow has been fucking around with Orlando White - quite literally! As Walker eagerly points out, he's the one who should be doing the fucking around here - and given his rather domineering, masculine persona he probably has a very valid point.
Needless to say, it takes about five seconds for Walker to bundle Santana indoors, push him down onto a sofa and to begin abusing the youngster with some determined ass-slapping; before the coach then thrusts his handsome ramrod down his pupil's throat. If you're looking for romance then this ain't the place to begin your search. Walker is every inch the dominant party here - a point that's eventually underlined by the hardcore fuck that follows, with Santana's ass-hole taking a pounding in a whole series of positions.
It's almost enough to make a grown man weep - but on this performance we'd say that Santana enjoyed every fuckin' minute of his appraisal here, and the fact that he so keenly ruptures his nads whilst helplessly skewered on Walker's knob says it all. As does the undeniable look of delight on his pretty little face when Walker finally coats it with a torrent of creamy cum!
Scene 03: Riverside Date Becomes A Flip-Flop Fuck With A Flood Of Spunk!
Cast: Noah Matous, Ruben Bart
From: Tour Guide, Scene 2
It always feels good to enjoy a bit of fresh air and fine scenery in the company of one of your best friends, especially when you find yourself in a beautiful city like Prague; but there's no way that either Noah Matous or Ruben Bart are going to let such simplistic pleasures get in the way of a hard fuck! Indeed, having sat by the river and glanced teasingly at each other, the two lads are soon engaged in a heady session of making out beneath one of the nearby bridges; before deciding that a little privacy is actually what they need and heading back to an apartment downtown.
At which point, naturally, the scene gains a much more frantic persona - an initial chit-chat between the two cute twinks transforming itself into an aggressive session of kissing, stripping and cock-sucking. Matous, as always, is a sheer delight to watch, but new boy, Bart, is equally transfixing; and by the time that Matous is eagerly rimming the Spaniard's eager little fuck-hole there's every good chance that you'll be head-over-heels in love with them both! Forget the romantic niceties, however. What you dirty fuckers want to see is a no-holds-barred rip-roaring round of mindless fornication - and the good news is that neither of these young cuties disappoint!
What's more, they're both content to switch roles half-way through - Bart taking every hard inch of his mate's to start, Matous riding dick like a pro to finish. All nicely interspersed with a hot session of 69-ing to underscore the scene's egalitarian nature. And with copious spews of jizz from them both, satisfaction's guaranteed for all!
Scene 04: Hunky Spaniard Gives Ray Mannix A Hard Fingering & Fucking!
Cast: Josh Milk, Ray Mannix
From: Sun, Sangria and Sex, Scene 1
It's clear from the off that Josh Milk is in a particularly provocative mood at the start of this scene - teasing the camera with his mean, broody glare, whilst deliberately dribbling the contents of a drinks-can down his handsomely toned torso. Little wonder that Ray Mannix is quite literally like a rabbit-in-headlights as a result. No doubt about it, the young Czech beauty is helpless against such a high-octane display of raw sexuality; and before you know it he's down on his knees, pulling Milk's cock out of his speedos and giving head as if it was his one and only duty!
Not that the Spaniard is noted for having any less enthusiasm for dick, it must be said - a fact that's promptly underlined when the two fellows switch roles and Milk gives his buddy a clearly much-needed blowjob in return. But there's no disguising the fact that Milk is the dominant partner in this scene; and it comes as no surprise when he finally bundles the blond boy over a bench and proceeds to finger Mannix's hungry little pucker. Not that playing with the lad's butt-hole is ever going to be enough to satisfy Milk's overriding libido; and it comes as no surprise when he finally replaces his probing fingers with his thick, meaty, uncut cock.
In no time at all, the Spanish stud is balls-deep in Slavic butt - signalling the start of a terrific set-piece that will almost certainly push you over the edge. Not before Mannix has displayed his first-class sluttish credentials, however - taking time out to suck Milk's cock between positions. All of which eventually culminates in fine blasts of spunk from both horny bastards!
Scene 05: Young Pizza Boy Gets A Deep-Pan Stuffing From A Horny Stud!
Cast: Xavi Duran, Pyotr Tomek
From: Use Me, Scene 2
Let's be honest here, if young Pyotr Tomek came delivering pizza to the door of your hotel room wouldn't you be tempted to make some kind of pass at the fellow? Especially if - as is the case here - he was wearing a baseball cap with a distinctly provocative maxim daubed all over it. Certainly Xavi Duran doesn't seem to have any reticence in taking full advantage of the situation, but that shouldn't come as any surprise given his unmistakably cocksure approach.
Indeed, he brushes aside Tomek's initial rebuttal, and has the cute twink down on the bed in no time at all - by which point the horny little pup is already putty in the stud's hands! Why, the boy doesn't stand a chance as Duran strips him of his jeans and promptly engages in a head-on encounter with Tomek's dick; before pushing the lad's ass into the air and rimming his hot little fuck-hole like you won't believe. Needless to say it's all more than enough to get Tomek into the mood for action, and what doubts he may have initially had about being this stud's latest notch on the bedpost are promptly forgotten as he first gives head and then finally allows Duran to finger and fuck his ass!
What follows is a superb masterclass in man-on-boy action, with Tomek banged for all he's worth doggy-style; before the lad positions himself over Duran's handsome fuck-pole and quite literally lands himself down on every inch that the dude has to offer. Little wonder that the boy is soon squirting for all he's worth; but it's arguably the sight of Tomek's winsome little face getting jizzed that'll prove the highlight!
Scene 06: Chav-Boy Trio Proves A Cock-Sucking, Spit-Roasting, Face-Splattering Delight!
Cast: Christian Martin, Tyler Dee, Orlando White
From: Up North, Scene 2
So be honest now. What would you do if you were sat with a couple of horny guys who were much too busy snogging each other's faces off to actually notice what you were doing? Well, that's the dilemma that Orlando White faces when he hooks up with Tyler Dee and Christian Martin in this fabulous multinational chav-inspired threesome. Fortunately for everyone concerned, White doesn't do what plenty of other chaps would do in such a situation, i.e. give up interest and go home.
Instead, he simply goes with the flow, strips off his pants and then waits for the opportunity to join in the fun. Suffice it to say that all that free-flowing Stella Artois on offer ensures that it isn't too long before such a chance presents himself; and before you know it the trio of representatives from Spain, Holland and Hungary are pushing international relations to a whole new level.
Beginning with Spain's Martin, who takes the cocks of Dee and White in turn; before White turns his attention on that pert little black ass of Dee's and gives the Dutch boy the kind of intense raw fucking he deserves. Ultimate recognition here, however, must go to Martin, who literally plasters Dee's face with cream courtesy of the kind of cum-shot that could almost drown a man! Whilst White and Dee spew their own fine loads to make this the kind of scene to remember!
Scene 07: Kinky Threesome Gets This Perverse Bunch Of Twinks Shamelessly Fucking & Creaming!
Cast: Erik Franke, Timmy Treasure, Xander Rex
From: Opened, Scene 3
If the sight of young blond, Erik Franke, crawling around on all fours wearing nothing more than a jockstrap and a gas-mask does nothing for you during the course of the opening few minutes of this scene then there's the undeniable possibility that the subsequent kinky escapade is not exactly going to float your boat. That, of course, is the nature of fetish - one man's raging hard-on is the next man's limp stick! If, on the other hand, the perverse little show (complete with Timmy Treasure and Xander Rex watching to one side) catches your eye then no question about it, your luck's in!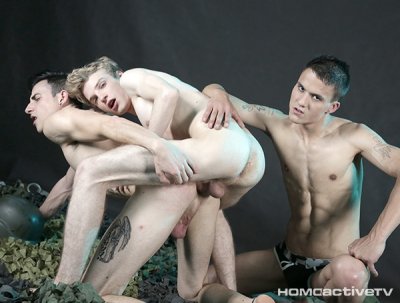 This is not to say in any way that the entire threesome you're about to enjoy (or endure, depending on your preference) is in any way a purely specialised spectacle - the sight of Treasure frantically riding Franke's ramrod a little way into the action will almost certainly appeal to a whole cross-section of fans, after all. But there's no denying the overall specialised nuance of the action as a whole - a theme that's underlined by the use of a blacked-out background and camouflage netting on the floor.
Indeed, the overall sense of kink only intensifies when Rex (who initially seems almost an outsider to the antics of his two mates) proceeds to fuck both mates; before introducing a metal ass-plug into the mix and eventually creaming Franke's well-worked hole. That leaves Franke and Treasure the task of working out their own pent-up loads, courtesy of a brief 69-session that results in them spewing over each other's faces. A definite must for those who like it queer!
Scene 08: Johny Cruz Wins His Man & Gets A Hard Fuck, A Hot Facial & A Shower Of Piss As A Reward!
Cast: Andrea Suarez, Johny Cruz
From: Piss Whores, Scene 3
It's difficult to decide whether Andrea Suarez or Johny Cruz is the biggest flirt of the two given their playful, teasing antics in the opening moments of this terrific encounter; but in the end it's Cruz who wins out, tempting his buddy to cross the floor of the bedroom so that they can take their antics to a whole never level. Which quickly involves Suarez thrusting that thick, upturned dick of his down Cruz's throat - a move that self-evidently pushes all the right buttons for the young German, given how he feasts on all that pulsating man-meat like a being possessed!
Not that Cruz's taste for dick comes as anything of a surprise to us viewers. We've seen him perform long enough now to understand that this is a young man who lives for cock; and on this occasion he's clearly determined to get his mate's aching love-stick inside his ass even quicker than usual. A mission that he accomplishes with ease, it must be said - before you know it he's literally riding that handsome shaft like his very existence depended on it! Still, if Cruz has come here today looking for a passionate lover then he's most definitely come to the right place.
Suarez is every inch the real deal in the stud stakes; and has soon taken complete control of the situation by flipping his pal over and burying his sheathed sword deep inside from behind. Thereon Cruz savours the fucking of his young life; culminating in him receiving a very sticky and satisfying facial courtesy of Suarez's balls. It's left only for the two buddies to head to the bathroom so that Suarez can piss all over his mate for their coupling to be underlined as a total and unmitigated spunk-inducing success!
Scene 09: Tattooed, Red-Haired Fucker Gives His Horny Room-Mate's Holes A Real Hard Stretch!
Cast: Ivan Thundero, Daniel Prince
From: Chic Geek, Scene 2
You know you've got a problem with porn on the internet when you find yourself being as totally brazen as young red-head, Ivan Thundero. For even the fact that Daniel Prince is studying in the same room as him doesn't stop the horny, hyped-up dude from reaching inside his jeans so that he can play with his dick - almost as if the bespectacled Prince wasn't there at all. Then again, of course, it could be that Thundero is just a simple, down-and-out exhibitionist, who acts the way he does in the hope of attention.
If that's the case then it's a policy that will never fail to succeed, especially given that Prince is the kind of boy who can't ever hope to resist the temptation of a thick, beefy, uncut cock - exactly the kind of beauty that Thundero has stuffed inside his trousers! Little surprise, therefore, that we're soon being entertained by the sight of Prince throwing his book aside so that he can concentrate on the meaty feast before him, which he undertakes with typical gusto and relish.
Not that Thundero himself is adverse to a little snack of sausage; but it's Prince who really has a hunger for dick, and it's no small wonder that he's soon parting his legs to accommodate his buddy's weapon in his butt-hole. Cue a fantastic display of au natural rutting that sees Prince's pucker stretched to the max in a succession of positions, and which not surprisingly is soon bringing both lads to the point of no return. The result is a sticky, breathless crescendo that will no doubt leave your own balls equally dry!
Scene 10: Soccer Buddy Gets His Fuck-Hole Pounded By His Hairless Mate!
Cast: Max Bishop, Mike Cole
From: Football Focus 2, Scene 1
There's no doubting that Max Bishop and Mike Cole both love their soccer; but it doesn't take very long before their arrival at their city apartment proves that their first love will always be hard cock! Which is pretty good news for everyone concerned, of course, given that it's dick action we all wanna see. Suffice it to say that it's only a matter of a few seconds before both lads are quite literally tearing each other's kits off; before Bishop makes a beeline for his buddy's lily-white jockstrap and its deliciously sweaty contents. Clearly this is a boy who has a real taste for hard Spanish cock - and believe us when we tell you that he's far from disappointed in what he discovers throbbing away inside! Not that Cole is averse to enjoying a tasty bit of fellatio when the chance arises, gobbling on Bishop's divinely hairless ramrod with energetic gusto.
But this is a scene where the boy from Iberia is very much the centre of attention; and with this fact in mind it's no surprise that Bishop soon has his pal laid out prostrate on his back, legs akimbo. Naturally, that gives the fellow full access to the sweet little twink's pucker, which he first squeezes, slaps and fingers, then proceeds to stretch to the max with his swollen, uncut shaft. That marks the start of a terrific session of energetic sodomy, that sees Cole buggered to the core in a whole series of positions; culminating in him riding Bishop's love-stick like a cheap tart, before squirting a fiery load of jizz whilst being pounded on his back. Leaving the horned-up top just enough time to empty his own balls in an appreciative blast!
Scene 11: Cock-Hungry Pup Gets His Holes Plugged By Smoking Hot Stud!
Cast: Alejandro Alvarez, Edward Fox
From: Use Me, Scene 4
So okay, he's maybe a little older than most of us have come to expect from STAXUS guys, but there's still something wonderfully sexy about Alejandro Alvarez - not least of all when he's brooding manfully with a cigarette, as is the case here in the opening moments of this terrific pairing with Edward Fox. Mind, the young pizza-boy isn't too bad at blowing smoke, it has to be said; although (as very quickly becomes apparent) it's blowing of a very different kind that's soon concentrating the minds of both these over-sexed buggers.
Indeed, given the manner with which they take it in turns to slurp on cock like it's going out of fashion, it's pretty fucking clear that these lads won't be content until they've had the chance to bang each other senseless; with Fox soon presenting his ass to his buddy with an air of near-desperation, his legs spread akimbo so that the older fellow can tongue his gaping fuck-hole to ecstasy. An invitation that the Spaniard accepts with no hint of restraint; before first fingering and then finally fucking the youngster's pucker to seal the deal.
By this point, of course, there's every good chance that you'll be so lost in your own little world of tight-fisted pleasure that you'll be edging dangerously towards a premature jerk-off; but hang on in there as Alvarez gives the young pup the fuck of his life, hammering into the lad for all he's fucking worth. It's little wonder that Fox is quite literally soon spurting like a fountain; with the Spanish stud giving an equally ferocious cascade, before burying his spent shaft deep into the lad's jizzed-up little hole!
Scene 12: Tattoed Beauty Surrenders His Racket For A Fuckin' Hard Ride On Orlando White's Pole!
Cast: Orlando White, Pedro Ribeiro
From: Aced, Scene 1
Sometimes in life it's just best to stick to the things that you're good at. Okay, so Orlando White and Pedro Ribeiro both clearly enjoy a game of tennis, but it's pretty obvious from the off that their talents definitely lie elsewhere - which probably explains why they're soon eagerly tossing their rackets to one side and heading straight inside for ball-play of a very different nature.
Needless to say it doesn't take very long for White to get tattooed beauty Ribeiro out of his shorts - at which point he's down on his knees and giving his buddy's dick a generous oral workout! A few moments on and Ribeiro is giving return of service, feasting on White's handsome ramrod and no doubt wondering how long it's gonna be before it's thrashing away up his ass-hole! Well, the good news for this young slut - and for the rest of us - is that he doesn't have to wait long. Having given Ribeiro's pucker an energetic fingering, White's soon sat on the sofa with a cock like a fuckin' flag-pole - and believe us, his mate doesn't need any heavy hints about what's expected here.
Seconds on, and Ribeiro's riding that beauty for all he's worth; before White takes him from behind for a sweaty, excruciating blast of hardcore fornication. In truth, Ribeiro never so much as stands a chance. White quite literally takes no prisoners, pounding away like it's his last fuck till Christmas; and the young bottom creams his load onto the floor, before taking an eye-level vista of his mate jerking himself to a similarly jizz-tastic crescendo!