Summary:
Fresh twink holes open wide to receive loads of spunk! Watch these young lads having hot sex in various positions. Great value title! Compilation DVD - 5 Scenes
Scene 1: Sex With Cops
Cast: Max Fonda, Nick Deniels, Zac Powers
From: Big Bigger, Biggest, Scene 5
Being used and abused by a couple of horny police-officers is perhaps not something we'd like to happen to us in reality, but in terms of a fantasy there's rarely anything hotter. As young Nick Deniels discovers when confronted by the menacing talents of Zac Powers and Max Fonda. These two horny cops want justice and they want it now – forcing the youngster to open up like a flower in the wake of their probing investigations.
Before Deniels knows it, he's riding both of their knobs in quick succession – proving, without a shadow of a doubt, that there's few visions more cum-inducing than the sight of a cute newcomer getting mercilessly spit-roasted. Except, perhaps, the sight of that same young angel with cum dripping from his arse-hole and his mouth at the same time! A feat that Deniels (an angel if ever there was one) more than ably demonstrates.
Scene 2: Beefy, Uncut Dicks
Cast: Jack Blue and Jon Bruno
From: Humongous, Scene 4
If you like beefy, uncut dicks with a decidedly upward curve to their girth then you're gonna fall head-over-heels in lust with the beauty that young Jon Bruno has stuffed between his thighs, of that we can categorically assure you. What's more, you won't be alone in your admiration, as we discover when Jack Blue steps out of the shower to witness his mate with a glorious show of morning wood – the sort, quite simply, that just can't be ignored!
As such it's absolutely no surprise at all that Blue should immediately fall down onto the bed to give the one-eyed monster some tight oral attention. A move that quickly brings Bruno to consciousness – resulting in eager reciprocation upon Blue's own asset, including some magnificent deep-throat action worthy of an award. Indeed, it's not long before Bruno is asking the said shaft up his hungry little pucker, riding Blue's rod for all he's worth and quite literally getting the spunk fucked out of his nut-sac as a result.
The sight of Bruno's curved "little" beast spitting its venom in all directions will have you reaching for the Kleenex for sure; but Blue's own subsequent climax, over his pal's chin, is equally pleasurable, and the relief that only freshly-emptied balls can give is palpable from both lads.
Scene 3: Policeman's Fly
Cast: Marcel Bimore, Lukas Leung
From: Massive Monsters, Scene 3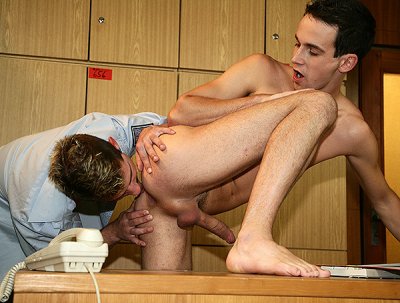 It might seem a tad unfair, but sometimes you have to use a little charm to get the wheels of justice to move in your favour – as Lucas Leung discovers when he's hauled before police-officer, Marcel Bimore, accused of theft. Actually, it isn't so much his charm that he uses – which admittedly he appears to possess in spades – as his mouth and his cock, first by gorging on Bimore's oversized knob-end like the near-professional whore that he is, and then by lifting his one leg onto the officer's desk so that Bimore can thrust his unsheathed shaft deep inside his pert little ass. It's not exactly the sort of criminal justice system that we would like to see operate in reality, of course, but in terms of porn it's exactly the sort of scenario that's gonna get you working your boner to ecstasy! Bimore, in particular, is just as sexy as ever; whilst Leung's twinkish manner never seems to betray him. In short, another definite must-see!
Scene 4: Julien Breeze, Leo Coat, Jeffrey Radden

From: For a Few Inches More, Scene 4
Dr Radden sees his patients into his surgery and gives them a proper going over. Sucking both dicks and getting blonde Julien to slide down onto a dildo, working his hole loose ready for the tanned boy to come and spread his cheeks wider and pound his sweet ass hard and fast.
Both toned young studs descend on Julien, Jeffery ripping off his suit in anticipation for the awesome fucking he's going to give, and by the amount of cum that Julien is left splattered over his smooth young body, the job was really worth it!
Scene 5: Two Big Dicks

Cast: Luis Bigdog and Jon Bruno
From: Oversized, Scene 4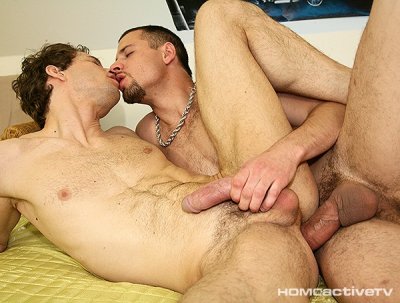 Luis Bigdog is nothing if not persistent – particularly when he meets a cute youngster that he really wants to fuck. So it should really come as no surprise that he's all over Jon Bruno like a bad rash, even though Bruno's reaction to begin with is a little less than enthusiastic. Seems like all the lad really wants to do is carry on reading his magazine – but geez, how boring is that? Bigdog has a pair of mega-full balls that need relieving; and besides, he clearly knows just what sort of punch Bruno's got packed in his pants ... a thick, upwardly-curved shaft that Bigdog's just gotta get a real good suck of! Not that Bigdog's knob-end is any less impressive, and by the time the two guys are 69-ing each other on the bed you'll be wondering how the fuck we find so many well-blessed fellows in the Czech Republic. As it happens, it must be something in the water – which may also explain the inane desire to ride dick, displayed here so ably by Bruno. No question about it, this guy's a total whore, and the way he "explodes" on Bigdog's lap at the end you'll be left wondering how he doesn't do his nads lasting harm!