Summary:
Nothing but sexy young twinks in hot group action scenes! 2 DVDs full with orgy and gang bang action not to be missed. Playing over three hours, this set is a must for all group sex lovers... Awesome 2 DVD Set! Compilation DVD
This title represent great value for money given the amount of quality content and running time. However, to ensure you don't waste money buying the same content twice, this compilation features scenes from the following titles:-

Scene 1: Morning After Party

Cast: Tom Nutt, Chad Rusler, Jon Roz & Carl Baxter
From: Bareback Bar Boys, Scene 5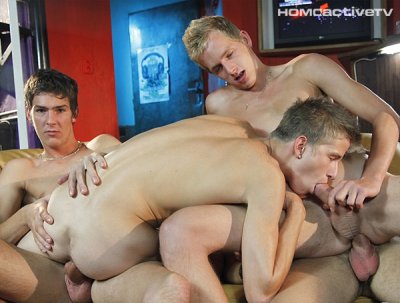 Throw four horny lads together in a bar, ply them with plenty of alcohol, and the result is this scorching foursome that sees Tom Nutt and Chad Rusler get royally shafted by Jon Roz and Carl Baxter – an escapade that we just know you're gonna love and which you'll be gagging to watch time and time again! And no small wonder. Nutt, as always, is a dirty-minded blond bombshell who can't wait to get some thick meaty raw cock up his ass; whilst Rusler shows similar tendencies when presented with the oversized ramrod that Baxter had throbbing in this over-excited crotch. Indeed, it's no fuckin' wonder that both fair-headed bottoms seem intent on making the most of Baxter's tool, taking it in turns to ride the monster to the max! Of course, given the talent on offer there's no prizes for guessing that the scene concludes with a veritable spunk-fest as all four guys spray their juices in whatever orifice comes available at the point of rupture; and needless to say there doesn't appear to be a drop of fresh jizz spilt! Rusler, in particular, produces a fine splurge; but it's Baxter who steals the show by gobbling Roz's juices and then jerking his beauty to a protein-rich high!
Scene 2: Five-Boy Raw Fuckfest Is Exactly What The Cameraman Ordered!
Cast: Aslan Brutti, Jack Cameron, Nick Kelson, Sergey Vorobev, Amir Waltr
From: Raw Focus, Scene 6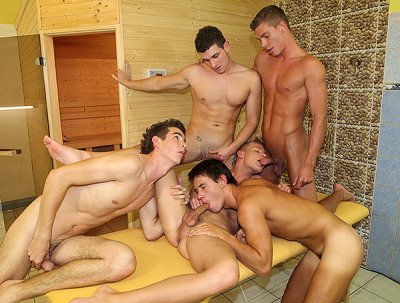 In life, as they say, one thing always leads to another, so it's perhaps not at all surprising that Jack Cameron's work behind the camera should eventually lead him to this, a wanton five cock suck-and-fuck-athon that'll have you jerking your meat to ecstasy time and time again. It actually begins as a two set escapade, with Sergey Vorobev and Amir Waltr making out in a sauna whilst Nick Kelson and Aslan Brutti take on Cameron himself in the room immediately beyond. But it's not at all long before Vorobev and Waltr have joined the other lads to add an almost immeasurable synergy to the occasion. What follows is exactly the kind of gross perversion you were always warned about as the boys suck, lick and rim like a pack of moral-free alley-cats, before bottle-blond Kelson takes each bare dick up his ass in swift succession. Clearly this is a lad for whom monogamy is never, ever gonna work, and who's not really content until every cock in the room has erupted all over his chest, crotch and (of course) his face! It's filthy, it's disgusting, it's everything that's wrong with today's promiscuous society – but geez, you'll be spurting over and over again!!
Scene 3: Gang Of Beauties Engage In A Mind-Blowing Fuck-&-Cum-Fest!
Cast: Jon Roz, Matt Loughton, Marty Love, Tom Nutt, Peter Clarke, Julien Adagio
From: Gaywatch 2, Scene 3
If you enjoy the simple voyeurism of watching a gang of young lads having a fun time in the sun – armed with a few cans of beer, some smokes and a watermelon (of all things!) – then the opening sequence here will put you straight in the mood for the antics that immediately follow. After all, this is a vision of guys at their carefree best, with their minds purely centred on the aim of having a real good time without any thought of consequence or reason. Not that's it very long before the urge central to all young male minds (i.e. sex) begins to kick in big time, as young Tom Nutt is forced to act the bitch to all the other four youngsters amidst the otherwise tranquil backdrop of olive groves and a clear blue sky.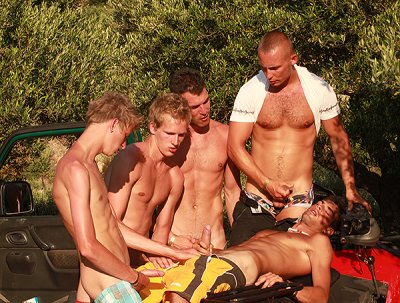 Perhaps not surprisingly it's Marty Love – the most manly of the fellows present – who takes the lead in proceedings, but in reality Nutt appears to take very little persuading when it comes to wrapping his lips around the array on throbbing knobs on parade! Nor does he show any reluctance to having his mouth used as a cum-receptacle by the likes of Love and Peter Clark; before being carried onto a quad-bike and working his cock into a spunky lather!
Scene 4: Ass-stretching, spunk-blasting foursome
Cast: Seb Priestley, Tony Ross, Luis Bigdog and Jon Bruno
From: Humongous, Scene 7
Seb Priestley is just the kind of platinum blond that we'd all love to meet - cute, horny and eager and willing to service cock whenever it's presented to him! Which in this particular instance comes courtesy of Tonny Ross and Luis Bigdog - who, as we've previously witnessed, very much lives up to his name! As such he's like a pig in mud when presented with two big, hard shafts to suck - slurping on those thick, uncut boners like a whore, before the urge to reciprocate becomes just too much for Ross and Bigdog and the three engage in a no-holds-barred suck-fest. At the end of the day, however, a boy like Priestley is never gonna be happy until he's riding a cock with his ass - a desire that Bigdog is only too pleased to see fulfilled.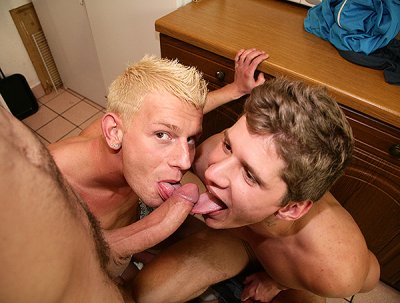 It's now that Jon Bruno unexpectedly enters the fray with that deliciously upturned cock of his - at which point the scene suddenly takes on a whole new direction, as Priestley and Bruno fight for the privilege of rutting like doe-deer on acid! Needless to report, what follows is the kind of ass-stretching, spunk-blasting foursome that'll have you jerking on your own cock with almost unfathomable gusto, not least of all when the jizz gets liberally sprayed into all those hungry, open mouths! It's quite literally like feeding time at the zoo - and a fitting finale to this would-be classic.
Scene 5: Mega-Slut Thomas Dyk Gets Showered In Copious Amounts Of Hot, Fresh Spunk!
Cast: Kamil Fox, Thomas Dyk, Andre Lopes, Tomas Klein
From: Bareback Ass Busters, Scene 5
Thomas Dyk is still in custody, and before he's released he's got some more punishment to take, and this time it's with three of them!! They all stand around Thomas, jerking their big pieces of meat, letting him taste their cocks before they all shower him with three loads of juice all over his cute boyish face. For those who like cum shooting from studly policemen, then this scene will get your knob twitching in no time!!
Scene 6: Cock-obsessed Stud Muffins
Cast: Ali Montero, Damien Dickey, Denis Reed, Luis Bigdog, Nick Deniels, Jon Roz, Nick Gill
From: Reservoir Cocks 1, Scene 4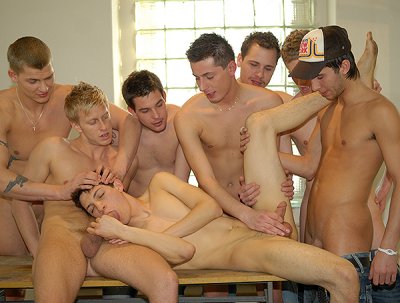 Having a drink with the boys is one thing; but, as Ali Montero discovers, having a drink with this particular gang of cock-obsessed stud muffins is quite another. Fact is that the beer comes a very poor second in the affections of these lads, whose idea of a good drinking game appears to involve pouring the contents of the cans all over their cocks and asking Montero to suck it all off! What's more, Montero doesn't appear to show any degree of objection, throwing himself manfully into the task as monster cock after monster cock gets thrust into his direction. No doubt about it, the likes of Damian Dickey and Luis Bigdog are in their seventh heaven; and it's a predicament made all the more intense when Montero bows to the inevitable and lies down on a desk to allow every guy in the room to fuck the living daylights out of him! This boy is skewered and spit-roasted more times in ten minutes than most of us get to enjoy in a whole lifetime, and the perversion is only made all the more intense when the gang of fuckers proceed to spray their loads all over Montero's cute little face. Dickey's climax is particularly noteworthy; and it's little wonder that the horny bottom should be looking like the cat who got all the cream (literally!) at the final cut!
Scene 7: Julien Heath gets his (hard cocked!) reward
Cast: Daniel Wood, Ian Samson, Johny Hunter, Julian Tomlinson
From: Bare Ravers, Scene 6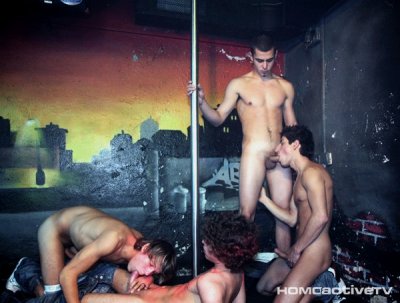 Everyone loves a winner, and the fact that Julien Heath convincingly triumphed in the ring means that all his friends now want a piece of him. Which in this instance, of course, means getting their mouths and asses around his big, fat, masterful cock! Not that it's all one way traffic, by any means. We've seen enough of this young lad already to know that he's more than partial to a bit of dick himself, and it comes as no great surprise to see him quickly feeding off Julian Tomlison's knob-end. What's more, being the fantastic bottom that he is, Heath is very quickly riding cock like an undeniable pro; before taking a creamy mouthful of jizz from Tomlison's erupting shaft! All that said, it's arguably Tomlison who ultimately steals the scene, as Daniel Wood and Ian Samson both spurt the contents of their tight young balls over this sweet punk's face. In short, a very sweaty, sticky, spunk-fuelled conclusion to a movie that's gonna seriously risk breaking the rewind button on your remote control!
Scene 8: Cum shower!!

Cast: Denis Green, Michael Getlin
From: Bareback Bus Boys, Scene 4
Amazingly young looking Denis wins a game and his peers take it upon themselves to dish out the reward: 4 cocks shooting hot jizz all over his face and body!! This lucky twink sits back and enjoys the shower as shot after shot falls onto his pale smooth young body. It doesn't end there as dark haired and defined lad Michael arrives late, but just in time for have the twink all to himself. Smelling the spunk, Mike is throbbing hard and Denis is right on it, servicing it with his tongue and sweet lips, licking up and down the shaft and smooth balls. Having his butt stretched by our young stud, Denis is bent over and fucked slowly in and out so his ass is wide open for more cock to enter, fucking horny stuff.
Scene 9: Jay shares his spunk in underwear fetish!!
Cast: Jay Renfro, Karel Gross & Michael Kraus
From: Bareback Gym Buddies, Scene 4
Naughty Renfro works at the gym. After 3 boys change and head for the equipment room he peeks in their lockers, sniffs their shorts, has a wank and deposits his spunk on one pair of briefs. Later a confused Cruise discovers them - now wet, sticky and smelling of cum. This leads to a really hot threeway with Cruise sucking Gross' and Kraus' uncut cocks. Cruise is short and cute (just like the real thing).
Gross rims the other two and then fucks Cruise until he cums. Firstly blond Gross rams three, then four fingers up spiky haired Kraus's tight hole and then fucks him with a blue dildo until he spunks in to the palm of his own hand. Gross cums on Kraus's face.